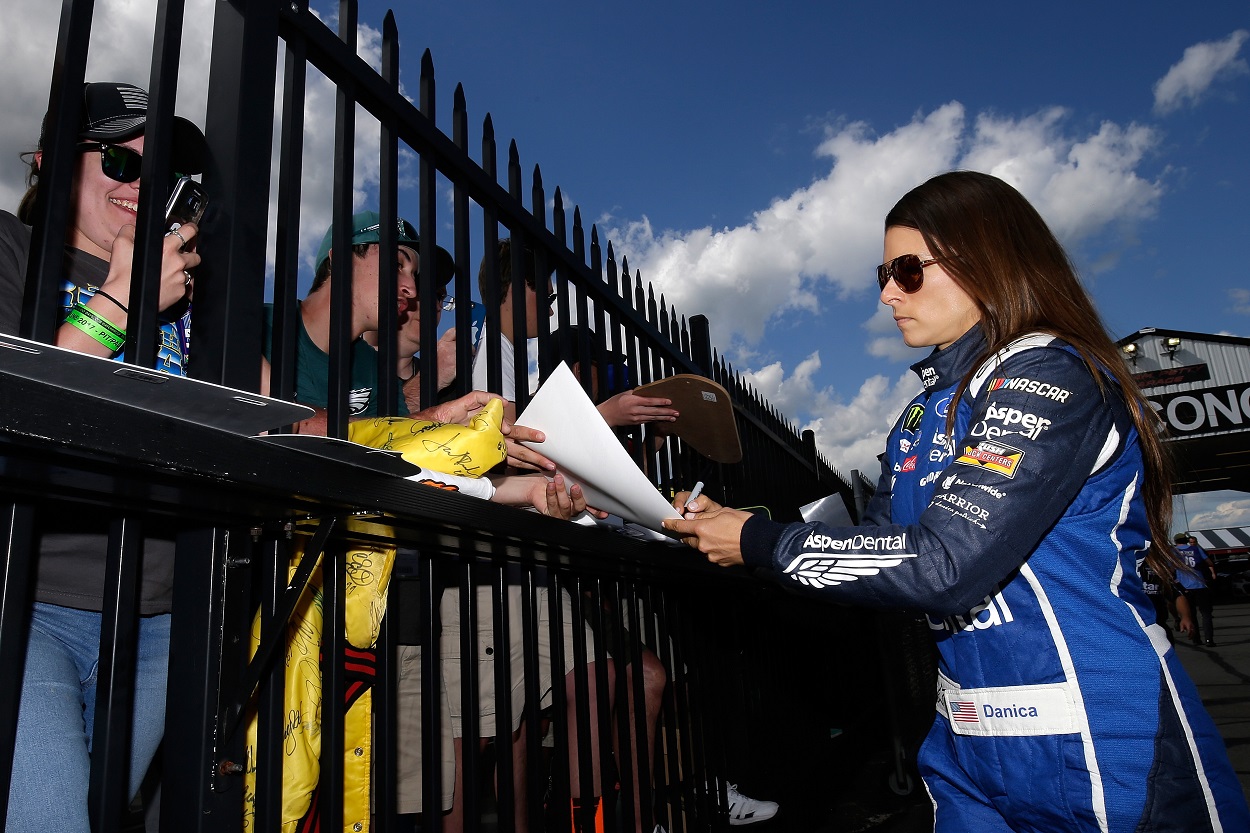 Danica Patrick Took Part in an Unprecedented NASCAR Broadcast at Pocono Raceway in 2017 Just a Day After Lashing Out at Booing Fans at 'The Tricky Triangle'
On the same weekend at Pocono Raceway in June 2017, Danica Patrick lit into a group of booing fans, took part in a historic broadcast for Fox, and tied her highest-ever finish at "The Tricky Triangle."
Over the course of her seven-year NASCAR Cup Series career (well, really six plus one final race at the 2018 Daytona 500), Danica Patrick certainly had some interesting weekends at Pocono Raceway, even once wrecking her own boss, Tony Stewart. She could never quite figure out "The Tricky Triangle," never breaking the top 15 in 10 Cup Series starts on the 2.5-mile tri-oval. Patrick did earn two 16th-place finishes at Pocono, one of those coming in June 2017 in what turned out to be quite an eventful few days for the then-35-year-old.
Outside of her highest-ever finish at Pocono Raceway that particular Sunday, Patrick took part in an unprecedented broadcast for Fox Sports during the Xfinity Series race the day before. But it was the day before that for which that weekend will likely best be remembered as that Friday was the day Danica famously lashed out at a group of booing fans.
Danica Patrick confronted a group of booing fans at Pocono Raceway
On the Friday leading into the 2017 Pocono 400 at Pocono Raceway, Patrick didn't have a great qualifying run at "The Tricky Triangle," eventually starting the race in 24th position when all was said and done.
As she was heading back toward the garage from pit road, a fan had gotten through the security cordon in an attempt to get Patrick's autograph. The overzealous patron never actually made it to Danica as he was eventually stopped as Patrick kept on walking, which brought on a chorus of boos from the other fans in attendance, who were apparently booing every driver who was turning down autographs.
Patrick, who had already signed a few autographs before her qualifying run, later said that she normally would have just kept on going, but "had a moment" and decided to confront those throwing boos in her direction.
"Since I'm old, instead of taking the booing, what I want to tell you, I'm doing the very best I can. If you're a real fan, you know that I'm not just like … my job is to not sign autographs, right? My job is to drive the car and tell the crew chief what is going on.

"I don't appreciate the boos. It hurts my feelings. I'm a f—ing person, you know. I'm a person, too. I have feelings, too. When you boo me, it hurts my feelings. Please just be supportive fans. I'll do everything I can. When I came from over here, my car was over there. I can only do so much."

Danica Patrick
Patrick later explained that she didn't sign that initial autograph because she "didn't feel it was right to honor that person for disrespecting the security guard," a statement she made in Boston a few days after the fact while spending four hours hanging out with a group of students who were giving her a guided tour of Beantown as they celebrated influential women. And Danica signed plenty of autographs in the process.
Danica took part in an unprecedented Fox Sports broadcast the following day for the NASCAR Xfinity Series race at Pocono Raceway
One day after her tirade at Pocono Raceway, Patrick took part in an unprecedented broadcast for Fox Sports as she and seven of her fellow Cup Series drivers handled broadcasting duties for the weekend's Xfinity Series race, the Pocono Green 250, which was won by Brad Keselowski.
Believed to be the only time in any sport that a broadcast team was comprised of only active members of that sport, the "Drivers Only" crew replaced Fox's usual team and featured Patrick and Denny Hamlin serving as the in-studio hosts. Kevin Harvick, who had previous experience calling Xfinity Series and Truck Series races, served as the play-by-play announcer, while Clint Bowyer (who now works for Fox Sports) and Joey Logano were the color analysts.
Erik Jones and Ricky Stenhouse Jr., who Danica was dating at the time, served as reporters on pit road, as did Ryan Blaney, who also handled duties in Victory Lane.
Overall, the historic broadcast was well-received with Patrick even dropping an "and boom goes the dynamite" reference.
Patrick finished off her weekend by tying her highest-ever finish at 'The Tricky Triangle'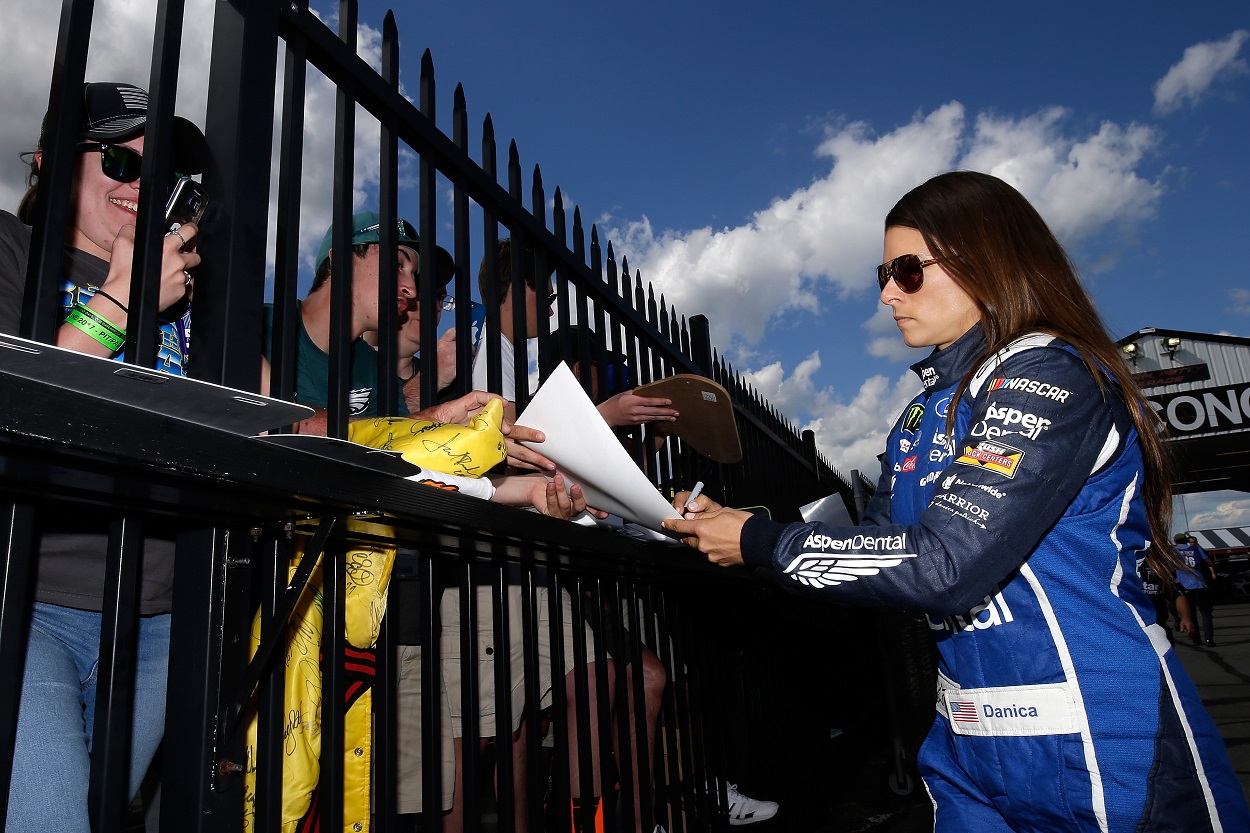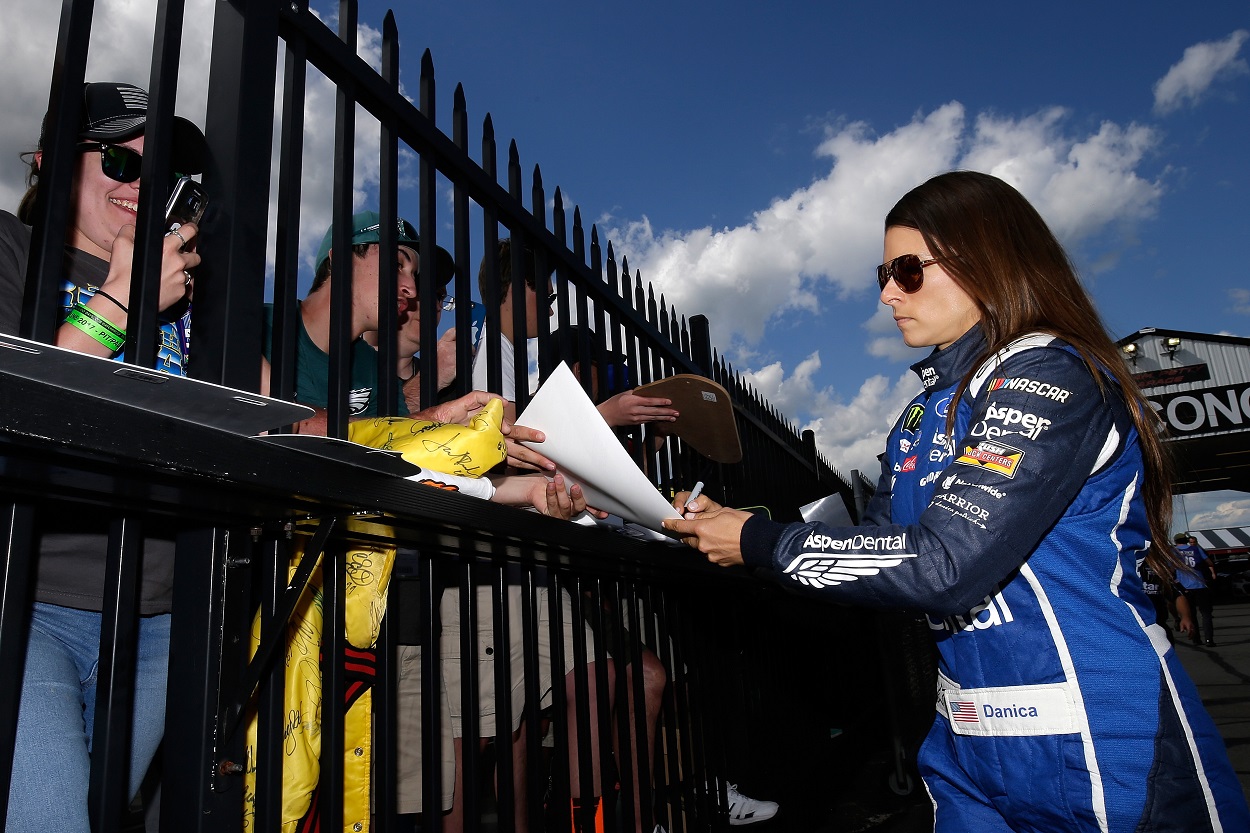 As mentioned in the intro, Patrick finished off that interesting weekend at Pocono Raceway by tying her highest-ever finish at "The Tricky Triangle." She was never in contention to win but ran a decent race, moving up from 24th to finish in 16th, matching her finish from the August race at Pocono in 2015.
But while she obviously didn't take the checkered flag, Patrick watched as three of her broadcast teammates from the previous day took the top three spots as Blaney earned the first Cup Series win of his career, while Harvick and Jones finished second and third, respectively.
Stats courtesy of Racing Reference