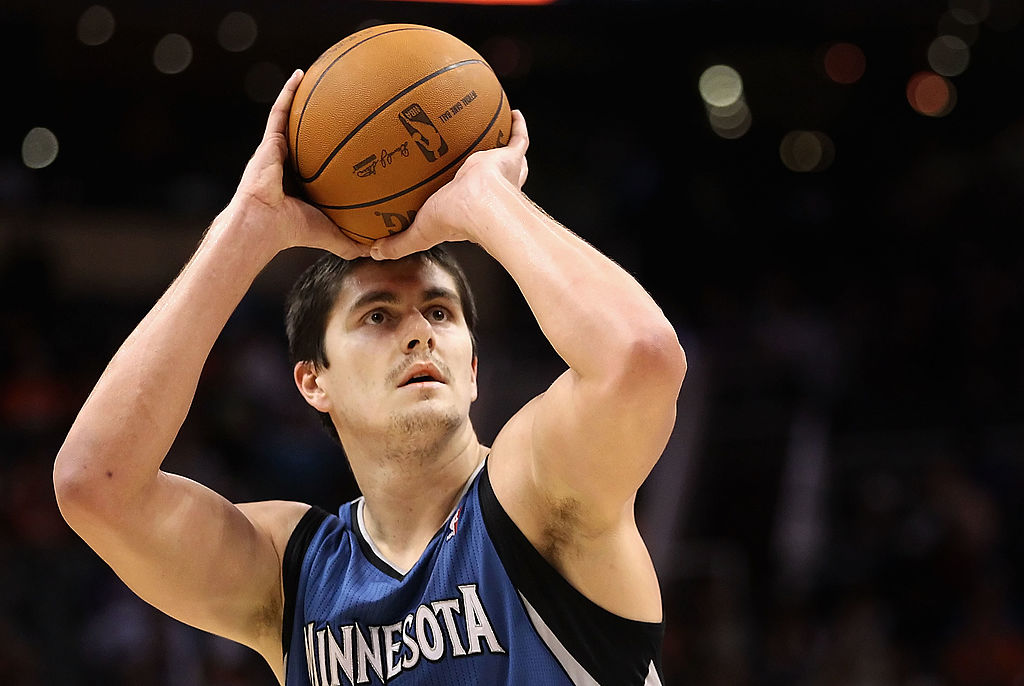 Darko Milicic Fires Back at Dwyane Wade, Carmelo Anthony for Their Comments
Former NBA second-overall pick Darko Milicic fires back at Dwyane Wade and Carmelo Anthony for their comments about him.
NBA icons Dwyane Wade and Carmelo Anthony recently got together during an Instagram Live conversation to discuss all things basketball. Wade and Anthony were selected in the top five of the 2003 loaded NBA draft when LeBron James was selected first overall. Both Wade and Anthony, however, were selected behind Darko Milicic, who was taken second overall and was considered an NBA bust. On Instagram Live, Wade and Anthony had some fun reminiscing about that draft, at Milicic's expense. Milicic recently responded to those comments.
Carmelo Anthony's NBA career
Carmelo Anthony was selected by the Denver Nuggets with the third overall pick in the 2003 NBA draft. Drafted out of Syracuse University, Anthony was taken behind high-school phenom LeBron James and Darko Milicic, a high schooler out of Serbia.
Anthony spent the first seven-plus seasons with the Denver Nuggets where he averaged 25.6 points per game. His best year in Denver came during the 2006-07 season when he averaged 28.9 points and 6.0 rebounds per game. In February of 2011, Anthony was dealt to his hometown team, the New York Knicks, where he played the next seven seasons.

In his second full season in New York, Anthony led the NBA in scoring with a 28.7 points-per-game average. He also averaged 6.9 rebounds per game. Anthony has played the last three seasons with three different teams – the Oklahoma City Thunder, Houston Rockets and Portland Trail Blazers. Anthony is a 10-time NBA All-Star.
Dwyane Wade's NBA career
With the fifth overall pick in the 2003 NBA draft, the Miami Heat took Dwayne Wade out of Marquette. Wade was selected after LeBron James, Darko Milicic, Carmelo Anthony, and Chris Bosh.

Wade spent 15 seasons with the Miami Heat and won three NBA titles with the team. He was also a 13-time NBA All-Star and was voted the game's Most Valuable Player in 2010. Wade was the NBA scoring champion in 2009, averaging 30.2 points per game. During that season, he also averaged 7.5 assists per game and played all but three regular-season games.
In 2010, Wade teamed up with James and Bosh in Miami, giving the Heat a Big 3 that went on to win two championships. In 2016, Wade left Miami to join his hometown Chicago Bulls for a season. He teamed with James in Cleveland in 2017. In 2018, the Cavs traded Wade back to the Heat for a second-round pick.
Darko Milicic's response to Wade and Anthony
While Dwyane Wade and Carmelo Anthony were reflecting on the 2013 draft, Darko Milicic's name came up and the two had a little fun at Milicic's expense. Wade mentioned Milicic's name during the conversation Anthony seemed to forget the player who was selected before him at No. 2 in the 2003 draft. "Who?" Anthony asked.

Milicic never had the career Wade and Anthony went on to have. He never lived up to expectations and he readily admits it. He responded to the two making fun of him though Serbian media, saying they should act like adults and not children.
"About these stories, well wasn't my story already told, they thank God made it – I didn't," Milicic said. "We're not kids, we're grown men, I hope you're mature enough to understand that life is full of rises and falls. Advice to them, because I think of them as more or less the good guys, is to not judge and mock when, thank God, you didn't go through the path that I went through. To them, I wish all the best as always and I salute their careers, all the best in further life and lots of success and less judgments."