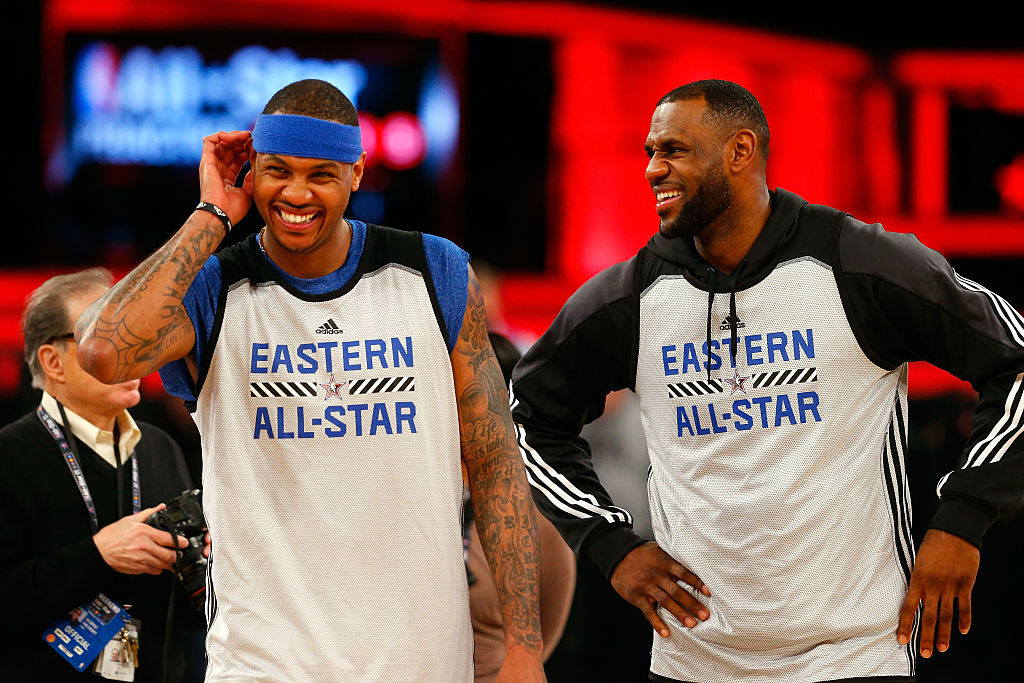 LeBron James Once Saved Carmelo Anthony's Life
LeBron James and Carmelo Anthony are a part of the famous Banana Boat crew. On Friday, Anthony told a story about James saving his life.
LeBron James, Chris Paul, Dwyane Wade, and Carmelo Anthony, these are four of the best basketball players to ever play in the NBA. They are also known as the Banana Boat crew. The friendship between the four hoopers has been well documented through the years. However, there will probably always be stories that we will never know about. Anthony recently told a story, though, and he made James sound like more of a superhero than he is already perceived. LeBron James once saved Carmelo Anthony's life.
LeBron James, Carmelo Anthony, and the legendary 2003 NBA draft class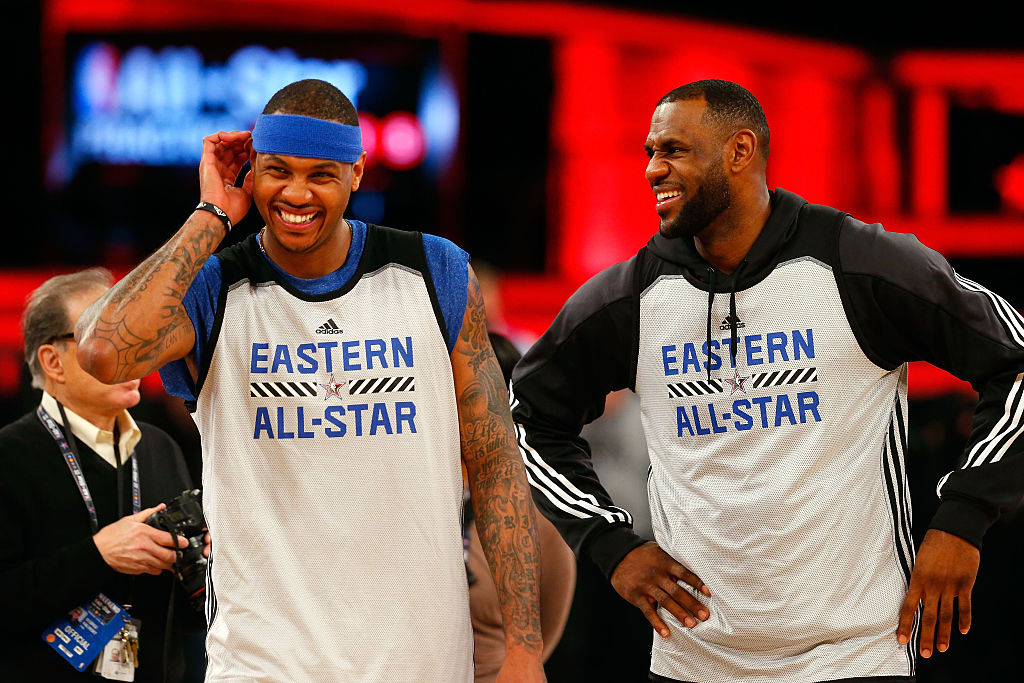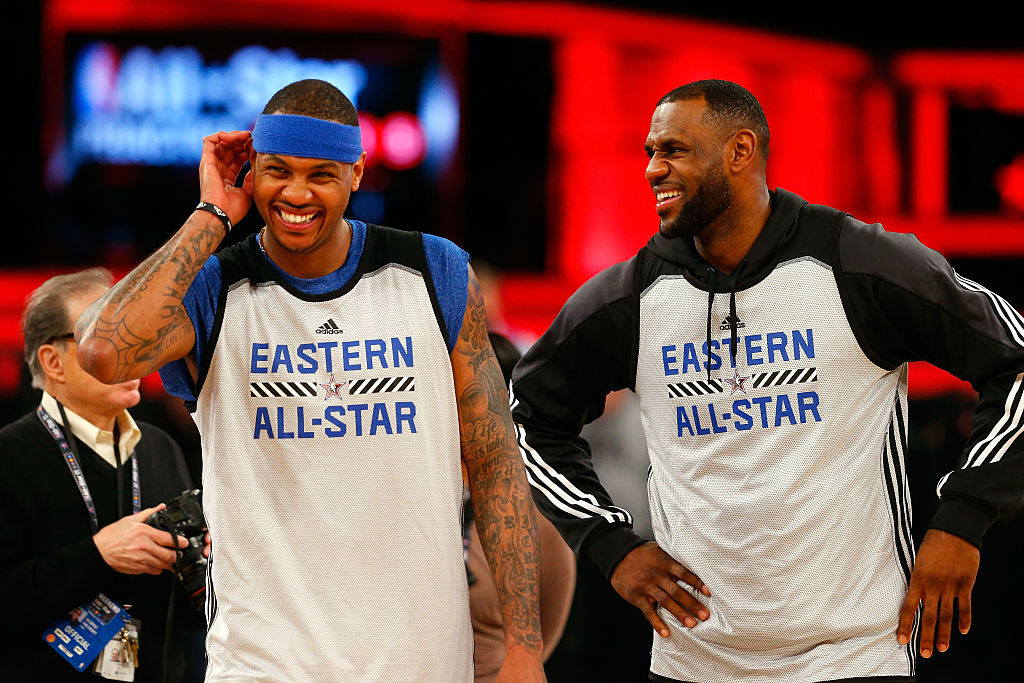 The 2003 NBA draft class is one of the greatest draft classes not even in NBA history but in all of sports. A high school phenom named LeBron James was the No. 1 pick and a star from Syracuse named Carmelo Anthony was the third pick. A big guy from Georgia Tech, Chris Bosh was the fourth pick and a guard from Marquette, Dwyane Wade was the fifth overall pick.
All four of these guys eventually became future Hall of Famers. James is a 16-time All-Star, a four-time NBA MVP, and a three-time NBA Finals MVP. He is also No. 3 on the NBA's all-time scoring list and No. 8 on the all-time assist list. Anthony is a 10-time All-Star and led the league in scoring during the 2012-13 season. 
Wade, who just retired after last season, was a 13-time All-Star, a three-time NBA champion, he won an NBA Finals MVP once, and he led the league in scoring during the 2008-09 season. Additionally, Bosh, who retired in 2019 for health issues but hasn't played since the 2015-16 season, was an 11-time All-Star and a two-time NBA champion. 
No, Bosh is not a part of the Banana Boat crew but was still one of the greatest players in the 2003 class. He was also close to Wade and James when he played with them on the Miami Heat. 
Chris Paul is the only one in the crew who was not selected in the 2003 NBA draft. However, he came out of high school the same year James did (2003). He also played on James' team in the 2003 McDonald's All American Game. Paul is a 10-time All-Star. He also led the league in assists four times and led the league in steals six times. Paul is seventh on the NBA's all-time assist list.
Where did the Banana Boat crew get its name?
In 2015, a photo surfaced of James, Paul, Wade, and Wade's wife Gabriel Union-Wade on a banana boat together while on vacation. According to TMZ, the group spent time hanging out, partying, riding jet skis, and splashing around in the ocean.
Carmelo Anthony was not in the picture but he was on the vacation with them, according to ESPN. 
Since then, whenever people refer to the four guys together they almost always call them the Banana Boat crew.
Antony recalls a story about when James saved his life
On Friday, Anthony joined Wade on Instagram Live. Anthony started talking about when a group of them were all out in the water in the Bahamas. He then said that everyone swam back to the boat while he was still trying to see the Barracudas as he was snorkeling. Then all of a sudden, things got scary – that is until LeBron James came to the rescue.
"The current is taking me in the middle of the ocean, opposite of the boat," Anthony said, according to Yahoo Sports. "I look up at the boat and Bron jumps off the boat like he was MacGyver… He jumped off the boat into the water. He was bringing me back with one arm. He's swimming with one arm and he's carrying me with the other arm."

Carmelo Anthony
LeBron James is like a superhero to many kids out there. However, for Anthony that day he was like a real-life superhero. Hopefully, more stories like this from the Banana Boat crew continue to come out. We especially need them during a time when there are no sports.