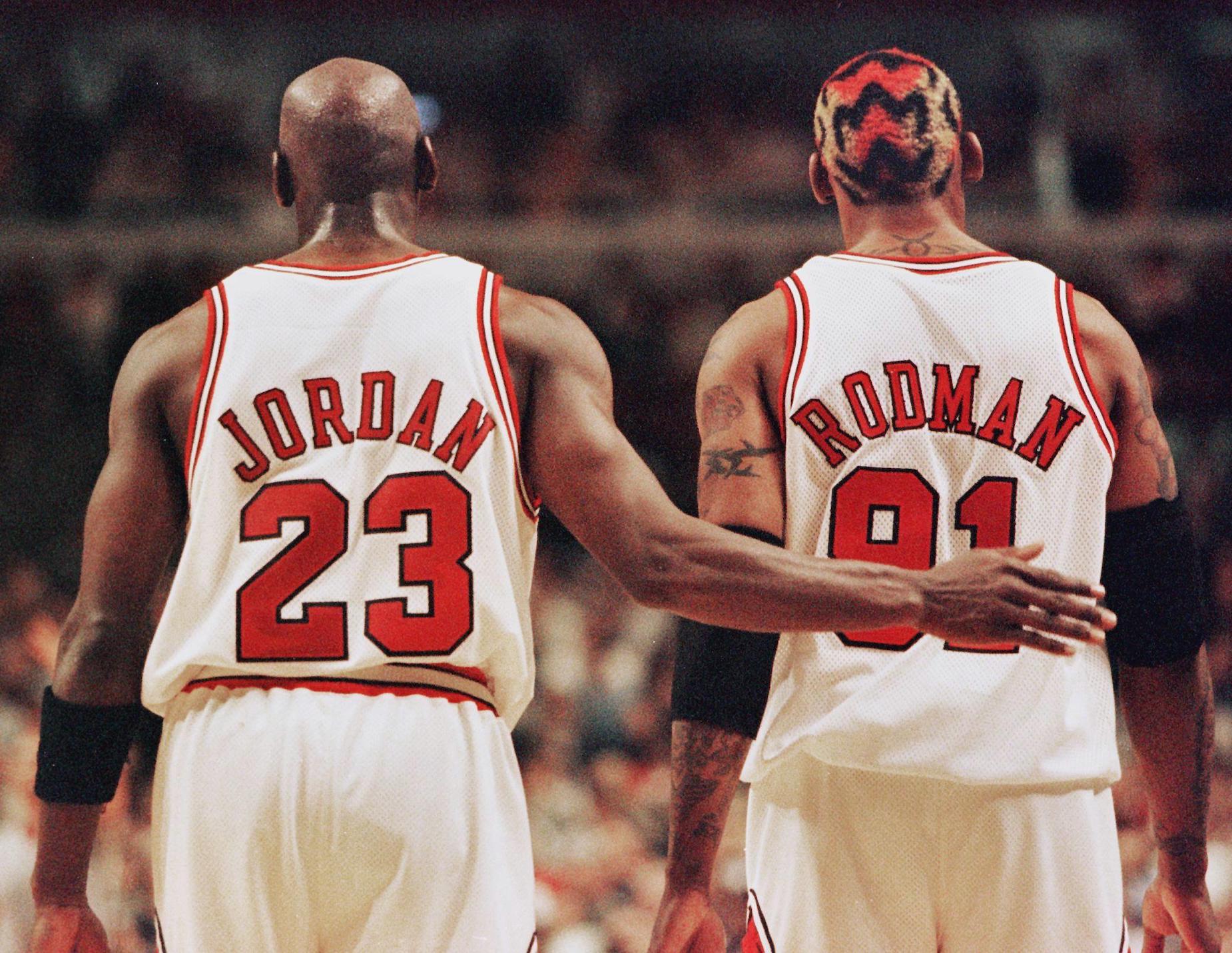 Dennis Rodman Credits 1 of Michael Jordan's Biggest Rivals With Changing His 'Whole Life'
While Dennis Rodman found plenty of success alongside Michael Jordan, he gave one of MJ's rivals credit for changing his life.
While it's been quite a while since he hit the hardwood, Dennis Rodman isn't in danger of being forgotten anytime soon. If you're a veteran basketball fan, you'll remember the Worm as a capable NBA player willing to do the dirty work on some legendary teams; those who don't follow sports as closely know the forward for his colorful behavior and off-court antics. If not for Isiah Thomas, though, things could have been much different.
Although Thomas and Michael Jordan didn't exactly see eye-to-eye, Rodman played alongside both men. According to the forward, Thomas is responsible for changing his "whole life."
Dennis Rodman wasn't always a basketball star
Even though he eventually found fame for other things, Dennis Rodman first made a name for himself on the basketball court. The forward, however, wasn't always a decorated athlete.
Growing up, Rodman loved sports but didn't possess much natural talent. He didn't have the size to play high school football and found himself riding the bench on the basketball team. Before long, he had quit the team. After graduation, he took a job as a late-night janitor in the Dallas-Fort Worth airport.
A sudden growth spurt, however, changed things. Rodman returned to the basketball court at a local community college but only lasted a single semester on campus. He then transferred to Southeastern Oklahoma State, where he blossomed into a legitimate talent.
While he didn't exactly face the stiffest competition in the NAIA, Rodman showed enough to catch the eye of the Detroit Pistons organization. In the second round of the 1986 draft, they selected the forward, and the Worm was on his way to the Motor City.
Dennis Rodman received some life-changing advice from Isiah Thomas
While Dennis Rodman proved a perfect fit for the "Bad Boy" Pistons, things were still different in the pros. Thankfully, the forward found two people he could rely on: Chuck Daly and Isiah Thomas.
As Jackie MacMullen explained in a 2020 ESPN story, Daly "identified Rodman's vulnerability and immaturity and served as his protector and surrogate father." The Worm even became a regular guest at family holidays and carefully obeyed the house rules. He would also call Isiah Thomas at all hours, seeking guidance from the team's established star.
The guard, if nothing else, gave Rodman one important piece of advice.
"What changed my whole life is when Isiah Thomas came to me one day," Rodman explained. "He pulled me over and hit me in the chest so damn hard, and he said, 'You know, Dennis, this is not a game. This is not a joke. We want to win a championship. You've got to get your act together, get your ass together and get your head focused. You can't keep going out with [teammate] John Salley. You gotta do your job."
Isiah Thomas probably gave Michael Jordan a major assist with that advice
During their time on the hardwood, Michael Jordan and Isiah Thomas weren't the best of friends. In retrospect, though, His Airness' career could have turned out differently if not for his rival.
After Thomas had that talk with Rodman, the forward's attitude changed. "That changed my whole perspective on the NBA, because I just thought it was like one big playground," he explained. "Back in those days, I was pretty much lost, but I was lost in happiness."
While there were still some bumps along the way, the Worm grew into a legitimate NBA player, capable of defending and rebounding with the best of them. He eventually left Detroit for San Antonio and, in 1995, joined the Chicago Bulls.
In the Windy City, Rodman proved a key part of the team's success. He served as a perfect sidekick to Michael Jordan and Scottie Pippen, doing the dirty work that allowed the stars to strut their stuff. The Worm won three NBA titles alongside His Airness before the Bulls dynasty came to an end.
While it's certainly possible that Jordan and Pippen would have been good enough to win without Rodman, the forward did play an important part in the Bulls' second three-peat. Maybe, if Isiah Thomas hadn't pulled the forward aside years earlier, there wouldn't have even been a last dance.
During his career, Thomas dished out plenty of assists. One of the biggest helpers, though, went to Rodman and, in turn, Jordan.