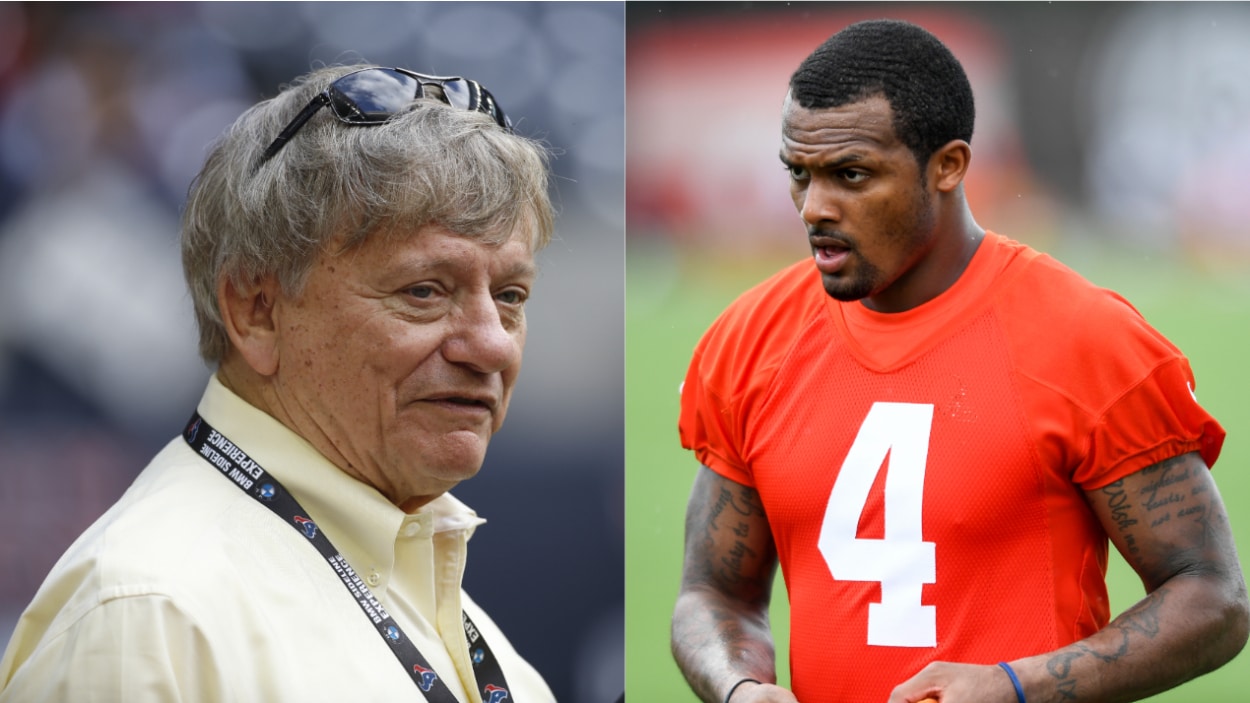 Deshaun Watson's Lawyer Rusty Hardin Defends 'Happy Endings': 'It's Not a Crime Unless You Are Paying Somebody Extra'
Deshaun Watson is under fire for his conduct with masseuses and his lawyers passionate defense of 'happy endings' probably isn't helping.
High-priced celebrity lawyers like Rusty Hardin are supposed to help their clients both in court and in the court of public opinion. Hardin may be succeeding in the former venue for his current client, Cleveland Browns quarterback Deshaun Watson. But he's striking out in the latter. From a PR perspective, his latest misstep is going on a radio show and defending the legality of "happy endings."
Rusty Hardin has defended several high-profile athletes
Rusty Hardin is a Texas-based lawyer and founder of Rusty Hardin & Associates, LLC.
Hardin likely first came on sports fans' radar back in 2008. That's when he appeared alongside Roger Clemens while the legendary MLB pitcher testified to a U.S. House of Representatives Oversite Committee on steroids.
As a result of Clemens' testimony in front of Congress, he was indicted on six counts of obstructing a congressional inquiry and lying under oath. In 2012, with Hardin by his side, a jury found Clemens not guilty on all six counts, per ESPN.
In 2014, Hardin was again beside a famous athlete in court. This time, it was Minnesota Vikings running back Adrian Peterson. He was facing felony child abuse charges. With Hardin's help, Peterson pleaded no contest to a misdemeanor reckless assault charge, per NPR.
While Clemens, Peterson, and now Deshaun Watson are Hardin's most famous defendants, the lawyer boasts a host of athletes and even teams as clients. His law firm's website, RustyHardin.com, lists the Houston Texans, Rudy Tomjanovich, Warren Moon, Wade Boggs, Scottie Pippen, Steve Francis, Calvin Murphy, and Rafer Alston as other clients.
Hardin's latest defense for Deshaun Watson is that 'happy endings' aren't necessarily illegal
Rusty Hardin recently appeared on Sports Radio 610 in Houston to defend his latest client, Deshaun Watson. The former Houston Texans QB is facing 23 lawsuits from massage therapists alleging sexual misconduct during massages.
As Hardin was making Watson's case to sports talk fans in Houston, he took a decidedly strange tack. The lawyer made the case that a "happy ending" — slang for a sexual favor at the end of a massage — isn't necessarily illegal if done right.
Hardin told hosts Seth C. Payne and Sean Pendergrast:
I don't know how many men are out there now that have had a massage that, perhaps, occasionally, there was a happy ending. Alright? Maybe there's nobody in your listening audience that that ever happened to. I do want to point out, if it has happened, it's not a crime. Unless you are paying somebody extra or so to give you some type of sexual activity, it's not a crime. … Doing something or saying something or being a way that makes you uncomfortable is not a crime. And we've had two grand juries find that, and nobody seems to want to listen.

Rusty Hardin on 'happy endings'
After making this head-scratching claim, Hardin quickly tried to backtrack and clarify the point he was apparently trying to make in a statement, per Pro Football Talk.
"On a Houston radio show interview today, I mentioned that a massage that has a 'happy ending' is not illegal," Hardin's statement read. "Meaning it is not illegal for someone to have consensual sex with a therapist after a massage unless the sex is for pay."
He also explained that "it's not OK to do anything that a woman does not agree to do" and added the disclaimer that he was "not talking about what Deshaun did or did not do or expected or did not expect."
Why public opinion matters in the Deshaun Watson case
As Rusty Hardin mentioned in his "happy endings" rant, two grand juries have cleared Deshaun Watson of criminal charges. However, he still faces the 23 civil suits as well as discipline from the NFL.
The NFL is a private organization, though. The league is conducting its own independent investigation. When complete, it will (or will not) hand out discipline for Watson without the need for the burden of proof that the legal system has.
If Roger Goodell and company decide they believe Watson's accusers, a lengthy suspension could be in order. The possibility that a Watson suspension could be unprecedented has increased in recent weeks, too.
Major League Baseball suspended Los Angeles Dodgers pitcher Trevor Bauer for 324 games. Like Watson, women accused Bauer of sexual misconduct, though the pitcher also prevailed in court.
To get Watson on the field for the Cleveland Browns next season, Hardin and the QB are battling public sentiment just as much, if not more, than the legal system.
Watson's lawyer obviously knows this but defending "happy endings" probably isn't the best way to win the battle for the hearts and minds of the general public.
How to get help: In the U.S., call the RAINN National Sexual Assault Telephone Hotline at 1-800-656-4673 to connect with a trained staff member from a sexual assault service provider in your area. 
Like Sportscasting on Facebook. Follow us on Twitter @sportscasting19 and subscribe to our YouTube channel.