The Deshaun Watson Situation Just Took a Gut-Wrenching Turn for Texans Fans
When Deshaun Watson signed a $156 million contract extension right before the 2020 season began, Houston Texans fans understandably felt optimistic about the future of the franchise. However, over the course of the last 10 months, the idea of the Texans winning a Super Bowl title anytime soon has disappeared almost entirely. After all, when your most important player wants out, it's hard to get excited about what lies ahead.
Plus, with Watson facing multiple lawsuits over allegations of sexual misconduct, the situation involving the fifth-year quarterback remains a complicated one.
Unfortunately for Texans fans, the latest report on the team's biggest star represents a gut-wrenching turn on multiple levels.
Deshaun Watson has gone from being the face of the franchise to wanting out of Houston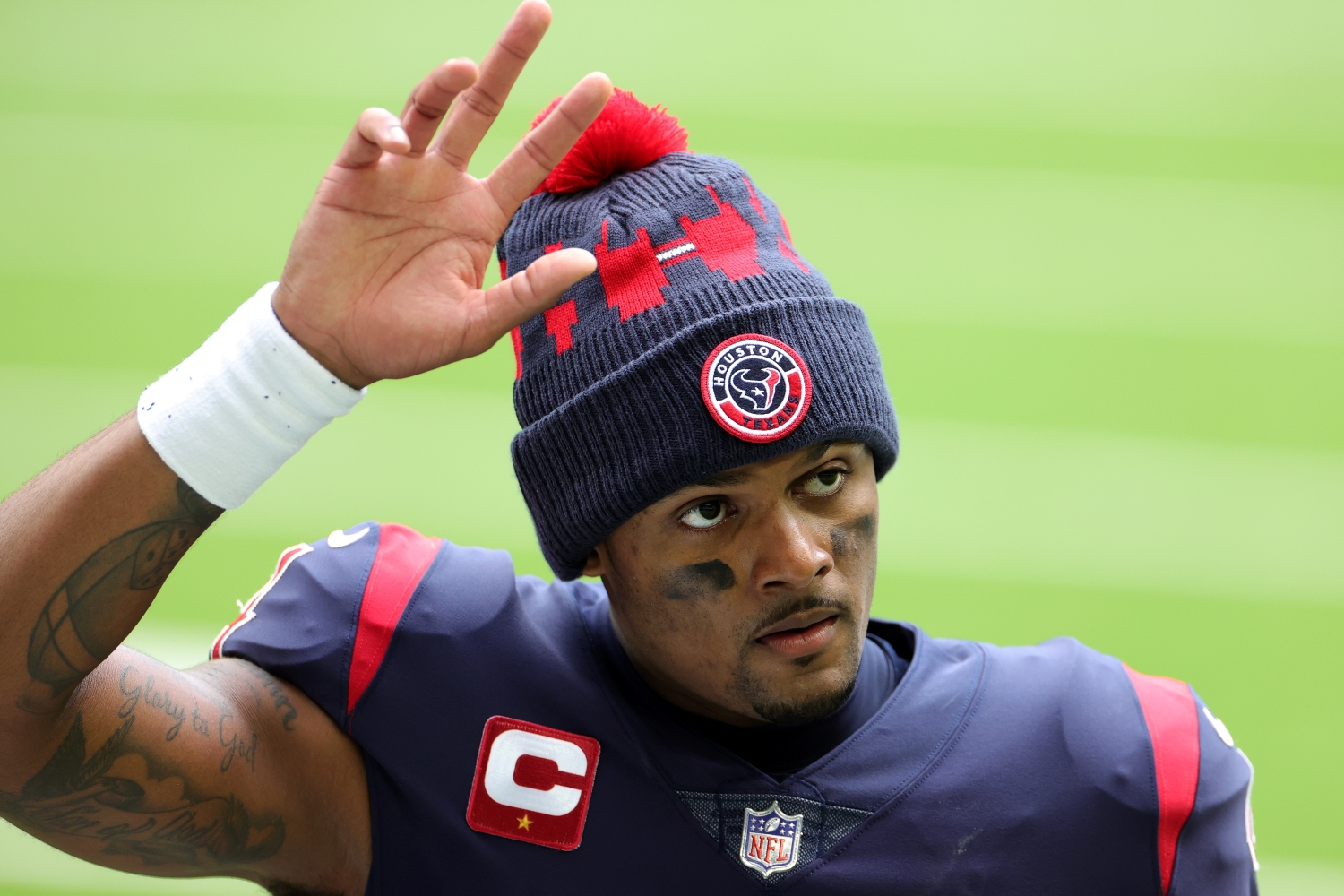 Some teams spend years trying to find a starting-caliber quarterback. Luckily for the Texans, they landed a franchise-altering talent in the 2017 NFL Draft by taking Watson with the 12th overall pick. Although he entered the league with some questions about his penchant for turning the ball over (32 interceptions in 38 games at Clemson), the strong-armed signal-caller quickly silenced doubters by getting off to an MVP-caliber start to his rookie season.
A torn ACL represented an unexpected setback for Watson, but he's proven over the last three years that his knee injury hasn't affected his ability to play the position at an elite level. A bonafide star who's shown he can produce without the benefit of a strong supporting cast, the 25-year-old raised eyebrows around the league back in February by making it clear that he wants out of Houston.
Of course, Watson remains a Texan at the moment, largely because of his uncertain status for the upcoming season. His ongoing legal situation has made it difficult for teams to go all-in on the idea of trading for and building around one of the most talented quarterbacks in the NFL.
The Watson situation just took a gut-wrenching turn for Texans fans
Texans fans holding out a small sliver of hope for a resolution between Watson and the team need to abandon that dream entirely. In fact, they should start looking at highlight reels of some of the top college quarterbacks who project to enter the NFL draft in the near future.
While the legal process must still play out, the situation involving Watson just took a gut-wrenching turn for a fan base that's dealt with plenty of drama in recent years.
According to ESPN, the Texans have shifted their stance on trading their star quarterback. After initially stating they would not deal him, they've reportedly had preliminary discussions with other teams about Watson.
What's the asking price for arguably the second-best quarterback in the league behind Patrick Mahomes?
Two NFL executives told ESPN's Chris Mortensen that Houston wants a combination of five high draft picks and starting-caliber players.
As for the odds of a deal happening? Based on the words of Watson's personal QB coach, it certainly seems like the three-time Pro Bowler expects to throw his next pass as a member of another NFL team.
"I'm 100% sure he'll be traded at some point in the coming future," Quincy Avery said on The Adam Schefter Podcast. "I think the Texans have made the decision to move on. He doesn't want to be there, they're ready to move on; all they're waiting for is fair market value for him, and they'll get a lot."
Which NFL teams should consider paying the reported asking price for the superstar quarterback?
The Watson situation looks dire for Texans fans. Instead of having the quarterback position set for years to come, Houston looks poised to hit the reset button sooner than later. At this point, Watson seems destined to get traded and continue his career with another franchise — something that didn't seem possible last September.
Getting worse at the most important position in sports certainly isn't a short-term strategy for success. However, the Texans can set themselves up for a turnaround if they play their cards right.
Speaking from purely a football standpoint, there's no doubt Watson warrants an expensive trade package. If the Los Angeles Rams had to trade two first-round picks, a third-rounder, and Jared Goff to pry Matthew Stafford away from the Detroit Lions, a team looking to acquire Watson should expect to pay much more than that. He's younger, more athletic, and a better overall player than the Rams' new starting QB. Plus, since Watson doesn't turn 26 until September, he still has time to improve.
So, which teams could be in the mix to pull off a trade for Watson?
The Philadelphia Eagles look like a strong potential landing spot. Jalen Hurts certainly isn't a sure thing, so why not acquire a proven commodity? Watson would instantly become the biggest star in Philadelphia, and he could help turn around an Eagles team that recently got rid of their own highly-paid quarterback.
If Houston doesn't mind trading Watson to an AFC team, the Miami Dolphins stand out as a logical fit. They could offer promising second-year signal-caller Tua Tagovailoa, Pro Bowl cornerback Xavien Howard, and draft picks for a player who would undoubtedly strengthen their chances of competing for a Super Bowl title in 2021.
Then again, all it takes is one team willing to blow the Texans away with an offer they can't refuse.
So, maybe waiting a little while longer to pull the trigger on trading for Deshaun Watson isn't the best route for Miami to take.
All contract data courtesy of Spotrac.