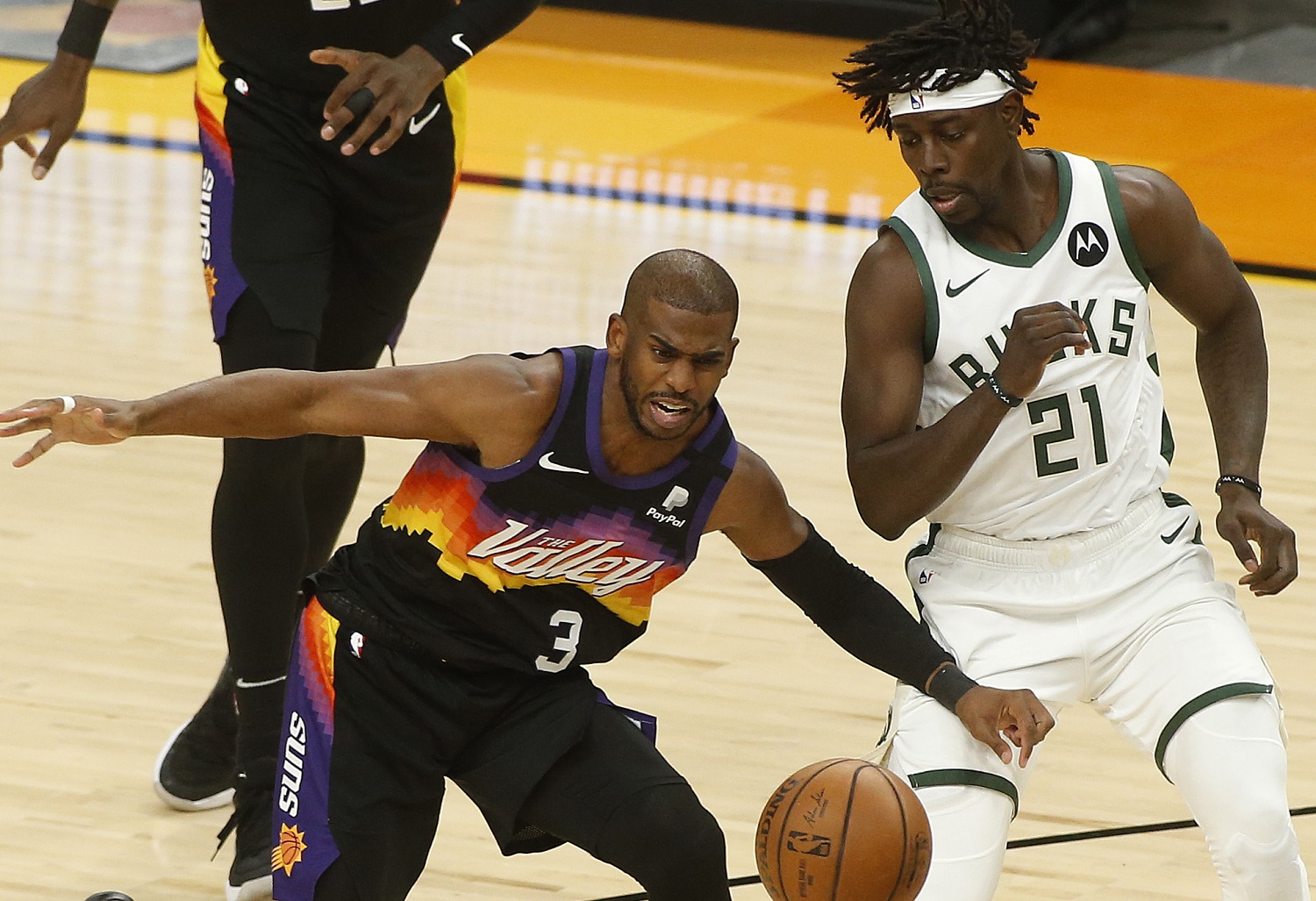 Devin Booker Has Reminded Chris Paul of an Important Basketball Lesson
Veteran guard Chris Paul has been a crucial addition to the Phoenix Suns, bringing them within two victories vs. the Milwaukee Bucks of their first NBA championship.
At 35 years old, there is nothing that the rest of a Phoenix Suns lineup that averages 25 years of age should be teaching Chris Paul, a guard bound for the Naismith Memorial Basketball Hall of Fame. However, young stars like Devin Booker can remind their veteran leader of a few things, which they've done during an improbable run putting the Suns within reach of an NBA championship.
Chris Paul has been a huge addition to the Phoenix Suns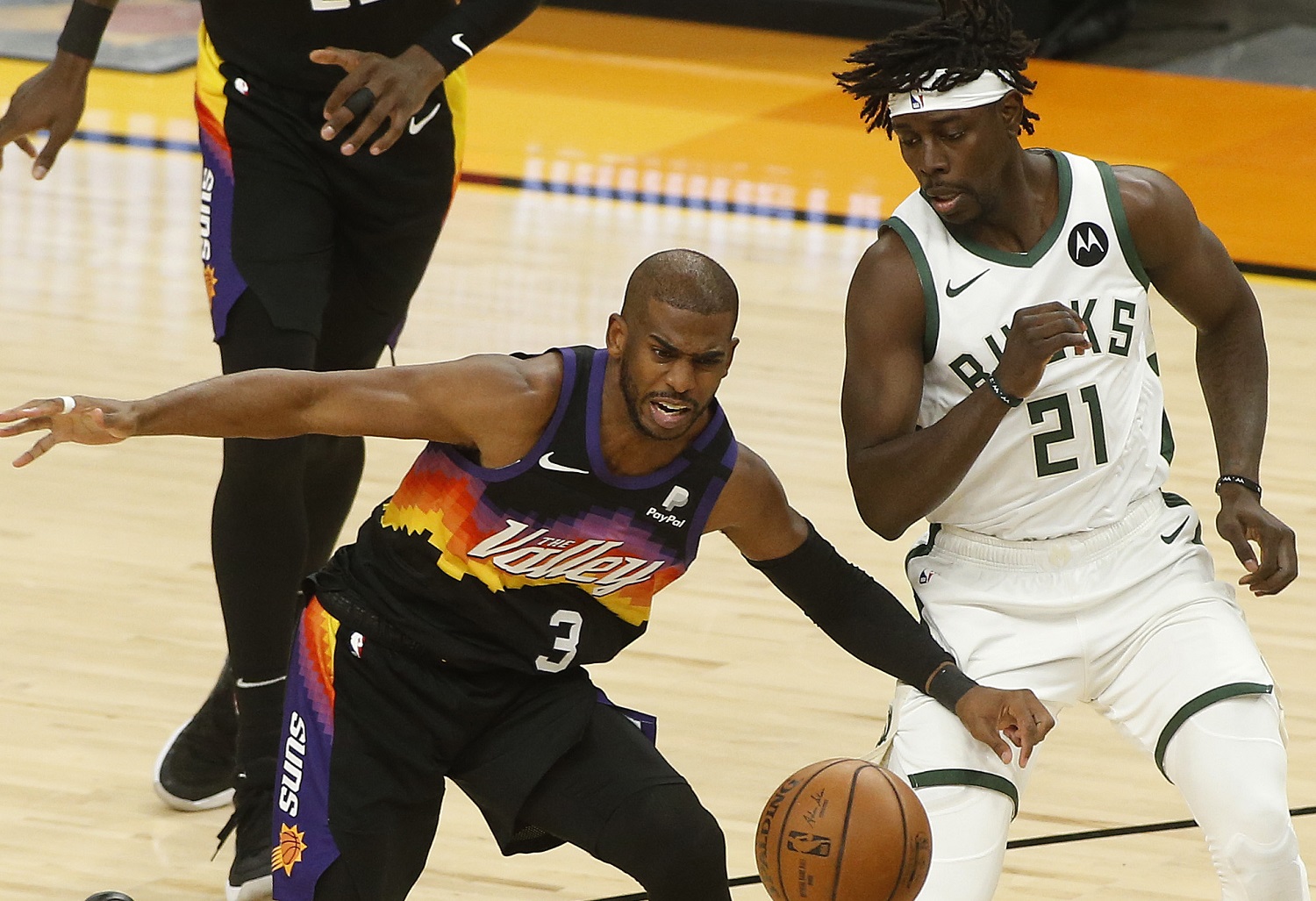 At 26-39, the Suns were nothing special when the pandemic shut down the 2019-20 NBA season. However, they were a different team in the bubble. Winning all eight regular-season games at Disney World didn't get Phoenix to the playoffs, but it did create hope for the future.
That future is now. After 10 straight years of missing the postseason, the Suns cruised to a 51-21 record and have reached the finals against the Milwaukee Bucks.
Bringing Miami Heat forward Jae Crowder in as a free agent helped, but the key move saw Phoenix send Kelly Oubre Jr. and Ricky Rubio to Oklahoma City for Paul. Now in his 16th season, Paul is not the journeyman that playing for four teams in five seasons might suggest.
Paul averaged 16.4 points and 8.9 assists in the regular season, posted his best overall shooting percentage since 2008, and traded quantity for quality on 3-point attempts. Consistent with his history, there has been zero dropoff in performance in the playoffs.
Two more victories and the $41.3 million that the Suns are paying Paul this year will rate as one of the franchise's best investments ever.
Devin Booker has reminded Chris Paul of an important basketball lesson
Booker and Deandre Ayton, at 24 and 22 years old, respectively, are the future of the franchise. Ayton, the top pick of the 2018 draft, has not reached his potential yet but has averaged triple-doubles in all three pro seasons. There's no reason to doubt he can work his way up to a 20-and-10 guy.
Already in his sixth season, Booker is good for a consistent 25 points a game. He needs to take better care of the ball at times, but Suns fans must be salivating at the prospect of seeing him on the floor for another decade. On top of everything else, Booker is the guy who keeps Phoenix in high gear.
"One thing about 'Book' is he stays in kill mode all game on, no matter what's going on," Paul said. "If you're thinking you need to hold the ball with, like, 40-some seconds left, you might be up four or five, Book's gonna shoot it. He's gonna let it ride. That's just his mindset, which you gotta appreciate."
Another reminder: Basketball should be fun
Mikal Bridges rose to full-time starter status this season, giving the Suns three players 24 or younger in the lineup. Some might look at that and see a team vulnerable to inexperience at immaturity.
Paul looks at it and sees a core of guys young enough to remember when they were playing to move up to the next level but also for the love of the game.
"We have a very fun team," he said. "You know, guys who try not to take themselves too serious, and I think that's what's really good about our team. One of the things we say before we run out on the court is, you can be so serious and all that. We say have fun, have fun.
"And I think that's what keeps us focused, is remembering that this is a game. We gotta go out there and enjoy ourselves."
It's working, and the Suns are two wins from their most enjoyable summer ever.
All stats courtesy of Basketball Reference.