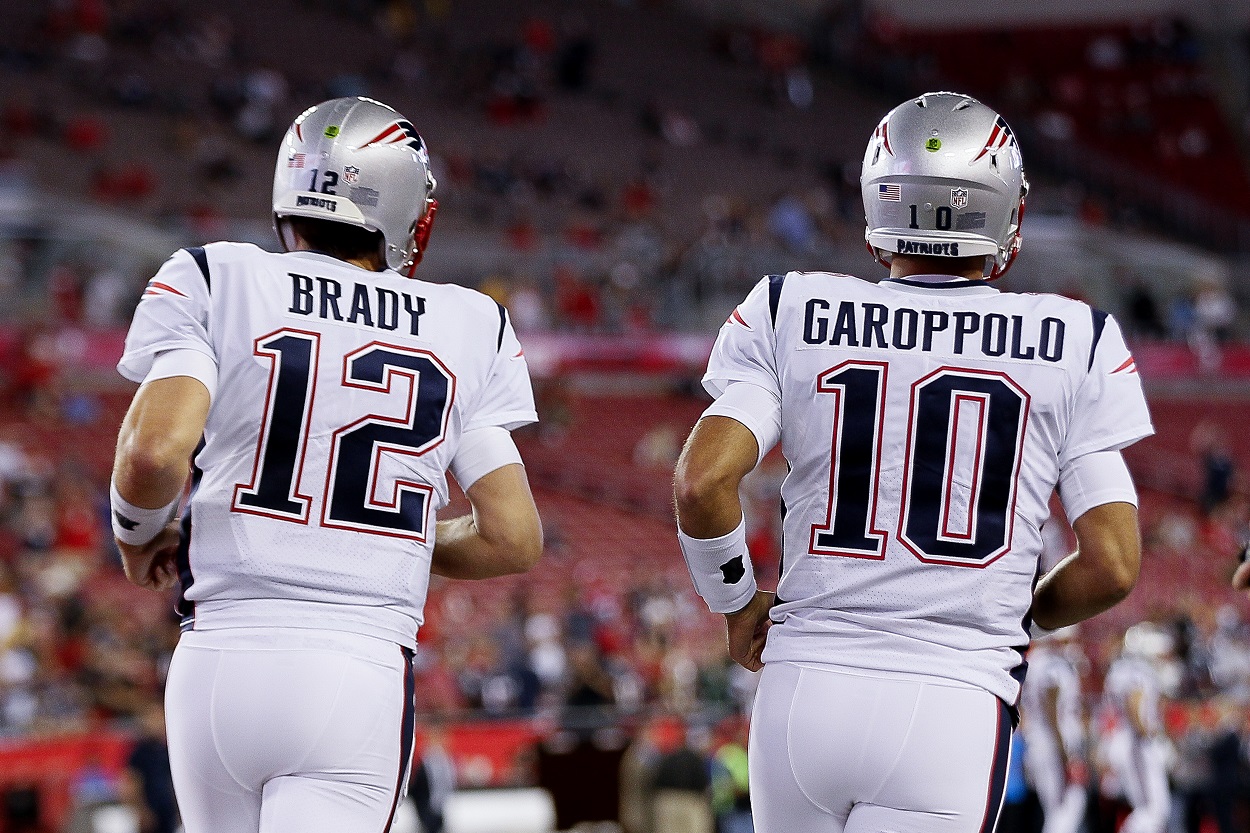 Did Tom Brady Bolt to Buccaneers Because Jimmy Garoppolo Was Traded to 49ers?
Jimmy Garoppolo's trade from the Patriots to the 49ers in 2017 led to Tom Brady leaving the Patriots in 2019.
It seems almost fitting that on the eve of the NFC Championship Game, with Jimmy Garoppolo's San Francisco 49ers set to take on the Los Angeles Rams, Tom Brady would be dominating the news.
The two quarterbacks have been linked since the New England Patriots drafted Garoppolo as Brady's presumed successor in 2014.
Instead, after nearly four seasons as Brady's backup, the Patriots traded Garoppolo late in the 2017 season to the 49ers, where he now stands one win away from reaching his second Super Bowl in three years.
But that trade did more than give Jimmy G a new lease on his career. It also hastened Brady's eventual departure from the Patriots, putting the recognized greatest quarterback of all time on his own final career path to the Tampa Bay Buccaneers, where it appeared Saturday to finally come to an end after 22 seasons.
Brady's retirement was big breaking news on Saturday … until it wasn't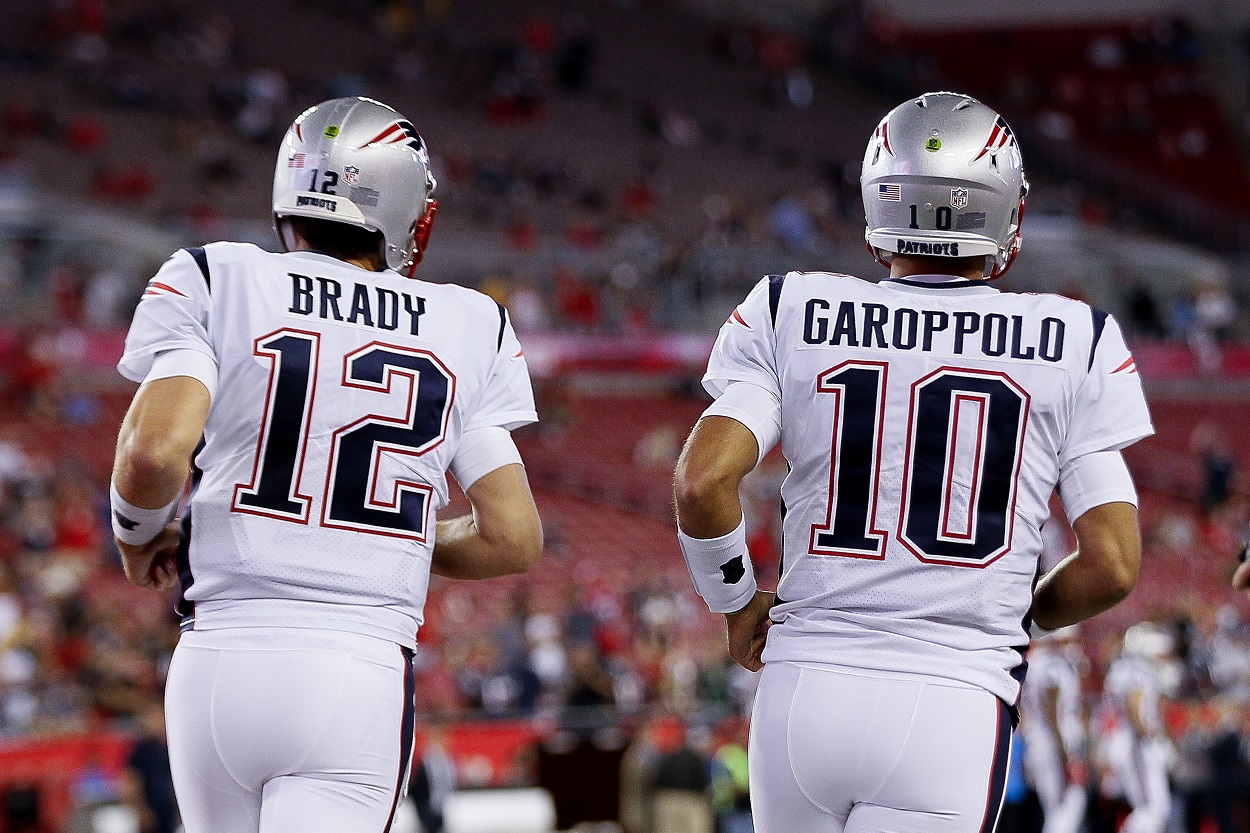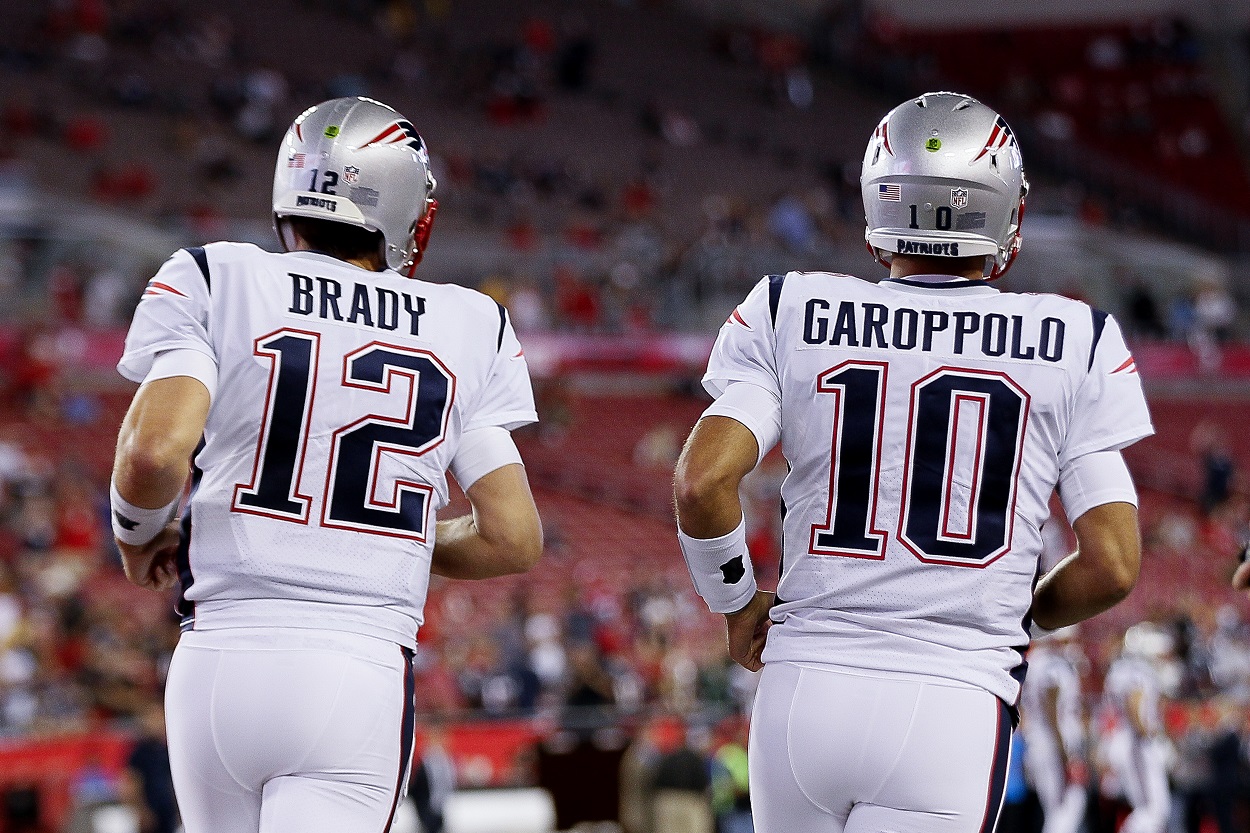 A tweet from Brady's health and wellness company, TB12 Sports, announced Brady's retirement from the NFL on Saturday. The tweet was quickly followed by another by ESPN's Adam Schefter confirming that Brady had decided to call it a career.
But as Saturday wore on, the original tweet from TB12 Sports was deleted, and both Brady's father and his agent indicated that nothing official had been decided. Later Saturday, Buccaneers coach Bruce Arians confirmed that Brady had informed the team that his mind had not been made up.
It all gave the appearance of an effort to try and walk back the premature tweets and reports to give Brady the opportunity to reclaim the news cycle and make the announcement on his own terms, much like Pittsburgh Steelers quarterback Ben Roethlisberger did on Thursday.
Garoppolo's trade to San Francisco exposed a fissure in the relationship between coach and owner
But the timing of Saturday's news, however premature it may have been, but the spotlight back on the 2017 trade that sent Garoppolo to San Francisco in exchange for a second-round pick. The trade stunned New England, despite knowing that Garoppolo would soon become a free agent after the expiration of his rookie contract.
The trade was the end result of Brady's stated desire to continue playing deep into his 40s, creating a power struggle within the organization. While coach Bill Belichick appeared ready to broker the transfer of power from Brady to Garoppolo, a player he coveted coaching, Patriots owner Bob Kraft solidly backed Brady's desire to stay and continue playing for several more years.
According to a 2018 report by ESPN's Seth Wickersham, into that crucible came Kraft's insistence that Belichick trade Garoppolo, keeping Brady as the unchallenged starter and team leader. Chafing at his owner's decision, Belichick indeed traded Garoppolo, but not to the highest bidder. Instead, Belichick sent his star pupil to the 49ers, a place Belichick believed Jimmy G would continue to flourish and succeed, for pennies on the dollar; in this case, just a second-round pick.
Patriots fans were stunned and puzzled, and it became apparent that whatever short-term happiness Brady took from having his successor sent 3,000 miles away, the fraying of relationships among Brady, Belichick and Kraft sealed Brady's fate with his head coach, leading to Brady turning down a chance to remain with the Patriots after becoming an unrestricted free agent after the 2019 season.
Garoppolo has a chance Sunday to keep the Brady-Jimmy G Super Bowl streak alive
In the same 2019 season that Brady played his final game with New England, Garoppolo took the 49ers to their first Super Bowl in 15 years. The following season, Brady went to his final Super Bowl as a first-year member of the Tampa Bay Buccaneers, beating the same Kansas City Chiefs that had defeated Garoppolo's 49ers in the Super Bowl the year before.
A possible Brady-Garoppolo matchup in the 2021 NFC Championship Game on Sunday was derailed by the Rams last weekend in the Divisional Round after Brady nearly completed a comeback from 27-3 down in the second half. Now, the Rams have the chance to deny Garoppolo his second Super Bowl in three years and end the streak of either Brady or Jimmy G playing in a Super Bowl for the sixth season in a row.
But what about this? But win or lose Sunday, a brand-new intrigue could be developing. Could Garoppolo go from being separated from Brady to replacing a newly-retired Brady in Tampa?
Stats courtesy of Pro Football Reference