Dolphins Cornerback Xavien Howard Makes the Most Polite Trade Demand Ever
Xavien Howard would rather wear pork chop-scented aftershave in a room full of pit bulls than play another down for the Miami Dolphins under his current contract. But at least the sixth-year cornerback is acting civilized about it.
In fact, Howard's trade demand is the most polite request we can recall seeing. Sure, he called out management. But his tweet was the work of a genuine pro – All-Pro or otherwise.
Xavien Howard is one of the NFL's best cornerbacks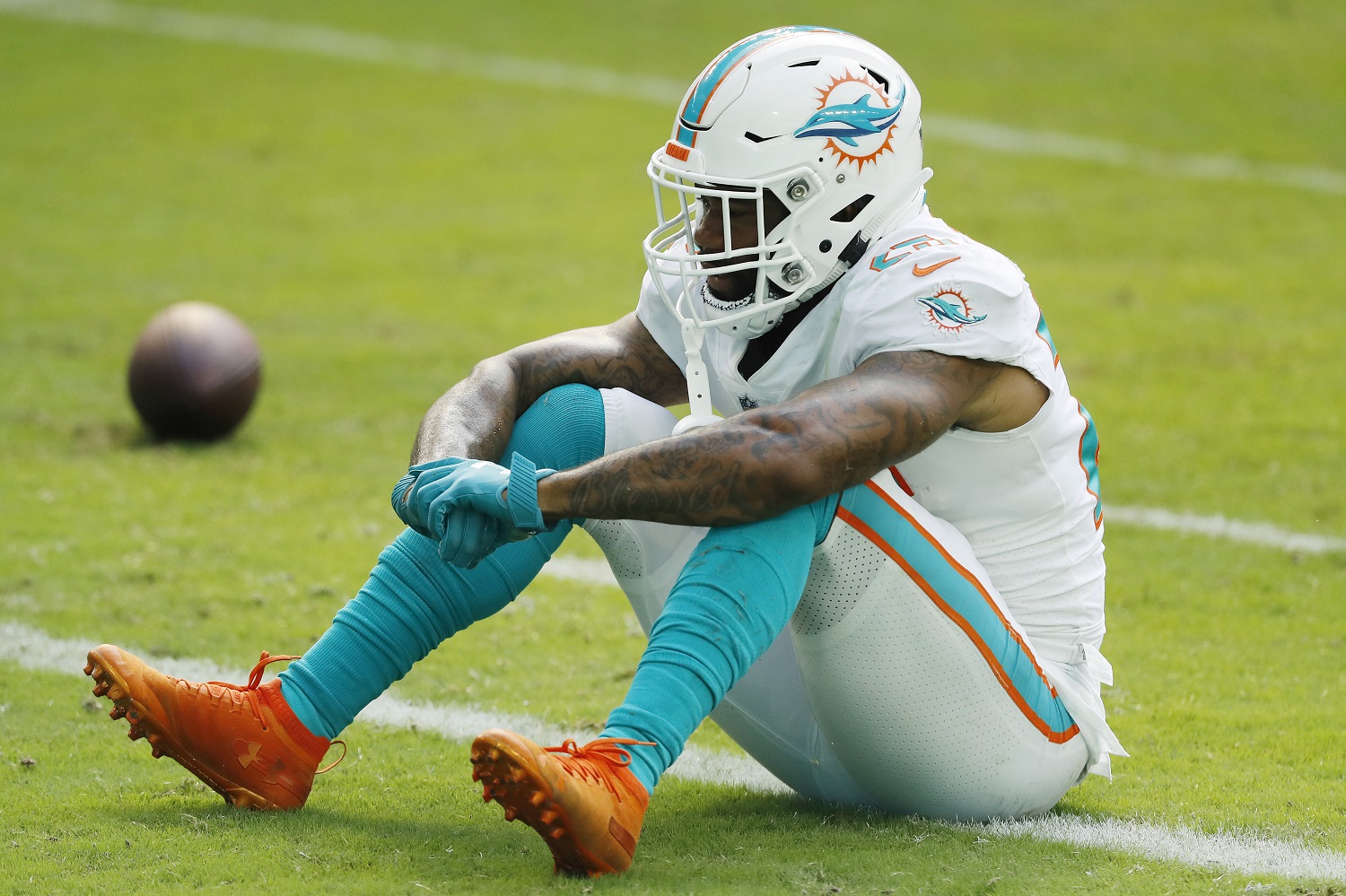 Given the opportunity for a do-over on the 2016 NFL Draft, a bunch of general managers would have grabbed Howard in the top half of the first round. Instead, Howard was only the sixth cornerback to come off the board five years ago, with the Dolphins picking him 38th overall.
Howard, who made 10 interceptions in 29 career games at Baylor, suffered knee injuries in training camp and midway through the season that limited to seven games a rookie. Additional knee problems in 2018 and '19 cost the 6-foot-1 defender more than a dozen additional games.
However, Howard bounced back in impressive fashion. Having already led the NFL in interceptions with seven in 2018, he outdid himself last fall with 10 picks. He also led the league with 20 passes defended while quarterbacks learned the hard way to quit challenging Howard.
His ability to play tight defense against No. 1 receivers added up to his second Pro Bowl selection and his first appearance on the All-Pro first team.
Xavien Howard has asked the Miami Dolphins to trade him
Stating that he believes he has outperformed his contract and sees no hope for a resolution to their ongoing disagreement, Howard went on social media Tuesday with a statement asking the Dolphins to trade him.
"I don't feel valued, or respected, by the Dolphins," Howard said. "Just like they can take a business-first approach, so can I."
His announcement came after Howard, whose 22 interceptions in the past five years are second only to Marcus Peters (23) of the Baltimore Ravens, had already reported to training camp. He said his presence there merely avoids a fine for holding out, though he vowed to "handle myself like professionals do."
Howard emphasized that he is not looking for a new contract, just a reworking of the existing deal that increases the guaranteed money. Howard believes there is a cap-friendly solution. Spotrac.com shows Miami with more than $8.2 million in cap space, so that shouldn't be a major concern for management.
"I don't feel the organization has dealt with me in good faith," the cornerback said.
The Dolphins are in a tough spot on this contract
Howard signed a five-year, $75.25 million deal in 2019 to earn the distinction of being the highest-paid cornerback in the NFL. However, Spotrac reports that the Dolphins only guaranteed $39.26 million. He will have already collected about $31 million by the end of the upcoming season, which explains his desire to seek more guaranteed money over the remainder of the deal.
According to ESPN, Howard's contract now ranks sixth among cornerbacks in per-year average. That doesn't appear to be what rankles Howard most.
"I'm the second highest paid cornerback on my own team, and it's not even close," he wrote, alluding to the five-year, $82.5 million deal that Byron Jones signed as a free agent a year ago.
All in all, Howard's money looks right-sized in relation to league-wide contracts. The real problem money-wise is the deal that they gave Jones, whose numbers don't stack up to Howard but who is proving to be more durable with 87 starts in six seasons. Jones came over from the Dallas Cowboys as a free agent, which drove up his price.
Howard isn't wrong to ask for a reworked deal, but the blame there doesn't belong on the Dolphins. Howard's previous agent negotiated the original deal, and the cornerback signed the contract. The Dolphins have abided by the terms, and Howard must deal with those same terms for now.
Rather than a trade, the more sensible scenario for everyone would be for the Dolphins to convert perhaps a third of any remaining money to guaranteed cash. That should satisfy the player without opening the team up to excessive exposure in the event of another injury.
Do just that much and the Dolphins can expect a very nice thank you note from Howard on Twitter.
All stats courtesy of Pro Football Reference.