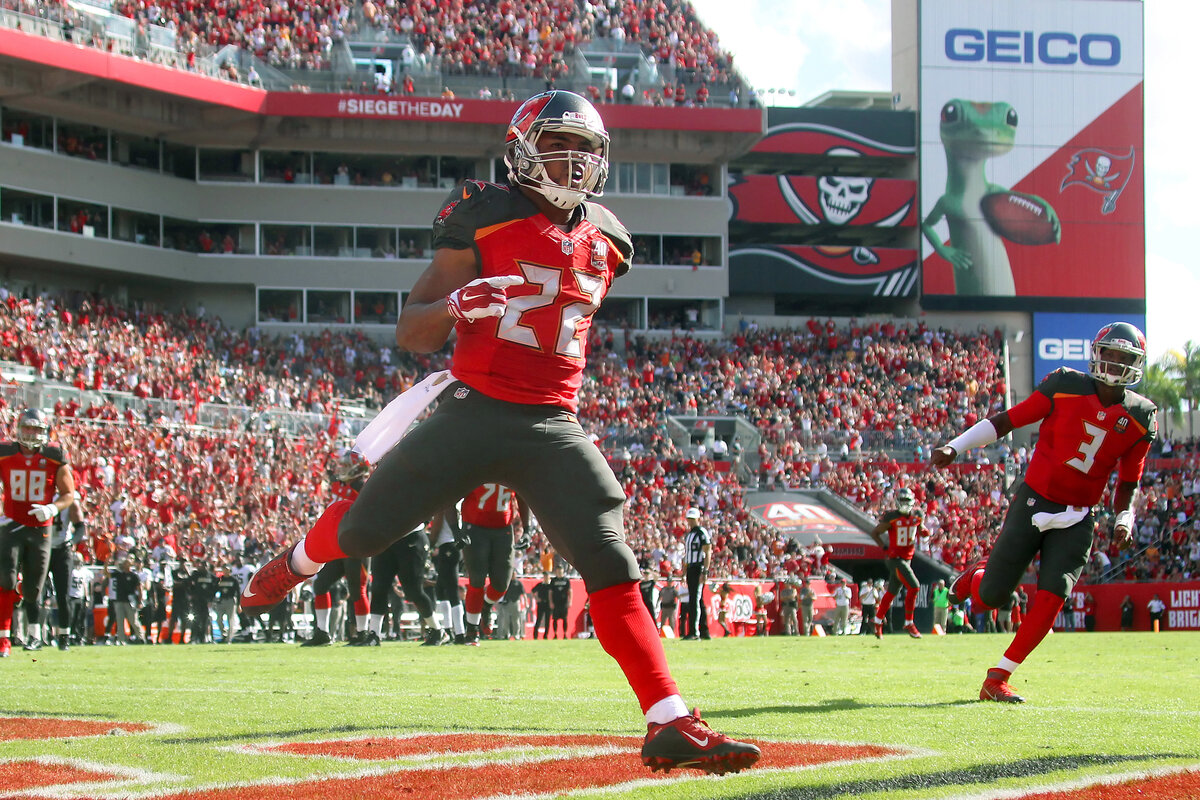 Doug Martin Had One of the Strangest Running Back Careers in Recent NFL History
Former Tampa Bay Buccaneers running back Doug Martin looked like the NFL's star after a brilliant rookie season. Martin instead had a bizarre career.
Former Tampa Bay Buccaneers standout Doug Martin is why teams should use caution in drafting running backs so highly.
Martin, who teamed up with Josh Freeman at the start of his career and closed it alongside Derek Carr, didn't have a bad tenure in the NFL. But at the same time, Martin — who played six of his seven seasons with the Tampa Bay Buccaneers — never lived up to expectations as a first-round pick.
Martin may have had one of the strangest careers by a running back in recent memory with everything considered.
Doug Martin burst onto the NFL scene in a big way
The Tampa Bay Buccaneers sought a franchise running back when they used the 31st overall pick on Doug Martin in 2012, and it appeared they found one.
Martin ran for 1,454 yards and 11 touchdowns on 4.6 yards as a rookie. Nicknamed the "Muscle Hamster," Martin also turned 49 catches into 472 yards and a touchdown.
Martin's breakout game came in Week 8 when he ran for 251 yards and four touchdowns in a 42-32 road victory against the Raiders. The rookie standout had five games with at least 100 rushing yards.
Martin earned Pro Bowl honors after the season.
Martin had an odd career progression after that
Many expected Martin to build off his excellent rookie season in 2013, but injuries got in the way.
A torn labrum limited Martin to 456 yards and a touchdown on 3.6 yards per carry in six games. Martin struggled again in 2014, only picking up 494 yards and two touchdowns in 11 games.
When rookie quarterback Jameis Winston arrived in 2015, Martin suddenly woke up again. Martin earned Pro Bowl and first-team All-Pro honors when he ran for 1,402 yards and six touchdowns on 4.9 yards per carry.
Entering his age-27 season, it appeared Martin had finally figured things out and gotten back on the right path. Martin signed a five-year, $35 million contract extension with the Buccaneers.
Tampa probably wishes they could have that contract back. Martin averaged 2.9 yards per carry over the next two seasons and served a four-game suspension for violating the league's substance-abuse policy, a move which cost him $15 million in guaranteed money.
Martin closed his career with 723 yards and four touchdowns on 4.2 yards per carry in 16 games and nine starts for the Raiders in 2018. The Raiders cut him with an injury settlement in September 2019, and Martin hasn't played since then.
How should Doug Martin's NFL career be remembered?
Doug Martin turns 32 in January, and he hasn't played since December 2018.
If Martin is indeed done in the NFL, he leaves behind a strange legacy. Martin really can't be called a bust, seeing as he had two 1,400-yard seasons and earned a second contract with his team.
What makes Martin's career so unique is the progression. Martin followed his elite rookie season's progression with two down years, then had a stellar campaign. When it seemed Martin found his grove, he suffered major regression.
Most running backs who start great and don't suffer a career-altering injury either stay great for a long time or quickly fall off.
Compare Martin's career to Alfred Morris, who also entered the NFL in 2012. Morris ran for 1,163 yards and 13 touchdowns as a rookie for the Washington Redskins.
Although Morris never again topped 1,300 yards, he still posted 1,000-yard seasons in 2013 and 2014 while averaging over four yards per carry both years.
With that said, Morris has been an effective backup running back at other stops and is currently with the New York Giants. Morris has had a far more typical career progression than Martin.
Overall, it is up to Doug Martin if he wants to be pleased with how his career went. Two 1,400-yard seasons are nothing to sneeze at, even if things didn't end in Tampa how he or the Buccaneers may have wanted.
Like Sportscasting on Facebook. Follow us on Twitter @sportscasting19.