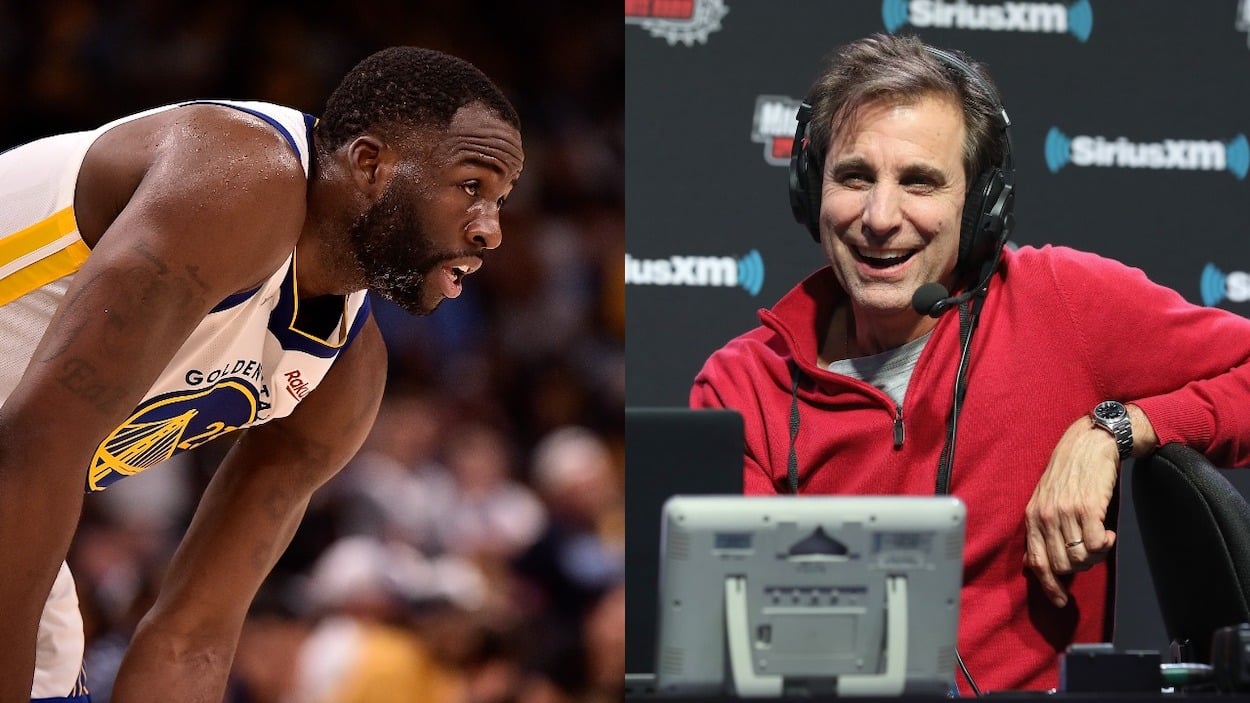 Draymond Green Loses All Credibility After Admitting He Just Noticed Sports Talk Legend Chris 'Mad Dog' Russo in the 'Last Couple of Months'
NBA star Draymond Green might not like or even respect spots talk legend Chris "Mad Dog" Russo, but admitting he doesn't know who he is, loses Green credibility.
Golden State Warriors star Draymond Green found himself in the middle of a sports media-based controversy last week when JJ Redick, Chris "Mad Dog" Russo, and Stephen A. Smith got into a spat on ESPN involving the polarizing NBA player. And, as Green is apt to do, he took to his own media platform to fire back at Russo. 
The problem is before Green was able to get any of his points across, he undermined his authority as a sports media expert by admitting he really doesn't know who the legendary Mad Dog is, outside of guy Smith let's sit next to him on First Take. 
That lost Green all his credibility on the subject. 
Chris Russo and JJ Redick had a tense argument about Draymond Green on 'First Take'
After a Golden State Warriors vs. Memphis Grizzlies playoff game where Draymond Green got elbowed in the face, jeered by the crowd as he went to get stitches, and then flipped the bird to those fans, he was unsurprisingly a major topic of debate on ESPN's First Take the following morning. 
With host Stephen A. Smith looking on, guest co-host Chris "Mad Dog" Russo uttered the controversial phrase, "Just shut up and play, will you please? America is tired of Draymond Green."
Later on the show, former NBA player JJ Redick joined the debate and took issue with Russo's "undertone." He said he didn't like when media members use the "shut up and play" phrase because "the people on Fox News talk about athletes that way."
The exchange quickly made the rounds on social media. And people passionately supported both Redick and Russo, depending on their thoughts about the situation. Smith weighed in as well, saying he was OK with everything that happened on his show, except for Redick generalizing about the people at Fox News. 
Green even shared his own thoughts on his podcast a few days later. However, before he could make any salient points, the NBA player completely destroyed his credibility on the subject of sports media. 
Draymond Green lost all credibility when he admitted he doesn't know who 'Mad Dog' is
After the dust-up between Chris Russo and JJ Redick, Draymond Green took to his own show, The Draymond Green Show, to weigh in on the situation. 
Green defended himself and attacked Mad Dog, as is his right to do. He even gave a thoughtful (if misguided) take on the future of sports media. Unfortunately for the host, none of his sports media opinions can be taken seriously after he said this:  
First, I'm not sure where this 'Dog' — this 'Bad Dog' guy really came from. I really noticed him maybe over the course of the last couple of months. Going up and just screaming to the top of his lungs when he's sitting next to Stephen A. … Not sure what gives him the right to speak for America? What's he done in his life? I mean, he sits in on Stephen A.'s show and screams. So I'm not sure who he's become in sports or in media to say how America feels.

Draymond Green on Chris "Mad Dog" Russo
This is the moment that Green rendered everything else that came after moot. 
Green has every right to fire back at Mad Dog after the longtime pundit fired shots at him. Green can call Russo old, call him stupid, or even call him a racist if he believes it and wants to make that case. 
What he can't do is admit — right before he makes a thought-provoking argument about the future of sports media — is that he thinks Chris "Mad Dog" Russo is some guy who just showed up next to Stephen A. Smith on First Take a few months ago. 
In fact, if Green doesn't know that there would be no First Take and no Stephen A. Smith without the "Mad Dog," then the Warriors forward doesn't know enough about the history of sports media to make any kind of declaration about its future. 
'Mike and the Mad Dog' is one of the most important shows in the history of sports media
You can agree or disagree with Chris Russo, JJ Redick, or Draymond Green. However, you also have to acknowledge that Mad Dog is a seminal figure in the history of sports media. 
As one-half of the most influential sports talk radio show of all time, Mike and the Mad Dog, Russo is a seminal figure in the history of sports talk and shaped the way the media talks about sports in the 21st century. 
In the late 1980s, WFAN 660 in New York City became the first station in the country to experiment with 24-hours of sports on the radio. The station backed off a bit, putting Don Imus on during the morning drive. Outside of that, though, it was all sports, all the time. 
In 1989, the station teamed up the always-excitable Chris "Mad Dog" Russo with the measured and superior Mike Francesca. 
For the next 19 years, the pair ruled the airwaves in NYC. The show also launched a thousand sports talk shows that owe their success to "Mike and Dawg." 
Every thoughtful, smarter-than-thou sports talk host today is, on some level, doing a Francesa imitation. This includes uber-successful hosts like Dan Patrick, Colin Cowherd, and Jim Rome. And, there would be no screaming, frothing at the mouth talking heads like Stephen A. Smith, Skip Bayless, or Nick Wright if Chris Russo didn't blaze that trail. 
When Mike and Mad Dog last signed off together in 2008, Green was 18-years-old and living in Michigan. You can't blame him for not having grown up listening to the influential show. 
However, now that Green is a part-time media member and aspiring full-time sports talk personality when he retires, he should do a little better knowing his history. 
So, to set the record straight, it's "Mad Dog," not "Bad Dog," and there would be no First Take and certainly no, The Draymond Green Show without Russo's work on Mike and the Mad Dog.
Like Sportscasting on Facebook. Follow us on Twitter @sportscasting19 and subscribe to our YouTube channel.