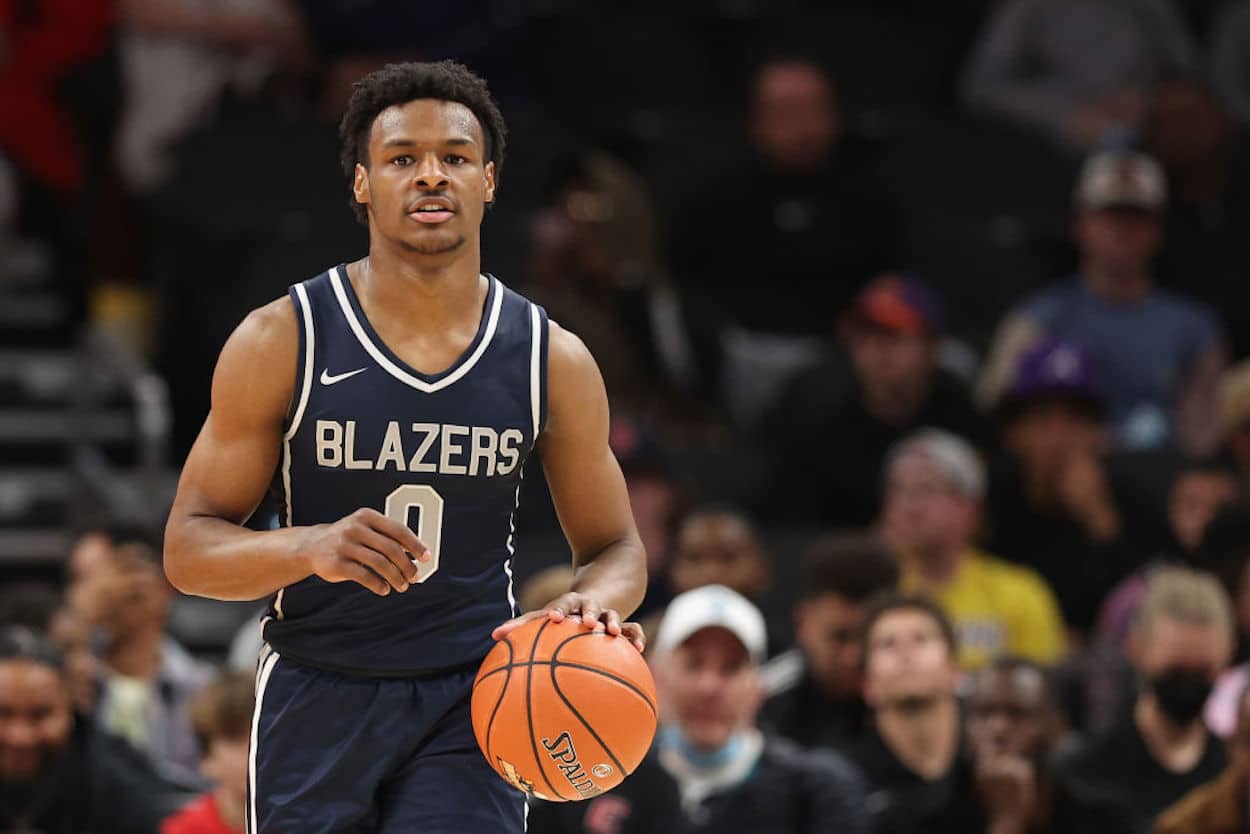 Duke Could Be the Perfect Fit for Bronny James if He Plays College Basketball
While it's unclear what his future holds, Bronny James could find his perfect match at Duke University.
Over the years, the Duke Blue Devils came within touching distance of landing some legendary names. As the story goes, Kobe Bryant would have headed to Durham if he had attended college. Similarly, LeBron James has said that he would have suited up for either Duke or the University of North Carolina. Without knowing exactly what the future holds, another big-name talent will be choosing his path to the pros soon: Bronny James.
At this point, the current word is that Bronny probably won't attend college; given his famous father, that's not really necessary to land on NBA radars. Should he want to spend a season in the NCAA ranks, though, Duke could be a natural fit for the young guard.
Jon Scheyer watched Bronny James at the Peach Jam, but the teenager isn't expected to go to college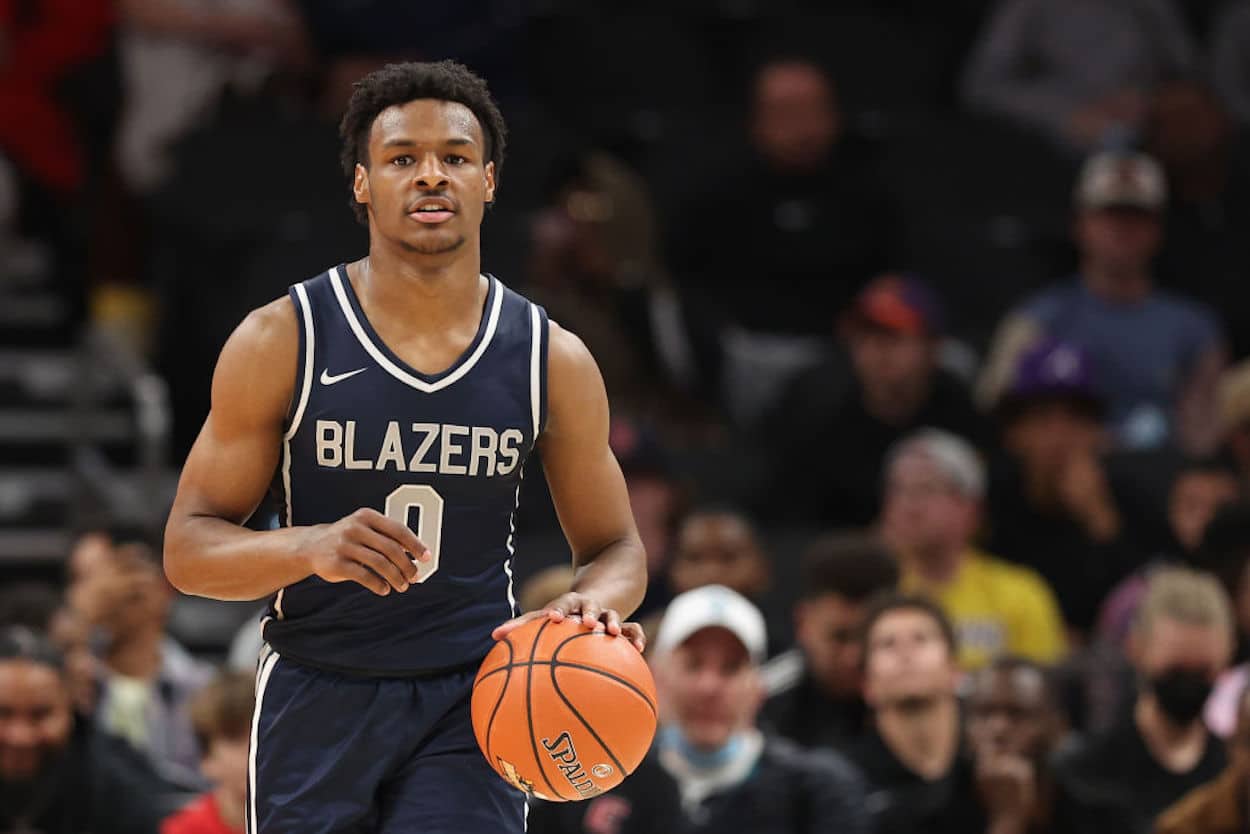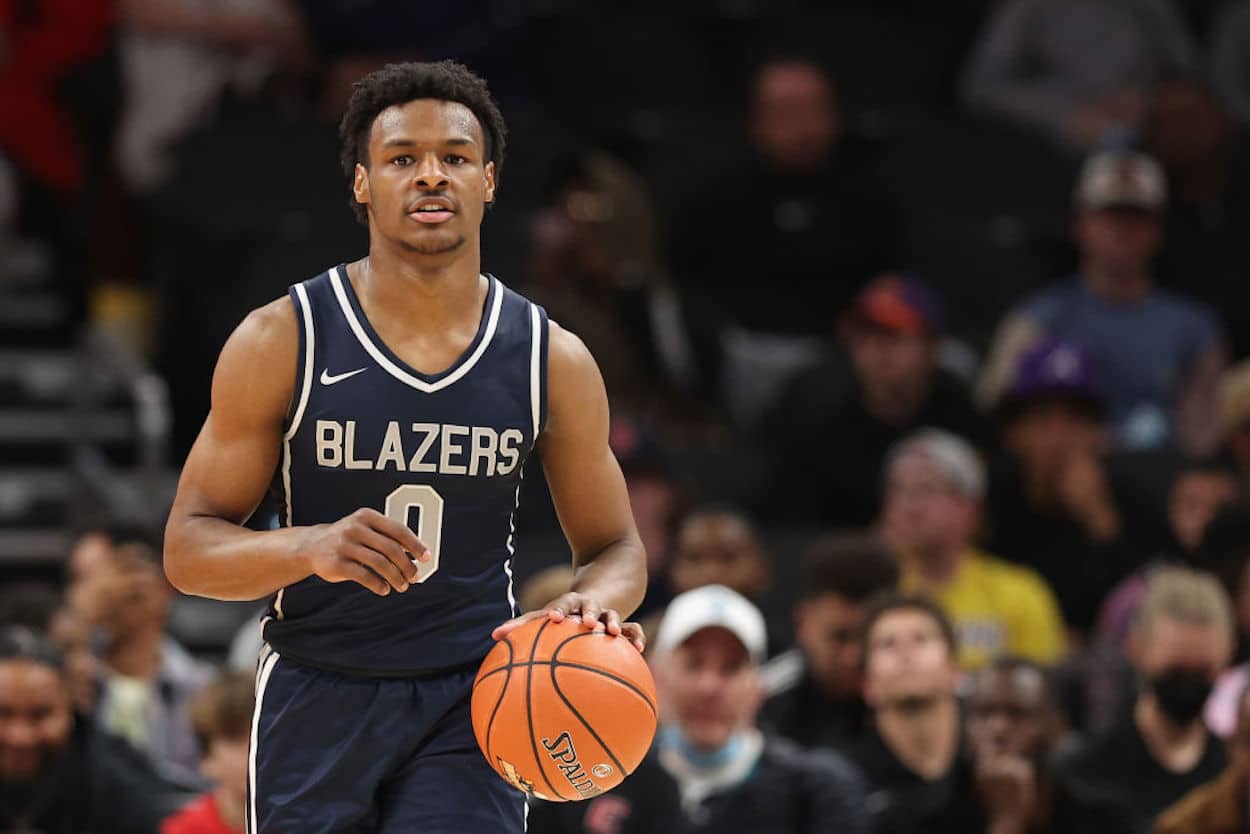 When the son of an international superstar hits the basketball, it's always going to attract some attention. Bronny James' appearance at Nike's Peach Jam was no exception to that reality.
While you could argue that most of the coaches and scouts were present due to the sheer volume of prospects, rather than the specific opportunity to watch Bronny, the young guard did draw some famous spectators. According to Jamie Shaw of On3.com, Jon Scheyer, Penny Hardaway, and four other D-1 coaches sat courtside for one of James' games.
With that being said, though, it's unclear what the teenagers' future holds. At this point, it's possible that he could completely bypass college.
"Now, one question I've been getting this week — both in the gym and over the Twittersphere … who's recruiting Bronny James?"  247Sports' Adam Finkelstein said. "Well, I don't know that anybody's really recruiting Bronny James. I think the perception is that Bronny James is not going to play college basketball. That is not fact by any stretch. But as you sit in a college coaches' section and you just kind of hear what coaches are saying about this, I haven't heard anyone who's said, 'Yeah, we're making a hard push for Bronny.'"
That's not due to a lack of quality, though.
"And it has nothing to do with the type of player he is. I think everybody is in agreement that he is a good player who can impact winning pretty much from Day 1 at the college level," Finkelstein continued. "I just think the perception — although we haven't heard anything definitive at all out of Bronny's camp — is that he is not likely to play college basketball. So we will see if that changes in the coming weeks and months. But right now, I have not spoken to any college coaches that think they have a good chance of landing him or even think that it's an especially worthwhile endeavor in terms of recruiting him. So that's the latest on Bronny James."
Duke could be an interesting fit for Bronny's potential college career
As Finkelstein said, there's nothing that currently indicates that Bronny James is interested in playing college basketball, let alone which programs he'd be the most interested in. With that disclaimer out of the way, though, Duke could be an intriguing fit for the young guard.
Before going any further, let's establish what we know (or can safely assume) about Bronny at this point:
The teenager is talented but, based on early scouting reports and recruiting rankings, doesn't seem to be a game-breaking player like his father.
He'll surely be able to command massive name, image, and likeness (NIL) money, thanks to his social media following and last name.
He probably won't want to stay in college for long. As long as he has a chance of landing an NBA contract, which shouldn't be a problem given his genes, he'll want to get to the Association ASAP.
When you take all of those factors in combination, they show how Duke could be a good fit.
In regards to the talent, the Blue Devils will always bring in a capable group of recruits. Since he doesn't have to be overly worried about his draft stock, that reality could allow Bronny to be part of an exciting young team rather than trying (and potentially failing) to lead a program to NCAA greatness on his own.
If we boil the second and third bullet points down to branding, Duke is uniquely positioned there, too. The Blue Devils hired Rachel Baker to serve as the program's general manager earlier this offseason. While she'll touch just about every facet of the Blue Devils organization, it's easy to see how her presence will help the men's basketball team shine in the NIL space.
Before coming to Durham, Baker worked for the NBA and Nike. Beyond the family connection — LeBron has a lucrative deal with Nike — the Blue Devils' GM is well-versed in the business space. If Bronny's goal is to build his own brand before joining the NBA, then there's few places better than joining a Baker-guided Duke Blue Devils.
At this point, though, there's nothing to go off but speculation. Should Jon Scheyer find success and Baker keep the Blue Devils shining from a commercial perspective, though, Duke will be able to make a compelling pitch to Bronny. At that point, the ball will be in his court.
Like Sportscasting on Facebook. Follow us on Twitter @sportscasting19 and subscribe to our YouTube channel.