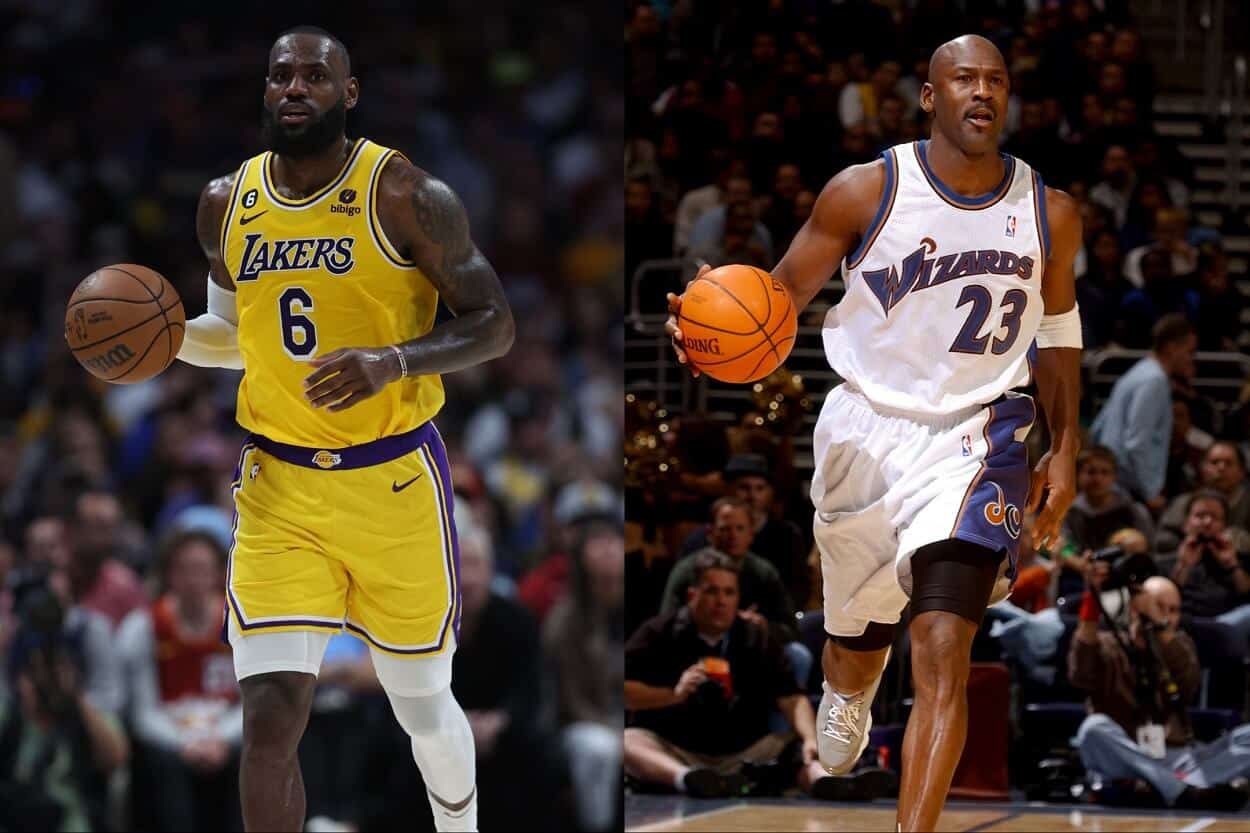 Dwyane Wade Was Spot-On in Assessing LeBron James Now Versus Michael Jordan's Time With the Wizards
Dwyane Wade says Michael Jordan's time with the Wizards doesn't measure up to what LeBron James did in his age-38 season.
At this point in time, seemingly everyone has given their respective take on the long-lasting and still ongoing NBA GOAT debate involving Michael Jordan and LeBron James.
Miami Heat legend Dwyane Wade, who won a pair of titles with LeBron in South Beach, chimed in on the matter back in 2021, perhaps surprising a few people with his selection. But just because D-Wade gave his take then certainly doesn't mean he's no longer asked for his thoughts.
In fact, Wade was recently asked again to compare Jordan and James. Only this time, the 13-time NBA All-Star was asked to compare what LeBron just accomplished during his age-38 season with the LA Lakers to Jordan's time with the Washington Wizards.
So at least it's something different, right?
Jordan, who won six NBA titles and five NBA MVP awards in 13 seasons with the Chicago Bulls, was 38 when he ended a three-year retirement to suit up for the Wizards. And James turned 38 this past December, just a few short months before becoming the NBA's all-time leading scorer.
So how exactly does Wade view the advanced-age seasons of MJ and LeBron?
Dwyane Wade says there's no comparison between LeBron James now versus Michael Jordan with the Washington Wizards
In an interview during this past season with Brandon "Scoop B" Robinson of Bally Sports, Dwyane Wade was asked if LeBron, at this point in his career, reminded him of Michael Jordan's time with the Washington Wizards.
No. I mean, LeBron is still…I mean, Michael, he averaged like 20 when he came back. He was still very good, but LeBron has stayed at a level we haven't seen. And so, the conversation for greatness — he makes it hard for all the older guys before. It's about Wilt. It's about Kareem. It's about these guys — because of his consistency. I mean, he's averaging 30 points a game in his 20th year in the league.

Dwyane Wade comparing LeBron James and Michael Jordan
Seriously — how spot-on is that assessment?
And just how spot-on are we talking here? Let's break it down.
Jordan was good — not great — during his time with the Wizards
For one, he summed up Michael Jordan's time with Washington perfectly. While still at the top of his game when he retired following the Bulls' sixth and final title in 1998, Jordan looked more human in a Wizards uniform — minus a few special games, of course.
During the 2001-02 season, he averaged 22.9 points while shooting 41.6% from the floor, also adding 5.7 rebounds, 5.2 assists, and 1.4 steals in the 60 games in which he appeared. And in 2002-03, the season during which he turned 40, Jordan shot 44.5% from the floor, averaging 20.0 points, 6.1 rebounds, and 3.8 assists while impressively playing all 82 regular-season games.
The Wizards, of course, missed the postseason both years. But that doesn't take away from what MJ accomplished in Washington, proving he could still go after all those years away, although certainly not at the same level we saw in Chicago.
But let's get real there. Only a few select players ever hit that level at any point in their careers.
LeBron continues to put up MVP-level numbers late in his career
As for LeBron James, Wade is undoubtedly correct about his good friend staying consistent. During this past season with the Lakers, the four-time NBA champ scored 28.9 points per game, shooting 50.5% from the field, and also averaged 8.3 rebounds and 6.8 assists.
Can you comprehend how remarkable that is? If not, think about this.
The last time James won NBA MVP for the 2012-13 campaign alongside Wade in Miami, he averaged 26.8 points, 8.0 rebounds, and 7.3 assists. A decade later, he averages more points, more rebounds, and nearly as many assists. Unreal. Love him or hate him, that's just impressive.
And if you're looking for even more proof of just how ridiculous LeBron's numbers were in year 20, just look at how they compare to the late-career stats of a few NBA legends who played into their late 30s.
As James recently broke Kareem Abdul-Jabbar's scoring record, we'll go ahead and start there. In year 20 of his storied career, Kareem averaged 10.1 points, 3.1 rebounds, and a single assist per game.
In his 20th and final season with the Lakers at age 37, Kobe Bryant averaged 17.6 points, 3.7 rebounds, and 2.8 assists.
Dirk Nowitzki averaged 12.0 points, 5.7 rebounds, and 1.6 assists in his 20th year with the Dallas Mavericks and then fell back to 7.3 points, 3.1 rebounds, and 0.7 assists in year 21.
Trust me. I could keep going.
Compare the overall careers of Michael Jordan and LeBron James all you like. But just as Dwyane Wade said, when it comes to how LeBron is still performing today versus how MJ did at the end of his career, there is no comparison.