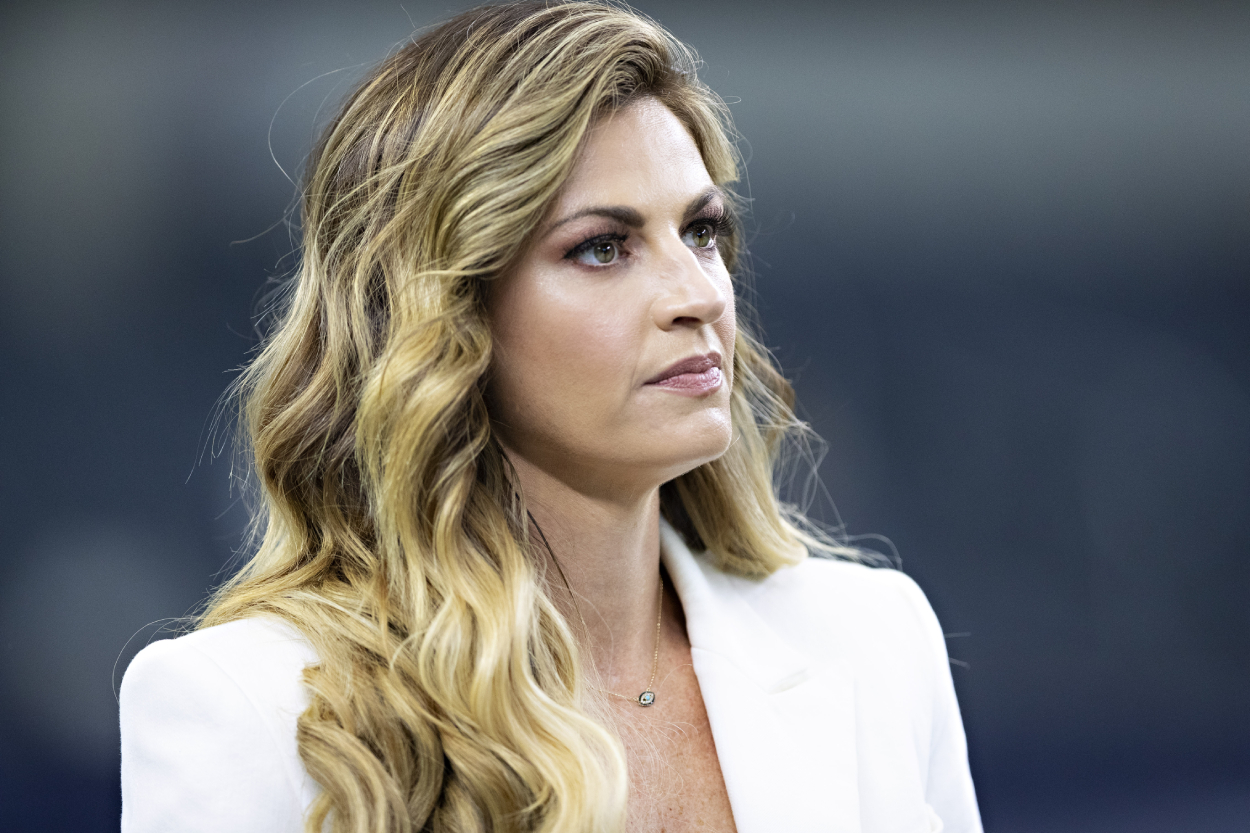 Erin Andrews Has Covered Football for Years but Has Been 'Intimidated' by 2 Coaches: 'I Used to Stand as Far Away as Possible'
Erin Andrews has been very successful covering football throughout the past two decades, but she says two coaches have intimidated her. This is a look at Erin Andrews, her career, and the coaches who have intimidated her over the years. This also looks at the careers of those two coaches.
Throughout the past two decades, Erin Andrews has been one of the most successful reporters and broadcasters in sports media. She's known for her football coverage but has also covered many other sports, including baseball and basketball.
However, despite covering both college football and the NFL for years, Andrews has been intimidated by two coaches and is still intimidated by at least one of them. Those two coaches are both legends: Bill Belichick and Nick Saban.
Erin Andrews has covered football for years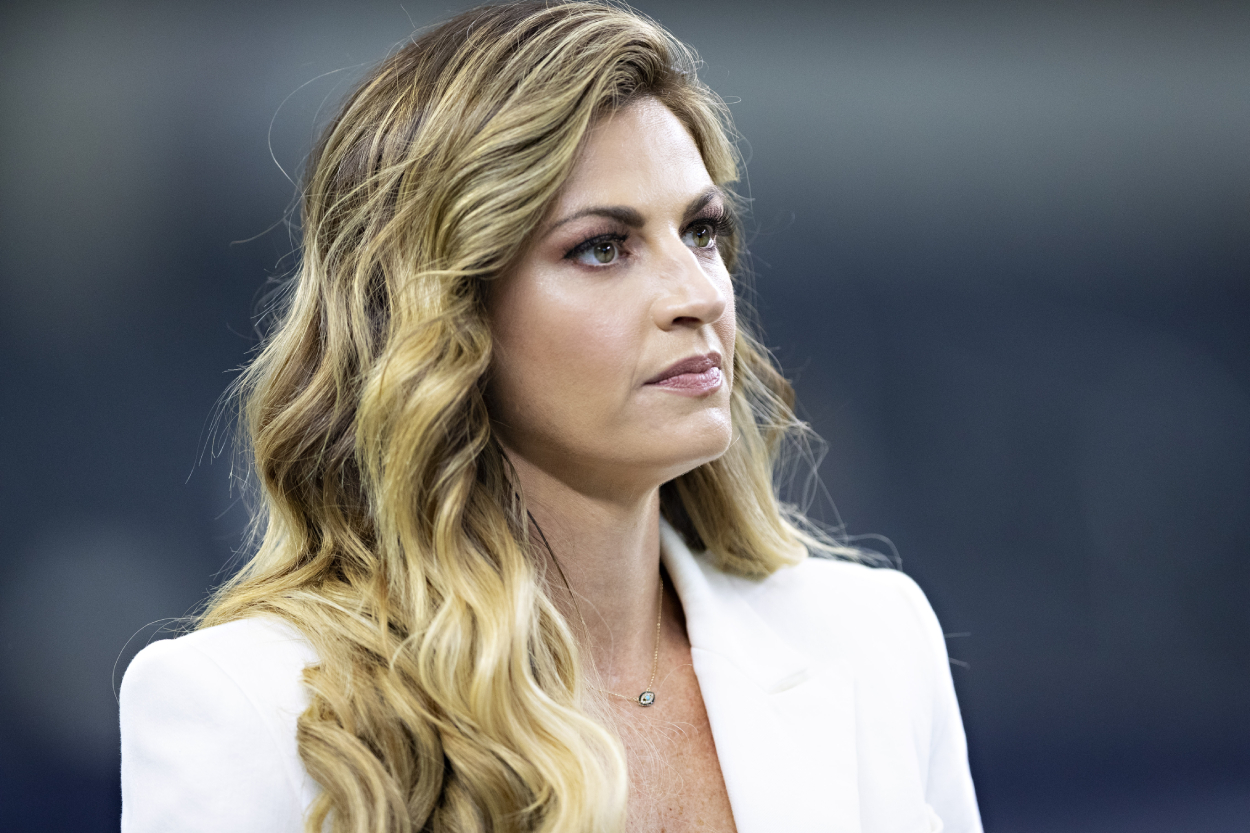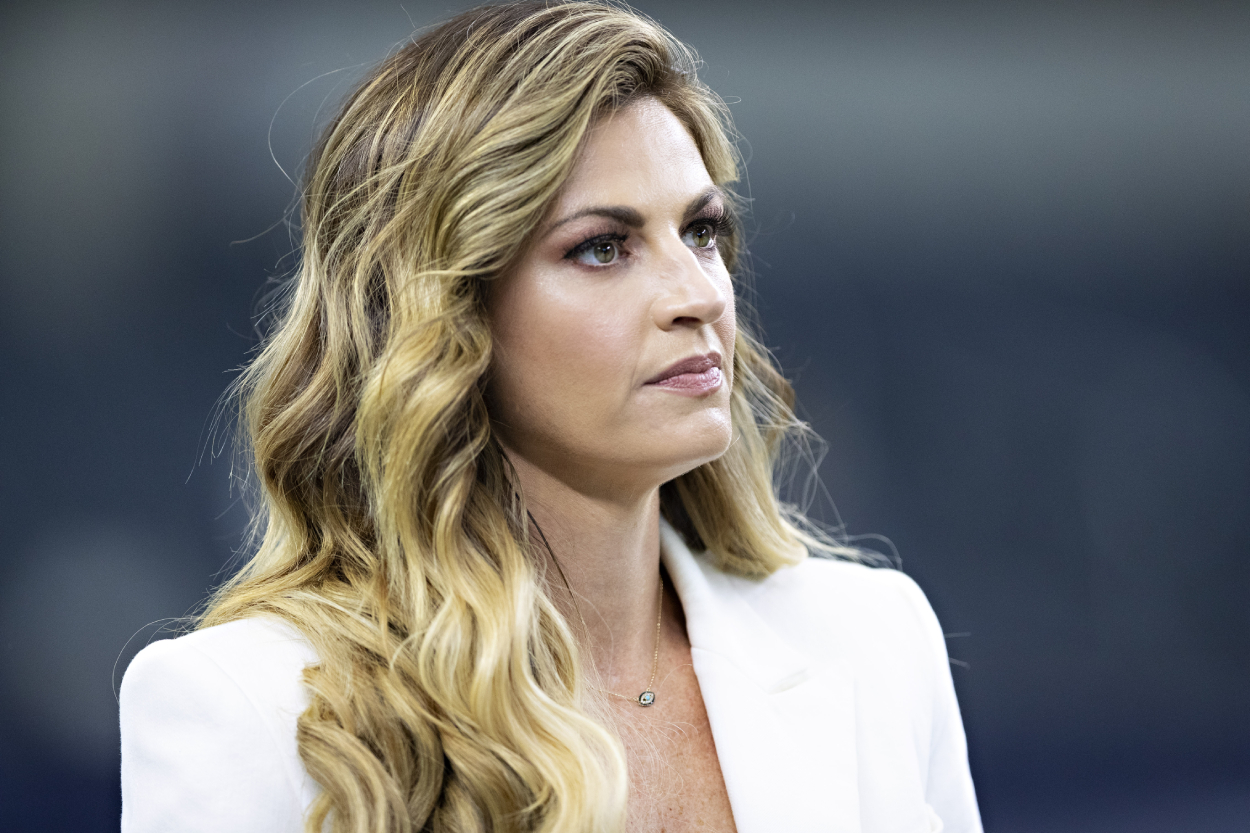 According to her FOX Sports bio, Erin Andrews worked for FOX Sports Florida in 2000 and then covered the Tampa Bay Lightning on the Sunshine Network in 2001 and 2002. She then covered college football, the Atlanta Braves, the Atlanta Thrashers, and the Atlanta Hawks for TBS and Turner Sports from 2002 to 2004 before joining ESPN.
ESPN was where Andrews became the popular personality she is today. She covered college football, college basketball, and MLB while working there. However, after eight years at ESPN, Andrews returned to FOX Sports in 2012. She has since become known more for her NFL coverage but has also covered the MLB All-Star Game and the World Series.
Covering sports has always been the plan for Andrews, too.
"It's what people were signing my yearbook with, 'See you on ESPN,'" Andrews said on the April 14 episode of The Carlos Watson Show. "I was telling everybody. As lame as it sounds, there wasn't a Plan B. I kind of just always thought, 'Well, this is the way it's going to go.'"
Despite successfully covering football — and sports in general — for years, Erin Andrews recently revealed which two coaches have intimidated her throughout her career. At least one still does, too.
Bill Belichick and Nick Saban have intimidated Erin Andrews
While talking to Carlos Watson, Erin Andrews revealed the two coaches who have intimidated her in her career.
"Coach [Bill] Belichick, I'm still very intimidated by him," Andrews said. "I will say I love being around him. He's great in meetings. I love watching him just talk to Joe [Buck] and Troy [Aikman], and myself."
Bill Belichick is an NFL legend, but Andrews has also been intimidated by a college football legend: Nick Saban.
"I covered college football forever, and I was so intimidated by him," Andrews said. "I used to stand as far away as possible with my long arms because he's just all business. He's serious; he's a lot like a Coach Belichick."
That's certainly interesting, but it's not surprising. Coaching legends must just share that same intimidating gene.
Bill Belichick and Nick Saban are two legends
When you think of the greatest coaches in sports history, Bill Belichick and Nick Saban almost always come to mind.
After coaching the Cleveland Browns for five seasons and spending years on other teams' coaching staffs, Bill Belichick started his dominant reign as the New England Patriots head coach in 2000. He then ultimately helped lead them to a Super Bowl title in his second season in 2001, and they won three titles in four seasons from 2001 through 2004. They have since won six Super Bowls with Belichick, played in three others, and participated in 13 AFC Championship Games. Additionally, Belichick is third in NFL history with 280 total wins.
Nick Saban, on the other hand, won a national championship with LSU in 2003 after spending time as the Toledo and Michigan State coach. Then, after coaching the Miami Dolphins for two seasons, he began his reign as Alabama's coach in 2007. The Crimson Tide have since won six national championships and have played in two other title games. Saban is 261-65-1 in his career as a college coach.
Erin Andrews probably isn't the only reporter who has been intimidated by Bill Belichick and Nick Saban. They, however, have earned the luxury of intimidation as two coaching legends.
Stats courtesy of Sports Reference and Pro Football Reference