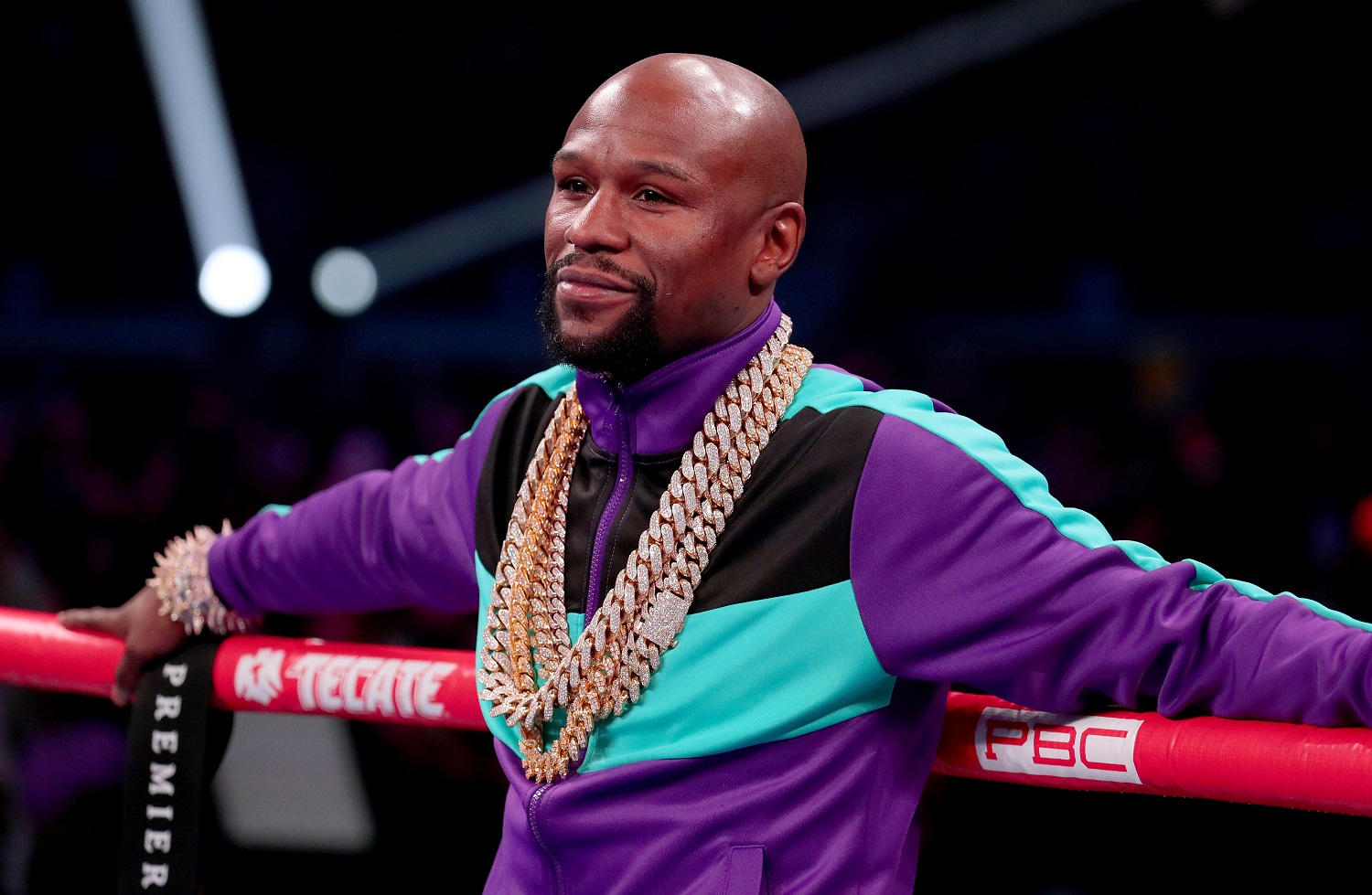 Floyd Mayweather Announces Comeback 'Fight' While Discussing Mike Tyson vs. Roy Jones Jr.
Former five-division champ Floyd Mayweather has announced that he'll be returning to the boxing ring in February 2021 in Tokyo.
With Roy Jones Jr. and Mike Tyson set to become the center of the boxing universe on Thanksgiving weekend, it was only a matter of time before Floyd Mayweather made sure he got a little piece of the spotlight and that time has come.
Mayweather has announced that he'll be stepping back into the ring this February for an exhibition bout of his own against a yet-to-be-named opponent as part of a combat sports event in Tokyo. And, as per usual, he'll likely get a hefty payday for this comeback "fight."
Floyd Mayweather's last official fight was in August 2017 against Conor McGregor
Floyd Mayweather's last official fight was the circus bout against former two-division UFC champ Conor McGregor on August 26, 2017, in Las Vegas. McGregor, who does deserve some credit for stepping out of his comfort zone, had no chance to beat the undefeated Mayweather, and never had the former five-class champ in any kind of trouble, although not everyone saw it that way.
Yes, Conor McGregor did land a few shots but it was essentially because Floyd Mayweather let him do so. It was classic "rope-a-dope" and McGregor eventually wore himself out, which allowed Mayweather to pounce. In the ninth round, Mayweather landed a number of punches to McGregor's face, a trend that continued in the 10th round until referee Robert Byrd called the fight as the "Notorious" one was unable to defend himself.
With the victory, Mayweather improved his career record to 50-0 and earned somewhere in the neighborhood of $275 million while McGregor collected $100 million.
'Money May' destroyed Japanese kickboxer Tenshin Nasukawa in December 2018
On New Year's Eve in 2018, Floyd Mayweather took an easy $9 million payday to fight undefeated Rizin kickboxing champion Tenshin Nasukawa in an event in Tokyo. It was billed as a three-round exhibition bout in which no kickboxing or MMA was allowed, which obviously favored "Money May," and Mayweather destroyed Nasukawa, who was just 20 years old when the fight took place.
Mayweather knocked down Nasukawa three times in the first round and the fight was called after just 139 seconds. Many still believe that the fight was fixed, which has never been proven, and it looks as if we'll be getting the same kind of fight from Mayweather this February.
Floyd Mayweather talks Tyson vs. Jones and announces comeback fight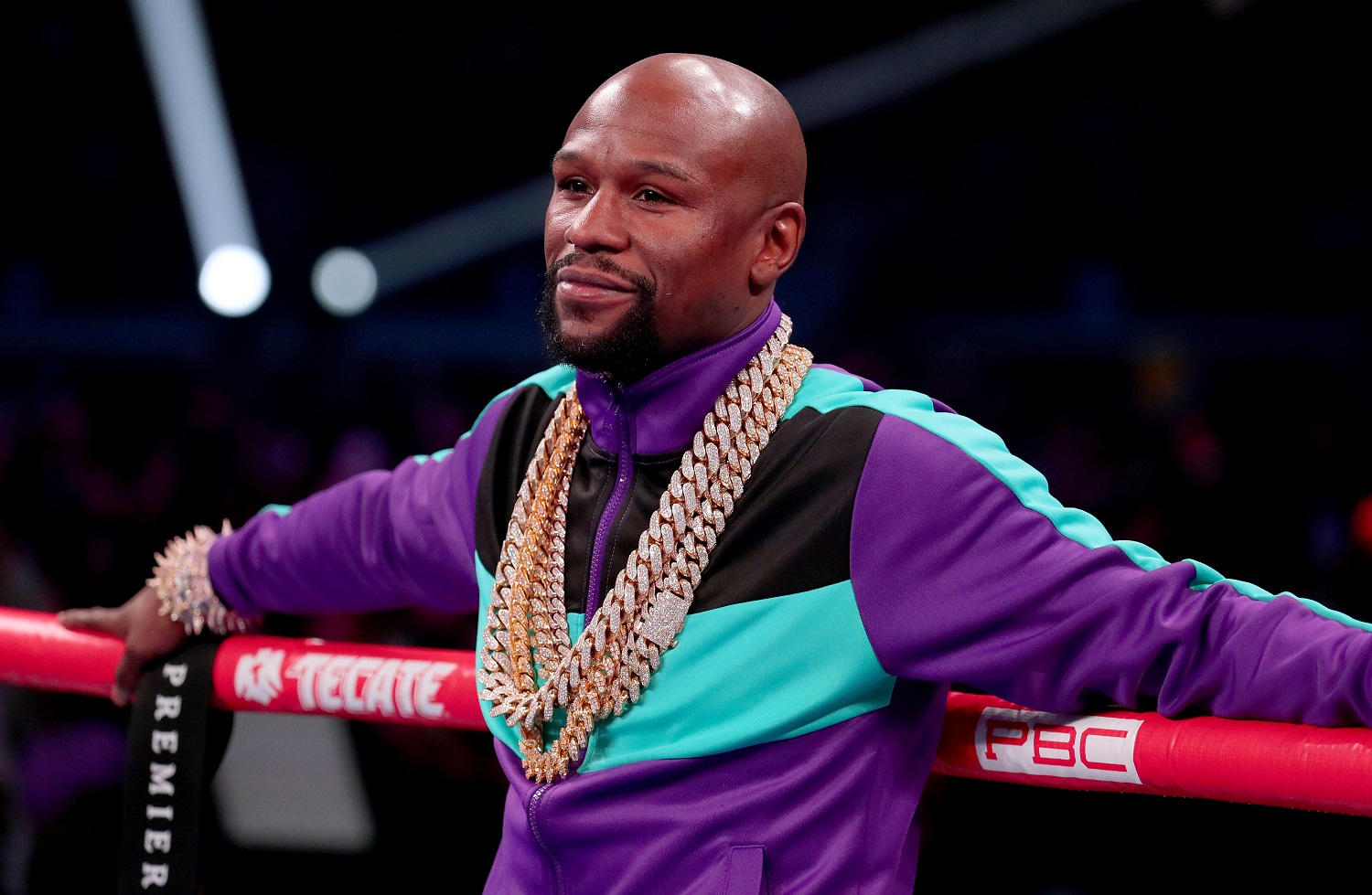 In a virtual news conference on Monday, Floyd Mayweather announced that he'll be stepping back into the ring for another exhibition bout in Japan on February 28, 2021, as part of the "MEGA 2021" combat sports event at the Tokyo Dome. His opponent has yet to be named but it's likely that it won't be anyone that has any chance of embarrassing Mayweather.
He understands that exhibition matches featuring all-time greats, such as the one coming on November 28 between Mike Tyson and Roy Jones Jr., are all the rage right now and, unsurprisingly, he wants to cash in (h/t Boxing Scene).
"There are so many people that are in the work world that retire and still do different things and make a couple of dollars just to have fun. Same thing I'm doing. I'm having fun, enjoying life. Why can't I do some sparring for, you know, some heavy cash?"

Floyd Mayweather
When asked his thoughts on the Tyson vs. Jones bout, Mayweather didn't offer up a prediction on the winner but instead took a nonchalant approach about it before flipping the conversation to brag on how much cash he had on him at the time. Again, that shouldn't be surprising.
"Let them do what they want to do, you know? I can't tell nobody what to do and what not to do. Because when I do my exhibition, I don't want anybody telling me what to do and what not to do. And I don't want anybody telling me, 'Ah, Floyd needs money,' I'm OK, I'm great, I'm doing just fine … I got probably $1.3 million [in cash right now] on me. I'm Floyd 'Money' Mayweather."

Floyd Mayweather
This next "fight" from Floyd Mayweather will be nothing more than just another spectacle. But he'll certainly enjoy another big check and that's all that seems to matter.