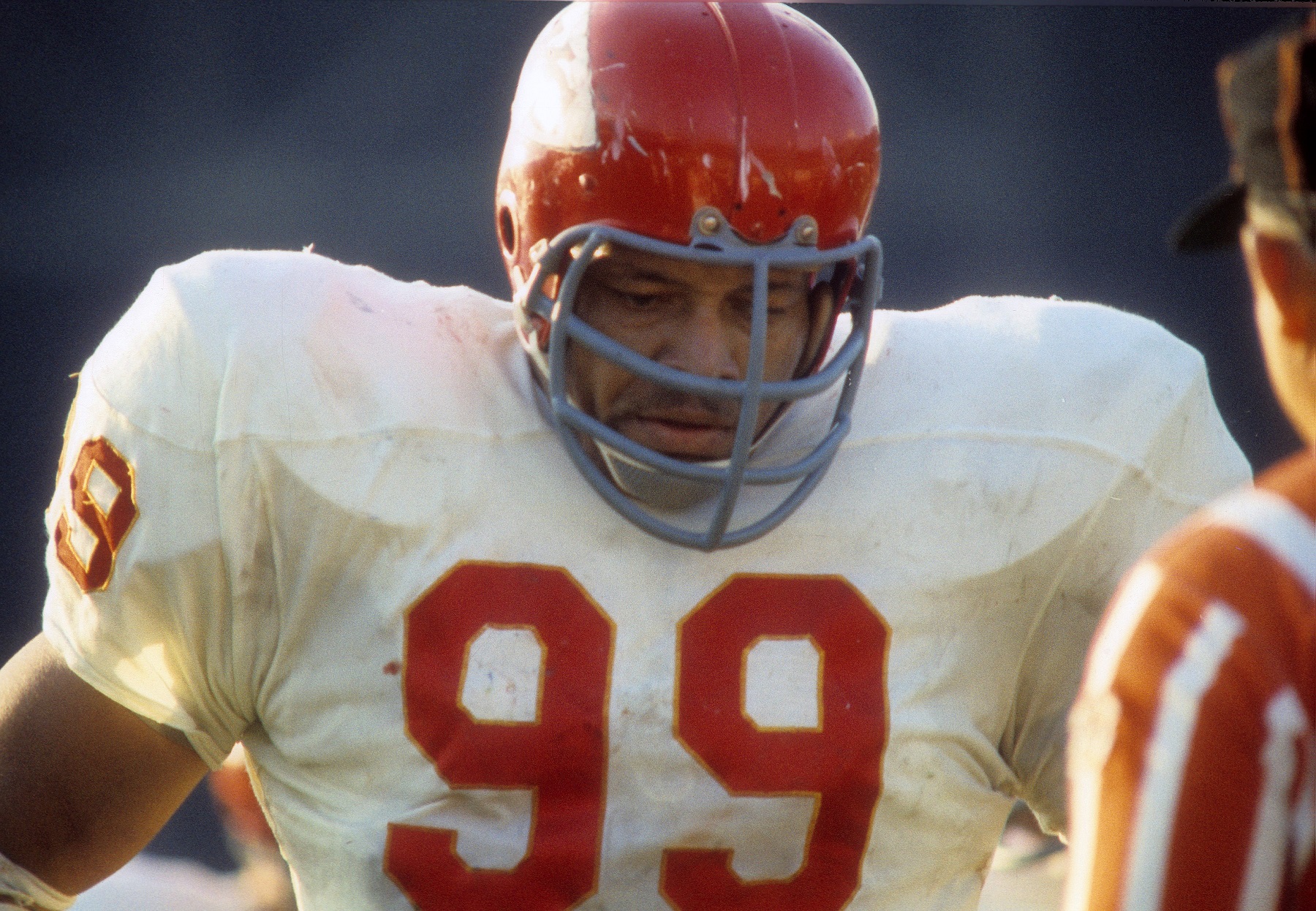 Football and Wrestling Star Ernie Ladd's Last Years Were Tragic
Ernie Ladd was a star defensive lineman for the AFL's San Diego Chargers as well as a top attraction as a bad-guy pro wrestler.
Few players on a football field stood taller than Ernie Ladd. And there were fewer still pro wrestlers with the skill and big personality of the man who went by "The Big Cat" in the World Wrestling Federation, the precursor to the WWE.
Ladd, whose potential Pro Football Hall of Fame career was cut short by injuries, lived a full life as an athlete and leader before a series of tragic events in his final years.
Ernie Ladd was a genuine two-sport pro athlete
Ernie Ladd started out at Grambling on a basketball scholarship, but that would be his third-best sport. The AFL's San Diego Chargers drafted the 6-foot-9, 290-pound star in 1961, and he proved to be an immovable object on the defensive line as one of the league's first dominant players. San Diego went 44-22-4 in Ladd's five seasons there, winning one league title and playing in the championship game three other times.
"He was the most dynamic defensive force in football," said the legendary Al Davis, who scouted Ladd for the Chargers. "He had no peer."
Ladd played three more seasons in Kansas City and Houston before knee injuries ended his football career. However, that allowed him to turn his attention full-time to wrestling, which he had taken up to earn money during football's offseason and stuck with until retiring in 1986.
Ladd had a gift as a "heel" on the wrestling circuit. He antagonized opponents and riled crowds with taunts, some of which were decidedly politically incorrect, while feuding with fellow stars Andre the Giant, Dusty Rhodes, and Wahoo McDaniel. His wrestling skills were solid, and Ladd landed title shots against Bruno Sammartino and Bob Backlund.
After leaving the ring, Ladd helped promote Junkyard Dog and managed The Wild Samoans, who would go on to win the WWF tag-team title.
As a testament to his athletic prowess, Ladd was enshrined in halls of fame by Grambling, the Chargers, the World Wrestling Federation, and World Championship Wrestling.
The Chargers star was in the center of a drama in New Orleans
For all the activism sports fans have seen this year from NBA players and in recent seasons from Colin Kaepernick and other football players, none of it could match a few days in 1965 in the deep South.
Players had started gathering in New Orleans on Jan. 9, 1965, for the AFL All-Star Game, and there was more than a victory in an exhibition contest at stake. Promoters sought to showcase New Orleans as a city ripe for expansion by the AFL or the more established NFL. What they got instead was a tense showdown.
Black players selected for the All-Star Game began running into problems immediately upon arriving as airport cabs drove past them outside the terminal to pick up white passengers instead.
"The white players were going out, getting in cabs, and taking off, going to the hotels," Kansas City Chiefs linebacker Bobby Bell told The Undefeated. "When the black players would go out to get a cab, the white cabbie would say, 'No can do.' I guess we were out at the airport a couple of hours."
Later, San Diego Chargers defensive tackle Ernie Ladd was with a small group of players blocked by a bouncer from entering a French Quarter club. According to the website account, Ladd went into his wrestling persona and vowed to tear the doors off their hinges to gain entry to the club.
"The doorman had a gun in his waistband," said Chiefs defensive back Dave Grayson. "He pointed it at Ernie and told him if he walked through the door, he was going to kill him."
Ernie Ladd's last years were tragic
The AFL players backed down from the standoff at the New Orleans nightclub to defuse a tense situation. By the next morning, however, others were discussing racism and discrimination that they had encountered. Black players voted overwhelmingly to leave town, putting the game in danger.
Ernie Ladd became the media spokesman explaining why players were leaving. Facing a public relations disaster over a cancellation, AFL executives hurriedly moved the game to Houston before a sparse crowd.
The players had had a meaningful impact.
"Someone had to take a stand and stop players from being treated as second-class citizens," Ladd told the Houston Chronicle. "We didn't do it for publicity. We did it because of what was right and what was wrong."
Four decades later, New Orleans and Houston would again become important to Ladd. After retirement, he ran a trucking company and started a small ministry in New Orleans, where he also owned a restaurant. In late 2003, however, he was diagnosed with advanced colon cancer.
"The doctor told me I had three to six months to live," Ladd told USA Today in 2005. "I told him Dr. Jesus has the verdict on me."
In August 2005, Hurricane Katrina hit the Gulf Coast and was devastating to New Orleans. Ladd's restaurant was a total loss. In the aftermath, he traveled to Houston, where 25,000 evacuees from New Orleans arrived, to minister to the hurricane's victims.
Ladd continued to battle health issues related to cancer and died at the age of 68 on March 10, 2007. At the time of his death, he was survived by his wife of 45 years, Roslyn, and four children.
Like Sportscasting on Facebook. Follow us on Twitter @sportscasting19.