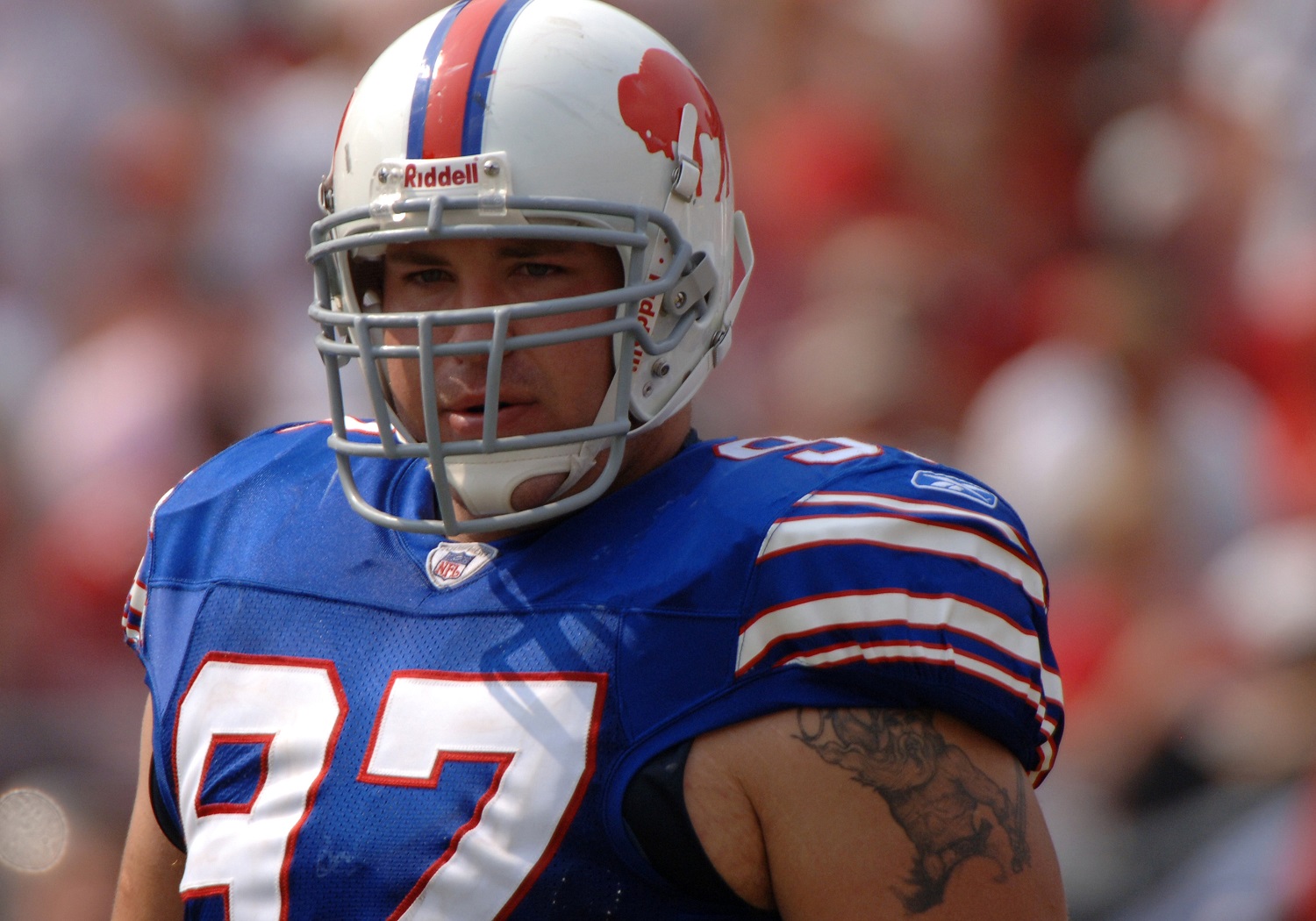 Former Bills and Ravens DT Justin Bannan Facing Attempted Murder Charges Following a Bizarre Shooting in Which He Thought the Russian Mafia Was After Him
Former NFL DT Justin Bannan is facing attempted murder charges after shooting a woman in an incident in which he thought the Russian mafia was tracking him.
Former NFL defensive tackle Justin Bannan was certainly never a household name during his 12-year career, during which he played for the Buffalo Bills, Baltimore Ravens, Denver Broncos, St. Louis Rams, and Detroit Lions.
However, you may start seeing the former Colorado star's name a bit more as this year rolls along as he's set to stand trial in June on numerous charges, including attempted murder, stemming from a 2019 incident in Boulder in which Bannan allegedly shot a woman in the shoulder.
Apparently, Justin Bannan, whose lawyers are arguing that he needs brain surgery, believed that he was being tracked by the Russian mafia, which could be why his attorneys are going with the "not guilty by reason of insanity" plea.
Justin Bannan played 12 seasons in the NFL
Born in Sacramento, California, in 1979, Justin Bannan was a two-sport star in high school and took his football talents to the University of Colorado in the late '90s, where he twice earned All-Big 12 honors as a defensive tackle, once on Second Team in 1999 and First Team as a senior in 2001.
Bannan was taken in the fifth round of the 2002 NFL draft with the 139th overall pick by the Buffalo Bills and played four seasons for the franchise, picking up 78 tackles and 2.5 sacks. He signed with the Ravens ahead of the 2006 season and became a full-time starter for the first time in his career in 2008. But that didn't last long as he started just two of 16 games the following year, which turned out to be his last season in Baltimore.
Ahead of the 2010 season, Bannan signed a five-year contract with the Broncos and started all 16 games for Denver that season but was released after just one year. After spending a season with the St. Louis Rams, he returned to Denver in 2012 but again lasted just one season before finishing his career with the Detroit Lions, who released him following the 2013 season.
In 12 seasons in the NFL, Justin Bannan made 313 tackles (220 solo), including 6.5 sacks, and forced five fumbles.
Justin Bannan believed he was being followed by the Russian mafia and shot a woman in October 2019
In 2014, Justin Bannan co-founded Black Lab Sports, a sports-focused venture capital firm which operates out of a 22,000 square-foot warehouse in Boulder, Colorado, which became the site of a bizarre incident five years later.
On October 27, 2019, as reported by KDVR in Denver, a woman known as Ashley Marie, who worked in the building at a health and fitness company, walked into a room at the facility, at which point Bannan emerged and shot her in the right shoulder.
It was reported that Bannan only fired once and said that hitting Marie was an "accident." An officer who arrived at the scene said that Bannan told him he was hiding in the room because he truly believed that he was being tracked and/or followed by the Russian mafia, which Marie, who filed a civil suit against Bannan, later said as well.
"I said, 'What the f—? You just shot me.' And he said, 'I'm sorry, the Russian mafia is after me.'"

Ashley Marie on Justin Bannan
An affidavit stated that Bannan was in possession of a bag containing two handguns (and an extra magazine) at the scene, where police also found a rolled-up $20 bill that had powdery, white residue on it which later tested positive for cocaine.
Justin Bannan was charged with attempted first-degree murder, two counts of first-degree assault (extreme indifference and intent to cause serious bodily injury), and first-degree burglary. Following his arrest, he was released from custody after posting a $500,000 bond and is currently awaiting trial.
His lawyers are arguing that he needs brain surgery and he's entered a plea of not guilty by reason of insanity
Shortly after being arrested, Justin Bannan, who has already violated the conditions of his bond on at least one occasion for testing positive for cocaine, told police that he has hydrocephalus, which the Mayo Clinic describes as a "buildup of fluid in the cavities (ventricles) deep within the brain." The clinic says that the "pressure of too much cerebrospinal fluid associated with hydrocephalus can damage brain tissues and cause a range of impairments in brain function" and also says that while the condition can affect anyone, it's typically seen in infants or those over the age of 60.
This past August, Bannan pleaded not guilty by reason of insanity and his attorneys told the court that their client needed brain surgery but didn't give a specific reason as to why. Ashley Marie believes that Bannan might be suffering from CTE, the degenerative brain disorder that can't be diagnosed until after death, but doesn't think that's an excuse for what happened.
"I know what it's like to suffer from neuro-cognitive issues, so maybe that's at play. Still doesn't feel like it excuses his actions that day in any way."

Ashley Marie on Justin Bannan
This past November, a 10-day trial was set for Justin Bannan for this upcoming June with a motion hearing and a pre-trial readiness conference scheduled for May. Per the Boulder Daily Camera, "if found not guilty by reason of insanity, Bannon would be held at a psychiatric facility for treatment until he was deemed not to be a threat to himself or the community."
Stats courtesy of Pro Football Reference