Former Dallas Cowboys Coach Jimmy Johnson is Worried About the Team's 'Tough Matchup' vs. the 'Impressive' San Francisco 49ers
The Dallas Cowboys vs. San Francisco 49ers NFL playoff game is the most intriguing matchup of Super Wild Card Weekend. Although the Cowboys come in as the team with the better regular season, the 49ers might be the hottest and most dangerous team in the league right now. This makes a lot of Cowboys fans nervous, including one of the franchise's icons, former head coach Jimmy Johnson.
Jimmy Johnson is an iconic Dallas Cowboys coach, but his tenure in Big D may not be as long or successful as you think  
When you hear the name Jimmy Johnson, what image comes to mind?
Assuming you don't immediately think of NASCAR legend Jimmie Johnson, the most iconic image of the Hall of Fame NFL coach is likely in the locker room after a big win, rocking a very 90s Cowboys jacket, perfect hair a mess thanks to giants rubbing his head, yelling, "How 'bout them Cowboys!"
Johnson is one of the most iconic Dallas Cowboys figures ever. And for anyone 40 and under, he's the coach of America's Team.
What may surprise you, though, is that his time in Dallas was not as long or as successful as many think.
After winning a national championship with the Miami Hurricanes in 1987 and finishing No. 2 to Notre Dame in 1988 (following the famous Catholics vs. Convicts game), Johnson took a job offered by his old college buddy from Arkansas, Jerry Jones.
Johnson's first two years in Dallas were not good. Year one is team went 1-15 and year two was 7-9.
As Dallas' "Triplets" (Troy Aikman, Emmitt Smith, Michael Irvin) came of age, so did Johnson's Cowboys. The team finished 11-5 in 1991, but the Detroit Lions blew them out in the playoffs 38-6.
Johnson made his mark in the 1992 and 1993 seasons, going a combined 25-7 and winning back-to-back Super Bowls.
Johnson and Jones have since made up, but conflict between the two led to Johnson's departure in 1994.
All told, Johnson coached the Cowboys for just five seasons, with a record of 44-36. His 55.0% winning percentage wasn't nearly as good as his predecessor Tom Landry (60.7%), his successor Barry Switzer (62.5%), or even much-maligned Cowboys leaders like Chan Gailey (56.3%) or Jason Garett (55.9%).
Johnson himself even had a better record coaching the Miami Dolphins (36-28, 56.3%).
Despite the numbers, Johnson is still one of the most important and beloved coaches in franchise history, which should make his thoughts on Dallas' 2021 first-round playoff matchup unsettling to Cowboys fans.
Jimmy Johnson is worried about the team's first-round matchup vs. the San Francisco 49ers
Since coaching his last NFL game on Jan. 5, 2000 — a 62-7 Divisional Round blowout at the hands of Tom Coughlin and the Jacksonville Jaguars — Jimmy Johnson has been a staple of the FOX NFL Sunday pregame show.
As part of his now two-decade role as an analyst, Johnson joined The Herd with Colin Cowherd this week to discuss the NFL's upcoming Super Wild Card Weekend.
When talk turned to Johnson's old team, the former coach shared that he's nervous about the Dallas Cowboys first-round matchup vs. the San Francisco 49ers:
I think it's a tough matchup, too. I know the Cowboys are favored. They're at home. But San Francisco looked really, really good. And they're a physical football team. They can run the football. They play outstanding defense. Their defensive line can overpower ya. They're an impressive football team.

Jimmy Johnson on the Dallas Cowboys vs. San Francisco 49ers matchup
Despite heaping praise on Dallas' opponent and noting the Cowboys' inconsistency, Johnson also said, "if the Cowboys plays as well as they're capable of playing, they can win the game."
Johnson nailed this upcoming game with his analysis.
The San Francisco 49ers are a tough matchup for the Dallas Cowboys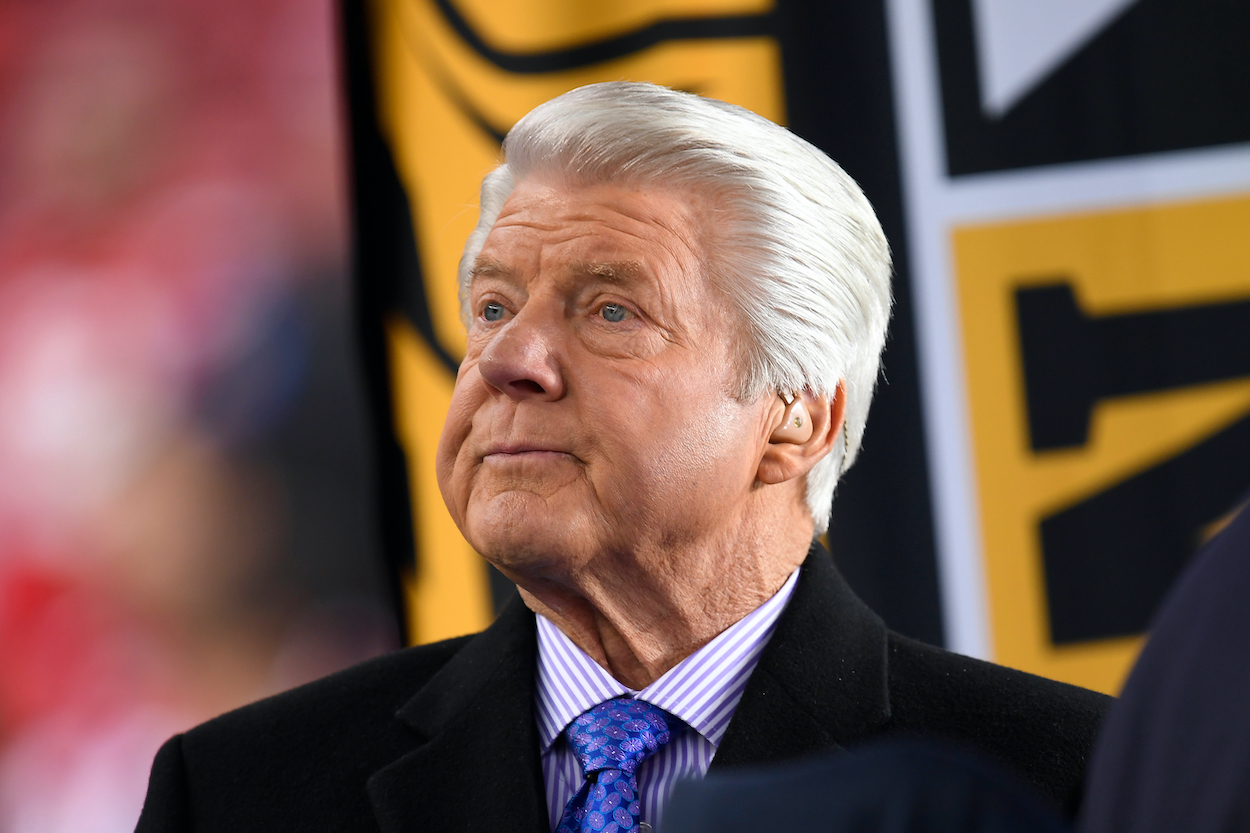 If you polled NFC teams heading into the opening week of the 2021 NFL Playoffs, you'd likely hear that the team no one wants to face is the San Francisco 49ers.
The Bay Area squad was 6-6 in Week 13 and, as such, has faced playoff-style eliminations games pretty much every week since. The team responded to these crucial game scenarios by winning four of its last five games to claim the No. 6 spot in the NFC.
The Cowboys have an opportunistic, bend but don't break, defense. Despite being seventh in the league in scoring defense, the unit is just 19th in yards allowed. Big D's D is also 17th in rushing yards allowed, which could become a problem facing the 49ers No. 7-ranked rushing attack and big-play weapons on offense in Deebo Samuel, George Kittle, and Elijah Mitchell.
The good news for Dallas is that Niners quarterback Jimmy Garoppolo is interception-prone, which should have 2021 All-Pro cornerback Trevon Diggs licking his lips. The 49ers signal-caller has three two-interception games in his last five starts.
And, offensively, Jimmy Johnson is right. Although Dak Prescott, Ezekiel Elliott, CeeDee Lamb, and company can be maddeningly inconsistent at times, when the unit plays to the best of its abilities, there are few in the NFL better.
The Dallas Cowboys vs. San Francisco 49ers game (Sunday, 4:30 p.m. EST. on CBS and Nickelodeon) is the game of the week in the first round and, whether Johnson is right or wrong to be nervous for his Cowboys, it should be an exhilarating game.
All stats courtesy of Pro Football Reference