Former Dolphins Punter Reggie Roby Tragically Died After Breaking Down Color Barriers in the NFL
For some reason, there are not many Black punters and kickers in the NFL. However, there have been a few that have broken color barriers over the years, and have had a lot of success on the field. One was former Miami Dolphins legend Reggie Roby. He opened the door for any Black athlete that wants to kick in the NFL. However, Roby will never get to see anyone who follows in his footsteps on the football field as he sadly died at a young age. 
Reggie Roby was an excellent punter for the Miami Dolphins
Roby went to the Miami Dolphins in the sixth round of the 1983 NFL draft out of Iowa. He began playing in 1983, and in his second season in 1984, Roby was a Pro Bowl selection and a First-Team All-Pro. He had 51 punts that season for 2,281 yards, and a 44.7 yards-per-punt average. 
The Dolphins were very successful in his first couple of years too. They lost in the Super Bowl during the 1984 season, and then made it to the AFC Championship Game again in 1985.
Roby continued to have success in 1985. In 1986, though, he not only had a 44.2 yards-per-punt average, but he led the NFL in the longest punt of the season with a 73-yarder. He also led the NFL in longest punt in 1987 with a 77-yarder. 
In 1989, Roby earned a Pro Bowl selection again. Then in 1991, Roby led the NFL in yards-per-punt with 45.7. Roby's last season with the Dolphins was in 1992. 
He then played for the Washington Redskins in 1993 and 1994. In the 1994 season, he earned his third Pro Bowl selection and was a First-Team All-Pro again with a 44.4 yards-per-punt average. He also had a career-high 82 punts that year. 
In his last four seasons in the league, Roby played for three different teams. This includes the Houston Oilers in 1996, and in 1997 when they became the Tennesee Oilers. The 1998 season was Roby's last in the NFL. He is 25th all-time in career punts and 23rd all-time in career punting yards. 
Roby broke down color barriers in the NFL
There haven't been many Black punters and kickers not only in the NFL but also in college football. In August 2019, The Undefeated reported that there were, at the time, nearly 900 scholarships available for specialists in Division I. However, only two players were reported as exceptions to the all-White demographic at big schools. 
Marquette King was a punter for the Oakland Raiders from 2012 through 2017 and the Denver Broncos in 2018. He was the first successful Black punter in the NFL since Roby retired in 1998, according to USA Today. 
The Undefeated credited Roby and Greg Coleman for breaking down color barriers in their 2019 piece. Coleman became the first Black punter in NFL history in 1977, according to USA Today. He played in 12 seasons, most of them being with the Minnesota Vikings. 
So, why are there not many Black punters or kickers in the league's history?
"You've got to want to be a punter," Coleman said, according to USA Today. "You can have the physical ability, but you've got to want to be a punter. Because in my neighborhood (growing up), everybody wanted to be a running back, a wide receiver."
King had some excellent seasons for the Raiders. Roby, however, never got to see it. 
He tragically died at only 43 years old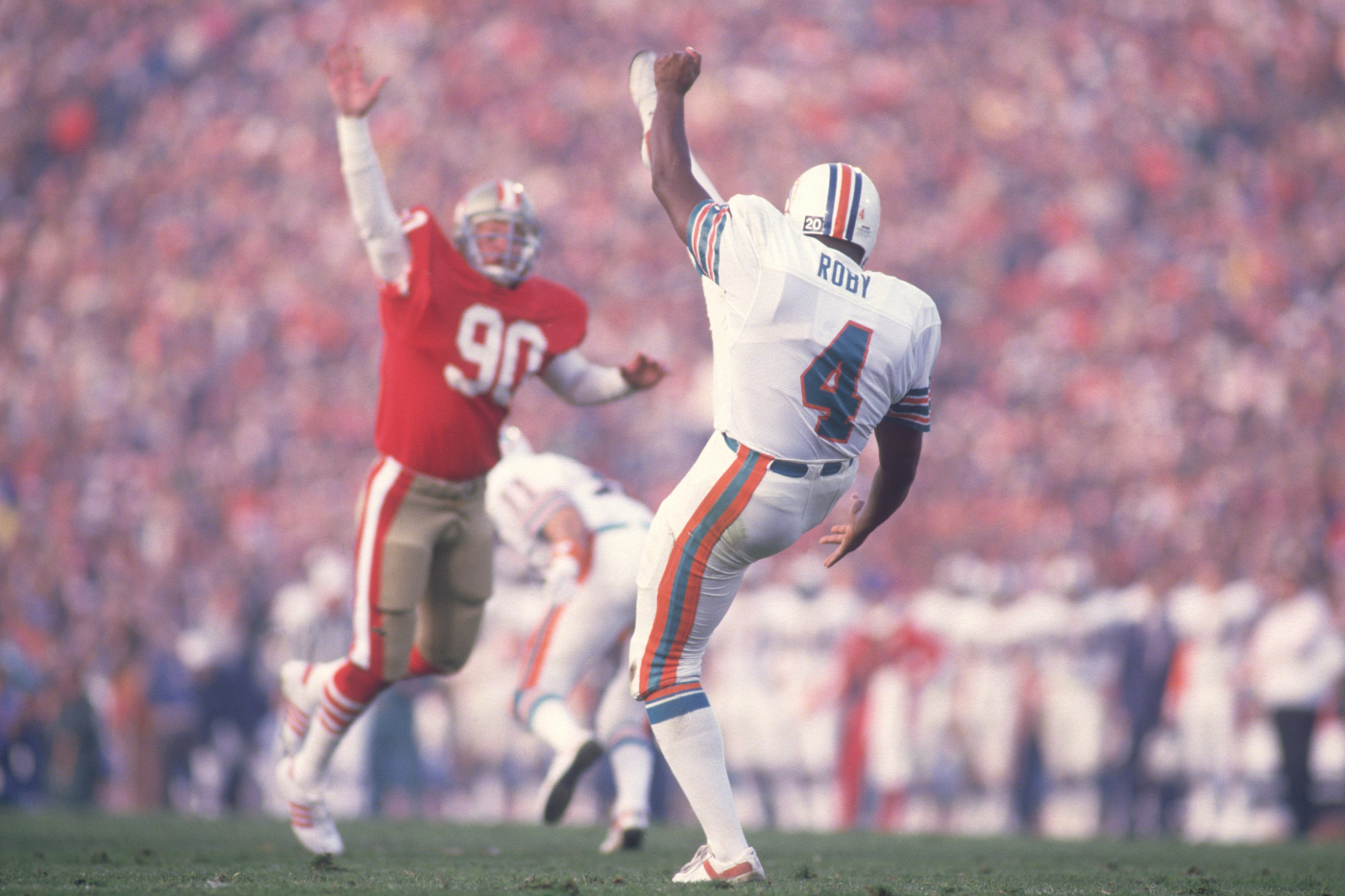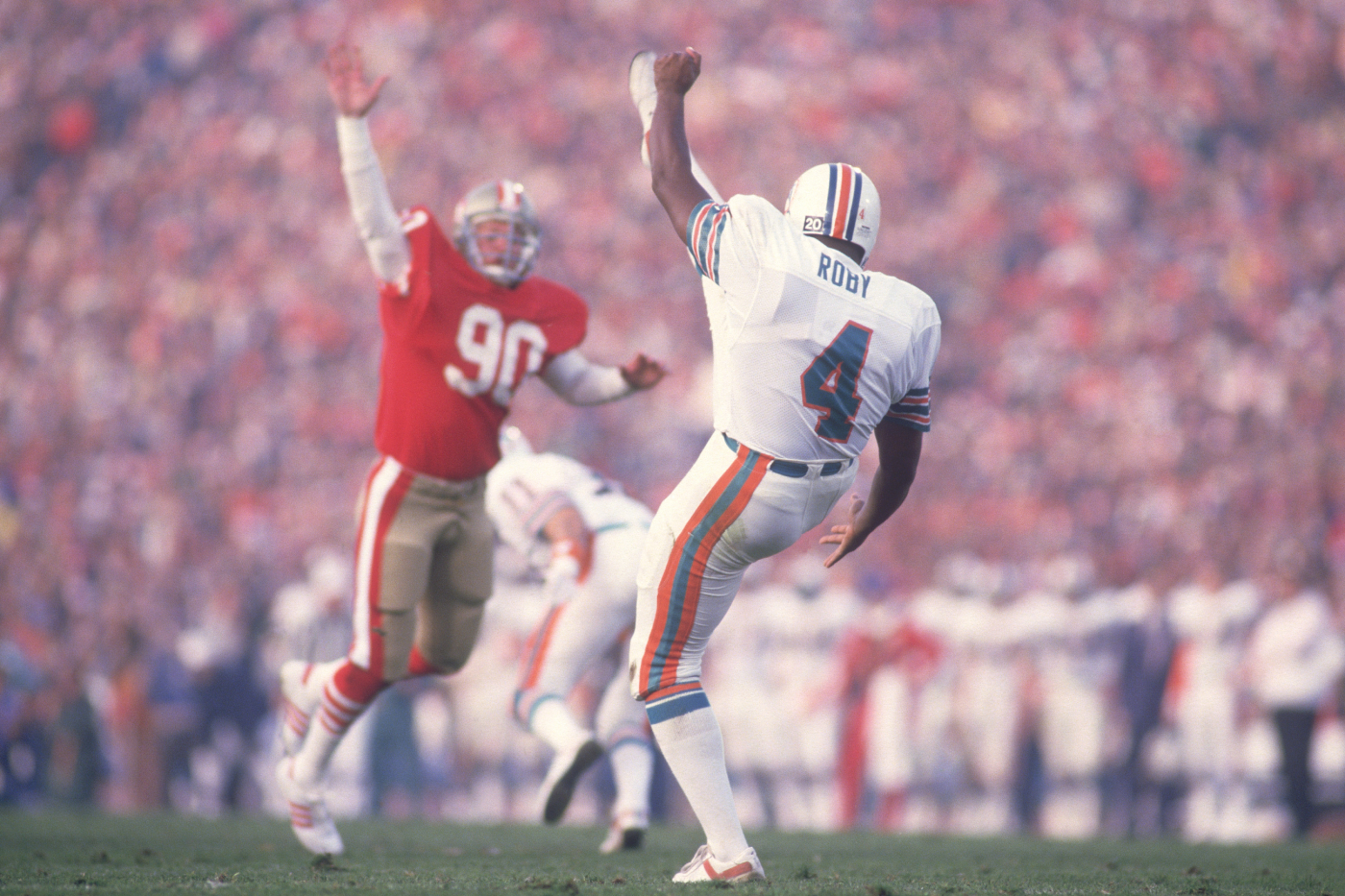 Not many years after he last played in the NFL, Roby died in 2005 at only 43 years old. The South Florida Sun Sentinel reported at the time of his death that his wife reportedly found him unconscious and without a pulse on the floor. The cause of death was not initially released. However, the South Florida Sun Sentinel reported in 2018 that he died from heart problems. 
"I was saddened to hear about Reggie Roby," former Dolphins coach Don Shula said in 2005, according to the South Florida Sun Sentinel. Shula died in 2020. "On walkthroughs in domed stadiums the day before the game, he always would try to hit the top of the dome with a punt. He sometimes succeeded. Reggie helped define the position."
Legendary Dolphins quarterback Dan Marino was also upset about Roby's passing. 
"He was a great Dolphin, and it's hard to take, especially for a guy so young like that," Marino said, according to the South Florida Sun Sentinel. "A normal punter? No. He was known for his hang time and the big punts, so everybody's going to miss Reggie."
Reggie Roby meant a lot to the sport of football as he was not only a great punter, but he paved the way for any future Black punters or kickers in the NFL.
Stats courtesy of Pro Football Reference