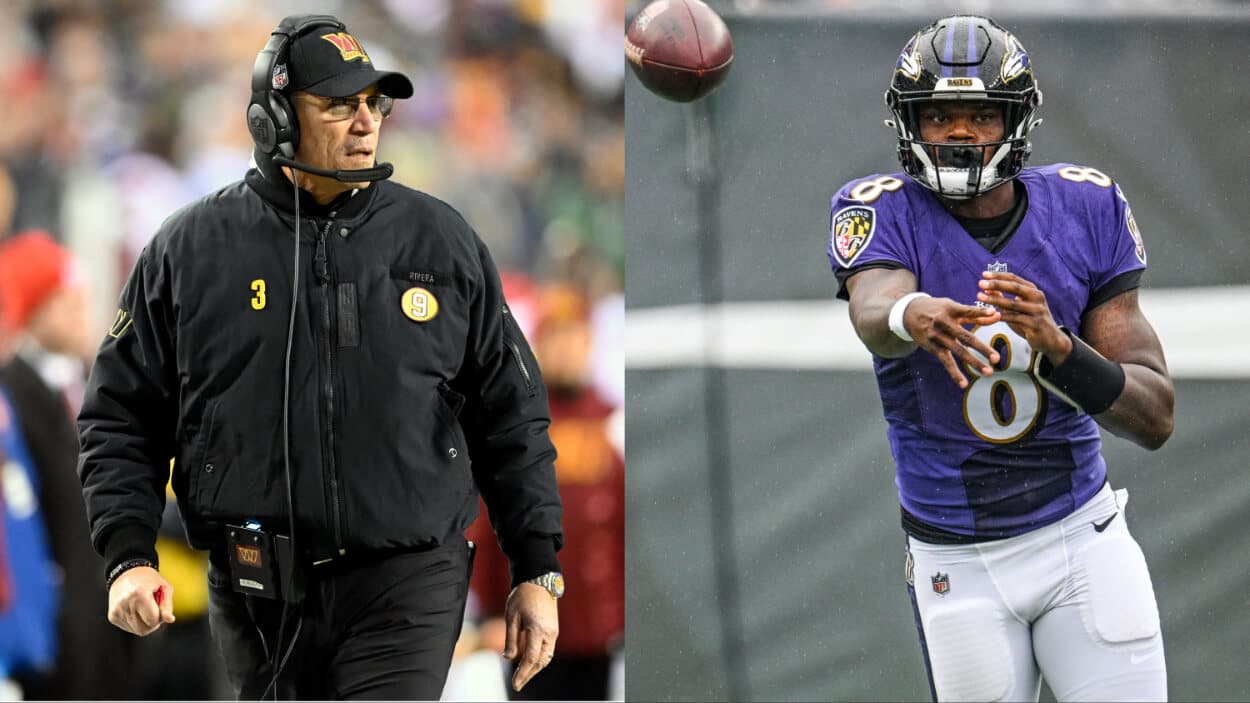 Former NFL GM Mike Lombardi Blasts Commanders Coach Ron Rivera for Lamar Jackson Comments
Mike Lombardi thinks Ron Rivera being OK starting Sam Howell at QB on the Commanders next season and not pursuing Lamar Jackson is ridiculous.
Mike Lombardi is not an NFL general manager anymore, but if he was, it sounds like he'd definitely make a Lamar Jackson trade. The GM-turned-sport-talk-host has already taken a flamethrower to Atlanta Falcons owner Arthur Blank for not wanting the Baltimore Ravens quarterback. Now, Lombardi's turned his attention to Washington Commanders coach Ron Rivera and is flabbergasted that Jackson "doesn't fit" with his team, a team that is planning to start Sam Howell next season.
Mike Lombardi didn't like Ron Rivera's Lamar Jackson stance
Lamar Jackson wants out of Baltimore, but for various reasons (most having to do with money), it seems as though no NFL teams want him. Organizations have fallen all over themselves this offseason to declare they are not interested in the MVP signal-caller.
One of the league luminaries who has come out and said Jackson "doesn't fit" with his team is Commanders head coach Ron Rivers.
Former Cleveland Browns GM Mike Lombardi thinks this is ridiculous.
"[Ron Rivera]'s a guy who's had three winning seasons with Cam Newton. And now he's saying, [Lamar Jackson] 'doesn't fit what we do.' What do you do? You've had three winning seasons in your entire career," Lombardi said on his GM Shuffle podcast. "How are you not interested? What are we doing if you're not interested? Who are you interested in?"
Lombardi further explained that having Sam Howell, who the team picked in the fifth round of the 2022 NFL Draft, isn't a legitimate reason for not wanting Jackson.
The host also believes there could be a legitimate reason for the Commanders not being in on Jackson right now but that Rivera should have come out and been honest about the reason.
"Now, if you come out and say, 'Look, we're in a difficult situation. We could potentially have an ownership transfer. These are kind of big moves that you want everybody on board for, so we're going to table it for tight now.' I get that. Ok, say that," Lombardi mused. "But don't say "he doesn't fit what you do!"
Lombardi is likely right that the Commanders' ownership situation is more of an impediment to getting Lamar Jackson than his fit with the team. However, it seems like Washington and new offensive coordinator Eric Bieneimy actually do like second-year signal-caller Sam Howell.
Is Washington Commanders QB Sam Howell good?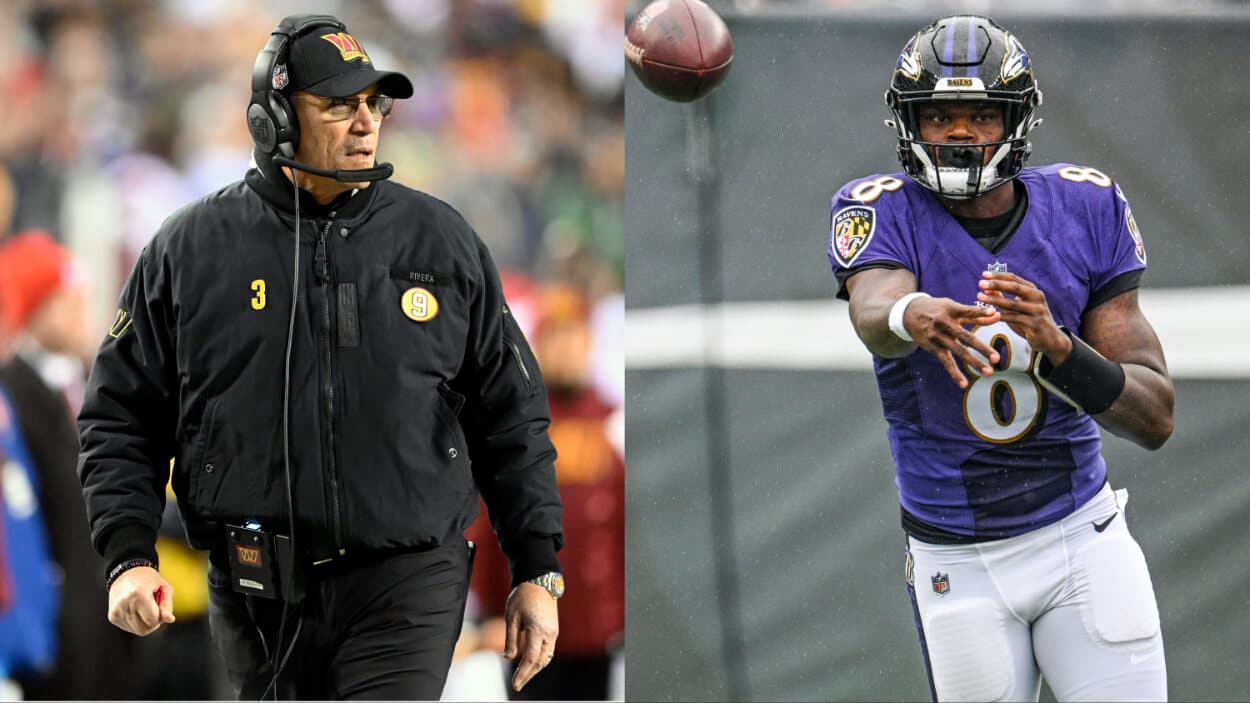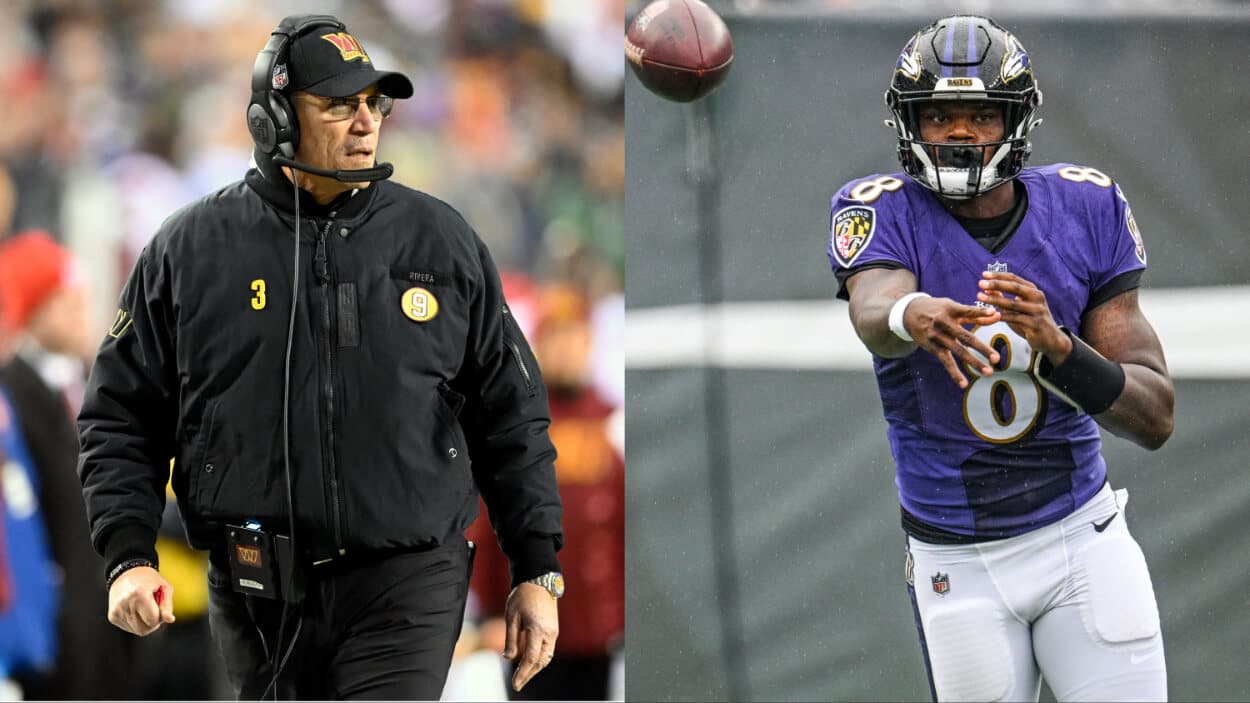 Former North Carolina Tar Heels QB Sam Howell was the No. 144 pick of the 2022 NFL Draft.
The North Carolina native spent three years at UNC, started all three, and threw for 10,283 yards with a 63.8% completion rate, 92 touchdowns, and 23 interceptions. At 6-foot-1, 218 pounds, Howell isn't the prototypical NFL signal-caller size-wise. However, what he lacks in size, he makes up in other areas.
After the Commanders selected Howell, I wrote in the team's draft grades, "As the first pick in the fifth round, UNC QB Sam Howell is an excellent value pick. Howell's ceiling is Baker Mayfield with Josh Allen's arm and mentality. Sitting a year (or so) behind Carson Wentz should help his development too."
So, maybe I was wrong about the Carson Wentz part, but I stand by the B+ I gave the pick.
Howell performed OK in his Week 18 start last season. He was 11-of-19 for 169 yards with a TD and an INT in a 26-6 win over the Dallas Cowboys.
With an offseason to continue to grow, Eric Bieniemy as the team's new offensive coordinator, and potent weapons around him, Howell has a chance to become a solid starting QB or even more in 2023.
Starting Howell may not be a great reason for Ron Rivera to pass on Lamar Jackson, but it's not a completely outlandish idea.