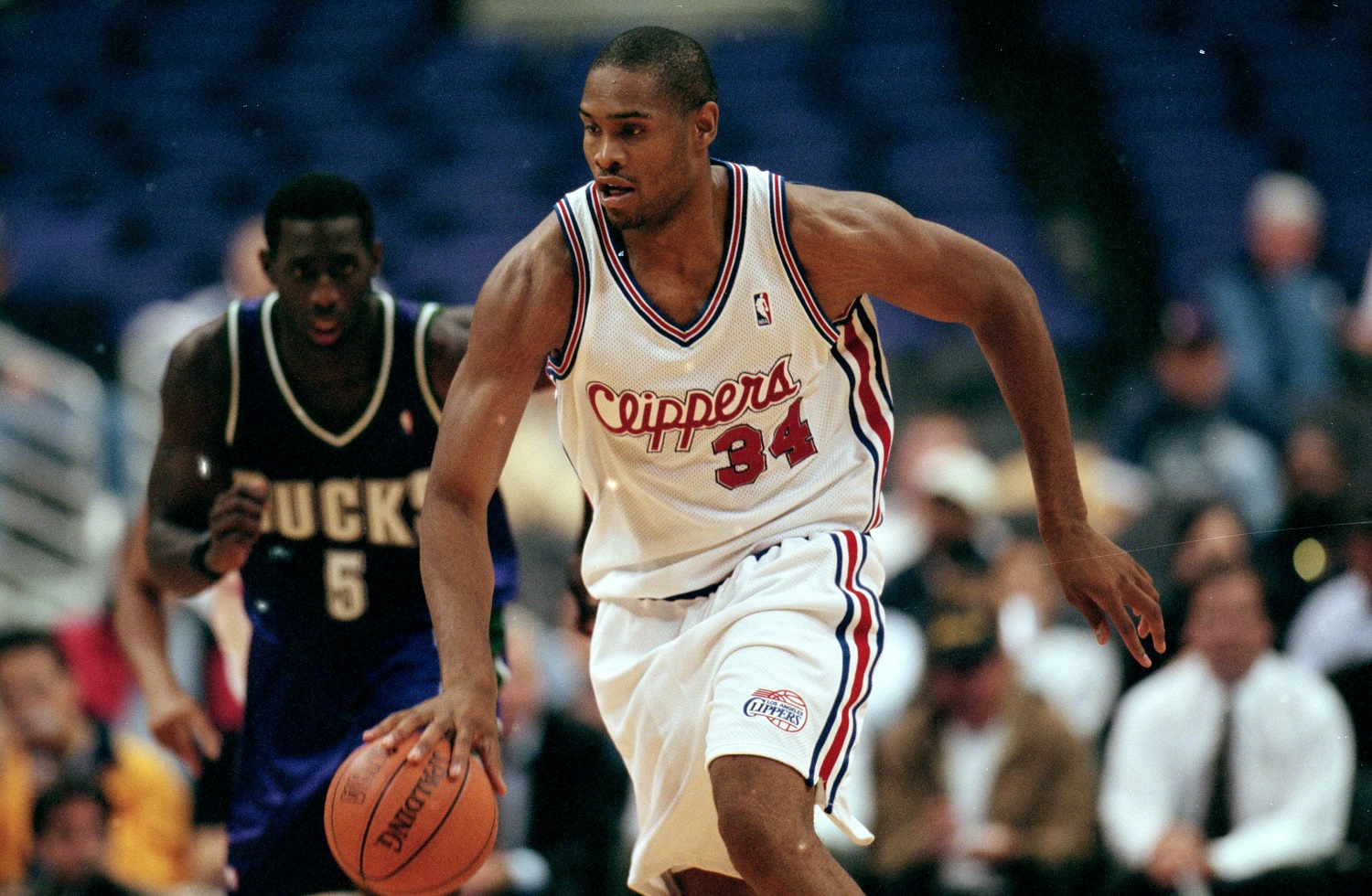 Former No. 1 Overall NBA Draft Pick Michael Olowokandi Has Seemingly Just Disappeared
Nobody seems to know what has happened to former No. 1 overall NBA draft pick Michael Olowokandi, who just seems to have vanished.
"With the first pick in the 1998 NBA draft, the Los Angeles Clippers select Michael Olowokandi from the University of Pacific." Those were the words uttered by then-NBA Commissioner David Stern back on June 24, 1998, and at least a few Clippers fans still have to be haunted by them.
While many No. 1 overall picks in the NBA draft change the entire course of a franchise, that certainly wasn't the case with Olowokandi and the Clippers. The Clips had a number of future All-Stars and even a couple of Hall of Famers at their disposal when they won the lottery in '98. But instead of picking Paul Pierce or Dirk Nowitzki or Vince Carter or Antawn Jamison, they decided to go with a guy that didn't even touch a basketball until he was 17 years old and had played in just 77 organized basketball games when he was drafted. But that's the old-school Clippers for you.
Olowokandi began his NBA career on a decent note but his refusal to truly learn the game from one of the all-time greats and a bad attitude overall hindered his career, as did a number of injuries, and he's seen by many as one of the greatest busts in NBA history.
So where is Michael Olowokandi today?
Michael Olowokandi didn't touch a basketball until he was 17
Born in Nigeria in 1975, Michael Olowokandi moved to London at the age of four as his father was a Nigerian diplomat. He was a great athlete growing up and played soccer in high school while also setting records in the long jump and the triple jump as a track and field star. Like both of his parents, Olowokandi was tall and matched their height of 6'2″ at the age of 15. But he then grew six inches at the age of 16 and tacked on five more as time went by.
But basketball really wasn't an option for him and he actually didn't even touch a ball until he was 17 years old. And that was by accident. One day at school, Olowokandi and some friends just decided to wander into the equipment room and came upon some basketball equipment that was covered in cobwebs. He started playing the game on tennis courts and was instantly hooked.
He paid his own way to play basketball at the University of Pacific
Michael Olowokandi continued to play sports at Brunel University in England but basketball was not one of them as the school didn't have a team. But he knew he wanted to play. So on his 20th birthday, he opened up a catalog featuring 3,000 colleges and universities in the U.S. and Canada and just randomly pointed to one…the University of Pacific in Stockton, California. Olowokandi called the athletic department, spoke to the coaching staff, told them he was 7'1″ and 265 pounds, and then offered to pay his own way if he was given a chance to play ball.
And Pacific went for it. Olowokandi arrived on campus in 1995 and played 77 games over the next three years. He struggled early on as he didn't fully understand the rules of the game but he continued to improve and averaged 22.2 points and 11.2 rebounds as a senior.
Michael Olowokandi was a huge NBA bust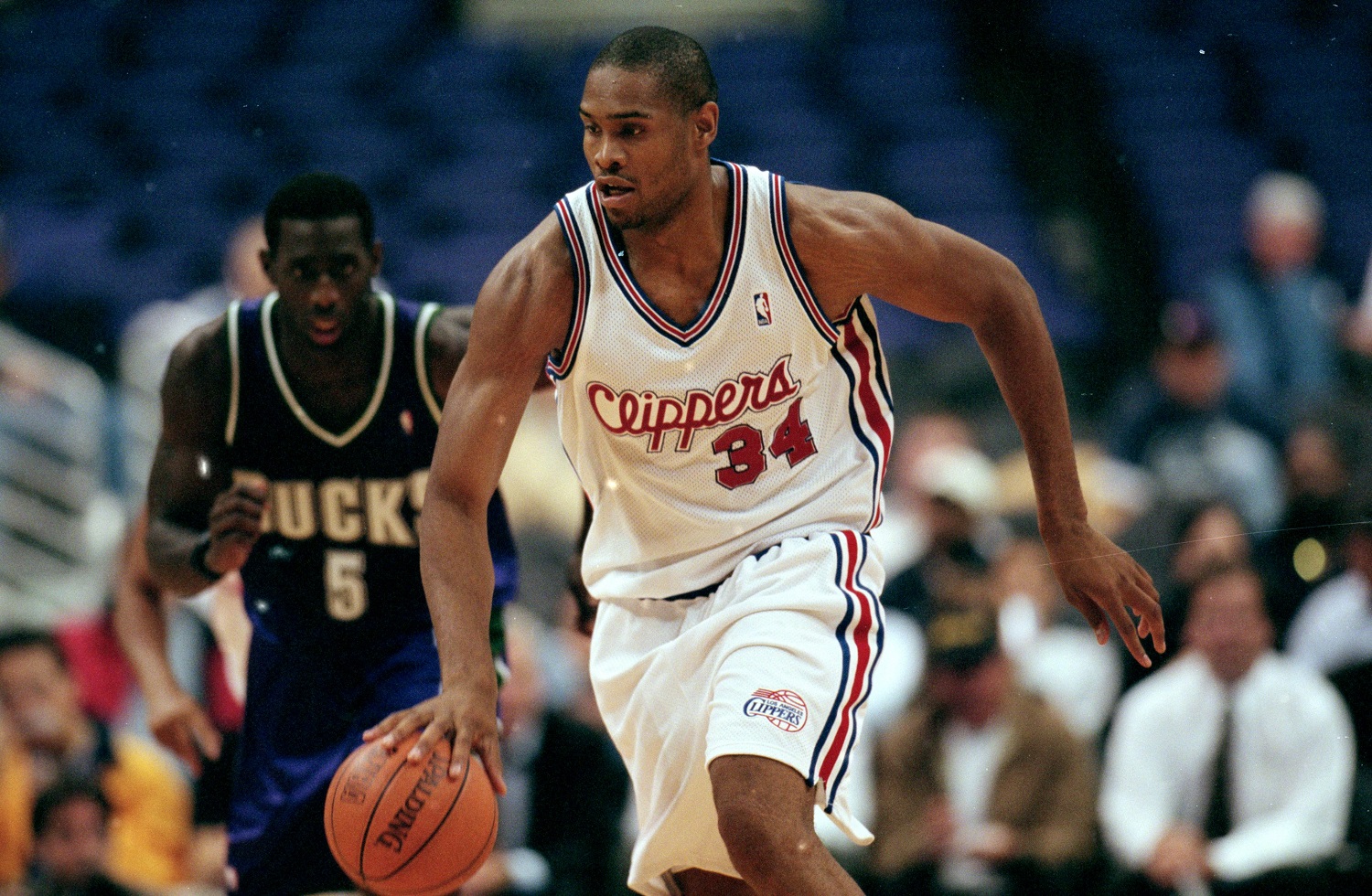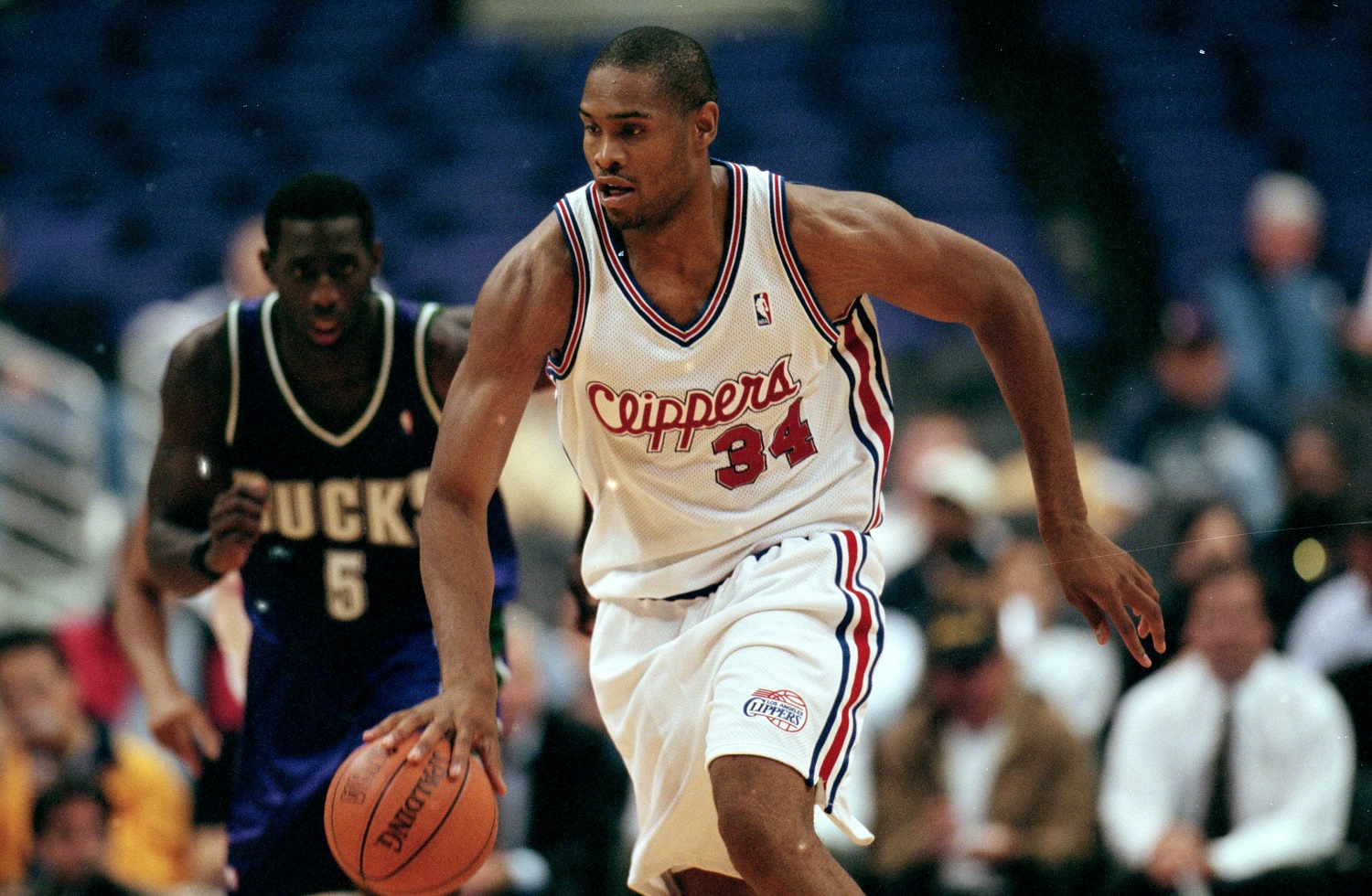 After being taken with the top overall pick in the '98 draft, it took quite a bit of time for Michael Olowokandi to suit up for his first NBA game as that was the draft that took place ahead of the lockout-shortened 1999 season. When he finally did hit the floor, he played adequately, earning Second-Team All-Rookie honors with 8.9 rebounds and 7.9 rebounds per game. But then the injuries set in as he underwent the first of many knee surgeries in May 1999.
Olowokandi played decently over the next few years but he certainly didn't put up numbers that one would expect from a No. 1 overall pick. He was nowhere near the first option on offense as the Clippers had the likes of Lamar Odom, Quentin Richardson, Corey Maggete, and Darius Miles on the team during Olowokandi's time in LA. He did average a career-high 12.3 points in 2002-2003 but he only played in 36 games.
Michael Olowokandi was also seen as a negative influence in the locker room and was once fined $50,000 for publicly criticizing his teammates. Years later, Kareem Abdul-Jabbar, whom the Clippers hired specifically to work with Olowokandi, ripped him for not being able to handle constructive criticism on his game and told Yahoo Sports that he was an "athletically gifted washout."
After five years in LA, Olowokandi signed in Minnesota but played just 137 games over parts of three seasons before being shipped to Boston in January 2006. Due to additional injuries, he played just 40 games for the Celtics and retired in 2007. In 500 career games in the NBA (399 starts), Michael Olowokandi averaged 8.3 points, 6.8 rebounds, 1.4 blocks, and made close to $38 million.
Where is Michael Olowokandi now?
So where is Michael Olowokandi now? Well, as it turns out, that's not an easy question to answer. Since leaving the NBA in 2007, he's pretty much stayed out of sight, although his now-ex-wife, Suzie Ketcham, became one of the stars of Basketball Wives on VH1.
It seems that the most info we have on the whereabouts of the former No. 1 pick came from Quentin Richardson, who told Shaquille O'Neal (video above) that he'd heard Olowokandi had returned to London but had no idea what he was doing. And that's it.
He made plenty of cash in his career and apparently came from a whole lot of money anyway, which is likely how he was able to pay his own to Pacific, so one would think he's doing just fine. But much like the hopes and dreams of Clippers fans back in 1998, Michael Olowokandi has just vanished.
All stats courtesy of Sports Reference