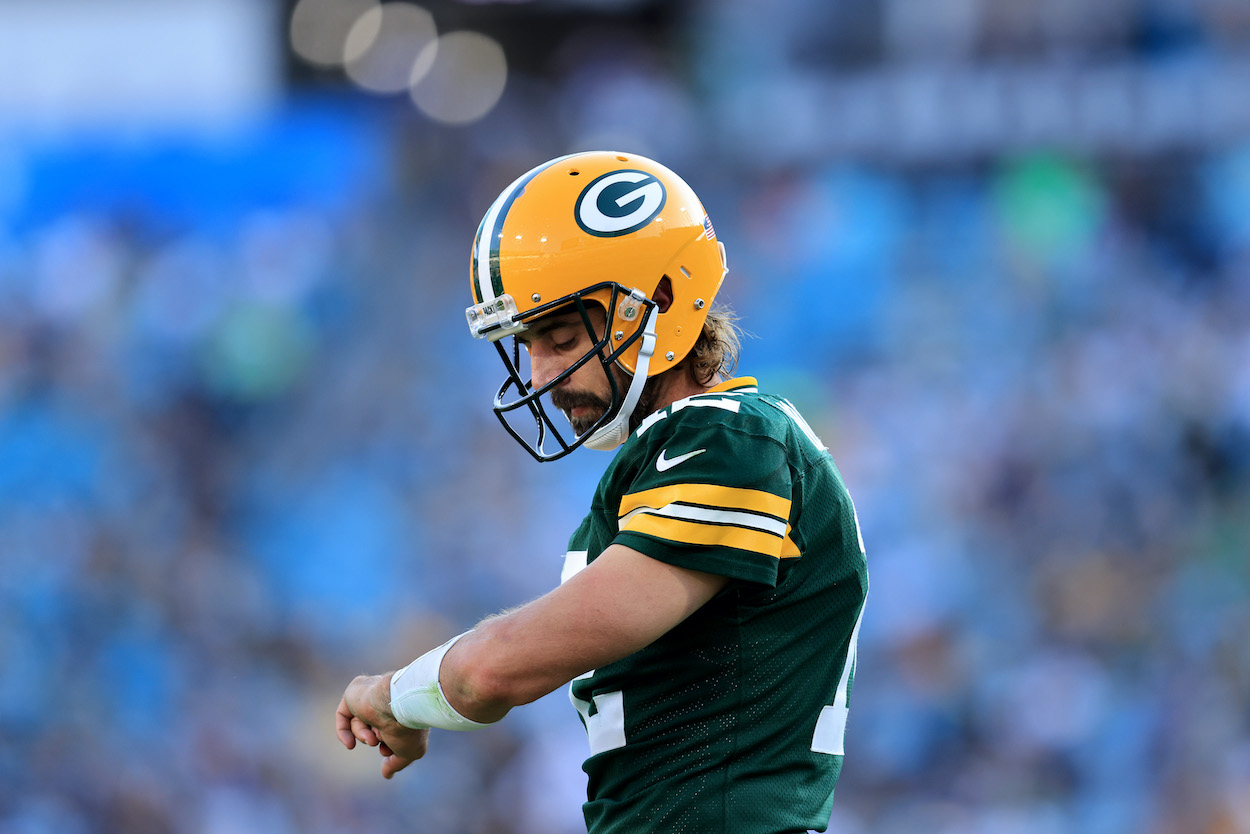 Former Super Bowl-Winning QB Blames Green Bay Packers' Struggles on Aaron Rodgers and His Offseason: 'There's This Lie in Football That You Can Just Throw out the Balls and Be Awesome if You Were Awesome the Year Before'
The most recent figure to critique the drama surrounding the offseason drama around Aaron Rodgers is someone who knows: a former NFL QB who knows what it takes to win in the league. He suggests the Packers may not have it.
All different sports media types have piled on quarterback Aaron Rodgers after his Green Bay Packers' abysmal performance in a 39-6 loss to the New Orleans Saints to open the 2021 NFL season. You can take some of this analysis with a grain of salt because it's from people who've never played the game.
However, when a former Super Bowl-winning QB explains why Rodgers' absence could be the source of the team's struggles, you sit up and take notice. It's what makes Trent Dilfer's recent podcast appearance discussing the Rodgers saga so fascinating.
Former NFL QB Trent Dilfer says the Packers' struggles could be due to Rodgers' offseason preparation 
Former Super Bowl-winning signal-caller for the Baltimore Ravens and long-time NFL analyst Trent Dilfer joined The Ryen Russilo Podcast to discuss Week 1 NFL takeaways and, of course, started with Rodgers.
The current high school football coach said he wasn't ready to panic and wouldn't fully judge the Packers QB until a few weeks into the season. That said, Dilfer did share that he believes there is a good chance that the team's struggles are directly related to Rodgers staying away during his offseason dispute with general manager Brian Gutekunst and the front office.
There's this lie in football that you can just throw out the balls and be awesome if you were awesome the year before. It's like a guy that hasn't shot, hasn't been playing any pickup basketball, he's an ex-NBA'er, he's taken a year off, he's rode the Peloton, he hasn't played a lot of open gyms, and he's not going to show up a year later and bury three's, and have his handles, and do all the things he did a year before, because he hasn't been working at it.

Trent Dilfer on Aaron Rodgers' offseason
Dilfer's ex-NBA player analogy applies to Rodgers in that the Packers QB took the offseason to host game shows, vacation with celebrities, and play in televised golf tournaments. It doesn't seem like there was much football on the star's agenda between February and July.
Dilfer also says all the Rodgers drama could be weighing in the team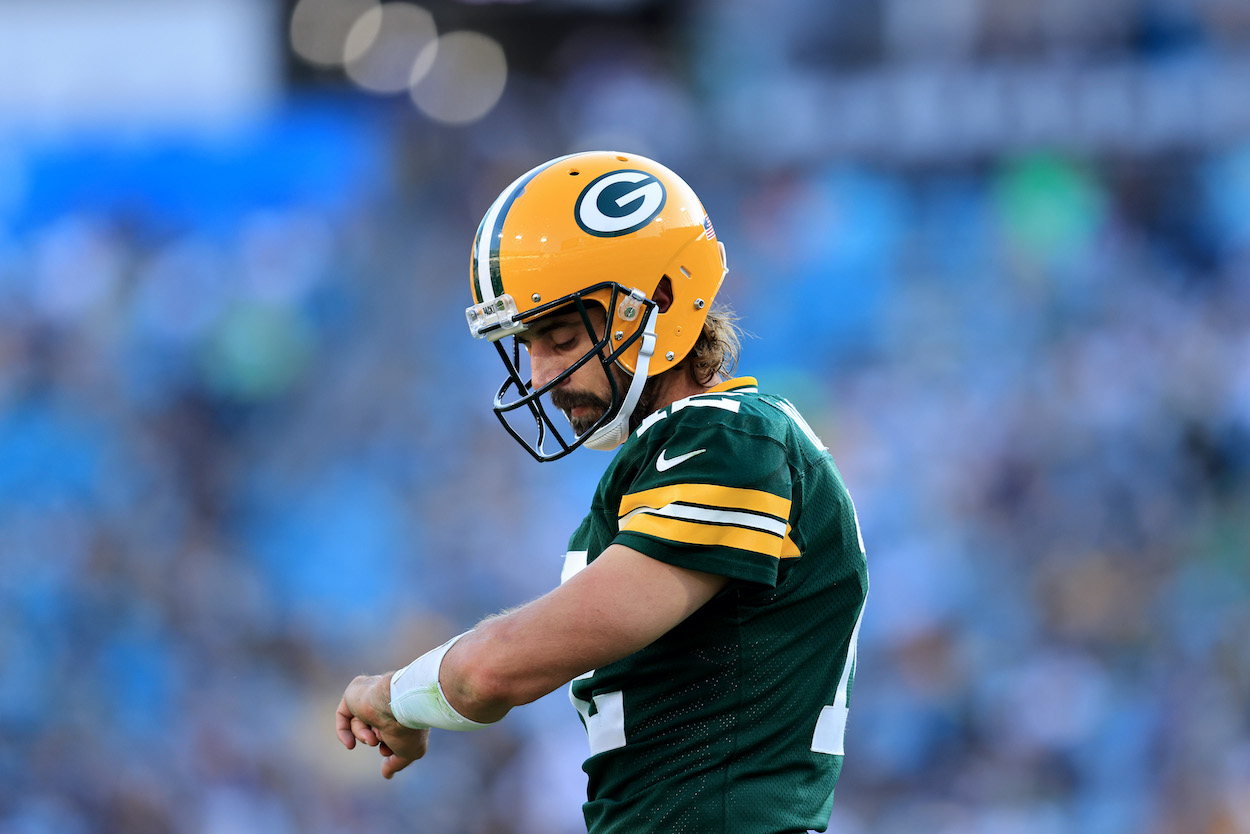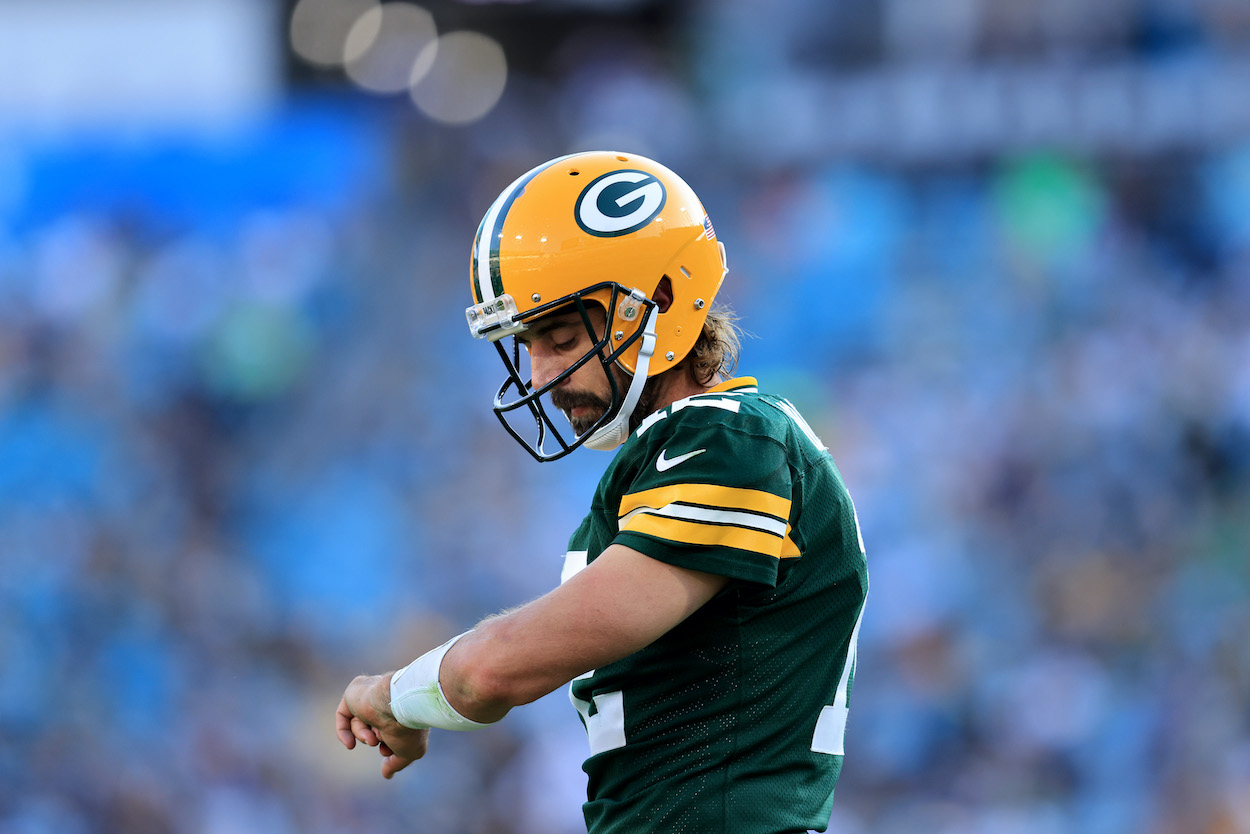 The former Fresno State passer also shared that the offseason drama and Rodgers' feelings about the organization may be taking their toll as well:
I think there's one other element too, and that is if you're still bitter about something, if you're still angry about something, that carries over. Sometimes it's a good chip. Sometimes those are really good chips on your shoulder, and it motivates you to play better, and maybe that's what his becomes. But other times, it becomes heavy. … There might be a little bit of a stink around there, too, and a little uncomfortableness because of what transpired, not just in the offseason, but with Aaron being very transparent.

Trent Dilfer on Aaron Rodgers drama
He went on to say that Rodgers "airing a lot of dirty laundry" to different media outlets could be causing a "stink around the building." Dilfer theorized that Rodgers' energy could be sucking the "positive juju" and "good vibes" out of the Packers facility.
The QB-turned-coach then shared a lesson on leadership that he's learned about how the role of any leader is to be "anti-drama" and to "de-escalate instead of escalate."
That's the exact opposite of what Aaron Rodgers did this offseason.
Next up is the Detroit Lions on 'Monday Night Football'
Whatever the sources of the Packers' struggles are, the team doesn't have long to mull things over to find the best solution. The NFL comes at you fast and, if the Packers don't figure things out, it will be apparent to a national television audience as the Pack takes on the Detroit Lions in Week 2's Monday Night Football game.
After trading long-time franchise QB Matthew Stafford for much-maligned former No. 1 overall pick Jared Goff, most had the Lions penciled in for a top-three pick in the 2022 NFL draft.
The problem is, it looks like no one told the Lions' new head coach, Dan Campbell.
The team ultimately lost 41-33 to the San Francisco 49ers in Week 1 when a late onside kick trickled out of bounds. However, the team stormed back from a 38-10 deficit and made it a close game against the NFC West powerhouse.  
While there is no doubt that Green Bay is more talented, the Lions game will be a fascinating litmus test for Dilfer's theories.
The Lions roster seems hungry and scrappy. There are players who look like they've put in the work in the offseason in order to prove their critics wrong. In a league where talent usually wins out, the Packers should take care of them despite this fact.
If, however, the Rodgers drama and lack of offseason prep are weighing on the organization as Dilfer thinks they might be, the Lions could be just the type of team to jump out and surprise the defending NFC North champs.
If that happens, the Rodgers drama level will get cranked up to 11.
Like Sportscasting on Facebook. Follow us on Twitter @sportscasting19