Freddie Freeman Turned to His Young Son to Snap out of an Early-Season Slump
The Atlanta Braves host the Houston Astros in Game 3 of the World Series on Friday, with the series knotted at a game apiece. Early in the season, a World Series berth had to be the furthest thought from the Braves' minds. The team struggled out of the gates, dropping its four games and losing eight of its first 12. Freddie Freeman, the team's veteran first baseman, was mired in a slump.
Freeman needed to change things up. He turned to none other than his son to help him snap out of it.
Like most MLB players, Freddie Freeman is no stranger to hitting slumps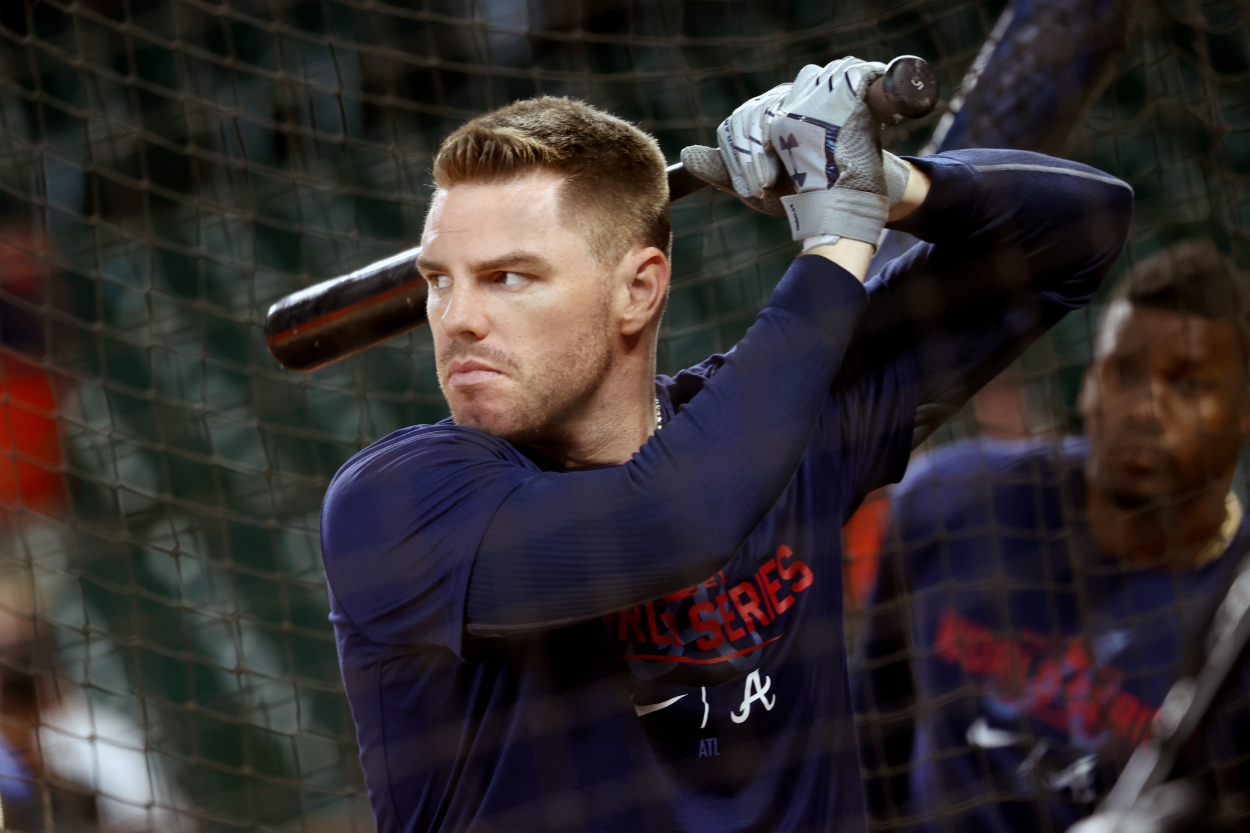 Baseball is not for those with a weak mental makeup. Streaks and slumps are constant. Failing seven times out of 10 at the plate could earn a berth in the Hall of Fame.
Freeman began the 2021 National League Championship Series against the Los Angeles Dodgers in one of those slumps. He was hitless in his first eight at-bats. Seven times, he struck out.
"That was a blip on the radar," Braves manager Brian Snitker said, according to ESPN. "You don't keep an elite player like Freddie down for an extended period."
Snitker was right. Freeman had five hits in the next two games and then homered in Game 5.
 "I had a couple of bad games, Freeman said. "I haven't done anything different. It's eight at-bats. I've done worse over more than eight at-bats in my career. That's the thing: two games. I was shown video, and it showed that there was nothing different. I've been doing this a long time, and I've been 0-for-8 before. I'll be 0-for-8 again at some point, hopefully not this postseason, though."
Freddie Freeman turned to his son during an early-season slump
The Braves opened the season with four straight losses. They rebounded by winning the next four, only to hit another four-game skid. Not only was the team struggling, but Freeman was in a slump.
When things aren't going well, it might be best to shake something up. The Braves had just been outscored 12-0 in a doubleheader against the Arizona Diamondbacks to fall to 9-12.
Through his first 100 plate appearances, Freeman was hitting .213. Freeman's a proven hitter, so a change in mechanics wasn't necessary. A change in routine might shake things up. That's when his oldest son, Charlie, came through.
Freeman asked Charlie for help. He decided to change his walkup song. Freeman had been heading to the plate with "Let the Drummer Kick" by Citizen Cope playing in the background. Charlie offered a new song. He suggested "Ni Bien Ni Mal" by Bad Bunny.
Charlie came through.
The Braves knocked off the Chicago Cubs 5-0, and his father reached base three times in five at-bats.
Freeman has become the face of the Atlanta Braves and a true professional
Freeman has spent 12 years in the big leagues — all with the Braves. He's a free agent after the season. Should he re-up with the Braves, he could possibly reach Chipper Jones level. Jones is a Braves icon who spent 19 years with the team. If he signs elsewhere, he'll still be an all-time Braves favorite as he's been the consummate professional.
"To me, Freddie's the definition of a professional baseball player," teammate Austin Riley said, per ESPN. "Day in, day out, he's so poised in every situation. It's not so much what he says; it's just the way he carries himself. If he's 0-for-4 or 4-for-4, he's the same guy every day, and I think guys catch on to that and gravitate toward it."
Riley said he looks up to Freeman and has learned a lot from the Braves' first baseman.
"The biggest thing I've learned from Freddie," Riley said, "is learning how to deal with success and failure. To deal with this game every day, you need to learn both."
Freeman isn't concerned bout where he'll play next year. For now, he's living in the moment and is three wins from a World Series title.
"I think this might be the definition of pure joy," Freeman said. "I don't really know how to feel. Usually, we're sitting at our locker thinking about the whole season and getting ready for next year — and this year we actually did it."
RELATED: Dale Earnhardt Jr., Chipper Jones Talk Cheating in NASCAR and Baseball