Gilbert Arenas' Late-Night Encounter With Kobe Bryant May Have Been Exactly What He Needed to Build Up His $20 Million Net Worth
These days, Gilbert Arenas has fallen somewhat off the basketball map. During the 2000s, though, Agent Zero proved to be one of the purest scorers around. As you might expect, that reality helped the guard earn more than $163 million in salary and build up a $20 million net worth.
While Arenas possessed plenty of natural talent, he still received a major boost ahead of his fifth professional season. If not for a phone call and a late-night encounter with Kobe Bryant, the guard's bank account could have looked quite a bit different.
Gilbert Arenas turned his offensive touch into a $20 million net worth
While the cliche might say that defense wins championships, every winning basketball team needs someone capable of shouldering the scoring load. During his time on the NBA hardwood, few men were better at that essential skill than Arenas.
The guard played his college ball at Arizona and quickly proved to be a capable offensive player. He averaged 15.8 points per outing across two campaigns with the Wildcats, helping the program reach the 2001 NCAA title game, before entering into that year's NBA draft.
Although Arenas slipped down the draft board to the 31st position, he didn't miss a beat with the Warriors. After averaging 10.9 points per contest as a rookie, Agent Zero's output climbed to 18.3 points per game as a sophomore, earning him the 2003 Most Improved Player title. That growth also earned the guard a $51 million deal with the Washington Wizards when he hit free agency.
In the nation's capital, Arenas exploded. The guard kept improving and, at his peak, averaged 29.3 points per game during the 2005-06 regular season and upped his game during the playoffs, averaging 34.0 points per contest. He seemed to be one of basketball's purest scorers and, unsurprisingly, earned a $111 million contract extension.
While things fell off shortly after — Arenas infamously brought guns into the Wizards locker room and started to struggle with injuries — the guard still earned a pretty penny during his professional basketball career. He took home more than $160 million in raw salary over the years and, according to Celebrity Net Worth, boasts an estimated $20 million fortune.
Gilbert Arenas can probably thank Kobe Bryant for at least part of his net worth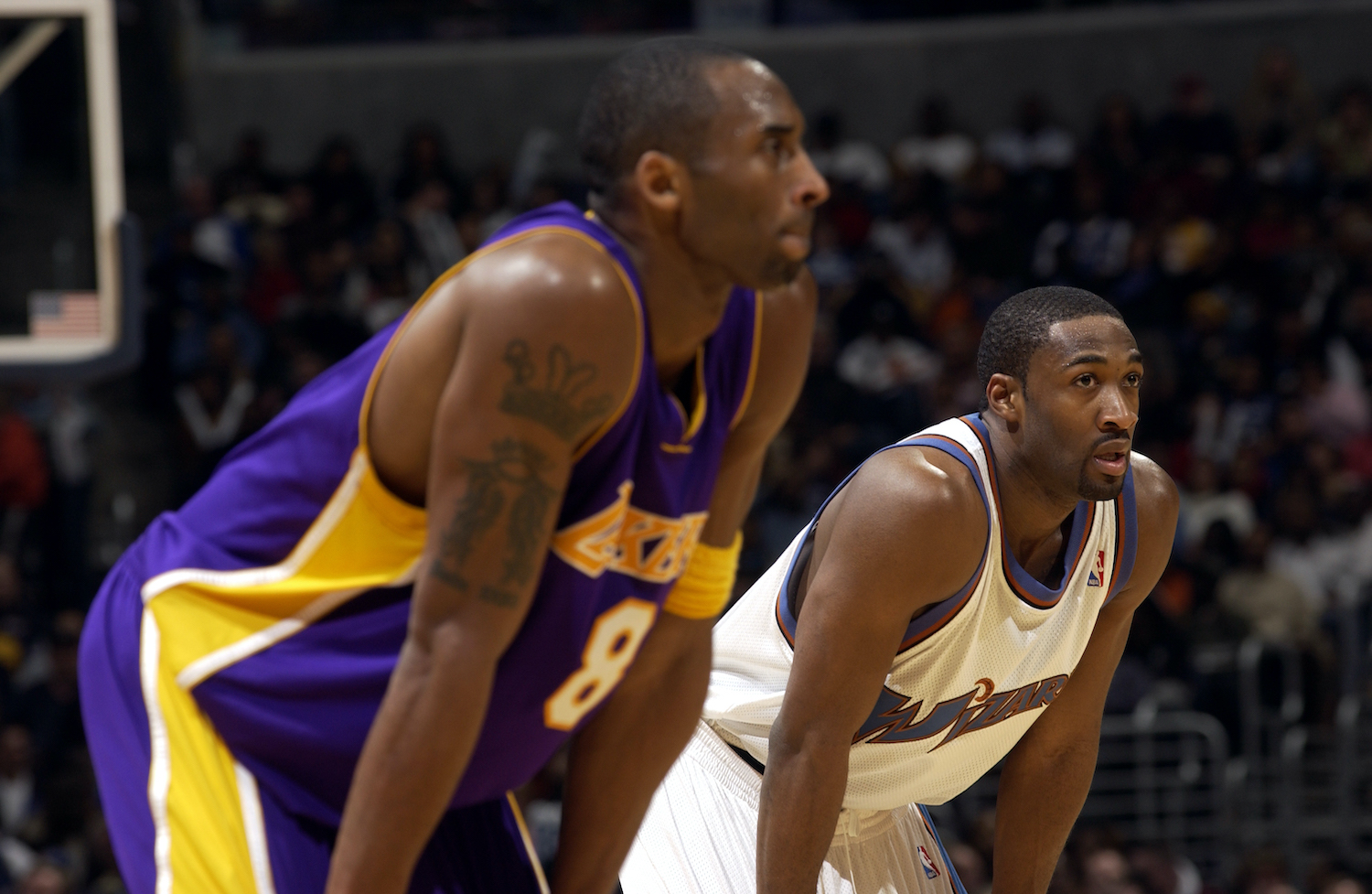 In fairness to Agent Zero, he possessed plenty of raw talent and probably could have earned a fair share of money without much assistance. An encounter with Kobe Bryant, however, seems to have helped the guard take things to the next level.
During an appearance on the Knuckleheads podcast, Arenas, Darius Miles, and Quentin Richardson discussed how there isn't a step-by-step guide to achieving NBA greatness. If you want to be the best, it seems, you have to seek out some veterans and learn their tricks of the trade.
"I got a call, 'Hey, what is Kobe doing over there," Arenas explained, without specifying who was on the other end of the phone. "Oh yeah, he waking up at three, you know, at the gym at three o'clock.' 'No, he ain't.' 'Yeah, he is.' I go, take a cab. Let's go. Let me see. I'm sitting there, 'Oh, he here. Oh, he really here.'"
Agent Zero didn't just see that Kobe was working out in the wee hours of the morning, though. He noticed that the Lakers star was dripping with sweat and pushing himself as if the NBA championship was on the line. At that moment, everything clicked.
"So, I'm writing this down, like trying to figure out, 'Alright, I gotta put this in because this is what he's doing,'" Arenas continued. "This is what the all-stars, the superstars, is doing. So now, going into my fifth year, I have an idea of what great players are doing. They're putting in extra time. They're really challenging themselves because everything is so game-like, when it comes to the game, it becomes easy. That's what I learned, but I had to learn that making just one phone call that I was just being nosy."
For reference, Arenas' fifth season was when he posted his career-high scoring numbers. At the risk of being somewhat reductionist, the guard would never have earned his $111 million contract extension if not for that offensive outburst. While correlation doesn't equal causation, it is interesting to note that Agent Zero took his game to the next level after witnessing Kobe's work ethic firsthand.
Kobe Bryant taught plenty of players about what it meant to be a pro
Even if that encounter with the Black Mamba didn't directly lead to Gilbert Arenas' offensive explosion, it's safe to say that Agent Zero learned a thing or two from watching Kobe work. Bryant, however, was no stranger to teaching players about what it meant to be a pro.
Take, for example, Julius Randle. During his sophomore season, the big man made his first professional visit to Dallas. While he assumed that meant he'd get to enjoy a night on the town, Bryant had some other ideas and took him to the gym.
While that change of plans was a bit disappointing, the Kentucky product learned an important lesson from Kobe's intervention.
"And of course, Kobe knew we were in my hometown. Of course he knew. But that wasn't him being a bad dude or anything," Randle recounted. "It was more like — it was him trying to use the situation to teach me a lesson. The lesson being: To get to the next level in this league, you can't be putting in that next level of work only some of the time. Has to be all of the time. No such thing as sacrifice without sacrifice."
Allen Iverson shared a similar memory in his own Players' Tribune piece. During his rookie year, the 76ers star landed in Los Angeles and planned on hitting the town. The Black Mamba, however, was planning on hitting the gym rather than the club.
"You're probably the only dude in the history of the game where the mystique wasn't exaggerated," A.I. explained. "The Mamba was no myth, man. It didn't even do you justice. One, two, three in the morning, we knew where you were."
If you were looking for someone to learn from, it was tough to get any better than Kobe Bryant.
Stats courtesy of Basketball-Reference. Financial data courtesy of Spotrac.