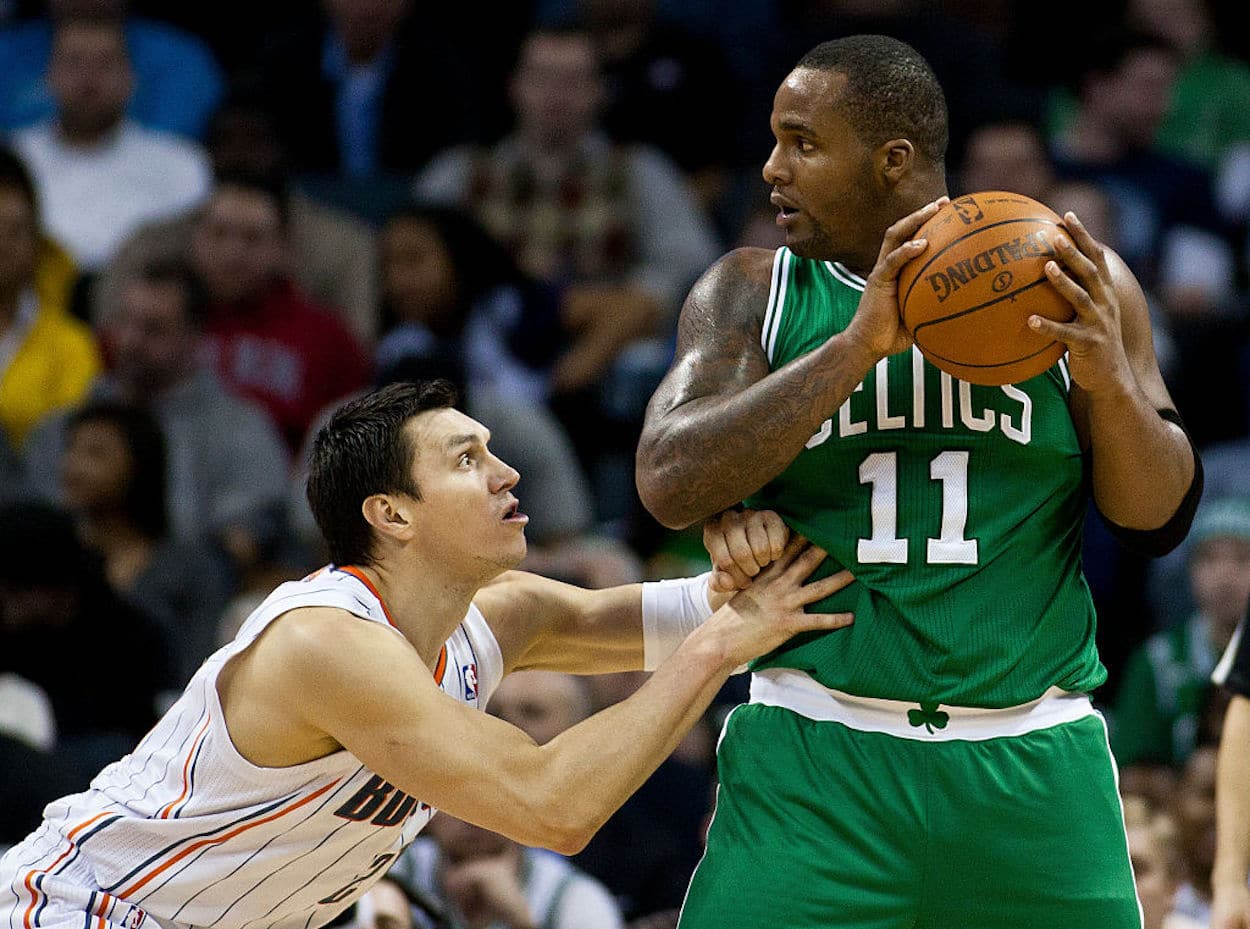 Glen 'Big Baby' Davis' 5 Dream Dinner Guests Would Only Include 1 NBA Name
If Glen Davis was inviting five ideal guests to dinner, only one of his former Boston Celtics teammates would make the cut.
When you imagine NBA players, it's easy to picture them as robots who are only interested in basketball. Glen 'Big Baby' Davis is living proof that isn't the case. The former big man spent time in the Association, played Big 3 basketball, and dabbled in the film industry.
That diverse set of interests was plain to see when Davis assembled his dream dinner party. Despite making a name for himself on the hardwood, Big Baby would only invite one NBA name: Kevin Garnett.
Kevin Garnett would be the only basketball player within Glen Davis's dream dinner party
During their time together, Kevin Garnett made quite the impact on Big Baby Davis. That was apparently enough to earn him a seat at the metaphorical big table.
Davis recently appeared on the All the Smoke podcast and, during the "quick hitters" section, was asked to name his ideal "five dinner guests, dead or alive."
"Gonna get Bernie Mack out the grave," the former forward began. "Pull him up. I gotta laugh. Gotta laugh. I gotta have something sexy bad at the table. So, I'mma go get big Lizzo. … Now, I gotta go with [an] actor cause I want to talk, talk good stories. … Denzel [Washington]. He looks like I could learn something from him. A father figure. I would love to sit with him at the table."
At that point, Big Baby finally delved into the NBA realm to select the next guest: Kevin Garnett.
"I'mma go get Big Ticket cause he got hella stories," Davis explained. "He gonna talk all day. … Yeah, he paying for the tab. Big fella always somehow paid for the tab, I don't know how he do it. Just a magician, like, 'Oh, he paid for it already.' So I'd pick him, he funny."
Davis was then instructed to pick someone dead who he found inspirational as the last guest.
"That's super, super tough," he responded. "When I think about somebody that's not alive, and I think that I would, you know, learn so much from… damn. I'mma have to go with Martin Luther King. I think he had a great balance. You know what I mean? And then also what he stood for, it was just so magical and strong, too. It's immortality, in a way. … I just like the versatility that he had as an individual and what he did, you know, for us. And he ain't lame, I don't think. I don't think, he'd be cool, you know what I'm saying?"
Even if that's a less basketball-centric group than you might expect from a former NBA player, it still sounds like quite the party.
Like Sportscasting on Facebook. Follow us on Twitter @sportscasting19 and subscribe to our YouTube channel.