The Green Bay Packers Are Pushing Aaron Rodgers Even Further Out the Door by Blatantly Ignoring His Latest Plea
It looks as if Aaron Rodgers will be the starting quarterback for the Green Bay Packers this year after all, but his future with the team is still as murky as it's ever been. This season could be the last for Rodgers in green and yellow if his relationship with the front office fails to improve over the next six months.
Well, general manager Brian Gutekunst isn't exactly trying his hardest to mend that damaged relationship. His latest decision to not even entertain signing Clay Matthews after Rodgers made a public plea to do just that is only going to push the disgruntled quarterback even further out the door.
Aaron Rodgers lobbies the Packers to sign Clay Matthews
Rodgers already influenced the Packers to trade for Randall Cobb earlier this offseason, and now he wants to bring another old friend back to Green Bay.
In a coordinated social media effort over the weekend, Rodgers, Cobb, and David Bakhtiari took to Instagram and begged the Packers to sign Matthews as a free agent. All three players posted the same picture of the 35-year-old linebacker with different captions, so it was clearly a planned event.
Matthews was drafted by the Packers in 2009, and he played the first 10 seasons of his NFL career in Green Bay. He hasn't played a snap since the 2019 season, which he spent with the Los Angeles Rams. However, despite missing an entire season of football, Matthews hasn't retired from the NFL just yet.
Maybe he's holding out for a reunion in Green Bay as his last hurrah. Hey, his ex-teammates sure seem to be interested. All they need to do now is convince Gutekunst it's a worthy investment, but that might be a tougher task than they originally thought.
Packers GM Brian Gutekunst shuts down Rodgers' plea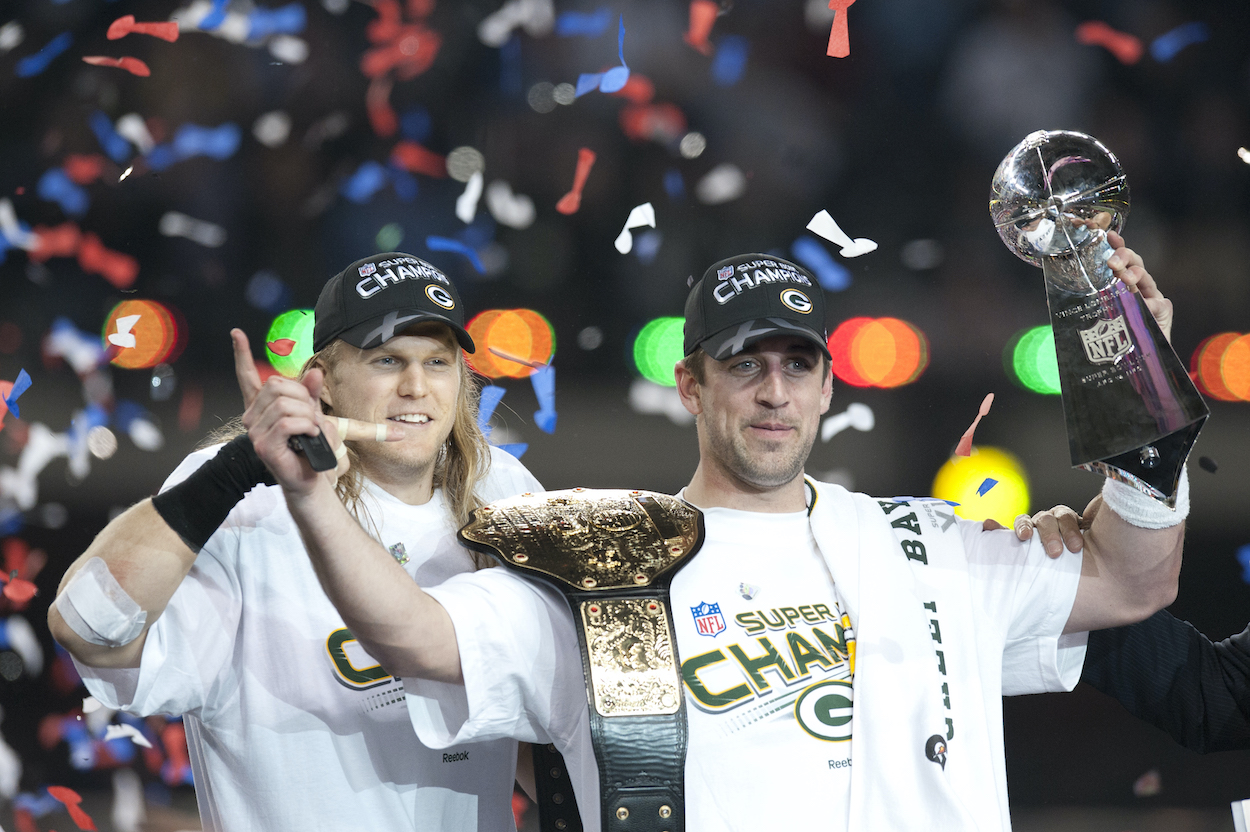 Rodgers evidently wants to bring back all of his old buddies in an effort to feel more comfortable in Green Bay than he has over the last few seasons. He was directly responsible for the recent trade for a 30-year-old Cobb, and now he wants the Packers to sign a linebacker who hasn't played in the NFL in over a year.
In less than 24 hours, though, Rodgers' pipe dream of teaming back up with Matthews was shut down by Gutekunst.
"There have been no discussions about that," the Packers GM firmly told reporters Sunday.
Look, it makes sense on the surface. The Packers already have two stellar outside linebackers on the roster in Preston Smith and Za'Darius Smith, and Rashan Gary has a bright future ahead of him as well. The OLB position simply isn't a need for Green Bay heading into the 2021 season, but Gutekunst isn't exactly in a position to refuse No. 12's wishes right now.
The Packers are only pushing Rodgers further out the door
The Packers have plenty of work to do if they want to convince Rodgers to stay in Green Bay beyond this season. The nine-time Pro Bowler has had one foot out the door for months, and he's expected to explore a change of scenery in 2022.
That's why Gutekunst's decision to shut down his disgruntled superstar's plea is a curious one. You have the reigning NFL MVP on your roster — one of the most effortlessly talented quarterbacks ever to throw on a helmet and shoulder pads. If he shows just the tiniest bit of unhappiness, you should be doing everything in your power to ease his mind. Once he's gone, Green Bay's Super Bowl hopes will follow him right out that door.
If Rodgers wants to throw on 100% of the team's offensive snaps next season, you tear up every page of the playbook that shows a running play. If he wants to change the Packers' official colors to pink and purple, you get Nike on the line for some mockups immediately. And if he wants to team up with his old friend again for one last ride, you offer Matthews a minimum contract and call it a day.
Still not interested? That's fine. Have fun watching one of the greatest QBs of all time walk away next summer.