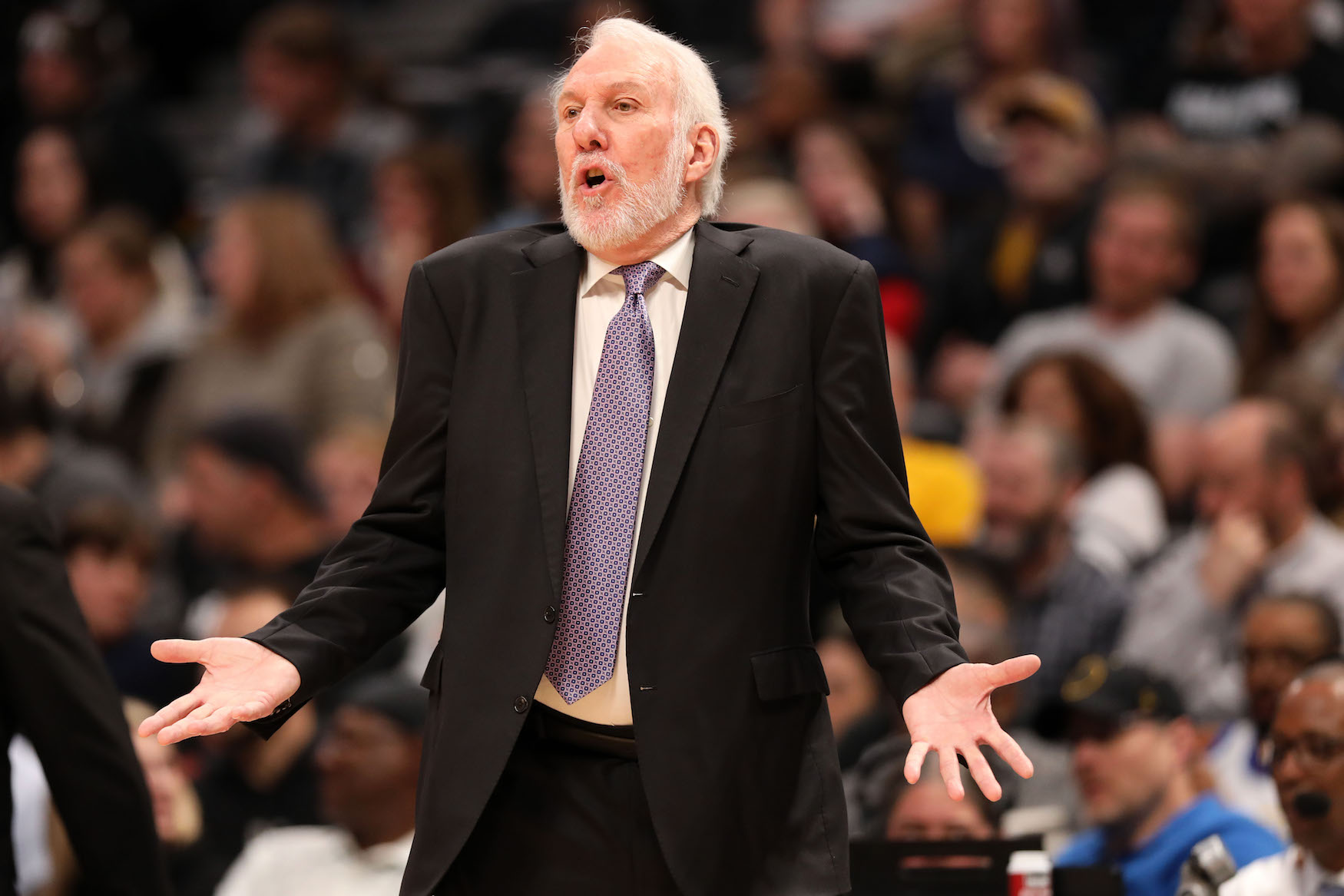 Gregg Popovich Already Blasted Donald Trump; Now He's Calling Out People Who 'Don't Understand Black Lives Matter'
After blasting Donald Trump earlier this year, Gregg Popovich set his sights on those criticizing the Black Lives Matter movement.
As a veteran NBA coach, Gregg Popovich has to have some pretty good communication skills. While he may seem grumpy during his sideline interviews, the San Antonio Spurs bench boss is a master of getting his message across; you don't win five championships without getting everyone to buy-in. When it comes to Black Lives Matter, though, Coach Pop isn't pulling any punches.
While there's plenty to disagree about in the world of basketball, Gregg Popovich doesn't believe that there's any room for debate when it comes to institutional racism in the United States. After previously blasting Donald Trump for his lack of leadership, the Spurs coach widened the scope of his criticism in a recent interview.
Gregg Popovich has become one of basketball's top coaches
When you think of the best NBA teams, you probably envision stars like Michael Jordan or LeBron James leading the club to victory. Having a good coach, however, is also important; in modern basketball, few coaches are better than Gregg Popovich.
Coach Pop didn't always ply his trade in the NBA, though. He first hit the hardwood as a player at the United States Air Force Academy; after his tour of duty ended, Popovich returned to Colorado and rejoined the team as an assistant coach.
After six seasons on the Falcons bench, Popovich struck out on his own and took over the Pomona-Pitzer basketball team. While the program was far from a household name and never boasted the best talent, their new head coach guided the Sagehens to their first divisional title in nearly 70 years.
While he was working at Pomona-Pitzer, Popovich spent a year volunteering on Larry Brown's staff at Kansas. When Brown made the jump to the NBA, Popovich joined him as an assistant.
After losing his job with the Spurs, Popovich headed to Golden State to work under Don Nelson. He returned to Texas in 1996, this time as the Spurs' head coach; since then, the rest is history.
Blasting Donald Trump for refusing to say 'Black Lives Matter'
During his time on the sidelines, Gregg Popovich has learned a thing or two about leadership. From his perspective, Donald Trump is lacking in that key department.
After the tragic death of George Floyd, Popovich called Dave Zirin of The Nation to share his perspective on the national unrest and Trump's response. The veteran coach didn't pull any punches.
"It's so clear what needs to be done," Popovich explained. "We need a president to come out and say simply that black lives matter. Just say those three words. But he won't, and he can't. He can't because it's more important to him to mollify the small group of followers who validate his insanity. But it's more than just Trump. The system has to change. I'll do whatever I can do to help, because that's what leaders do. But he can't do anything to put us on a positive path, because he's not a leader."
Trump hasn't been Coach Pop's only target, though. He's also blasted Texas' Republican leadership for their handling of the coronavirus pandemic.
Beyond Donald Trump, Gregg Popovich has no time for people who 'don't understand Black Lives Matter'
Gregg Popovich's statements aren't limited to those in positions of power, though. The Spurs head coach is apparently fed up with anyone who fails to understand the Black Lives Matter movement or is offended by its existence.
During his media availability inside the NBA bubble, Popovich was asked what the Black Lives Matter movement means to him. While he noted that it was a difficult question to answer within the context of a rapid-fire press conference, he still shared his toughts.
"It's no different for me than it is for anybody else who cares about justice, and who can be empathetic to the fact that justice has been denied to a group of people for far too long," the veteran coach explained. "And enough is enough. Everybody's tired of it, especially the group of people that has been degraded and savaged for so long. People who don't understand Black Lives Matter or are offended by it are just ignorant."