Gregg Popovich Is Getting Called Out, and It's About Time
The emperor in the children's book had no clothes. The basketball coach in the lead-up to the Tokyo Olympics had no answers. So, bravo to the observers willing to call out Gregg Popovich.
Popovich, the coach of the NBA's San Antonio Spurs, accepted a thankless job. Anything less than a gold medal for the United States' men's team qualifies as a failure in the media and the mainstream. However, Popovich is making it awfully easy for the critics to assign him all the blame if (when?) the U.S. team disappoints in Tokyo.
Team USA is off to a rough start, but it should get better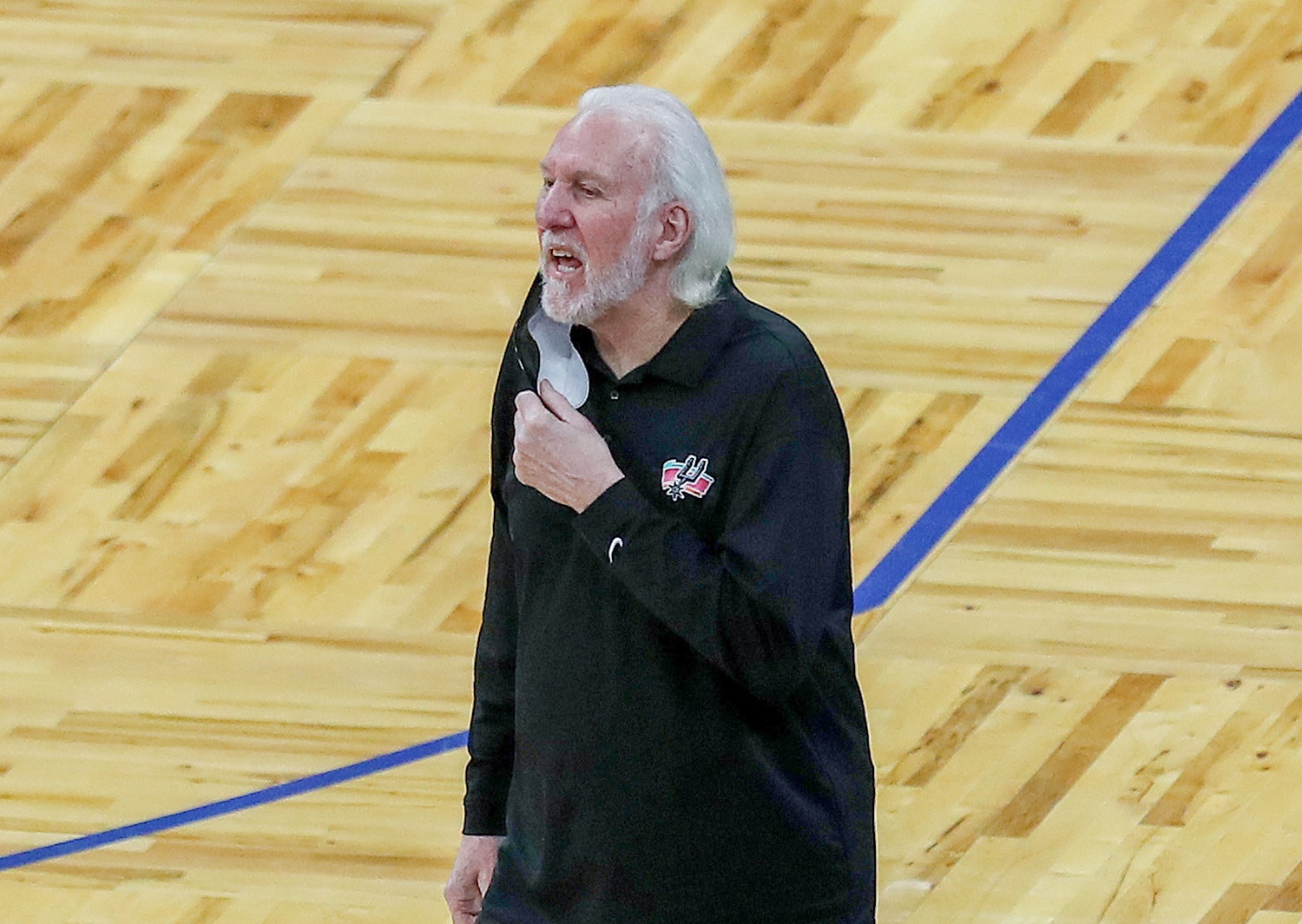 First, the good news: The preparation for the Olympics already reached rock bottom in the first week, so the exhibition losses to Nigeria and Australia aren't signs of doom, though they still qualify as an indication of trouble ahead.
Secondly, Popovich's roster is a work in progress. Jayson Tatum is day-to-day with a balky knee. Devin Booker, Khris Middleton, and Jrue Holiday remain tied up with the NBA playoffs and are still a week away.
There are lingering bad memories of France from 2019 (see below), but beating Iran and the Czech Republic in the other pool-play games shouldn't be a heavy lift as the full team gets acclimated July 25-31. It's the quarterfinals on Aug. 3 when the real basketball begins.
Playing devil's advocate, however, what if the pieces don't come together so nicely? The exhibition losses to Nigeria and Australia might be a function of guys not being used to playing together. But if Booker, Middleton, and Holiday also can't assimilate quickly upon arrival, then Popovich and the USA Basketball executives will justifiably be roasted for their roster management.
Gregg Popovich is getting called out, and it's about time
Rolling past a historically strong team from Argentina, 108-80, on Tuesday in the third of five scheduled exhibitions took some of the heat off Team USA and saved America from another insufferable news conference with Popovich.
While plenty of people bow at the altar of Popovich — just asking, but do his political views factor into that? — others are willing to ask whether some of his coaching acumen fell by the wayside once Tim Duncan retired. More specifically, does coaching five NBA championship teams with a mix of stars and role players qualify someone to run an all-star team?
Mike Krzyzewski, coach of multiple NCAA champions at Duke, made it work just fine in three straight Olympiads. As for Popovich, well, the jury's still out — even if Deadspin chimed in with a verdict of, "Guilty! Guilty! Guilty!"
Former NBA player Kendrick Perkins went after Popovich on ESPN's First Take after the loss to Australia. He cited a need for accountability and told the coach to "humble himself." Part of Perkins' displeasure stems from the terse interaction "Coach Pops" had with a reporter who was merely doing his job.
"He should've went and screamed at himself," Perkins said, according to Outkick.com. "He talked to the (reporter) like he was a child. When was the last time Gregg Popovich did something? Kawhi Leonard left and showed the world, 'I don't need Pop. I can go win a ring on my own.'"
Beyond that, Perkins found fault with preparation on defense. The futility of the offense down the stretch vs. Australia probably could have consumed an entire segment on ESPN.
"We have to address the elephant in the room, and it's Gregg Popovich," Perkins proclaimed.
Popovich and international basketball aren't a good match
As noted, coaching the U.S. team is a thankless responsibility because the country generally owns the sport. Krzyzewski's teams lost once in his decade-long tenure. Coming home with any medal other than gold is bad. Coming home with no medal at all is worse. Yet, that's what happened in 2019 when the Popovich-coached Americans went 5-0 in pool play at the FIBA World Cup, then got dumped by France and Serbia.
John Thompson (1988) and Larry Brown (2004) couldn't deliver Olympic golds, but they at least came home with medals. Popovich came home with seventh place in his first international assignment as the man in charge, though he was an assistant for Brown in '04.
"Gregg Popovich has to humble himself," Perkins said regarding the faceoff with the reporter. "We watch all-time great coaches like John Thompson be one of the class-act guys when it comes to the media. … We hold players accountable and say that they shouldn't be sensitive, it's their job to do the media. It's also a head coach's job to make sure they meet the requirements to do the media."
At the moment, Coach Pops' short fuse with one reporter is the least of his problems. But just let him come home with something other than gold and watch how quickly the media comes at him. Then, he'll know real trouble, and he will have earned it.
Like Sportscasting on Facebook. Follow us on Twitter @sportscasting19.