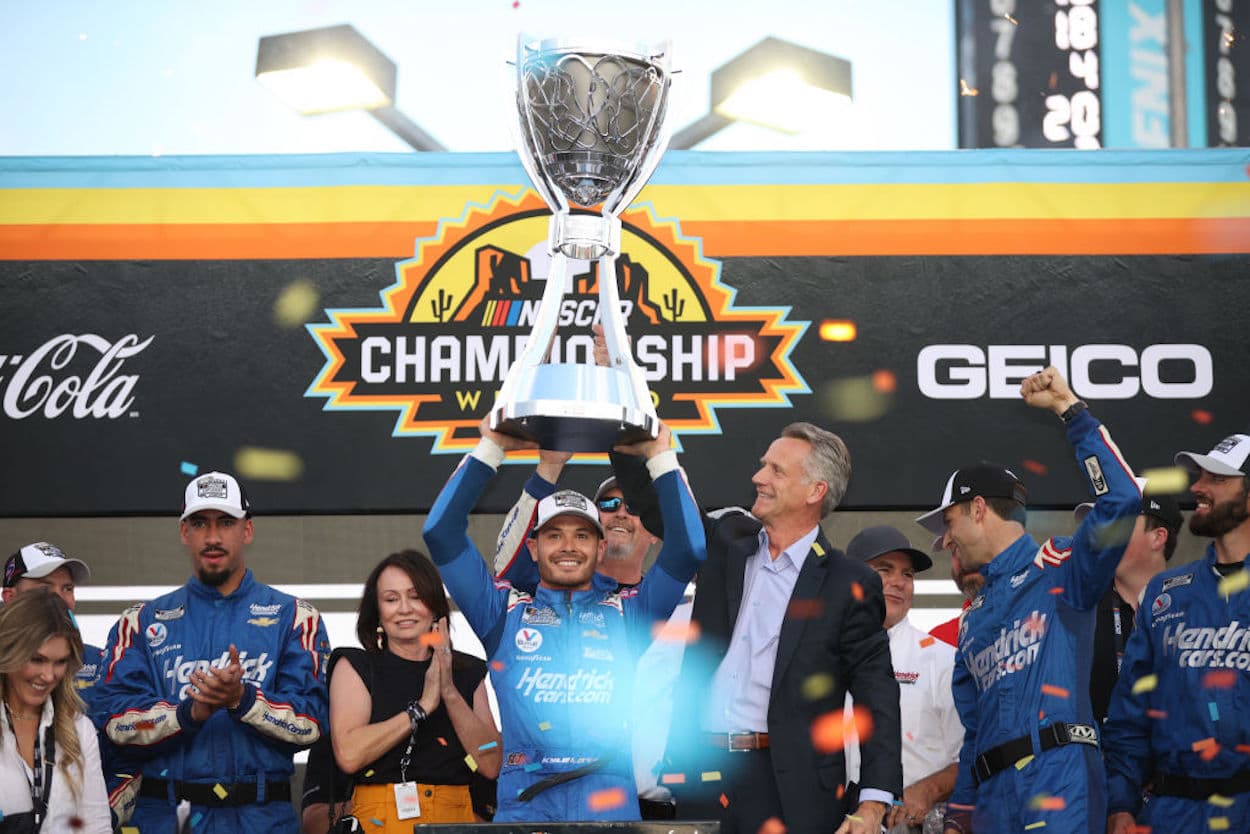 Handicapping the Cup Series Playoffs: 5 Heavy-Hitters, 1 Wild Card and 10 Who Don't Have a Prayer
The NASCAR Cup Series playoffs are around the corner. Who has a legitimate shot at the title?
With the NASCAR Cup Series playoffs set to get underway on Sunday at Darlington, this already-wacky season is about to ratchet up yet another notch.
But who are the true championship contenders? Who might shock the world? And who are the drivers who don't have a legitimate chance to hoist the big trophy high in the air following the season finale at Phoenix on November 6?
It's time to handicap the 16-driver championship field, so let's get started.
The pretenders: 10 who don't have the goods to go championship hunting
Austin Dillon
It took roughly two-thirds of the field getting wiped out by accidents in the regular season finale at Daytona for Austin Dillon to be in a position to secure the win he needed to become playoff-eligible. And if teammate Tyler Reddick hadn't used his second-place running car as a mechanical buffer for Dillon over the final three laps, Dillon still might not have made it to Victory Lane.
The bottom line?
Dillon is lucky just to be in the playoffs. Very lucky. Therefore, to advance beyond the Round of 16 would be a major achievement for the Lewisville, North Carolina native and his No. 3 team.
Chase Briscoe
One of the flukiest wins of the 2022 season to date came in Race No. 4, at Phoenix, when Chase Briscoe – campaigning the No. 14 Ford for Stewart-Haas Racing for the second year – somehow managed to score a victory that marked his first in 40 starts at NASCAR's highest level.
Although Briscoe won convincingly in the Valley of the Sun, leading 101 laps, he's finished in the top five only one time since. An even more unflattering statistic is his grand total of four top-10 finishes in 26 starts – worst among playoff drivers in that category.
With this kind of inconsistency, it'll take a mini-miracle for Briscoe to reach the Round of 12.
Alex Bowman
Entering this season on the heels of a season when he earned a career-high four wins, Alex Bowman harbored understandably high expectations for 2022. But it just hasn't gone as he or anyone associated with his No. 48 Hendrick Motorsports team had hoped.
Aside from one bright spot of note – his victory in Week 3 at Las Vegas – Bowman hasn't been much of a factor. He does own 10 top-10 finishes, but his last top-five came all the way back on May 2 at Dover. It was hardly a shock, therefore, when crew chief Greg Ives announced last week that this would be his final season atop Bowman's pit box.
With a lame-duck crew chief and a mediocre 2022 resume at best, Bowman won't survive more than one or two rounds of the playoffs.
Ryan Blaney
Despite being one of the most consistent drivers in the regular season, Ryan Blaney never scored a points-paying win, and as a result of his failure to pull into Victory Lane, the Team Penske driver had to back his way into the playoffs by the proverbial skin of his teeth.
Specifically, Blaney beat out Martin Truex Jr. by a scant three points for the lone playoff berth available to a non-winner, and it took Truex losing several spots in the final laps of last weekend's final regular season race at Daytona for Blaney to even do that.
While Blaney could catch fire in the playoffs and pick up a win or two, there's been no evidence so far this season to suggest that's likely to happen. And without a win at some point in the playoffs, Blaney will be living his playoff life on borrowed time.
Austin Cindric
The rookie and Team Penske driver began and ended the regular season with a bang by winning the Daytona 500 and nearly completing the Daytona season sweep in the Cup Series' return to The World Center of Racing last weekend.
But it's what Cindric did – or didn't do – in between trips to Daytona that casts serious doubt on how far he can go in the playoffs. In the 24 races contested somewhere besides Daytona, Cindric posted only three top-fives and finished in the top 10 only a fourth of the time.
While surviving the Round of 16 is probably a realistic goal for Cindric, anything more than that would count as a major surprise.
Daniel Suarez
The Cup Series' lone Mexican driver has shown flashes of brilliance this season with the surprisingly competitive Trackhouse Racing organization. The highlight came in June when Suarez notched his first career Cup win with a trip to Victory Lane at Sonoma.
Suarez has otherwise been extremely competitive in spurts, including one particularly impressive stretch when he finished in the top 10 in five out of six races.
But even with the progress Suarez has made this season compared to past years, he seems at least a year away from being a serious championship contender.
William Byron
It's been a truly strange season for William Byron, who won twice in the first eight events and would've picked up a third win in Week 12 at Darlington had it not been for a late-race bump from Joey Logano.
But Byron's only top-10 since going to Victory Lane at Martinsville way back on April 9 is a ninth-place result at Sonoma in June. 
This being so, it would take a major reversal in the overall trajectory of his season for Byron to make any real noise in the playoffs.
Kyle Busch
Slogging his way through what has statistically been one of the worst seasons of his Cup Series career, Kyle Busch finds himself in the unfamiliar position of underdog entering the playoffs.
It hasn't helped anything that Busch has spent the entire 2022 campaign in limbo waiting for Joe Gibbs Racing to find a replacement for his departing primary sponsor so he could finalize his 2023 plans. At this point, one has to question even how motivated Busch is to go out and put forth his best effort for an organization that has failed to deliver on a new contract.
While Busch's talent as a two-time Cup Series champion and winner of 60 Cup races is unquestionable, the distraction of still not knowing where he'll spend next season will almost certainly be too much for him to overcome in the playoffs.
Christopher Bell
By far the most under-the-radar of the four Joe Gibbs Racing drivers, Christopher Bell has quietly pieced together a solid season in his No. 20 Toyota.
Has it been good enough for him to be a legitimate championship threat? While some observers might view that as debatable, the biggest problem for Bell is a lack of big-game experience. This is just his second time in the playoffs, and he's never been deep enough into the pressure-cooker to know how it feels when the heat really cranks up in the later rounds.
While being championship-eligible come the Round of 8 – one round further than he made it last year – seems realistic, a berth in the Championship 4 is out of reach, barring a highly improbable development.
Tyler Reddick
Tyler Reddick has been one of the biggest stories of 2022, both for his on-track success – highlighted by two victories – and his blockbuster announcement in July that he will leave Richard Childress Racing for 23XI Racing when his contract with RCR expires at the end of next year.
Reddick's lame-duck status and the ongoing tension between him and team owner Richard Childress over his decision to leave RCR has overshadowed a season that has otherwise been pretty tremendous for the No. 8 team. 
But with Reddick and Childress still at odds and continued questions about how life is going for Reddick within the walls of RCR since his announcement, he won't win the championship or even make the Championship 4.
The wild card: Ross Chastain could turn the championship battle upside down
If there's one wild card driver in the playoffs, it's two-time 2022 race winner Ross Chastain. In his first year as a part of Trackhouse Racing, Chastain has enjoyed success that no one imagined being possible when the season commenced.
But with that success – and consistent speed – has come increased scrutiny from competitors for often driving over his head and being overly aggressive. The list of drivers Chastain has angered is lengthy, and it includes the likes of veterans Denny Hamlin, Martin Truex Jr., Chase Elliott, and Kyle Busch.
If Chastain can somehow keep his nose clean in the playoffs and avoid likely retaliation from one or more of the drivers he's roughed up, he could be one of the four drivers still standing at Phoenix. But given all that's happened this year and the invisible target on his back, going all the way is going to be a tall, though not impossible, order.
The contenders: 5 who absolutely have the championship chops
Kevin Harvick
Oldest among the 16 championship contenders, 46-year-old Kevin Harvick might be staring at one of his last opportunities to compete for a Cup Series title. That being a strong possibility, look for the driver whose nickname is "The Closer" to go for broke in his efforts to capture his second Cup crown and the first for Stewart-Haas Racing in eight years.
It also doesn't hurt that Harvick has seemingly peaked at the right time, with his two wins this year coming on back-to-back weekends late in the regular season.
Denny Hamlin
No driver is hungrier or more deserving of a championship than Denny Hamlin, who's been unable to claim the sport's biggest prize despite reaching the Championship 4 on four occasions since NASCAR introduced the winner-take-all finale for its premier series in 2014.
Hamlin also finished a career-best runner-up in the standings to Jimmie Johnson in 2010. A three-time Daytona 500 winner and winner of two races this season, Hamlin has the experience, drive, and mental toughness to reach NASCAR's mountaintop. 
Will this be his time at long last?
Kyle Larson
The reigning series champ, Kyle Larson, is attempting to do what no driver has done since Jimmie Johnson claimed the last of his five consecutive titles 12 years ago: become a winner of back-to-back championships.
Although Larson has been nowhere near as dominant this season as he was last year when he triumphed an incredible 10 times, the Hendrick Motorsports driver has a pair of wins – the most recent of them coming in controversial fashion on the road course at Watkins Glen in the penultimate race of the regular season.
It won't be easy, and recent history isn't on his side, but he is capable of moving into rarefied air with a second consecutive crown.
Joey Logano
Riding high after recently signing a multi-year contract extension with Team Penske, Joey Logano looks intent on making a deep playoff run. The question is not whether he can win his second Cup Series championship this year; the only question is if he will.
Logano hasn't been as strong this season as some of his top championship competitors, but his experience as the 2018 champ and a four-time participant in the Championship 4 could go a long way come crunch time.
Chase Elliott
The 2020 Cup Series champion has recorded a series-high four victories this season, but it's worth noting that the most recent of those – at Pocono in late July – was the result of first-place finisher Denny Hamlin and second-place finishing teammate Kyle Busch being disqualified for an issue during a postrace inspection.
Still, Elliott leads all drivers with 17 top-10 finishes and 40 playoff points, and he's been atop the standings since the fifth race. The regular season champ is without question a favorite to come out on top. 
Is he an overwhelming favorite? With as much parity and as many unpredictable outcomes as this season produced, not by a long shot. 
Like Sportscasting on Facebook. Follow us on Twitter @sportscasting19 and subscribe to our YouTube channel.