Hideki Matsuyama's Comments After His Historic Win at The Masters Show What Kind of Person He Really Is
With his one-shot victory at The Masters on Sunday, Hideki Matsuyama became the first male Japanese golfer to win a major championship, which is obviously a great story. But Matsuyama's historic win at Augusta National got even better with some comments he made about caddie Shota Hayafuji following the final round, who actually became a story on his own in the aftermath.
With his win at The Masters, Hideki Matsuyama became the first Japanese male golfer to win a major
Before Hideki Matsuyama's victory at The Masters on Sunday, the closest a Japanese male player had come to winning a major championship came at the 1980 U.S. Open when Isao Aoki was the solo runner-up, finishing two strokes behind Jack Nicklaus, who collected his 16th major title that day in New Jersey.
After opening the 2021 edition of The Masters with a 3-under round of 69, Matsuyama followed up with a 1-under 71, leaving him three strokes behind 36-hole leader Justin Rose heading into the weekend. Matsuyama had gotten to within two shots of the lead during Saturday's third round when play came to a halt due to inclement weather and came out firing following the 78-minute delay, playing the final eight holes in 6-under to shoot a 7-under round of 65, which gave him a four-shot lead heading into Sunday's final round.
Matsuyama certainly didn't play his best golf on Sunday, shooting a 1-over 73, but he never gave up his lead and hung on for a one-stroke victory over rookie Will Zalatoris.
Hideki Matsuyama's first thought after winning The Masters was how happy he was for his caddie, Shota Hayafuji
Prior to his win at The Masters, Hideki Matsuyama's last victory came at the WGC-Bridgestone Invitational back in August 2017, a time when his current caddie, Shota Hayafuji, wasn't on his bag.
So here's the type of person Matsuyama is. With all of the pressure that's been put on the 29-year-old over the years given his superstar status in his home country, it would have been very easy for him to think about himself when that final putt dropped on the 72nd hole at Augusta National. And nobody would have thought less of him for that as this win is obviously a very big deal. But that's not what happened. In an interview with Golf Channel following the green jacket ceremony, Matsuyama offered up what was going through his mind when he won The Masters and it's beautiful.
"When the final putt went in, I really wasn't thinking of anything. But then when I saw my caddie, Shota, and hugged him, I was happy for him because this is his first victory on the bag. And then it started sinking in—the joy of being a Masters champion."

Hideki Matsuyama
Now that's classy right there. And speaking of class…
Shota Hayafuji's gesture to Augusta National was incredible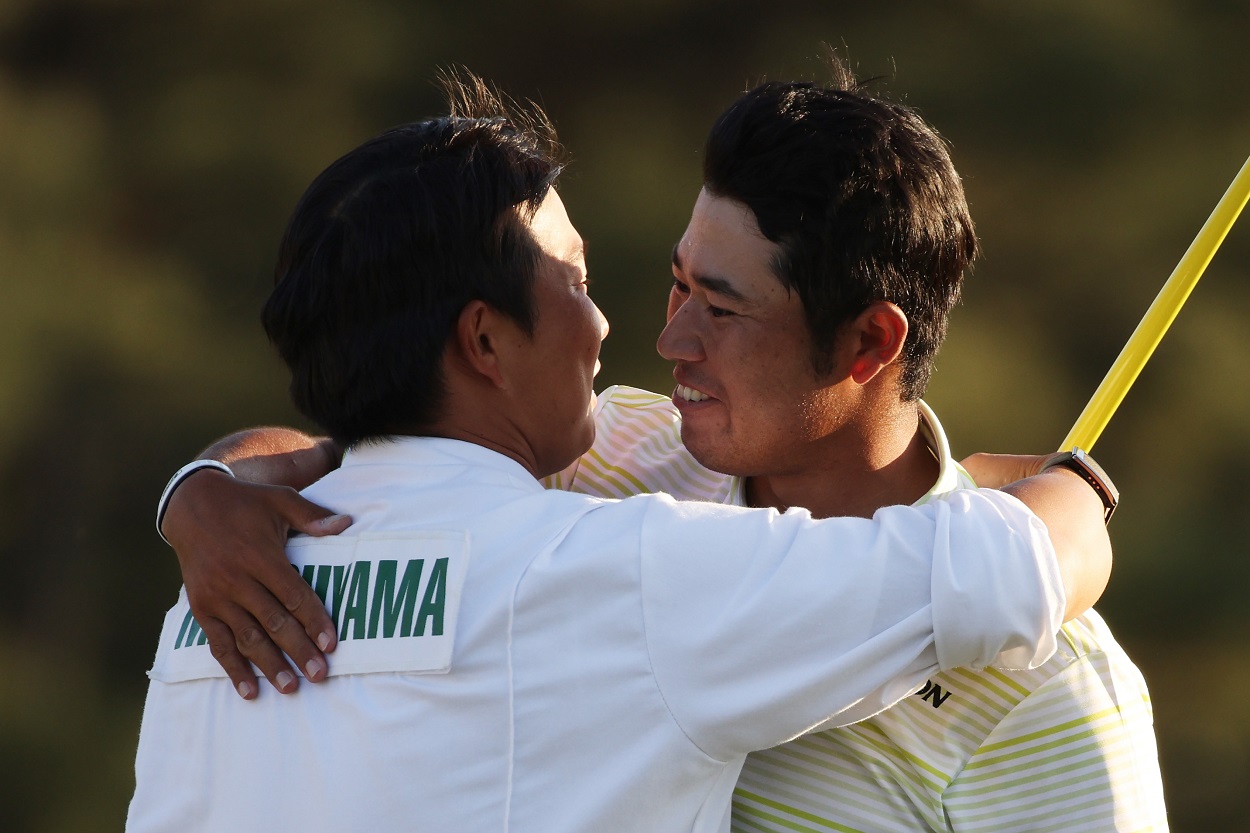 Now, before Hideki Matsuyama made those comments, there was a moment on the 72nd hole of The Masters that was easy to miss in real time as the majority of the cameras were obviously on the new champ. After embracing Matsuyama, Shota Hayafuji showed some class of his own with a simple gesture to the golf course itself. As Matsuyama began to walk off the 18th green, Hayafuji walked over to the hole, put the pin back in, removed his hat, and bowed to the hallowed grounds of Augusta National.
An incredible end to yet another incredible week at The Masters.