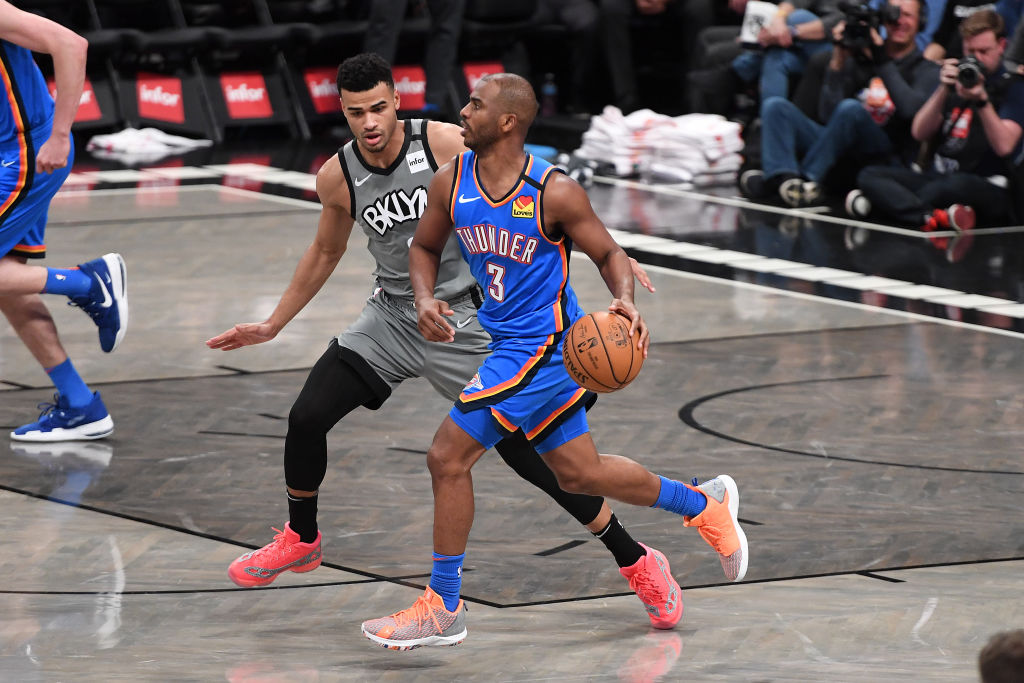 How a Plant-Based Diet Changed Chris Paul's NBA Career
Chris Paul has struggled with nagging injuries for most of his professional career. A plant-based diet, however, has him back near his best.
If a professional athlete's body is a finely tuned machine, then his or her diet is the fuel. While some NBA players consume massive amounts of calories and indulge in some guilty pleasures, Oklahoma City Thunder guard Chris Paul does the opposite. During the summer of 2019, the NBA veteran switched to a plant-based diet.
While everyone enjoys a good meal, Paul's new diet did more than change his shopping and cooking habits. Switching to plant-based foods actually changed the course of his NBA career.
Chris Paul's NBA career
After two strong seasons at Wake Forest, Chris Paul entered the 2005 NBA draft. The New Orleans Hornets snagged the guard with the fourth overall pick, kicking off an impressive NBA career.
While the Hornets were playing in Oklahoma City after Hurricane Katrina, the change of location didn't faze Chris Paul. The guard averaged 16.1 points, 7.8 assists, and 5.1 rebounds in his freshman campaign; he came within a single vote of claiming a unanimous Rookie of the Year title. Paul improved as a sophomore but missed some time due to injury.
That pattern, unfortunately, would repeat itself throughout the guard's career; Paul would remind everyone of his potential, then slow down with a nagging injury. He missed half of the 2009-10 season with torn knee cartilage but seemed to put things back together with the Clippers. Seeming every season, however, there would be a new problem.
In Houston, things got even worse. Beyond health problems, Paul didn't fit Mike D'Antoni's style of offense; he started hoisting up more outside shots and, unsurprisingly, his counting numbers declined to career lows. A trade to Oklahoma City and a change of diet, however, may have given Paul a new lease on life.
A plant-based diet changed everything
The summer of 2019 changed everything for Chris Paul. While the most obvious alteration was a trade to Houston, the guard also shifted to an entirely plant-based diet.
"I chose a plant-based life. So far, so good. Not easy. But for me, it's working. I started plant-based in June," he told Men's Health. "I went cold turkey. I tell you: I was itching. I thought I needed a chicken wing or something. But somehow I made it through. I had the opportunity to executive produce a movie/documentary called Game Changers, which talks about plant-based diets and how it helps athletes."
That diet has helped Paul stay healthier this year. Not only has he already played 54 games—he made 58 total appearances during the 2018-19 regular season—but he's spending less time batting through soreness after games and practices.
"I do feel really good right now," he explained. "I think the biggest change for me is the aches and pains of the season. I started working out and training and I got to Monday, Tuesday, Wednesday, and I thought, 'am I not lifting hard enough? Am I not training hard enough? Why am I not achy?' I ain't trying to say you have to stay with it, but give it a try."
Chris Paul isn't finished just yet
This season, the Oklahoma City Thunder were supposed to be sitting at the bottom of the Western Conference. Instead of counting down the days to the draft lottery, they'll be heading to the postseason.
Chris Paul might not be a young man anymore, but he's no longer looking like a shell of his former self. He's averaging over 17 points per night and earned himself a place in the 2020 NBA All-Star Game; he took advantage of that opportunity to throw down a rare alley-oop. That dunk was more than a simple two-point goal, however; it showed that the guard was back and feeling good again.
While a change of scenery and offensive scheme surely helped, Chris Paul's diet also deserves an assist. For years, missing games due to injury seemed inevitable; now, the guard is back and feeling better than ever.