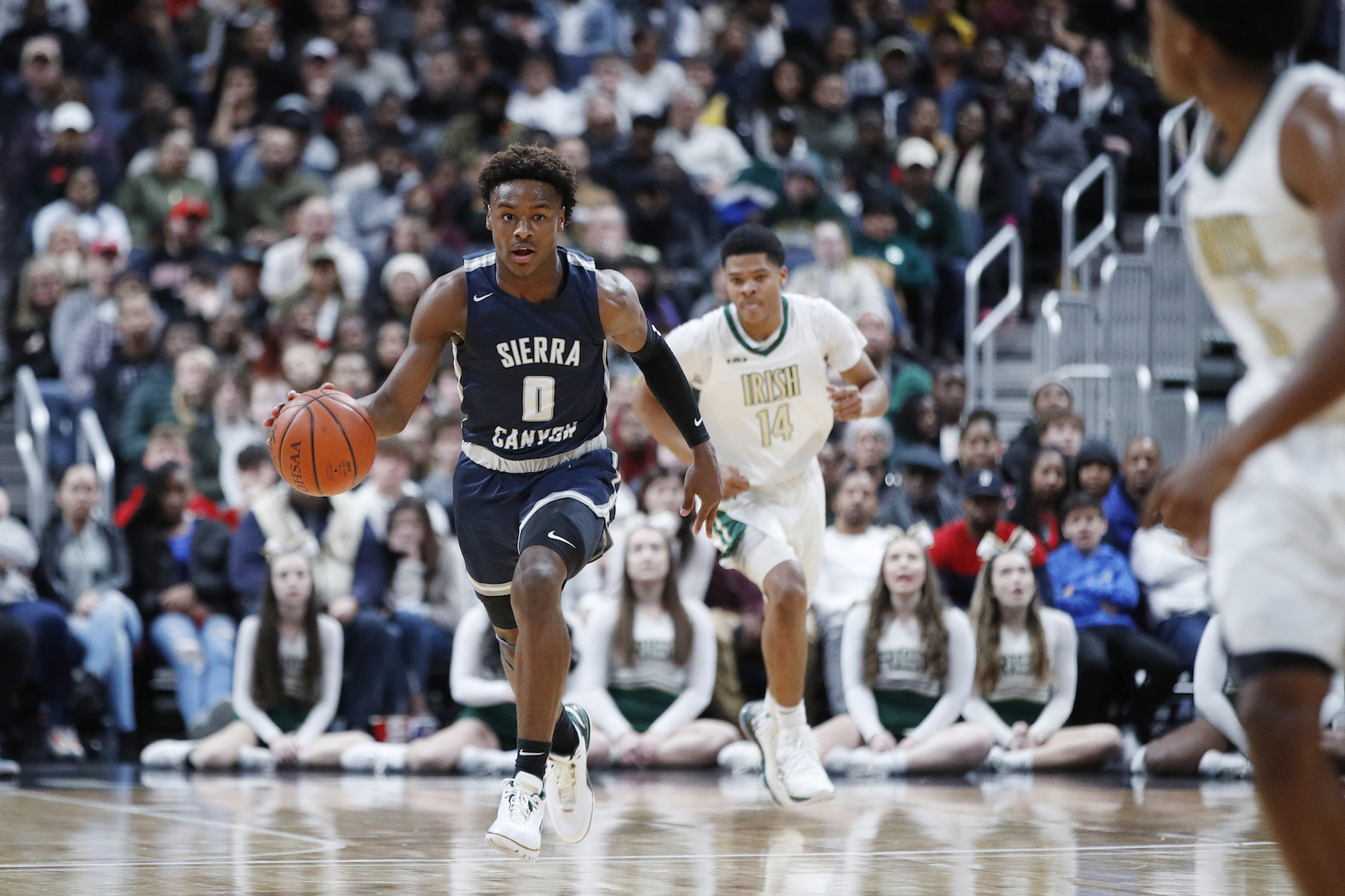 How Does LeBron James' High School Skill Set Compare to His Son Bronny's?
LeBron James burst onto the basketball scene in high school. How does his son Bronny's game stack up at a similar point in his development?
While it probably feels like an eternity ago, LeBron James burst onto the scene as a high schooler. When we first saw King James hit ESPN, he was still playing at St. Vincent-St.Mary High School in Akron; he's since won titles in Cleveland and Miami before signing with the Los Angeles Lakers. In fact, LeBron is old enough to have his own teenage son, Bronny.
Bronny just finished his freshman year at Sierra Canyon High School and, like his father, is already receiving plenty of media attention. How does the teenager's game compare to LeBron's at the same stage of his development?
LeBron James grew from a high school phenom into a legitimate star
As any sports fan can tell you, potential doesn't always translate into professional success. LeBron James, however, definitely lived up to the hype.
As mentioned above, LeBron started making headlines during his time in high school. While the teenager also showed plenty of skill on the football field, he chose to focus on basketball; in retrospect, that decision paid off in spades.
While even King James has had some missteps–The Decision rubbed plenty of fans, even those without ties to Cleveland, the wrong way—the forward has grown into one of basketball's biggest talents. LeBron is finishing his 17th year in the association and doesn't seem to be slowing down yet; he's won three titles, four league MVP awards, and has lifted the LA Lakers back into the championship conversation.
Unsurprisingly, that star status has made James a massive presence off the court as well. While the LeBron-Michael Jordan debate may be an exercise in futility, King James has followed in His Airness' pop-cultural footsteps; even if you're not a basketball fan, you know who he is.
Bronny James seems to be following in his dad's footsteps as a high school star
Unlike in LeBron's day, players can't jump directly from high school to the NBA. Despite that change, Bronny James is still following in his father's footsteps and becoming a star.
Although Bronny just finished his freshman year, he's already drawing attention from basketball fans and scouts. While it's not easy to predict how a teenager is going to look or play a few years down the line, it does appear that the young guard has the right mindset to handle playing in the spotlight.
"I first saw him last summer and was struck by his poise and ability to navigate all the craziness around him," Eric Bossi of Rivals.com explained. "That poise is still there, and Bronny has now grown to 6-foot-2, has a great frame, is a budding athlete, and has the game to play at the point or shooting guard position."
How does Bronny James' game compare to LeBron's high school skillset?
Given their relationship, it's only natural to wonder how Bronny James and LeBron James compare from an on-court perspective. Thankfully, ESPN's Paul Biancardi has plenty of experience watching both players.
"They are very similar at this stage when it comes to passing—both love to be facilitators and can impact the game with their unselfishness," Biancardi, who scouted LeBron during his time on the Ohio State coaching staff before becoming ESPN's national recruiting director, explained. "At the same stage, Bronny also exhibits the same level of poise throughout the game, an above-average basketball IQ, and the ability to make the right play."
That doesn't mean the two James are carbon copies, though. Beyond the differing levels of expectation—Bronny has always been in the spotlight due to his relationship with LeBron—there are also a couple of on-court differences.
"A main difference at the same stage is in their approach, Biancardi continued. "LeBron would look to take over games with an aggressive style, both within his age group and while facing older players. When LeBron was in high school, he was the star of the team. As a freshman at the varsity level this past season, Bronny was surrounded by older, top-level talent and deferred more—which was smart. This will naturally change as he gets older. When Bronny plays his age group, he is more aggressive and scores with variety, and you can feel his presence as one of the best players on the court." The teenager also seems to have a more natural shooting stroke than his old man, which should help him if he remains a guard long-term.
Based on Biancardi's analysis, Bronny seems to be in good shape to launch a basketball career of his own. At this point, though, we'll just have to wait and see how things play out.