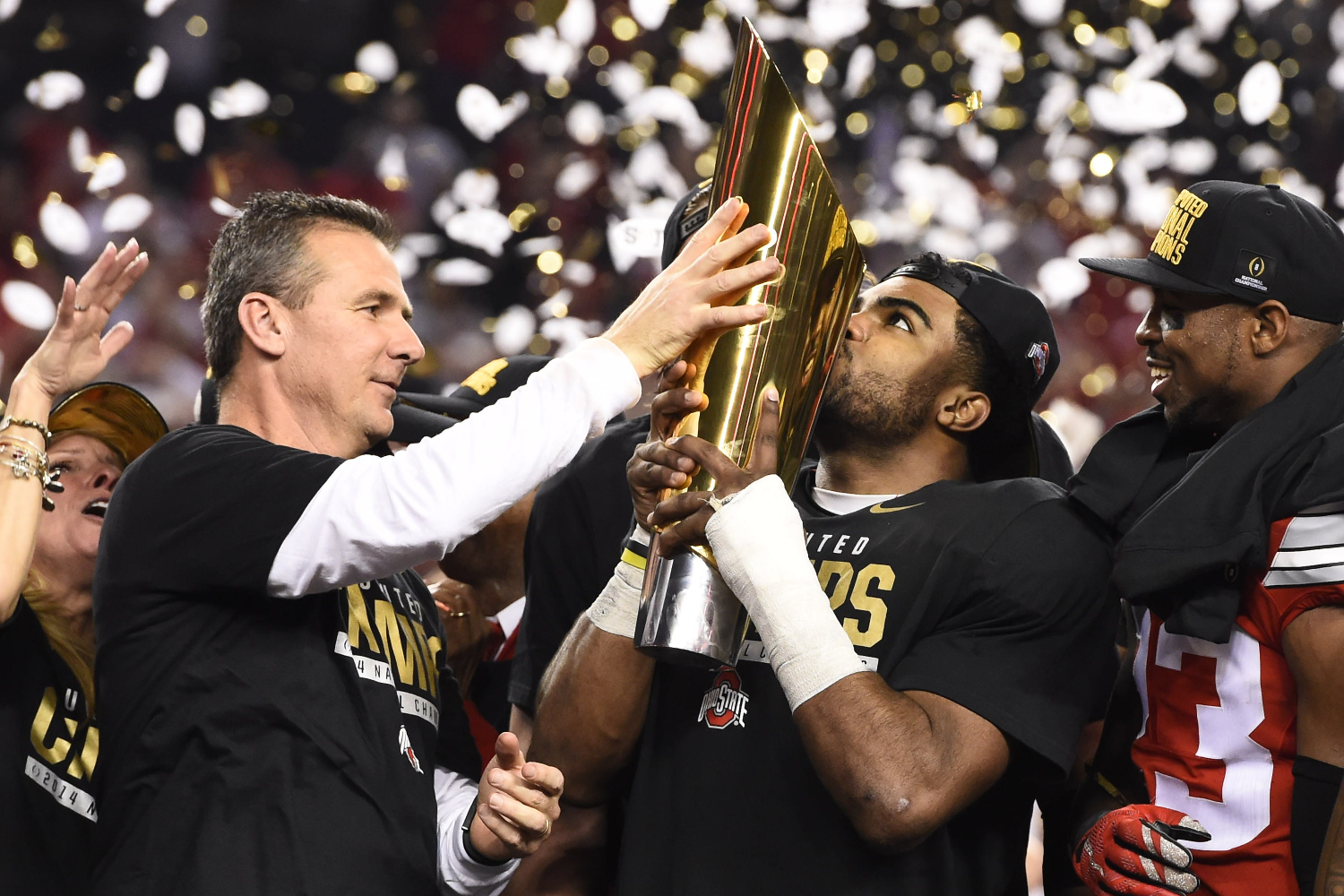 How Many National Championships Has Ohio State Won in Football?
The Ohio State Buckeyes are one of the top college football programs in the country. So, how many national championships have they won?
The Ohio State Buckeyes have been one of the premier college football programs for years. From Woody Hayes and Urban Meyer to Orlando Pace and Ezekiel Elliott, the Buckeyes have had legendary coaches and star players within the program for nearly eight decades. So, how many national championships have they won? Here is a look back at Ohio State's national championship history.
The Ohio State Buckeyes won five national championships with Woody Hayes
Whether you love him or hate him, Ohio State really became an iconic program under head coach Woody Hayes' tutelage.
According to Ohio State's site, Hayes coached the Buckeyes from 1951 through 1978. After going 4-3-2 in his first season there and 6-3 in each of his next two seasons, Howard Cassady (who eventually won the Heisman Trophy) and other legendary players led the Buckeyes to a 10-0 record and an AP national championship in 1954.
It then wasn't too long before the Buckeyes won another championship with Hayes, as they went 9-1 and won a title again in 1957.
Hayes ultimately helped the Buckeyes become one of the most dominant programs in the country in the 50s and 60s. They ended up winning five national championships with him (1954, 1957, 1961, 1968, and 1970). They also won 13 Big Ten championships in those years and had three Heisman Trophy winners under Hayes, including two won by running back Archie Griffin. 
The Buckeyes were on top of the world when Hayes was their coach. However, after they won a national title in 1970, they went 32 years before winning another one.
They have won two national championships since 2000
Following the 1970 title, Ohio State didn't win another championship until Jim Tressel came along and led them to one in 2002. According to their site, the Buckeyes went 14-0 that season and ultimately won over the No. 1 ranked Miami Hurricanes, 31-24, in two overtimes in the national championship game.
There were some incredible players on that team, too, including running back phenom Maurice Clarett. However, their next championship team had even more big names.
After losing in two other national championship games under Tressel, Urban Meyer then became the head coach in 2012. In Meyer's third season in 2014, he led the Buckeyes to the first-ever College Football Playoff national championship.
Ohio State started the season ranked No. 5 in the AP poll that year, but after losing to Virginia Tech in the second game of the season, they fell all the way to No. 23 in the Sept. 14 AP poll. However, after that loss, they then won 11 straight games, including a win over No. 7 Michigan State and a 59-0 win over No. 11 Wisconsin in the Big Ten Championship game to earn a spot in the four-team College Football Playoff. The Buckeyes then defeated No. 1 ranked Alabama in the semifinals and then Oregon in the national championship game to win the title. They won their final three games with their third-string quarterback, too.
You might also recognize several players from that team. The Buckeyes were led by future Dallas Cowboys star Ezekiel Elliott and future New Orleans Saints star Michael Thomas, as well as Curtis Samuel, Vonn Bell, Joey Bosa, and Eli Apple.
So, since Ohio State clearly has a history of excellence. How many national championships have they won?
Ohio State has won eight national championships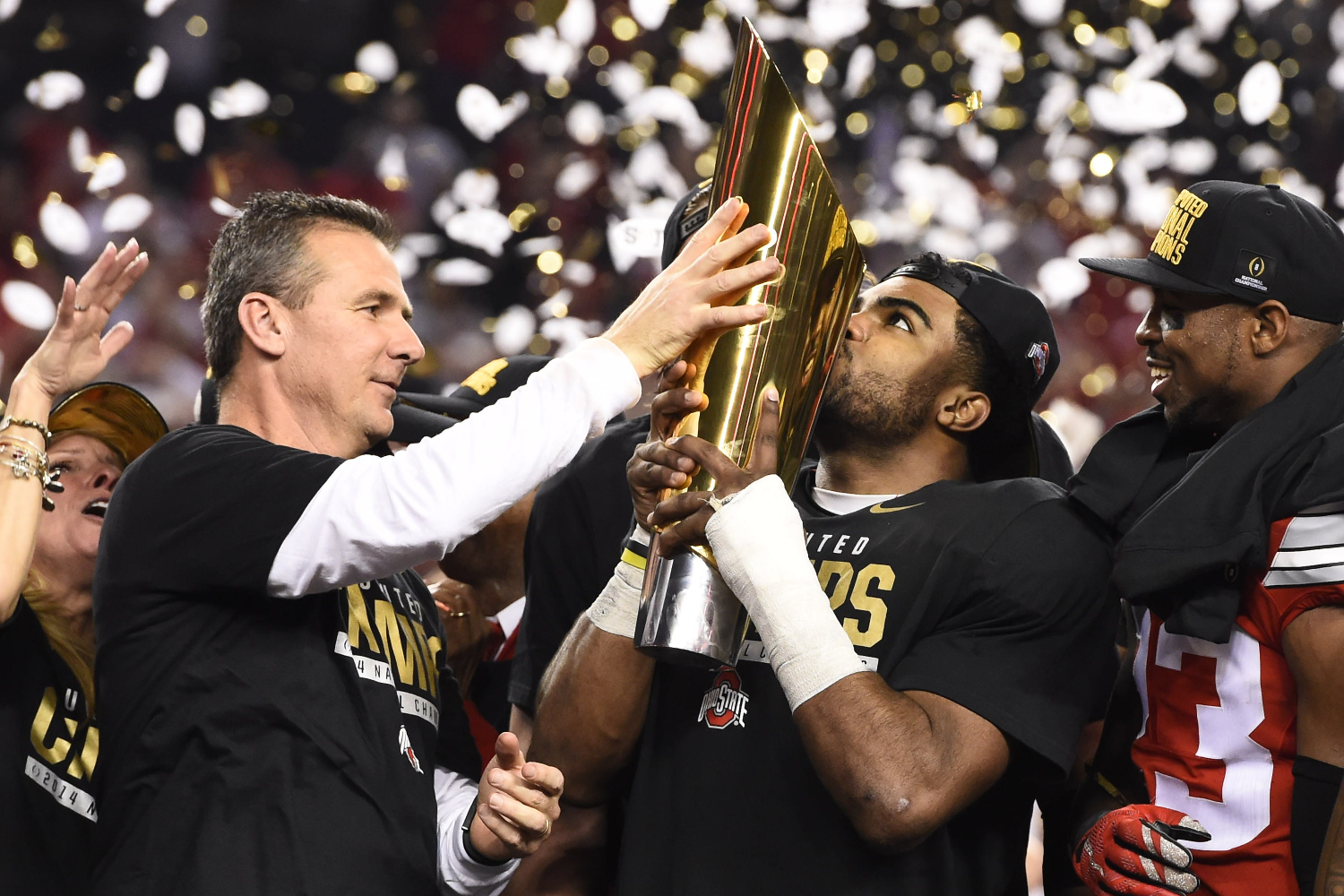 Overall, Ohio State has won eight national championships. 
In addition to the five the Buckeyes won with Woody Hayes (1954, 1957, 1961, 1968, and 1970), head coach Paul Brown led them to a national title in 1942, and they then won the two titles in the 2000s (2002 and 2014) with Tressel and Meyer.
The Ohio State Buckeyes have proven to be one of the top college football programs in the country. They probably aren't done winning titles yet, either.
Like Sportscasting on Facebook. Follow us on Twitter @sportscasting19.