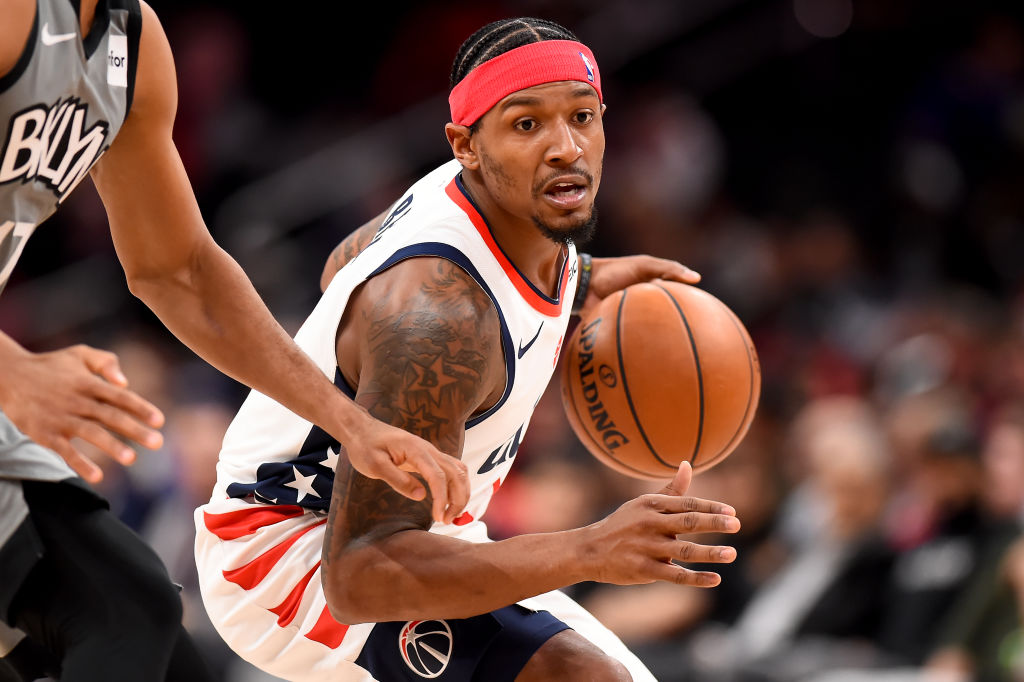 How Often Does the NBA Test Players for Drugs?
Bradley Beal scored more than 50 points on two consecutive nights and was brought in for a drug test the following day.
Some random drug tests for basketball players appear to be a little less random than others. Washington Wizards shooting guard Bradley Beal certainly feels that way after being summoned for a test on the heels of back-to-back 50-point games against two NBA teams.
Bradley Beal was unstoppable, twice in a row
Containing Bradley Beal has become a real issue for NBA teams recently. No one has held the Washington Wizards star under 26 points in the past six weeks and he went off for 53 points against the Chicago Bulls and 55 vs. the Milwaukee Bucks on consecutive nights this week.
The outbursts were the continuation of a trend in Beal's career, which has seen him average 20.8 points a game while consistently among the league leaders in minutes played. Beal averaged 25.6 points a game a year ago and is scoring at a 30.1 clip in his eighth NBA season. Selected third overall out of the University of Florida in 2012, he's also putting up a career high in assists at 6.0 per game.
The Brooklyn Nets finally slowed Beal down somewhat, holding him to 30 points in his next game by employing a box-and-one defense. That was the story of the night from that game until Beal, 26, revealed after the contest that he had been required to submit to a mandatory drug test permitted under the collective bargaining agreement between NBA players and the league.
"I guess the league don't want me to score 50," Beal told reporters. "I had a drug test today."
Beal is just the most recent professional athlete to be called in for a random drug test under circumstances that appear to be less than coincidental. It even happens to NFL specialists.
New Orleans Saints punter Thomas Morstead pinned the Seattle Seahawks deep in their own territory for much of their game last September by averaging 54 yards on six punts. He posted a picture on social media shortly afterward showing a notice he received from the NFL requiring him to provide a urine sample to test for performance-enhancing substances.
How does NBA drug testing work?
NBA drug testing has resulted in 25-game suspensions for Jodie Meeks, Wilson Chandler, Deandre Ayton, and John Collins since 2018. Also, Tyreke Evans was hit with a two-year ban in 2019.
According to the agreement between the NBA and the union, players can be randomly tested up to four times during the season and twice during the offseason, with half the tests for human growth hormone. The total number of tests for the entire league is capped at 2,125 – or an average of around four per player. Refusing a test is treated the same as a positive result.
There is also a clause allowing for players to be tested for "reasonable cause" a maximum of four times in a span of six weeks. Reasonable cause testing is triggered by league or union officials going to the drug program administrator with credible information that a player has been using or is in possession of a drug.
The urine samples like the one Bradley Beal was required to provide are split in half to assure that a backup exists if a player is flagged as testing positive and requests having the other sample sent to a different lab.
How strict are the NBA rules for drugs?
The NBA is in the middle of the pack for major sports leagues in the United States and Canada when it comes to its drug-testing policy. Though it has a provision for testing more often than the NFL, the NBA does not follow the football league's provision of ensuring that every player gets tested at least once a year.
On the other hand, the NFL, NHL and Major League Baseball lack the provisions on the use of recreational drugs that the NBA enforces.
The NBA tests for steroids and related hormones, stimulants, diuretics and related masking agents, cocaine, opiates, PCP, LSD, and marijuana.
A player's first positive test results in a 10-game suspension, with the figure climbing to 25 games for the second violation. The next two violations bring about bans of one and two years, respectively.