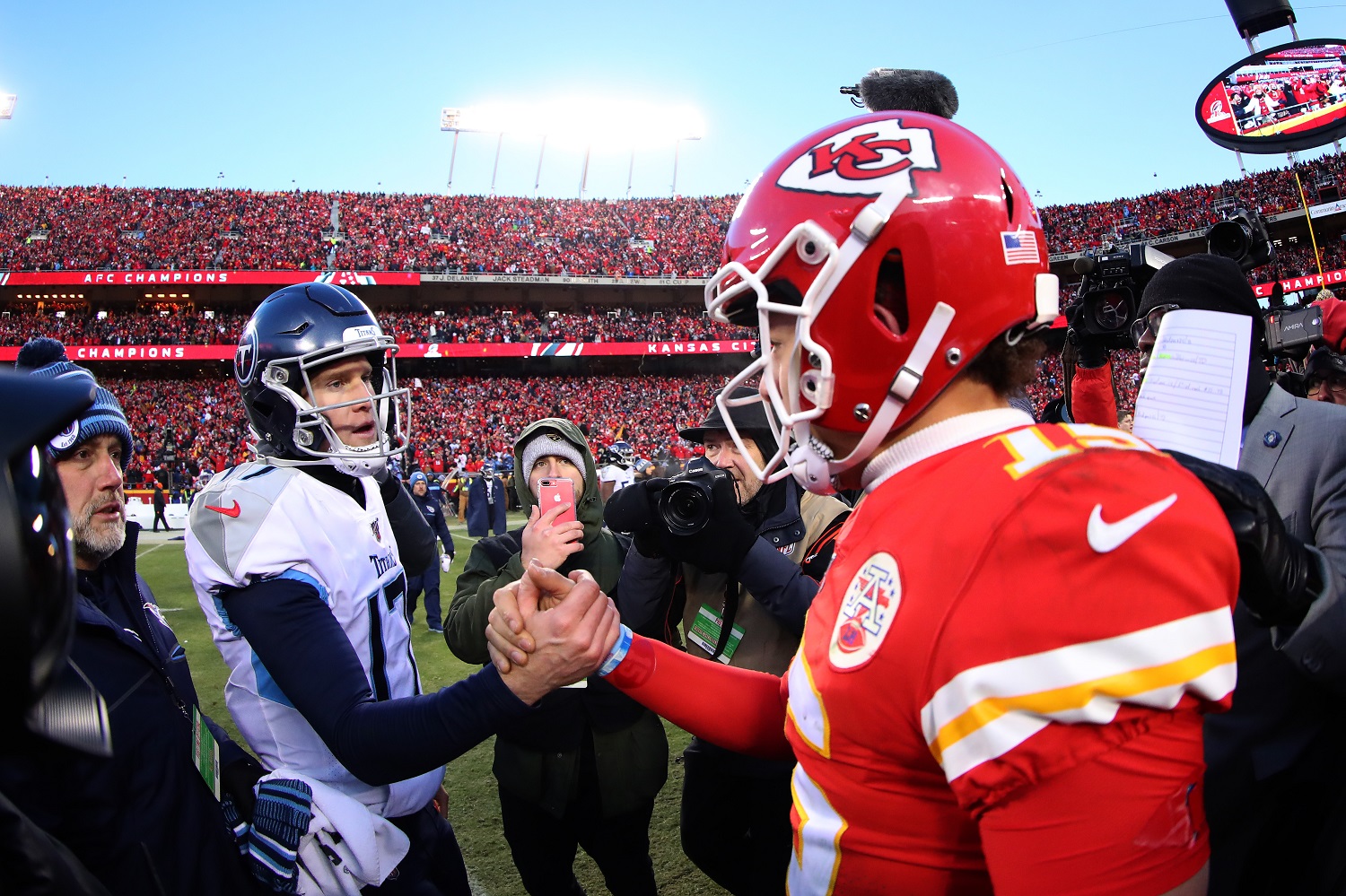 How Ryan Tannehill Will Make More Money Than Patrick Mahomes Over the Next Four Years
How Tennessee Titans quarterback Ryan Tannehill could earn more money in the next four years than Kansas City Chiefs QB Patrick Mahomes.
Ryan Tannehill and Patrick Mahomes have had quite a bit in common thus far in 2020. Both led their respective teams to the AFC Championship Game and both have recently signed multi-year deals to stay with those franchises for a while. Sure, Mahomes and the Kansas City Chiefs got the better of Tannehill and the Tennessee Titans in that AFC title game and Mahomes' new contract is just a little bit bigger than Tannehill's.
But over the next four years, Ryan Tannehill can at least say that he'll make more money than the man who just signed what could turn out to be the richest contract in U.S. sports history.
Wait, what?
Ryan Tannehill signed a new four-year deal with the Tennessee Titans in March
While plenty of rumors swirled that the Tennessee Titans might take a run at Tom Brady in the offseason, they chose to stick with Ryan Tannehill, who was named the NFL Comeback Player of the Year following last season, which he certainly earned.
After replacing Marcus Mariota in the second half in Week 6, Tannehill started the final 10 games of the regular season for the Titans, posting a 7-3 record. He completed 70.3% of his passes, racking up 2,742 yards and 22 touchdowns against just six interceptions. He tacked on an additional 369 yards and five TDs in the postseason, helping Tennessee to their first AFC title game in 17 years.
Ryan Tannehill was rewarded for that season with a new four-year/$118 million contract in March, with $91 million in guaranteed money.
Patrick Mahomes just signed what could turn out to be the richest contract in U.S. sports history
This past Monday, the news hit that Patrick Mahomes had signed a new 10-year/$450 million extension with the Chiefs that will keep him in Kansas City through the 2031 season. Mahomes had two years remaining on his rookie deal worth $27.63 million and when all is said and done, the reigning Super Bowl MVP could earn $503 million overall. A little more than $63 million was guaranteed at signing and there is a $141 million injury guarantee attached as well.
So with a contract of that size, how exactly does Ryan Tannehill stand to make more money than Patrick Mahomes over the next four seasons?
How Ryan Tannehill can make more than Patrick Mahomes in the next four years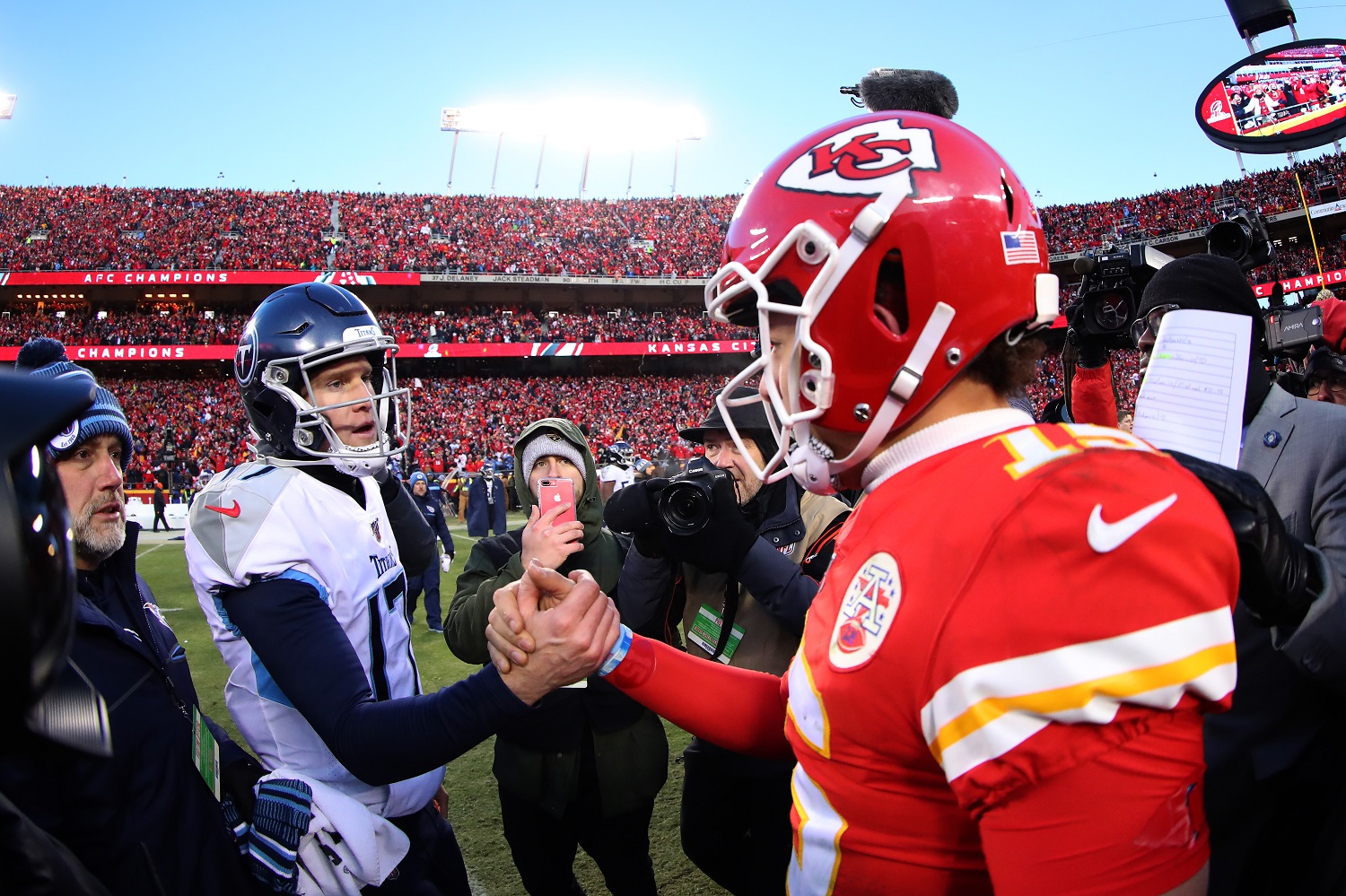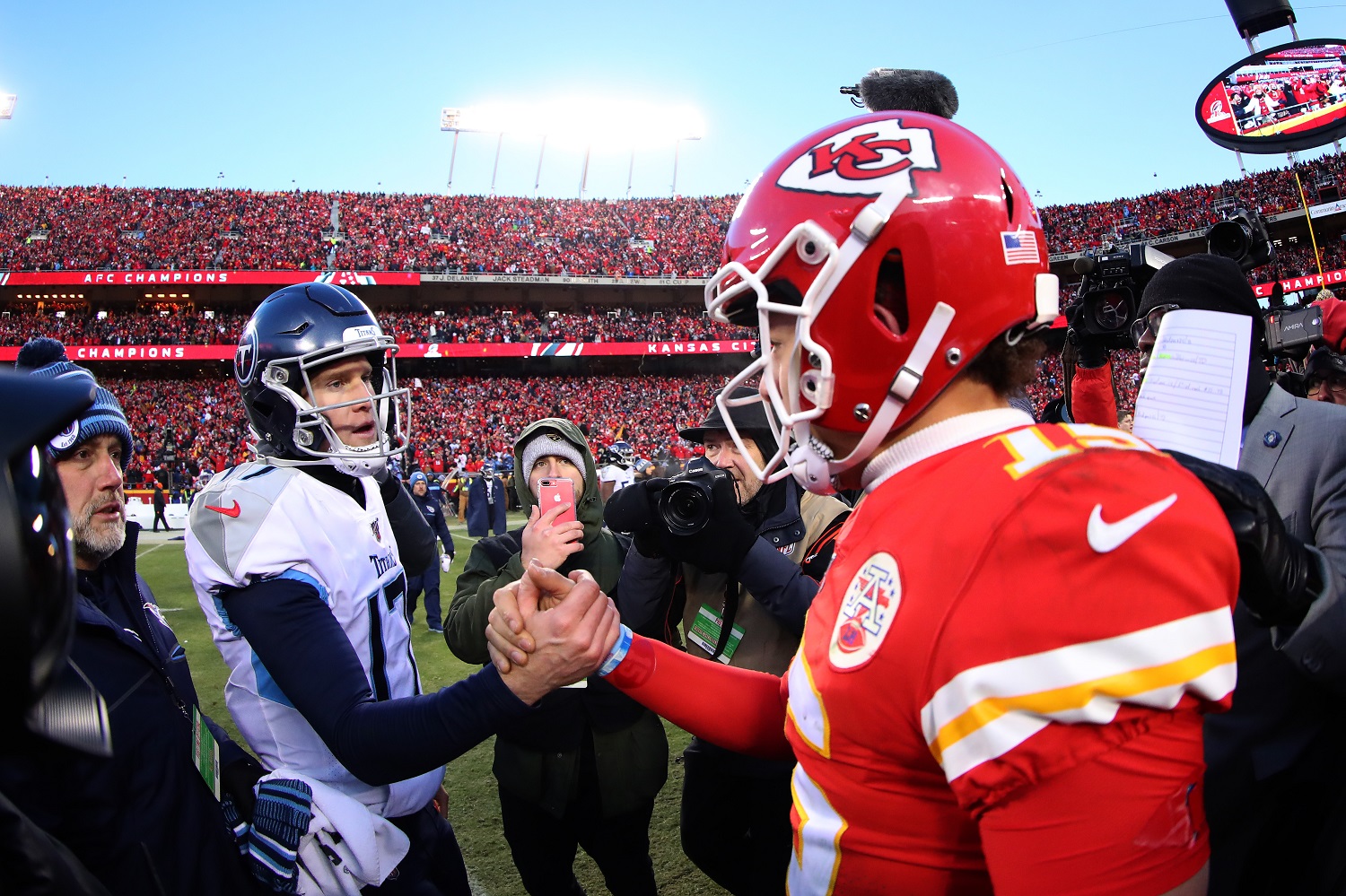 If one were to simply calculate the average salary of both Patrick Mahomes and Ryan Tannehill over the course of their respective deals, Mahomes obviously wins that battle. But in terms of simple raw dollars, Tannehill actually comes out ahead over the next four seasons, assuming he earns all of his incentives.
According to Spotrac, from 2020-2023, Tannehill can make $118 million. In that same time frame, Mahomes tops out at $103.53 million. Over the next three seasons, Tannehill can earn $91 million as opposed to Mahomes' $63.081 million.
But the kicker here is that following that 2022 season, Patrick Mahomes will still have nine years and hundreds of millions of dollars to go while Ryan Tannehill may be looking for work. Either way, both are in pretty good financial shape.