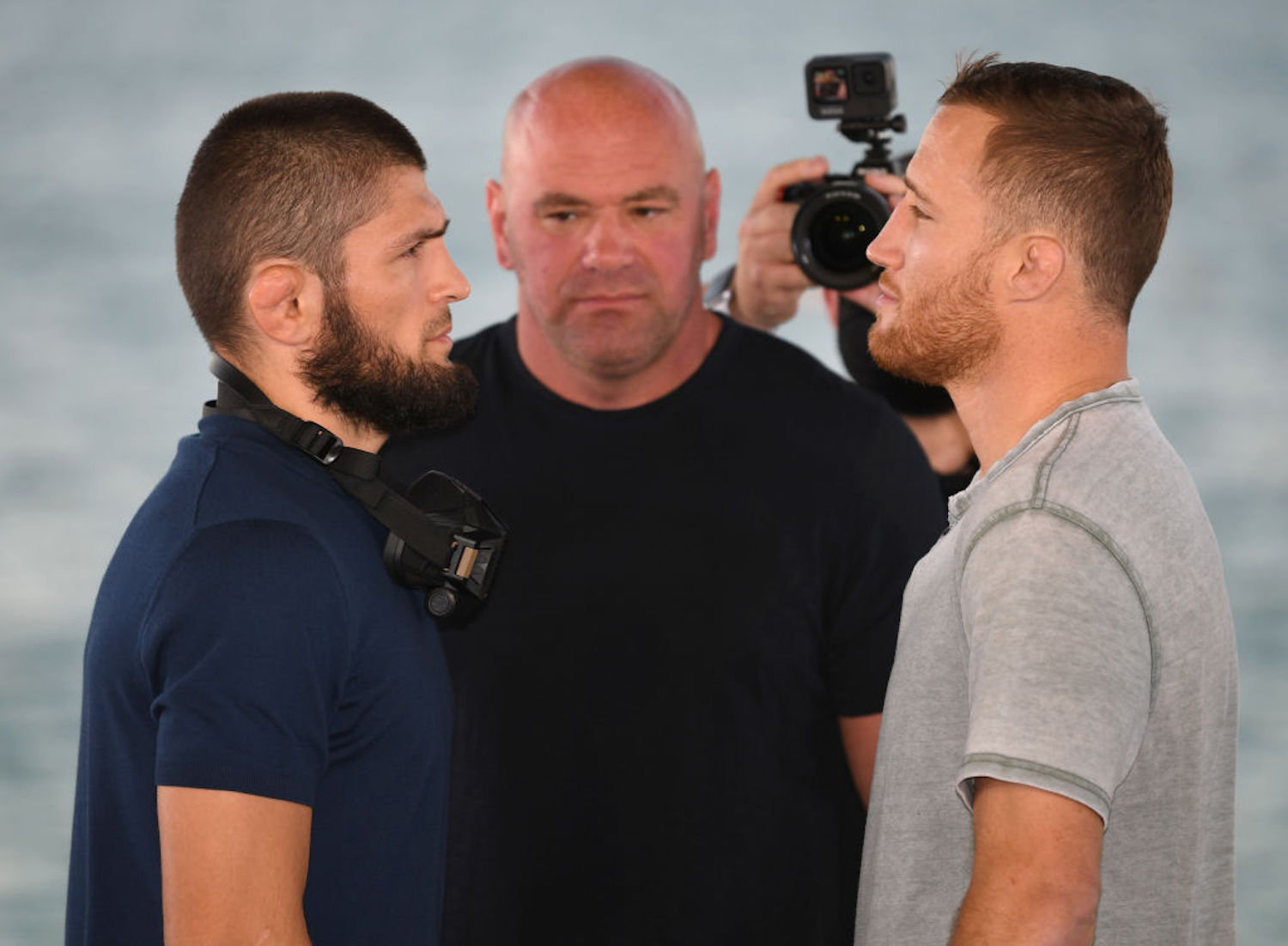 'I Will Not Allow Him To Put Me on the Fence': Justin Gaethje Can't Execute Gameplan Against Khabib Nurmagomedov
Justin Gaethje had a clear strategy in place to upset Khabib Nurmagomedov, but once he stepped inside the octagon it all went out the window.
Not many people gave Justin Gaethje a fighting chance against undefeated lightweight champion Khabib Nurmagomedov on Saturday. Gaethje was a +270 underdog in the title fight, but he wasn't afraid of the challenge.
When the two fighters spoke at their pre-fight press conference in Abu Dhabi on Wednesday, Gaethje laid out his plan of attack. The interim lightweight champ had a clear strategy for giving Nurmagomedov his first career loss, but he failed to execute it in every way.
Khabib Nurmagomedov hasn't lost in the UFC
In the UFC's lightweight division, there's one man every other fighter in the class is chasing — Khabib Nurmagomedov. "The Eagle" is a perfect 29-0 in his UFC career, and he really hasn't been tested in any bout thus far.
Nurmagomedov won the lightweight title belt in April 2018 when he defeated Al Iaquinta by unanimous decision. He defended his title in the highly anticipated championship fight against Conor McGregor a few months later.
In 2019, Nurmagomedov again defended his belt by defeating Dustin Poirier by submission. He finally returned to the octagon on Saturday after a year-long hiatus, and he clearly hasn't lost a step.
Justin Gaethje had a clear strategy to knock off the champ
Gaethje and Nurmagomedov met in Abu Dhabi on Wednesday to host their pre-fight press conference with UFC president Dana White. The two engaged in a staredown and took pictures while holding their respective title belts.
During the press conference, Gaethje laid out his strategy to knock off the undefeated champ.
"My plan is if we're gonna grapple, let's grapple in the middle at all times," Gaethje said. "I've said it 1,000 times; I cause damage. I have dense bones and I'm gonna kick his legs. That's where we're gonna start and we'll go from there."
Making a plan against Nurmagomedov is one thing. Executing it is another, and Gaethje was unable to do so.
Gaethje failed to execute his game plan
Gaethje was confident in his game plan heading into the title fight against Nurmagomedov, but the champion has a way of knocking opponents off their plan early. Nurmagomedov dominated the bout from the first bell. In the second round, he forced Gaethje against the fence and finished him with a devastating triangle chokehold. So much for that strategy.
"If you go back a couple of years ago, I think I said I wanted to go to Brazil and fight their best, Ireland and fight their best, and I wanted to come to Russia and fight Khabib," Gaethje said on Wednesday. "That's the chaos. They wish ill on you—they don't necessarily want you to die or anything—but that hostility, I thrive in."
You can't knock Gaethje's heart, but you sure can knock his ability to execute his game plan.