In Shane Steichen, the Indianapolis Colts Finally Have Their Savior on Board
Since Andrew Luck stunned the NFL world by abruptly retiring in 2019, the Indianapolis Colts have gone from being a perennial Super Bowl contender to a somewhat-rudderless franchise.
Despite winning records in two of the last four seasons, betting on past-their-prime versions of Philip Rivers and Matt Ryan and believing they could resurrect Carson Wentz's career didn't pan out for the duo of general manager Chris Ballard and head coach Frank Reich, with the latter losing his job in November.
But after a string of heavily scrutinized moves, highlighted by Jim Irsay's decision to replace the well-respected Reich with someone with zero NFL coaching experience, the Colts deserve credit for taking a patient approach to the hiring process. After making fans wait for weeks to find out who will lead their beloved team moving forward, Irsay officially brought an end to an exhaustive search by eschewing Jeff Saturday and other candidates for Philadelphia Eagles offensive coordinator Shane Steichen. 
While the 37-year-old may not have the same name recognition as Eric Bieniemy or Kliff Kingsbury, he should quickly make his mark in Indianapolis. 
After all, it didn't take long for Justin Herbert and Jalen Hurts to become stars under Steichen's watch. And if the Colts emerge from the 2023 NFL Draft with C.J. Stroud or Bryce Young, it might not take long for their new leader to coach his first playoff game. 
The Colts wisely chose a coach with a history of developing quarterbacks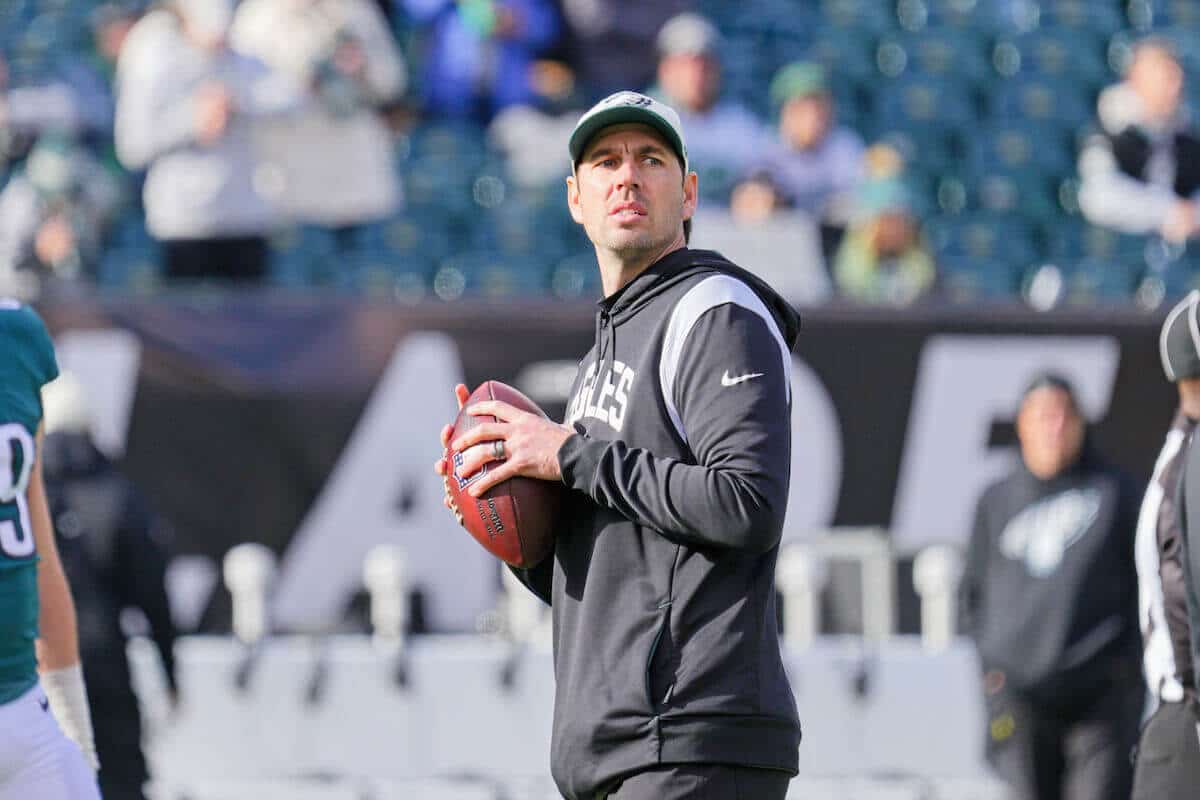 Going the veteran-QB route didn't help the Lombardi Trophy return to Indianapolis. So, it's probably the best unkept secret that Irsay's team will go all-in on the position in the upcoming draft. 
Depending on how the Chicago Bears play their cards, the Colts could swing a trade to acquire the No. 1 overall pick. But even if they don't make a draft-night deal, they should have a chance to select Ohio State's Stroud or Alabama's Young at No. 4. 
Either way, whoever becomes the new face of the franchise will have the advantage of working with a coach who's gained valuable experience working with two of the NFL's brightest young stars.
Steichen, who played quarterback at UNLV from 2003-06, coached the position for the Los Angeles Chargers from 2016-19 before he was promoted to offensive coordinator. During his time with the franchise, he not only worked with a Hall of Fame-caliber quarterback in Rivers, but he also helped Herbert experience immediate success by putting him in a position to throw for 4,336 yards and 31 touchdowns as a rookie. 
However, Steichen's most impressive success story is how he developed Jalen Hurts into an MVP candidate in just two seasons. By figuring out how to harness Hurts' athleticism and improve his mechanics and timing, the Eagles found themselves a bonafide franchise quarterback who should soon become one of the highest-paid players in the league. 
Hurts' ascension and dominant Super Bowl 57 performance, albeit in a loss, only strengthened Steichen's candidacy for head coaching vacancies. And rather than take over a team with an established starter, he left Philadelphia for a place where he can start from scratch and choose his own signal-caller to build around. 
The ex-Eagles OC has what it takes to save the Colts from falling to the bottom of the AFC South
At 37 years old, Steichen is the third-youngest head coach in the league. Yet that doesn't mean he can't turn around a Colts team just a year removed from earning a postseason berth. 
As much criticism as Irsay faced for seemingly dragging out the vetting process, he hired a candidate with a strong resume, specifically when it comes to developing quarterbacks. While Herbert and Hurts entered the NFL as high-upside prospects with intriguing physical tools, neither was viewed as a lock to become a high-end starter. 
Fast forward to 2023 and both look poised to break the bank and spend the next decade playing for the teams that drafted them in 2020.
Steichen had a direct role in unlocking Herbert's unparalleled combination of arm strength, running ability, and accuracy. He also unleashed Hurts' dual-threat abilities while helping him learn to dissect defenses and go through his progressions. 
But that's not all. 
As New England Patriots fans learned in 2022, not every coach is cut out to call plays. Luckily for the Colts, their offense is now in excellent hands with Steichen. The Chargers finished 10th (2019) and ninth (2020) in total yards under his direction. Meanwhile, the Eagles made a substantial improvement in 2022 by going from 14th in total yards and 12th in points to third in both categories. 
Steichen's track record of success, particularly his ability to get the most out of young talent, should encourage Colts fans. This is a team that still has talent on both sides of the ball even if it lacked a true leader. 
That's no longer the case now that Shane Steichen is in charge. 
The only question is: Who will be his next success story?