Jalen Suggs and Olympic Gold Medalist Suni Lee Share a Special Bond
The Orlando Magic needed a player who can restore pride to a franchise that's spent a decade dabbling somewhere below mediocrity. Thus, landing Jalen Suggs with the fifth pick in the 2021 NBA Draft qualified as big news for Magic fans.
Their adoration will be nice for Suggs, an entertaining one-and-done player for Gonzaga, because he rated a distant second on the list of big sports stories in his own hometown Thursday. It's the sort of thing that happens when one of your childhood friends soars from afterthought to Olympic sensation.
Jalen Suggs will fit nicely with the Orlando Magic
People in St. Paul, Minnesota, and on the AAU basketball circuit knew Gonzaga was getting a special basketball player last fall. Suggs was a precocious talent as a freshman at Minnehaha Academy, averaging 21.5 points and five assists per game. His numbers dropped as a sophomore, but Suggs led the team to its second straight state championship, and the Associated Press named him to the all-state first team.
His junior year is where things heated up. Suggs was also an emerging football sensation, quarterbacking his team to a state championship. With the season over, he returned to the court to average 23.3 points and 6.3 assists as Minnehaha rolled to its third straight Minnesota state title.
The football team lost its state final in Suggs's senior year, during which he threw for 25 touchdowns and ran for a dozen, but he averaged 23.3 points again in basketball. The pandemic kept the team from defending its state crown, but Suggs finished with 2,945 career points and multiple player of the year honors in both his sports.
Numerous colleges wanted him for either sport. Suggs picked basketball at Gonzaga. He was superb as the Bulldogs navigated through an unblemished regular season. He buried the game-winner at the overtime buzzer against UCLA in the NCAA Tournament semifinals. And, though the Bulldogs lost in the final, NBA scouts recognized his potential. The Magic grabbed him with Thursday's fifth pick.
Jalen Suggs and Suni Lee share a special bond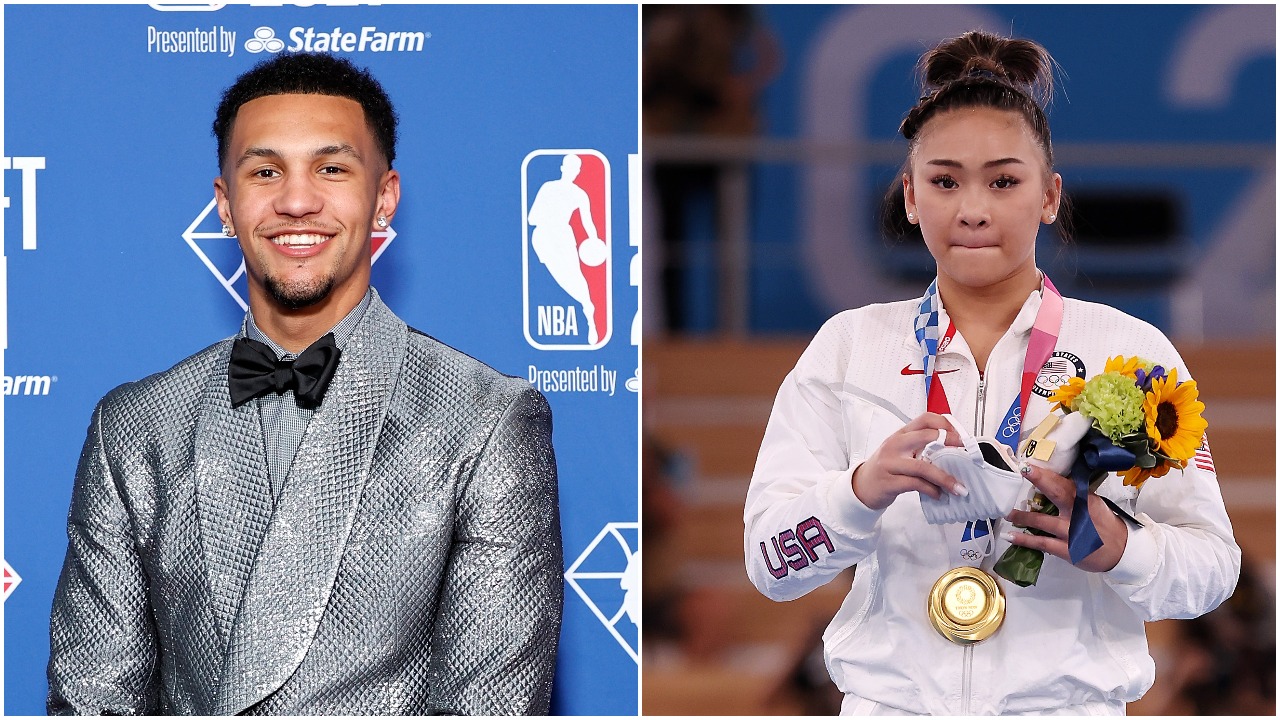 Much of the excitement that Twin Cities sports fans felt ahead of the NBA draft, even if the hometown Timberwolves had no chance at acquiring Suggs, took a back seat because of overnight developments halfway around the world.
Thrust into the spotlight because teammate Simone Biles withdrew, 18-year-old Sunisa "Suni" Lee, another St. Paul native, emerged victorious in the women's gymnastics all-around competition. It was a heartwarming story for an athlete who has been competing in Biles' shadow despite a stellar athletic resume of her own. And it was every bit as exciting for Suggs, who said he spent Thursday morning watching his friend on TV.
"I texted her immediately, and I sent the videos because I was tuned in," Suggs said after the Magic selected him. "What a great accomplishment for her. I'm so proud of her. Me and Suni are great friends. To see her do that and now I get to come out and do this, it's amazing. Minnesota sports and athletics is on the rise, and there's two great examples in one day.
Actually, there's a third great example, too.
UConn star Paige Bueckers is another childhood friend
Suggs attracted media attention at the NBA draft once the Magic made him their first pick of the night, but a longtime friend got the first word in. UConn guard Paige Bueckers, yet another gifted athlete from a few miles west of Minneapolis, surprised Suggs with a congratulatory video.
With basketball as their common denominator, Suggs and Bueckers spent a lot of time together after meeting in fourth grade. As they grew up, she attended some of Suggs' football games and he often showed up at her basketball games. According to the Washington Post, Suggs even accepted Bueckers' invitation to a Sadie Hawkins dance in her junior year.
The paper also reported how their AAU teams got together for a scrimmage, with Suggs and Bueckers going head-to-head. Mia Curtis, Suggs' cousin and Bueckers's AAU teammate, said the trash talk was epic. The competition was even better.
"They would guard each other, so you'd get some of that one-on-one action," she said. "They were both coming to play. They both took over on their end of the floor. Sometimes you had to just stand by and watch. It was awesome."
Today, all of the Twin Cities sports community stands in similar awe.
Like Sportscasting on Facebook. Follow us on Twitter @sportscasting19.