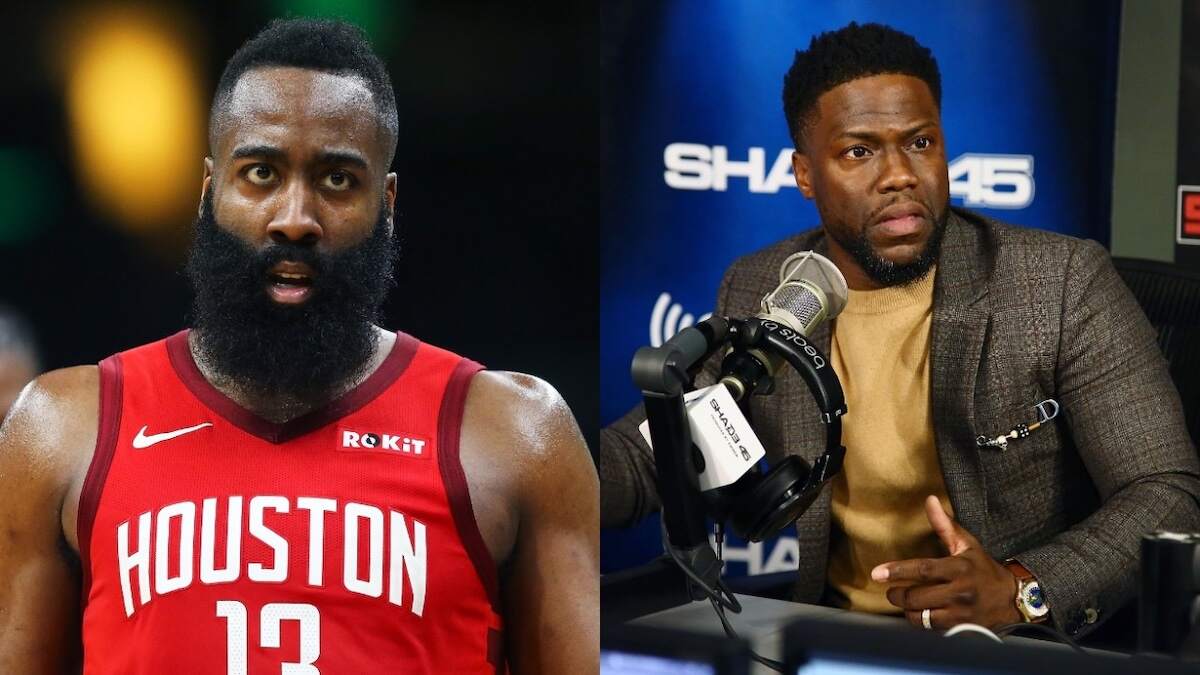 James Harden Once Decided to Drop 50 After Comedian Kevin Hart Pissed Him off Mid-Game, Told Him His 'Beard Stinks'
James Harden was potentially the NBA's most dominant scorer while on the Houston Rockets. He let comedian Kevin Hart know it one game, too, as he decided to drop over 50 points after Hart pissed him off while talking trash.
Throughout most of James Harden's NBA career, especially during the years he played with the Houston Rockets, he has been known for being a dominant scorer. Harden even led the NBA in points per game in three separate seasons.
So, when comedian Kevin Hart once pissed Harden off during a game, Harden used his abilities to drop over 50 points on Hart's favorite team, the Philadelphia 76ers.
Kevin Hart trash-talked James Harden during a game
Kevin Hart appeared on Jimmy Kimmel Live! in 2017. He told the story about when he went to a Philadelphia 76ers game and talked trash to James Harden, who played for the Houston Rockets at the time.
"I go there to sit courtside to mess with the players; that's literally all I go for," Hart said. "It gets so bad because they can tell when I've had too many drinks because I'm slurring, going, 'You ain't gonna make that shot.' … I pissed James Harden off. So, I'm in Philadelphia, we're filming [The Upside], and I had a day off, so I decided to go to the Sixers game. James Harden is playing in the game, and the whole first quarter, he's off. I was like, 'You know why you off? Because you're in my city. Your beard stinks. I hate you.'"
Talking trash to James Harden, though, did not turn out well for Hart or the Sixers.
James Harden dropped over 50 points during that game
During that same appearance with Kimmel, Hart then said that James Harden ultimately got mad about him talking so much trash.
"He said, 'Remember all of this.' He said, 'I'm about to cook you,'" Hart said. "I said, 'You gonna cook me? Well, put me in a pot because I'm ready to be cooked.' We're talking; I don't even know why he's paying me this much attention. At some point, I was like, 'James; this is very unprofessional on your behalf. You're not even supposed to be talking to me this much.'"
According to Bleacher Report, James Harden ended up dropping 51 points, 13 rebounds, and 13 assists, and the Rockets beat the 76ers 123-118.
"With like a minute left, he was dribbling the ball standing at half-court, and he was just staring at me," Hart said. "He goes, 'Tell your team what you did to them.' I said, 'You keep your mouth shut. That's our business.' He scorched us."
Well, that's hilarious. No, James Harden did not win an NBA championship with the Houston Rockets, but he proved that he could score on anyone at any time.
James Harden is still a dominant presence, now with the 76ers
James Harden went to the Houston Rockets in 2012-13 after spending his first three NBA seasons with the Oklahoma City Thunder. Harden became a star immediately, too, as he earned an All-Star selection and scored 25 points per game or more in every season that he played in with Houston. In fact, from 2015-16 through 2019-20, he scored 29 points per game or more and then dropped over 30 per game from 2017-18 through 2019-20.
James Harden also ultimately led the NBA in points per game in three consecutive seasons from 2017-18 through 2019-20 and scored as many as 36.1 in 2018-19. Harden's dominance for the Rockets helped him win the 2017-18 NBA MVP award, too.
For his career, James Harden — who now plays for the 76ers — averages 24.7 points per game. In 2022, he joined Oscar Robertson, LeBron James, and Russell Westbrook as the only players in history with 6,500 career assists and 23,000 career points. This past season, Harden led the NBA in assists with 10.7. In Game 4 of the Eastern Conference Semifinals, he also joined Jerry West, Michael Jordan, and Kobe Bryant as the only guards in NBA history to put up at least 10 40-point playoff games.
So, while Harden certainly sent a message to Kevin Hart with that big game, Hart is not the only one who has been on the wrong side of a dominant James Harden scoring performance.
Stats courtesy of Basketball Reference