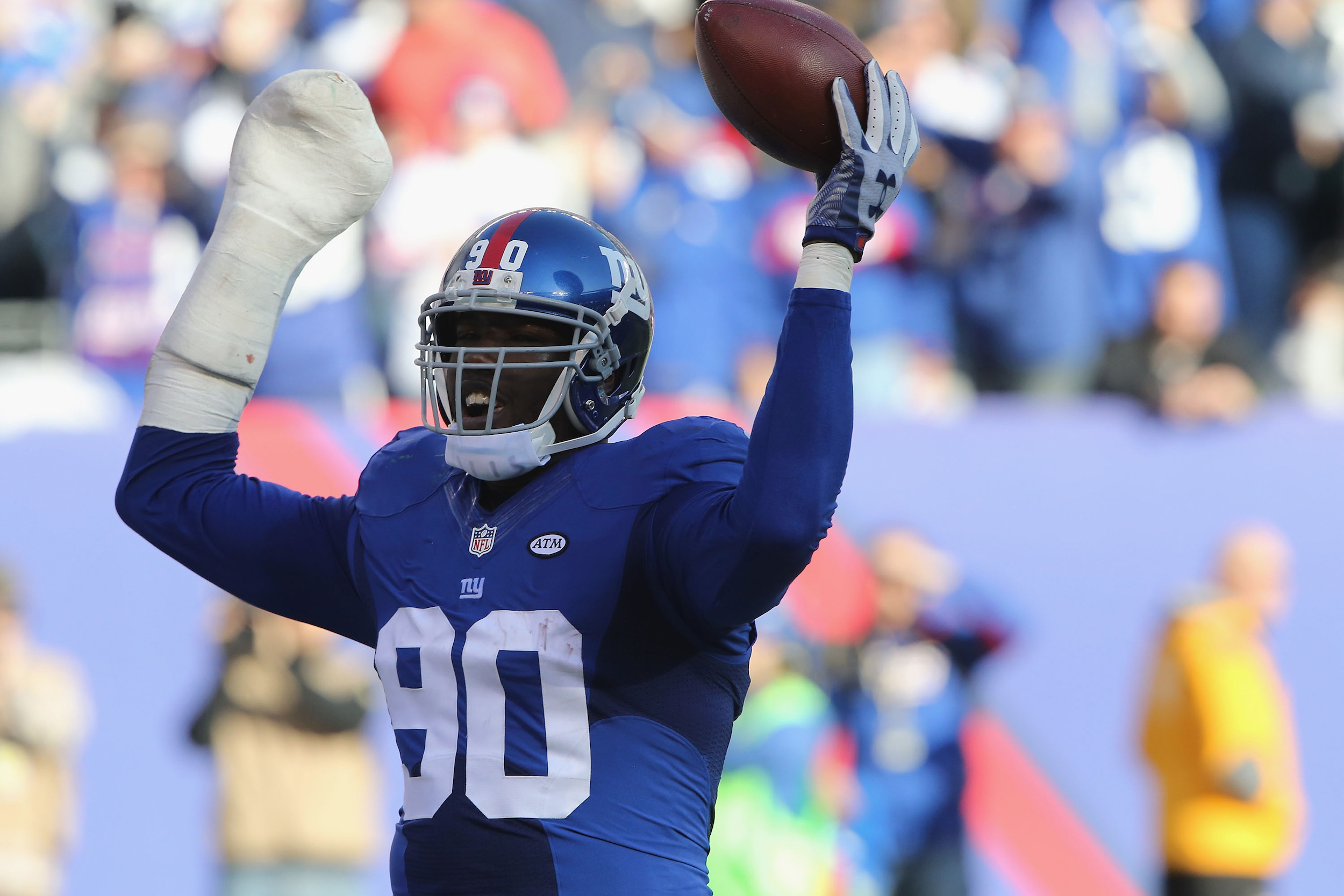 Jason Pierre-Paul Almost Destroyed His NFL Career With a Tragic Fourth of July Fireworks Accident
In 2015, Jason Pierre-Paul decided to set off some fireworks to celebrate the Fourth of July. That set the stage for a tragic accident that almost ruined his NFL career.
While quarterbacks and wide receivers may get most of the headlines, many fans still believe that defenses win championships. In the early 2010s, the New York Giants had both sides of the equation covered; Eli Manning took charge on offense, while star players like Jason Pierre-Paul, Osi Umenyiora, and Justin Tuck ran the defensive show. JPP's NFL career, however, almost ended in tragic fashion.
Although the Fourth of July is a day of celebration for most Americans, the holiday holds a different significance for Pierre-Paul. In 2015, he a serious hand injury in a fireworks accident, changing the course of his life and career.
Jason Pierre-Paul's impressive football career
When you think of the New York Giants, the likes of Lawrence Taylor, Eli Manning, and Michael Strahan probably spring to mind. While Justin Pierre-Paul might not be in the same category as those players, he proved to be a dominant defender in the Big Apple.
Pierre-Paul didn't exactly follow a standard road to stardom, though. After high school, he played two seasons of junior college football at two different schools. The defensive end finally made his D-1 debut as a junior, joining the University of South Florida Bulls; after one impressive campaign, he entered into the 2010 NFL draft.
The New York Giants apparently liked what they saw and selected JPP with the 15th overall pick. He had a solid first season with Big Blue, 30 total tackles, and 4.5 sacks but truly blossomed as a sophomore. In 2012, Pierre-Paul piled up 86 total tackles and 16.5 sacks as the Giants lifted the Lombardi Trophy.
While things dropped a bit after that season—Pierre-Paul had 6.5 sacks in 2012 and only started six games the following year—he rebounded. After a 12.5-sack 2014, though, the defensive end's life and NFL career would change forever.
A tragic fireworks accident ruined the Fourth of July
In the United States, the Fourth of July has become synonymous with setting off fireworks. For Jason Pierre-Paul, however, that summertime diversion almost turned into tragedy.
As Jason Buckland explained for Sports Illustrated, JPP had returned to his hometown of Deerfield Beach, Florida to celebrate the 2015 holiday. He had "purchased $1,100 worth of fireworks," hoping to give the entire neighborhood something to celebrate. That night, though, the festivities took a turn for the worst.
When the defensive end tried to set off some pyrotechnics, tragedy struck. "I'm looking at my [right] hand, and I'm seeing every ligament," he told Buckland. "You only see this stuff in the movies." While doctors were able to save his hand, Pierre-Paul spent two and a half weeks in the hospital; he underwent multiple surgeries and lost his right index finger.
Adding insult to injury, Pierre-Paul wasn't under contract when he got injured. While the Giants placed a non-exclusive franchise tag on the defensive end, they didn't officially sign him until October; unsurprisingly, JPP earned a fraction of what he could have previously made.
That tragic accident almost destroyed Jason Pierre-Paul's career
While Jason Pierre-Paul returned to the field in the fall of 2015, the defensive end wasn't the same player. Between his unplanned weight loss and bandaged right hand—he played in a padded 'club' during that season—JPP only managed to record one sack in eight appearances.
During the next season, Pierre-Paul started to return to form; he had another surgery, allowing him to take the field in a glove, rather than a club, and recorded seven sacks, despite missing time with a sports hernia. By 2017, he continued to improve and earned a new contract from the Giants.
Despite that long-term commitment, Big Blue ended up trading Pierre-Paul to the Tampa Bay Buccaneers. That change of scenery didn't slow the defensive end down, though; he piled up a team-leading 12.5 sacks in 2019 and took down the quarterback 8.5 times during 10 appearances in 2020. That was enough to earn him a two-year contract extension, with $20 million in guaranteed money.
On July 4, 2015, Jason Pierre-Paul's life changed forever. While that tragic accident could have ruined the defensive end's career, he came back stronger than ever.
"I have no regrets at all [about the accident]," he told Buckland. "I carry myself differently. I look at things differently. I try not to put myself in horrible situations anymore. I have a lot of people depending on me—even people I didn't know depended on me."
Stats courtesy of Pro-Football-Reference. Contract information courtesy of Spotrac