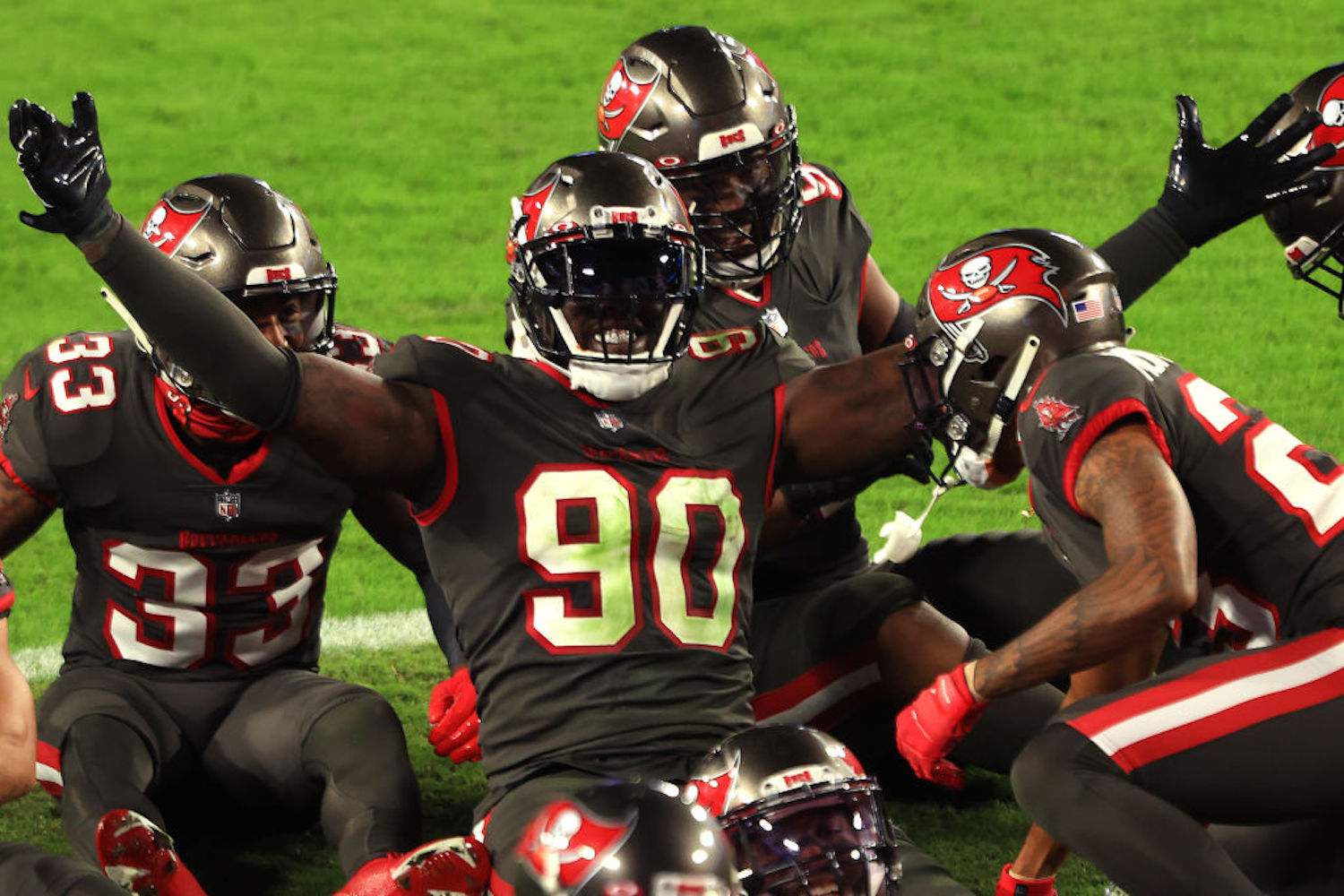 Jason Pierre-Paul Has More Interceptions Than Jalen Ramsey This Year Despite Having Only 7 Fingers
Jason Pierre-Paul lost three fingers in a fireworks accident in 2015, but he still has more interceptions than DPOY candidate Jalen Ramsey.
Jason Pierre-Paul has enjoyed a long and prosperous NFL career, which is incredible considering he's played the entire second half of it with fewer than 10 fingers. In 2015, Pierre-Paul suffered a bizarre fireworks injury that ended up claiming three fingers on his right hand.
Five years later, JPP is still getting to the quarterback and causing havoc in opposing backfields. He's even snatched two interceptions this season while sporting a club on his right hand, which is more than the best cornerback in the NFL, Jalen Ramsey, has recorded in 2020.
Jalen Ramsay is a DPOY candidate this season
Jalen Ramsey has been an elite defensive back ever since he joined the NFL. The Jacksonville Jaguars selected Ramsey with the fifth overall pick in the 2016 NFL draft, and he immediately proved he belonged in year one.
Ramsey recorded two interceptions in his rookie season and even returned one for a touchdown. He missed out on the Pro Bowl in 2016 even though he very well could've been invited.
He made the Pro Bowl in each of the next three seasons, though, and he notched a First-Team All-Pro honor in 2017. Ramsey is on his way to yet another All-Pro nod this year. He's been the best cornerback in the league all season and arguably the best all-around defensive player in 2020.
Ramsey is one of the frontrunners to win the Defensive Player of the Year award this season.
Jason Pierre-Paul lost three fingers in a fireworks accident
On July 4, 2015, Jason Pierre-Paul decided to turn his family's holiday party up another notch once the sun went down. He purchased over $1,000 worth of fireworks earlier in the day for the entire neighborhood to enjoy.
At around midnight, Pierre-Paul and some friends started shooting off the fireworks in a nearby field. Pierre-Paul tried firing off one last firecracker to finish the show, but it just wouldn't light. So JPP kept trying, and trying, and then, disaster struck.
The firework exploded as Pierre-Paul held it in his hand. Thankfully, he didn't sustain any life-threatening injuries, but his hand would never be the same. Pierre-Paul's right index finger was blown clean off his hand. His middle finger and thumb are now nothing more than stubs. His ring and pinky fingers are the only two functioning fingers on his right hand today, but that isn't stopping him from dominating the NFL.
Jason Pierre-Paul has more interceptions in 2020 than Jalen Ramsey
With only seven functioning fingers left, Pierre-Paul is forced to play football with a giant club on his right hand. He can't catch anything or grab players with his right hand anymore, but he's still an effective pass rusher for the Tampa Bay Buccaneers.
On Monday night, Pierre-Paul picked off Jared Goff by trapping the ball against his body with his club. The timely interception marked his second of the season, which is more than both reigning Defensive Player of the Year Stephon Gilmore and possible 2020 DPOY Jalen Ramsey have this year. Gilmore and Ramsey only have one interception apiece this season.
It's possible Ramsey could win DPOY and finish the season with fewer interceptions than a defensive lineman with seven fingers.
2020 just continues to defy logic.