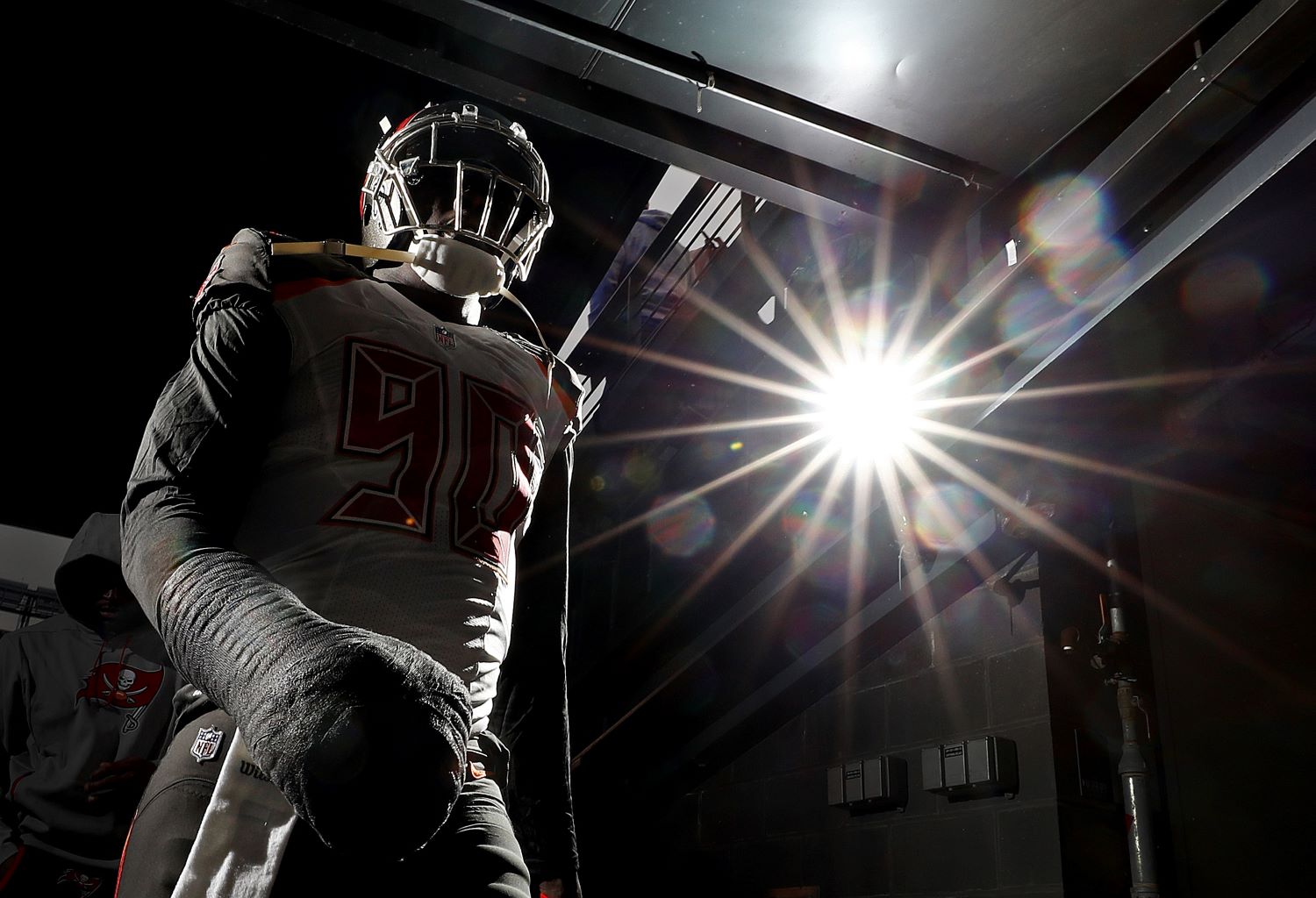 Buccaneers Star Jason Pierre-Paul Just Sent a Terrifying Message to the New York Giants
Buccaneers star Jason Pierre-Paul just sent a terrifying message to his former team. Will Tampa take down the New York Giants on Sunday?
Back in 2010, the New York Giants took Jason Pierre-Paul with the 15th overall pick. A decade later, he will try to take down his former team as a member of the Tampa Bay Buccaneers.
The 31-year-old may have spent most of his NFL career in New York, but he has no intention of taking it easy on his old team. In fact, Pierre-Paul just sent a terrifying message to the Giants ahead of their showdown at MetLife Stadium on Monday Night Football.
Jason Pierre-Paul relocated from New York to Tampa
One of the most athletic defensive ends to ever grace an NFL field, Jason Pierre-Paul entered the league as a high-upside prospect. Considered a bit raw, he quickly developed into an elite pass rusher.
In just his second NFL season, the 6-foot-5, 275-pound South Florida native racked up a league-high 16.5 sacks. With Pierre-Paul anchoring a dominant defensive line, the Giants took down the New England Patriots in Super Bowl 46.
However, his football career and life took an unfortunate turn in 2015. A Fourth of July fireworks accident inflicted major damage to Pierre-Paul's hand. Yet, he has managed to continue playing at a high level despite the gruesome injury.
About a month before the 2018 NFL draft, the Giants traded their longtime starting defensive end to the Buccaneers for a third-round pick. Pierre-Paul racked up 12.5 sacks in his first year in Tampa—his highest total since 2014.
Though a car accident limited him to just 10 games in 2019, the ex-Giant still racked up 8.5 sacks and 16 quarterback hits on 586 defensive snaps.
Pierre-Paul sends a terrifying message to the Giants
Even though he's on the wrong side of 30, Jason Pierre-Paul continues to play at a high level. Through seven games, the former first-round pick has already totaled 5.5 sacks and seven QBH. Of course, it helps when you play alongside stars like Ndamukong Suh and Shaquil Barrett.
For Pierre-Paul, the impending matchup against the Giants represents a chance to stick it to his old team. And with Daniel Jones at quarterback instead of Eli Manning, the Buccaneers star has big plans for his return to MetLife Stadium.
In a Zoom call with Tampa Bay beat writers on Friday, Pierre-Paul sent a terrifying message to his former team.
"Eli's not there no more, so I won't have to pick him up and say 'Eli, man, you good?' I'm coming for their necks man," he said. "They know that. I'm going to Monday Night Football and going to destroy the Giants. That's what I want to do as an individual."
Of course, Pierre-Paul's teammates should have no shortage of motivation on Monday night, either. After all, the Buccaneers experienced a second-half meltdown against the Giants when the two teams squared off at Raymond James Stadium last September.
Will the Buccaneers exact revenge for last year's collapse?
Last season, the Buccaneers got outscored 22-3 in the final two quarters and ended up losing to the Giants by a single point. Don't expect the same results this year.
With Tom Brady headlining a star-studded offense, the Bucs should have no trouble avenging their embarrassing collapse against Jones and Co. This time, though, expect Tampa's defense to shine against an offense that may just be the worst in football.
Only the New York Jets have scored fewer points than Joe Judge's team. Jones has done little to prove his critics wrong. The third-year quarterback has thrown seven interceptions and lost four fumbles in just seven games.
He will go up against a Buccaneers defense that ranks eighth in points allowed. Even after losing Vita Vea to a season-ending injury, Tampa still features a scary front seven headlined by Jason Pierre-Paul and the dangerous linebacker duo of Lavonte David and Devin White.
Expect the Giants to crumble against the Buccaneers' onslaught of talented front-seven defenders. Pierre-Paul and Co. should have no trouble getting after Jones, who could be playing himself out of a job.
And if Tampa emerges victorious, it will represent a sweet dose of revenge for both the team and JPP.
All statistics courtesy of Pro Football Reference.