Jay Cutler Thinks He Can Still Play in the NFL Today, He Just Doesn't Want to Deal With Teammates
Jay Cutler is a study in contradictions. He was an incredibly talented NFL quarterback for 12 seasons, but it never translated to much team success. He was a standoffish teammate who is seeking the limelight now that his playing days are over. Cutler recently told Pat McAfee that, while he still thinks he can play NFL football physically and mentally, he won't go back for a unique reason that seems to confirm what many have thought about the QB for a long time.  
Jay Cutler played quarterback for 12 NFL seasons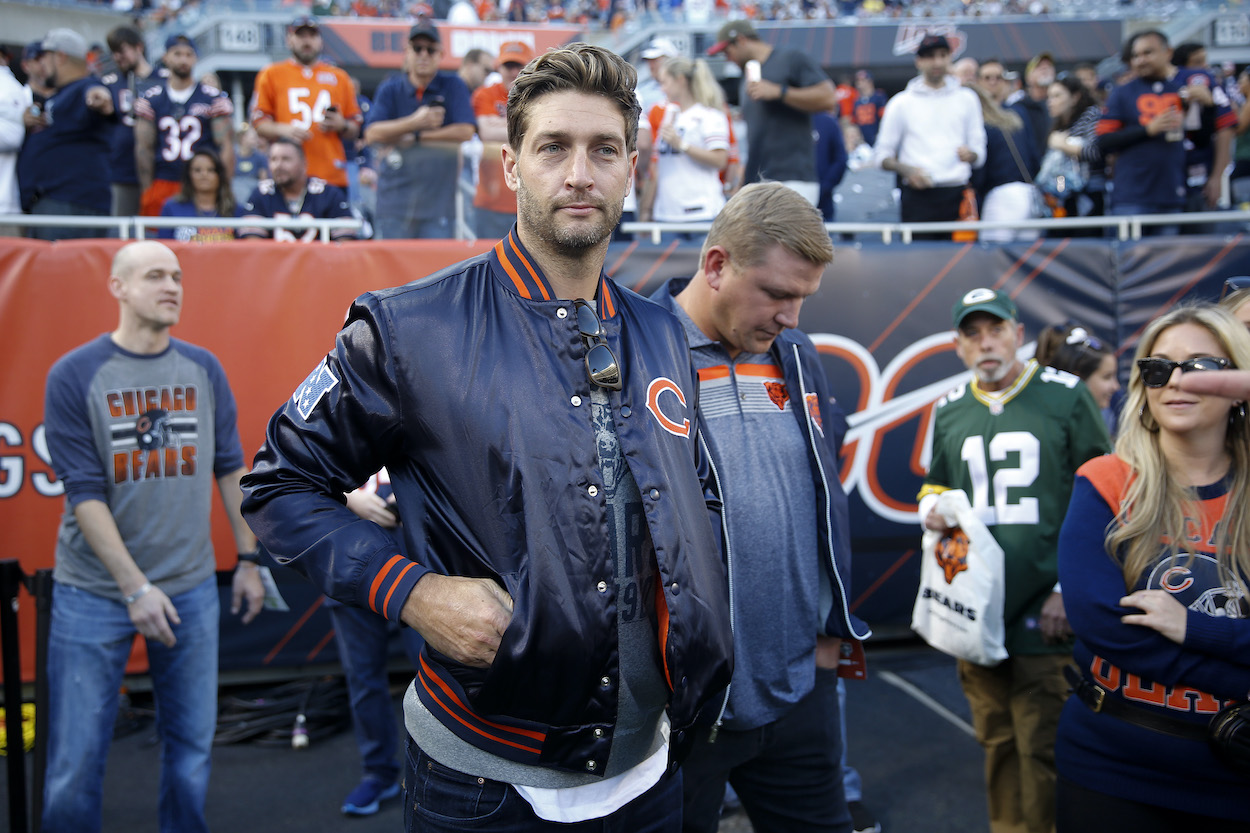 In 2006, the Denver Broncos selected an SEC quarterback No. 11 overall, but the pick wasn't from a traditional Southern powerhouse. It was Jay Cutler from Vanderbilt. The 6-foot-3 signal-caller would go on play for more than a decade and put together one of the interesting and polarizing careers of an NFL QB in history.
Personally, Cutler had an impressive and successful career. In three stops with the Broncos, Chicago Bears, and Miami Dolphins, the Indiana native put up quality numbers. He finished his career with 35,133 passing yards, which is 29th all-time, and had a 62.0% completion rate. The passer also threw 227 touchdowns to 160 interceptions. He did lead the league twice (2009, 2014) in picks, though.
Cutler also made a lot of money playing in the NFL. His career earnings add up to $122.2 million.
The issue for Cutler was winning. He has a career 74-79 record as a starting QB, and he only made the playoffs once in his career. In 2010, he took a 10-5 Bears team to the postseason and won a game before falling to the Green Bay Packers.
Cutler's demeanor compounded his lack of team success on the field. He often seemed not to care and didn't show much emotion. It looked like he was aloof on the sidelines, preferring to be by himself than participating in supporting teammates.
The QB has long maintained this perception isn't accurate. However, he may have confirmed some fans' ideas about him when discussing the reasons he's not interested in returning to the NFL.
Cutler thinks he can still play at 38 but doesn't want to invest the time with teammates
Jay Cutler is still just 38-years-old and came into the NFL a year after Aaron Rodgers (and six years after Tom Brady). With QBs playing longer than ever these days, Cutler got the question about coming back to the NFL during an appearance on The Pat McAfee Show 2.0.
McAfee asked Cutler, "Is there any thought at all of getting back out there and throwing, or no?" Cutler chuckled and told the former punter:
I can still do it, but, you know, I can't go back to that. The problem is, physically, I could do it. No problem. Mentally, you can do it. It's just starting all those relationships back up and getting back in a team, and earning the trust of the locker room. All that stuff takes so much time, and effort, and energy, and I've got a million other things happening at this point.

Jay Cutler on an NFL comeback
When most retired NFL players talk about coming back, they either say no because of the physical pounding or the mental grind of practicing. It's fascinating that Cutler said no because of the effort he'd have to put into locker room relationships.
Cutler should get credit for his candid answer. However, he may have inadvertently confirmed many of the rumors about him that lingered throughout his NFL career. The Vandy product might just be the reluctant teammate many perceived him to be.  
A fascinating post-playing career
Cutler has only been retired for four years, but he's already had a varied and unpredictable post-playing life. It will be exciting to watch what he does going forward.
Cutler retired for the first time after the 2016 season and signed on to broadcast games for FOX. About a month before the 2017 season started, as Cutler was gearing up for his career in the booth, the Dolphin's Ryan Tannehill went down for the season. This drew Cutler down from his perch and back onto the field.
He retired for good after a 6-8 campaign with the 'Phins and jumped directly into reality TV. He was the breakout star of Very Cavallari on E!, a reality show focused on his wife, former MTV reality star Kristin Cavallari.
The show and the marriage ended in 2020 as Cutler moved on to new projects. In the last year-plus, he's launched a meat delivery service called CUTS with the renowned meat purveyor Pat LaFrieda and a podcast called Uncut with Jay Cutler.
He's even hinted at a run for a Williamson County school board seat in Nashville, per FOX17, after becoming fed up with school mask mandates.
What will Jay Cutler do next? It is almost impossible to guess, but it will be captivating to watch.
All stats courtesy of Pro Football Reference and contract figures courtesy of Spotrac