Jayson Tatum Hears the Trade Noise but Is Determined to 'Figure It Out' With Jaylen Brown
The Boston Celtics have a decision to make. Jayson Tatum and Jaylen Brown have already made theirs. With the NBA trading deadline approaching, do the underachieving Celtics ride it out with their two All-Stars, or do they send one of them packing and bring back a significant return? Tatum admits he hears all the talk. Recently, Tatum said he and Brown spoke, and the duo is determined to make things work as teammates in Boston.
Jayson Tatum and Jaylen Brown haven't gotten the Boston Celtics over the hump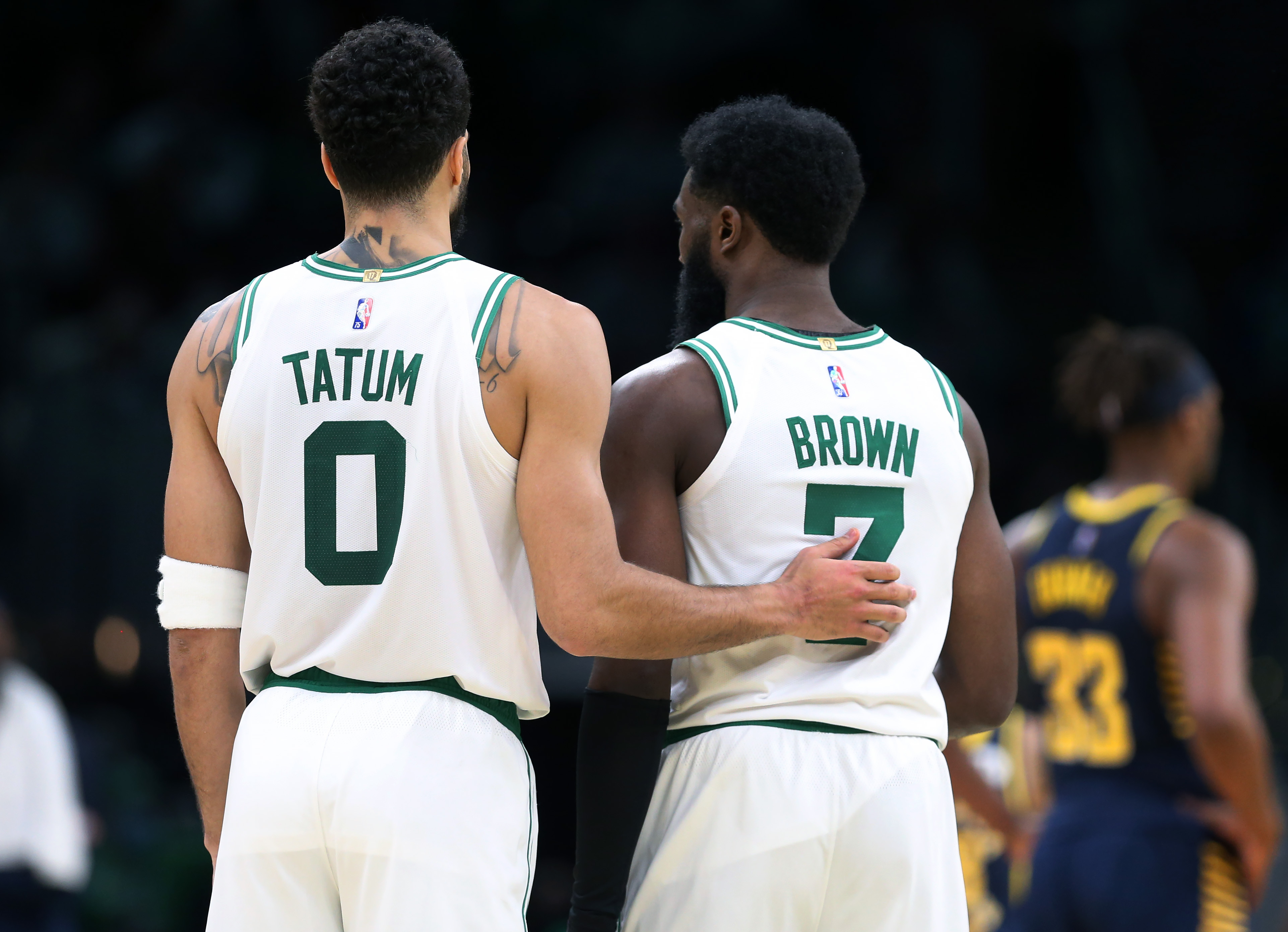 For years, Tatum and Brown have been considered the future of the Celtics. They have tasted success reaching the Eastern Conference Finals but have never experienced a Finals appearance. In 2020, the Celtics reached the ECF against the Miami Heat and fell in six games. Since that season, the Celtics have gone 56-57 in the regular season and were bounced by the Brooklyn Nets in the first round of the postseason last year.
Since that 2020 postseason, the Celtics have regressed while undergoing a front-office facelift. This offseason, former president of basketball operations Danny Ainge resigned. Brad Stevens, the head coach for the last eight years, left coaching to take Ainge's position. Stevens then hired Ime Udoka, giving him his first NBA head coaching job.
The shakeup hasn't sparked much of anything. The Celtics have hovered around the .500 mark all season. Tatum and Brown have been underwhelming, sparking noise that the two can't play together.
Many have suggested the team would be better off trading either Tatum or Brown to change things up — bring in new blood and change the chemistry. Tatum said he hears it all, and he and Brown recently had a conversation about it.
Jayson Tatum spoke to Jaylen Brown, and both are determined to make things work in Boston
It's not even the record that's bothersome in Boston. Standing at 20-21 at the halfway point isn't ideal, but it's the way the Celtics have lost that has many in Boston concerned. Effort and leadership have been questioned. Boston has blown multiple double-digit leads in the third quarter. They are a team that struggles to finish, and Tatum and Brown have been criticized for it.
Former Celtics center Kendrick Perkins had been critical of the Celtics duo the last couple of seasons. Perkins is one of many suggesting the Celtics should break up to the tandem and go in a different direction.
Tatum said he's heard the trade talk. He doesn't believe the answer for the Celtics is to split up the pair. He said he spoke with Brown after Saturday's game against the New York Knicks and they are determined to make things work in Boston.
"We see all the things about we can't play together and everyone in the media saying one of us has gotta go," Tatum said during a press conference via CLNS Media. "We just had a talk, and we both want to be here and we both want to figure it out. There's not many players in the league like JB. The grass ain't always greener.
We've had some great stretches and this year hasn't been what we expected, but I think in the long run it will be good for us. We gotta figure some things out but I think the most important thing is we both want it extremely bad, and we want to try and figure it out together."
Adrian Wojnarowski said trading Tatum or Brown is 'not on the agenda in Boston'
The Celtics' preferred way out of their mess is to build around their two stars. They would like to surround Tatum and Brown with better pieces. The problem with that is there isn't a whole lot of trade value beyond the two stars.
ESPN's Adrian Wojnarowski brought that up on a recent episode of NBA Today.
"Marcus Smart? This is a team that wants toughness and they certainly need perimeter help," Wojnarowski said. "Trading Marcus Smart is a subtraction that I don't think they want to do. Robert Williams? That's a player they want to keep.
"So you start looking to see what's available from Boston. Josh Richardson, Dennis Schroder on a one-year deal… They may not have enough to go out and get an impactful player in the marketplace. The idea of trading or breaking up Jaylen Brown and Jayson Tatum, that's not on the agenda in Boston."