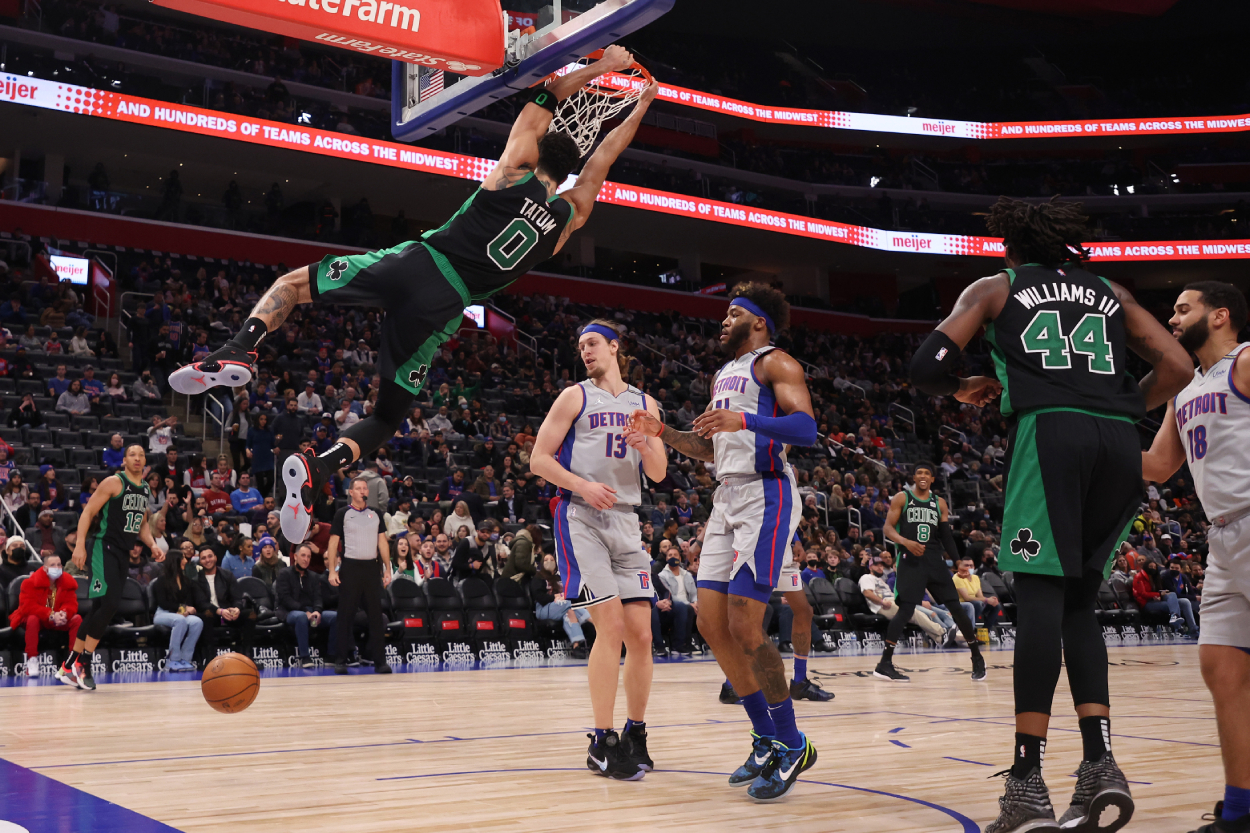 Jayson Tatum Took Some Trash Talk From Pistons Coach and Ran Wild With It
Jayson Tatum erupted for 19 third-quarter points Friday, thanks to a little trash talk.
Jayson Tatum struggled early Friday night against the Detroit Pistons. The Boston Celtics star had five points at halftime, and he heard it from Pistons assistant coach Jerome Allen. Allen is a former Celtics assistant who would trash talk Tatum each day at practice. He did it again at halftime Friday night, and Tatum used it to his advantage, guiding Boston to its fourth straight win.
Jayson Tatum and the Boston Celtics are getting hot at the right time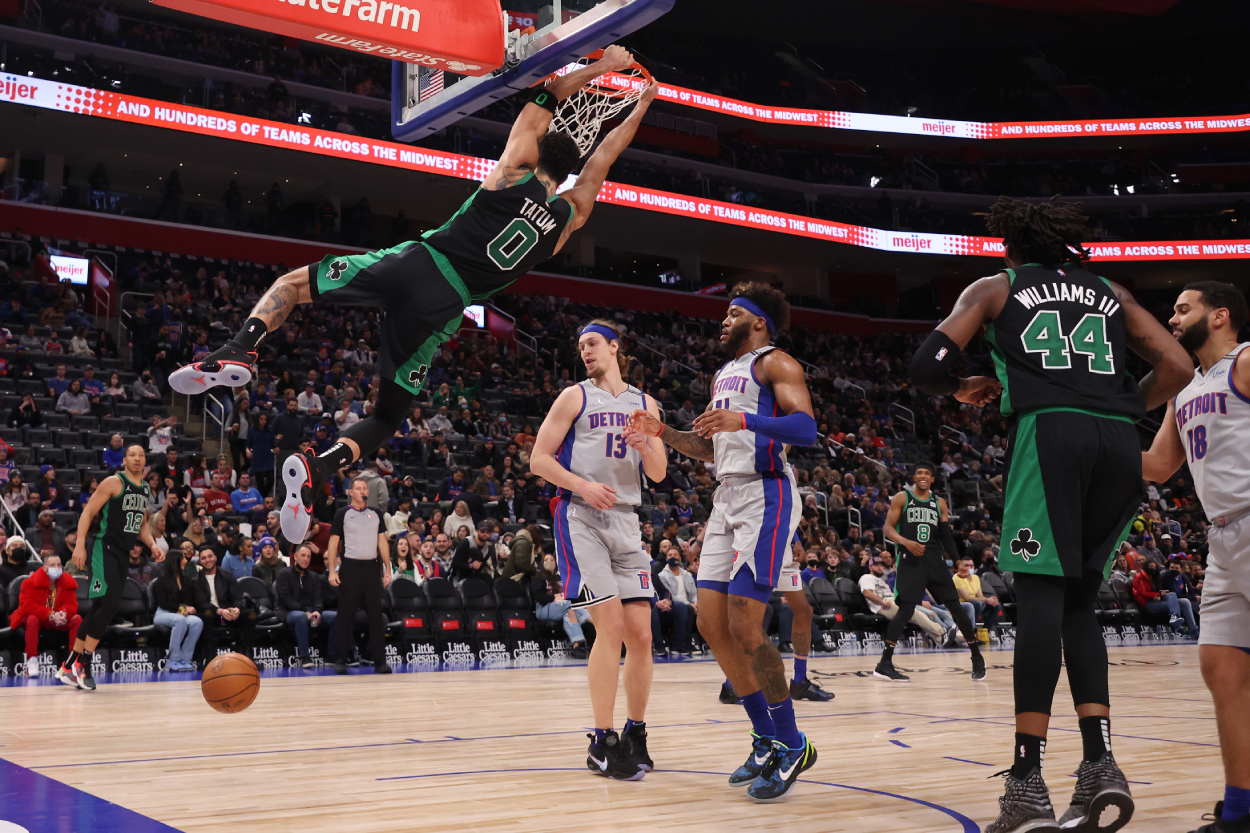 With Friday's 102-93 win in Detroit, the Celtics put together their first four-game win streak of the season and improved to 29-25. Boston has won 11 of its last 15 games but still sits in the eighth spot in the Eastern Conference standings.
Celtics coach Ime Udoka, who had questioned the team's effort on multiple occasions this year, said the team was ready from the opening tip.
"We're coming out with the right focus from the start," Boston coach Ime Udoka said, per ESPN. "We guarded extremely well for most of the game."
The Celtics have been digging in defensively lately, and that appears to be what's righting the ship.
"We've got great scorers, most people on our team can score, but when we're locked in defensively, and we cover for each other, I feel like that's when we're playing our best," center Robert Williams said.
Jayson Tatum turned some good-natured trash talk into a strong third quarter
Tatum had five points in the first half Friday as the Celtics held a 46-31 halftime lead. Tatum expected a little ribbing from Allen, and he got it.
As players and coaches were coming out for the second half, Allen, seeing Tatum's point total, said, Tatum "might as well put on a coach's polo."
"I was like, 'All right, I got something for you,'" Tatum said after the game, according to Boston.com.
Tatum responded with 19 points in the third quarter. He finished with 24, with the other five coming in the first 1:10 of the game.
"We're gonna see the Pistons again soon," Tatum said. "Jerome was here — not Jerome. We call him Pooh. Pooh was here for my first four years and that's like family. So we obviously miss him, especially the guys that built a relationship with him. But we was happy to beat him because we wouldn't have heard the last of it if we lost."
The Celtics have been riding their defense lately
Williams has given the Celtics a physical presence in the middle. Despite being listed as 6-foot-8, Williams plays like a seven-footer with his leaping and shot-blocking abilities.
He's giving the Celtics a presence in the middle that they haven't seen recently. Udoka said it's their physicality on defense that was the key Friday.
"Our physicality from the start," Ime Udoka said about what stood out on defense. "Other than a few mistakes on switches in the first half, we looked at halftime, I think they had seven or eight points.
"We could have kept them in the 20s honestly, other than a few mistakes there, but our attention to detail, non-shooters vs. shooters, and then making it tough on (Jerami) Grant and (Saddiq) Bey and some of those guys early."
This week will be interesting for the Celtics. With the trade deadline on Feb. 10, what will they do? They're hot now, so will they lay low and ride out with what they've got?
Despite the 11 wins in their last 15 games, the Celtics are 29-25. Will they make a splash with a big move? Brad Stevens certainly has some decisions to make in the next few days.