Robert Williams Responded to a Challenge From the Boston Celtics, Who Now Have Options With the Big Man
Robert Williams III had a pregame chat with head coach Ime Udoka before Wednesday's game against the Toronto Raptors. The Boston Celtics center was given a small challenge after checking out some film. The athletic, 6-foot-8 center came up big with 16 points and 13 rebounds, giving the Celtics some options for the season.
Robert Williams helping the Boston Celtics turn things around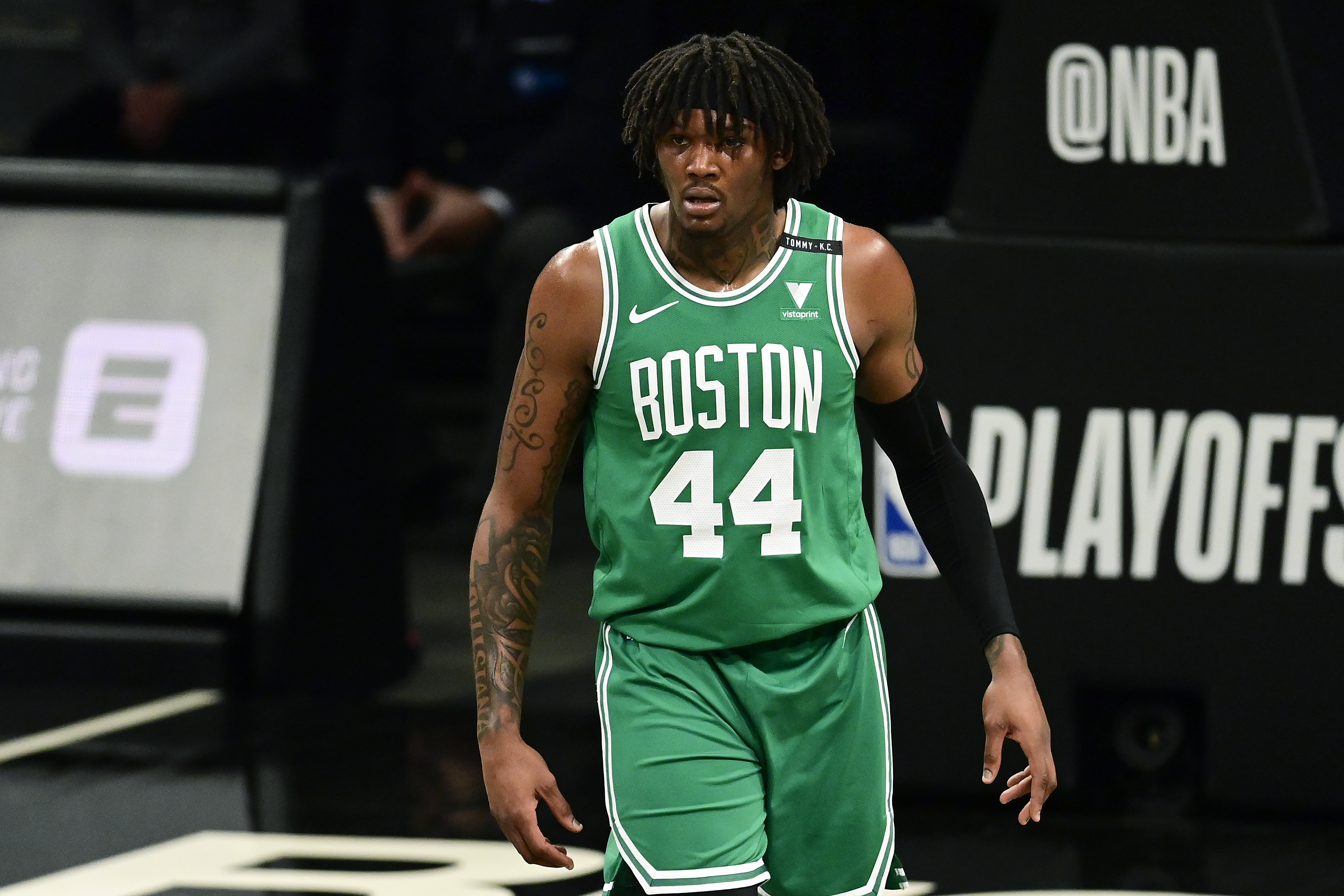 The 104-88 win over the Raptors on Wednesday was the first home victory for the struggling Celtics, who improved to 5-6. the Celtics had been 0-3 at home and had been embarrassed by the Raptors in their home opener in the second game of the season. After that game, Celtics star Jayson Tatum made a troubling comment, questioning the team's energy level.
"We know why we lost," Tatum said, according to Mass Live. "They just played harder than we did, played tougher. It wasn't rocket science. We're all professionals. We're all adults. We understood what had happened." 
It was a comment that was hard to swallow for Celtics fans because it was just the second game of the year, and that trend seemed to carry over from last year when Kemba Walker made the same type of comment.
Williams is a high-energy guy, but Udoka wanted him to be more aggressive off the glass.
"I felt like he wasn't going as hard as he could to the offensive glass, he was kind of just standing behind guys," Udoka said, per WBZ Channel 4 in Boston. "Showed him some film and talked to him about the effort it takes and how he can impact the game. He has really worked on that over the last few games."
Williams responded with his double-double and had helped the Celtics win three of their last four games.
Robert Williams credits his aggressiveness for his success
In 10 games this year, Williams is averaging 10.6 points and 8.8 rebounds in 31.2 minutes. With Tatum and Jaylen Brown there to provide the bulk of the scoring, Williams' job is to clean up their misses and grab defensive boards. He may be undersized for a center, but his athleticism and aggressiveness have led to his success.
He's heard all about the effort — or lack of it — this year, and that won't be a problem for him.
"It was all aggressiveness," Williams said about his performance Wednesday. "I feel like us as a team, we did a great job rebounding — not just me. We did a great job with handling the physicality, and I felt like we've been lacking that. So we stepped up.
"We need that toughness. That's all I'm worried about right now — toughness and effort."
Williams made eight of 11 shots Wednesday with all of his baskets coming inside the paint. Through 11 games, he leads the NBA in field-goal percentage, shooting at a 72% clip.
Williams' success gives the Celtics some options
During the offseason, the Celtics signed Williams to a four-year $48 million extension with an additional $6 million in incentives, according to Spotrac. Williams is making $3.6 million this year, but when the extension kicks in next year, his base salary will be $10,714,287 and will increase over the next four years.
Is Williams the answer for Boston? Could he be used as a piece to bring in a star if the Celtics make a deal without involving Tatum or Brown?
Rumors have been swirling about the Celtics showing interest in Ben Simmons, the disgruntled Philadelphia 76ers star who hasn't suited up at all this season. Those same rumors also hint that the Celtics won't surrender Brown in any deal for him.
Without dealing Brown or Tatum, could the Celtics land Simmons? The Sixers are aiming high, but their leverage is low as Simmons wants no part of returning to Philadelphia. Would Williams, Marcus Smart, and a pick or two be enough to sway the Sixers?
Williams may not be a great fit for Philadelphia, which already has Joel Embiid and Andre Drummond in the frontcourt. Could a third team like the Los Angeles Lakers get involved and dangle Russell Westbrook in front of the Sixers?
In any case, Williams' recent emergence is giving the Celtics options. He's proving to be just what they need, either on the court or on the trade front.