Jayson Tatum's Biggest Test Will Come Game 7 vs. the Miami Heat
It's time to put up or shut up for the Boston Celtics. In the Eastern Conference Finals for the fourth time in six years, they have one game left to prove they are better than the Miami Heat. The statistics say they are the better team. Vegas agrees.
While they might be better, the Celtics haven't been clutch in the Eastern Conference Finals. Miami has. This is a game where stars need to shine. Miami's Jimmy Butler has put his team on his back in Game 1 and Game 6. Although he's had some strong games, Celtics star Jayson Tatum hasn't taken over like Butler has. That needs to change.
Jayson Tatum needs to take charge for the Boston Celtics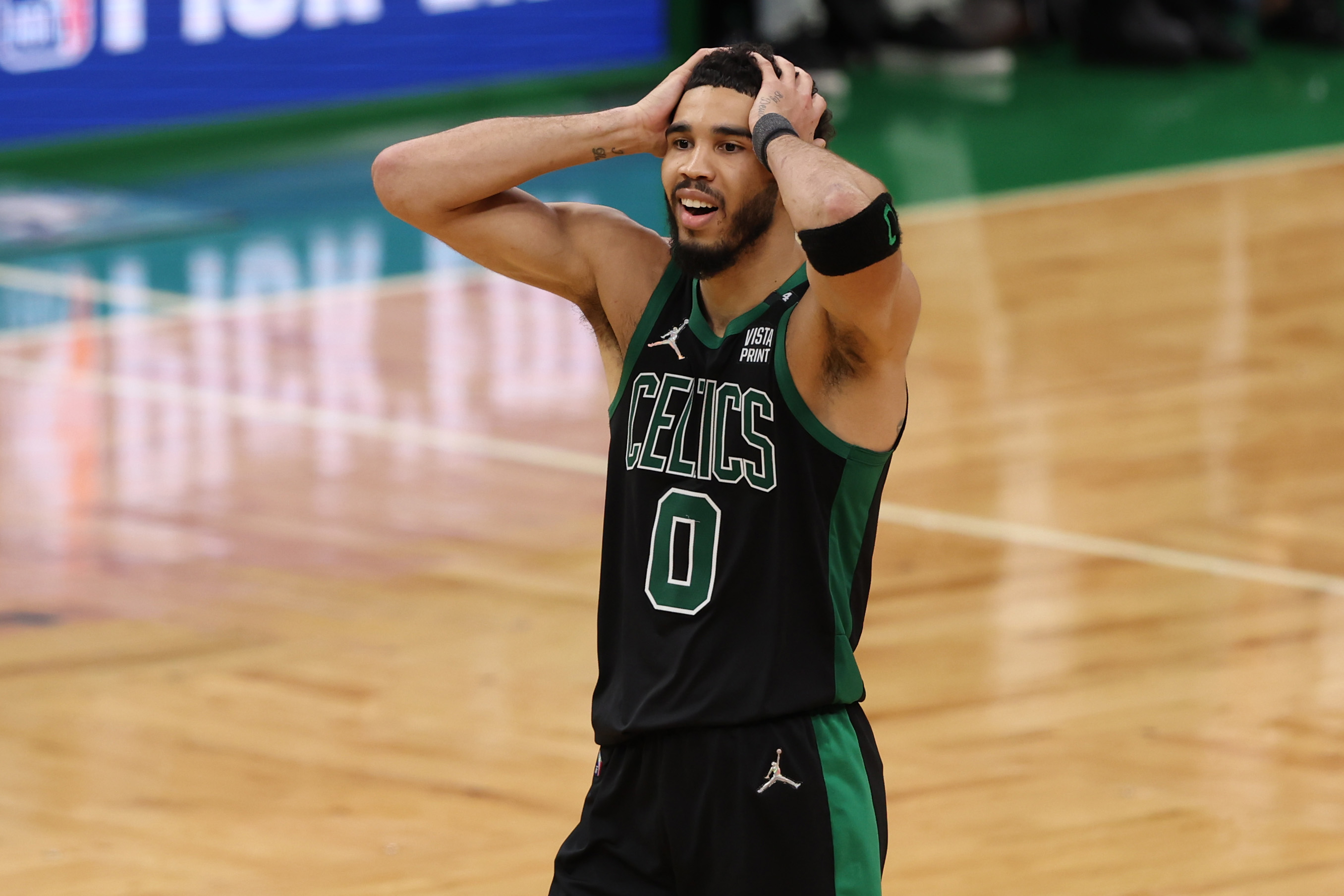 Tatum has been great and awful in the postseason. His signature game came when the Celtics needed him most. Tatum put up 46 points in an elimination game against the defending champion Milwaukee Bucks. From start to finish, Tatum dominated in a hostile environment, allowing the Celtics to come home and claim a Game 7 victory.
He's also had two 10-point games. He's been too inconsistent. For a player many claim to be a superstar, he hasn't put together a string of spectacular games.
Tatum is in his fifth year. This is his third time in the Eastern Conference Finals. As a rookie, he and the Celtics lost a Game 7 on home court to LeBron James and the Cleveland Cavaliers. The Celtics played those playoffs without Kyrie Irving and Gordon Hayward, who were both nursing injuries. They overachieved that season.
In 2020, a year plagued by COVID-19, the Celtics and Heat met in the Disney bubble in the Eastern Conference Finals. The Celtics were the No. 3 seed, while the Heat were seeded fifth. Miami went on to face the Los Angeles Lakers in the NBA Finals after eliminating Boston in six games.
This year, Boston's back. There are no excuses this time around. The Celtics have had this series handed to them and failed to capitalize. Nine-point favorites in a series-clinching Game 6 at home and the Celtics wilted. It was a game when Tatum could have — and should have — taken over. Instead, he and Jaylen Brown only took a combined seven shots in the second half as Miami embarrassed them at TD Garden.
Tatum's biggest test comes in Game 7
Former Celtics center and current NBA analyst Kendrick Perkins said Tatum was a top-three player in the league.
"Jayson Tatum, right now, is the best two-way player in the game," Perkins said during an April edition of First Take. "Jayson Tatum is a top-three player in the NBA. This mean version of Jayson Tatum, nobody wants to see."
Perkins' comments were a bit of a stretch, but Tatum can work his way up the superstar ladder with a signature performance Sunday night.
Some will say Tatum already had that signature moment in that Game 6 against the Bucks when he completely took over in a season-saving game. All that did was allow the Celtics to get back to the Eastern Conference Finals — a place they've lived four times in the last six seasons.
If Tatum wants to be ranked up there with the big boys of the league, he needs to put the team on his back and get them to the NBA Finals. He needs to be the guy who gets them over the hump. Despite playing Game 7 on the road, the Celtics are still a three-point favorite. Many believe they are the better team.
There's a whole lot more to being elite than putting up 54 points in a March game. Being the guy who can get his team to the next level is the next milestone for Tatum. He had the chance Friday and came up short. He's got one more opportunity Sunday night.
We all know he has the skills and athleticism to be a superstar, but can he finally get his team to the championship round? We'll find out Sunday night.
Like Sportscasting on Facebook. Follow us on Twitter @sportscasting19 and subscribe to our YouTube channel.
RELATED: The Boston Celtics Got Caught Looking Ahead, and It Showed