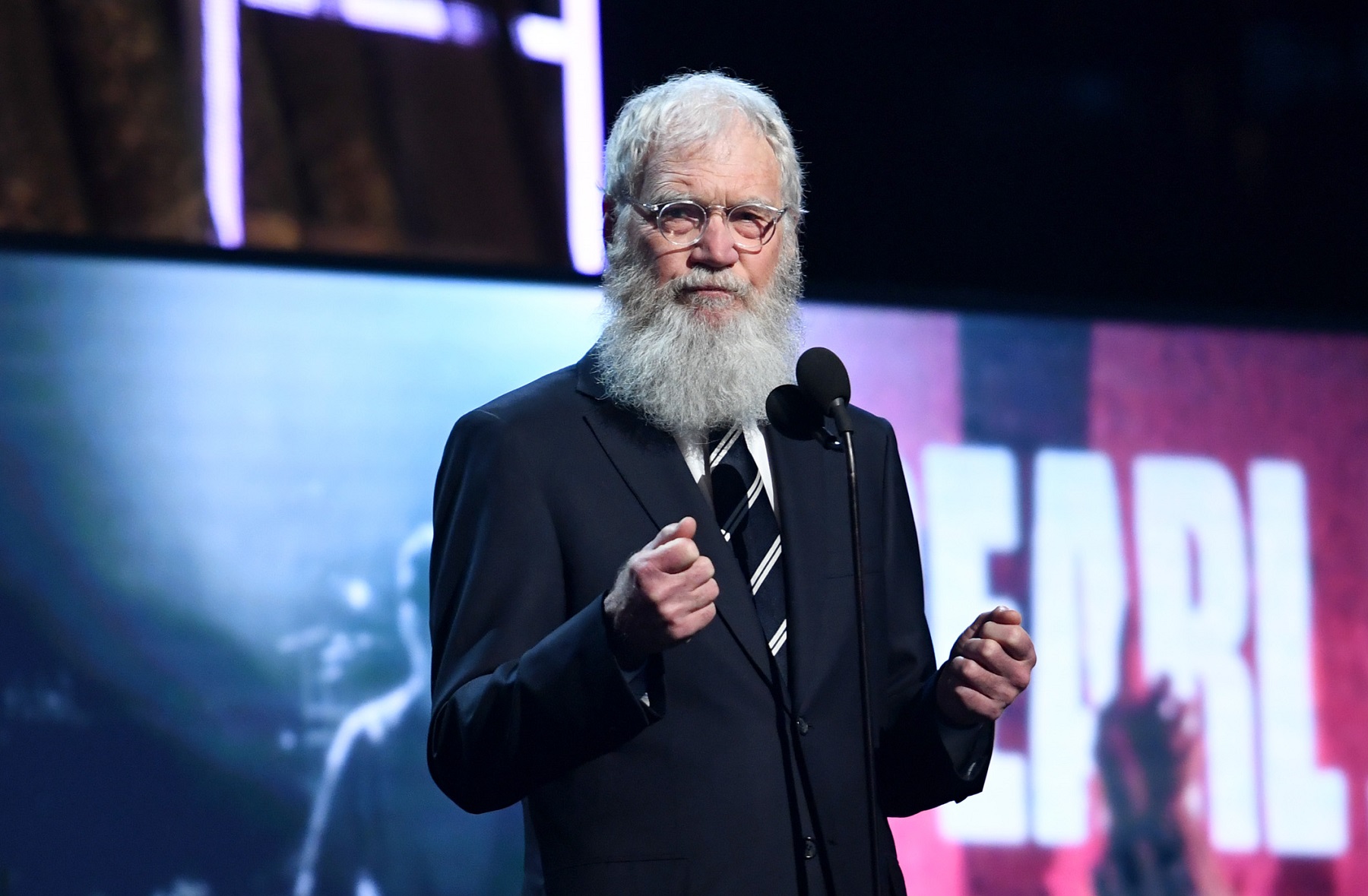 Jerry Jones Has Only 1 More Big Win as an Owner Than David Letterman
David Letterman is the co-owner of an IndyCar racing team that won the 2020 Indianapolis 500 with Takuma Sato behind the wheel.
Derek Jeter and Michael Jordan are team owners who were stars in their own right before buying their franchises. Their playing backgrounds provided expertise that qualified them to make key decisions. David Letterman, with no sports background, just showed Jerry Jones and 99% of other owners lacking that first-hand knowledge how to succeed.
David Letterman has been living a quiet retirement
David Letterman spent 33 years hosting late-night television talk shows that practically demanded that he call attention to himself in order to generate the ratings that bring advertisers onboard. From 1982 to 2015, Letterman hosted more than 6,000 episodes in becoming the longest-running late-night personality in history, according to the Hollywood Reporter.
His longevity and success gave Letterman the clout to branch out into producing television shows and movies, which was a natural offshoot since his own company produced Letterman's show.
Letterman was wise in sticking with what he knows. Learning a whole new business while also hosting his show would have consumed time and energy with no guarantee of success. In that respect, he set himself apart from the likes of Jerry Jones and the late George Steinbrenner – who made their fortunes elsewhere and then showed themselves to be unprepared for operating their sports franchises.
Letterman announced on April 3, 2014, that he would retire the following spring. Other than introducing movies on Turner Classic Movies and a return to hosting a limited-run talk show on Netflix in 2018, he showed himself to be adroit at staying out of the spotlight.
One of the few events he can be reliably predicted to show up at is the annual Indianapolis 500 in his hometown.
A key difference with Jerry Jones
David Letterman began a career as a local TV news anchor and weatherman for an ABC affiliate shortly after graduating from Ball State University in 1969. It led to him serving as a pit road reporter for the network at the 1971 Indianapolis 500.
No one could have predicted then that Letterman would take an ownership stake in an IndyCar racing team 25 years later.  Rahal Letterman Lanigan Racing began in 1992 with two-time Indy 500 winner Bobby Rahal forming a team with Carl Hogan. Letterman signed on as a part-owner in 1996, and Mike Lanigan joined in 2010.
Letterman's expertise is in the entertainment field and Lanigan's background is in construction equipment, so it has been Rahal who has run the racing operations. The team expanded https://rahal.com/team-history/ to fielding sports cars in 2009 and has chalked up close to 50 victories, with more than half on the glamorous IndyCar circuit.
There's a lesson to be learned there for owners of pro sports franchises.
Jerry Jones' greatest success – three Super Bowl victories – came with Jimmy Johnson as his coach and talent evaluator or with the core of players Johnson assembled before leaving. The Dallas Cowboys have not been back to the NFC championship game since 1995 while Jones, whose background is in oil and gas exploration, has served as de facto general manager.
The New York Yankees returned to relevance under the ownership of the late businessman George Steinbrenner, with the franchise winning the World Series seven times under his family's control. However, Steinbrenner's mercurial temper led him to make ill-advised personnel decisions until Gene Michael (1990-95) and Brian Cashman (1998-current) took authority as general managers.
David Letterman is catching up to Jerry Jones
It's beyond dispute that Jerry Jones has turned the Dallas Cowboys into one of the great successes in pro sports, but that's primarily in terms of off-the-field operations. Forbes values the NFL franchise at $5.5 billion, tops among all teams worldwide.
On the field, however, the results haven't been as good. Mike McCarthy is the eighth head coach of the Jones era. Only one of his predecessors, Jason Garrett, lasted more than five seasons. Player personnel decisions have also been shaky, and the Cowboys have finished at .500 or worse 14 times with Jones in charge.
Jones has been stuck at three Super Bowl titles since after the 1995 season, when many of Jimmy Johnson's players were still there. Meanwhile, retired late-night talk show host David Letterman is catching up.
The Indianapolis 500 is IndyCar's version of the Super Bowl, and Letterman's team has taken that race's checkered flag twice. Driver Buddy Rice won the 2004 edition, and Takuma Sato took the the 2020 checkered flag on Aug. 23 under the Rahal Letterman Lanigan Racing banner.
Letterman looks like a better bet to capture a third Indianapolis 500 before Jones secures his fourth Super Bowl trophy.