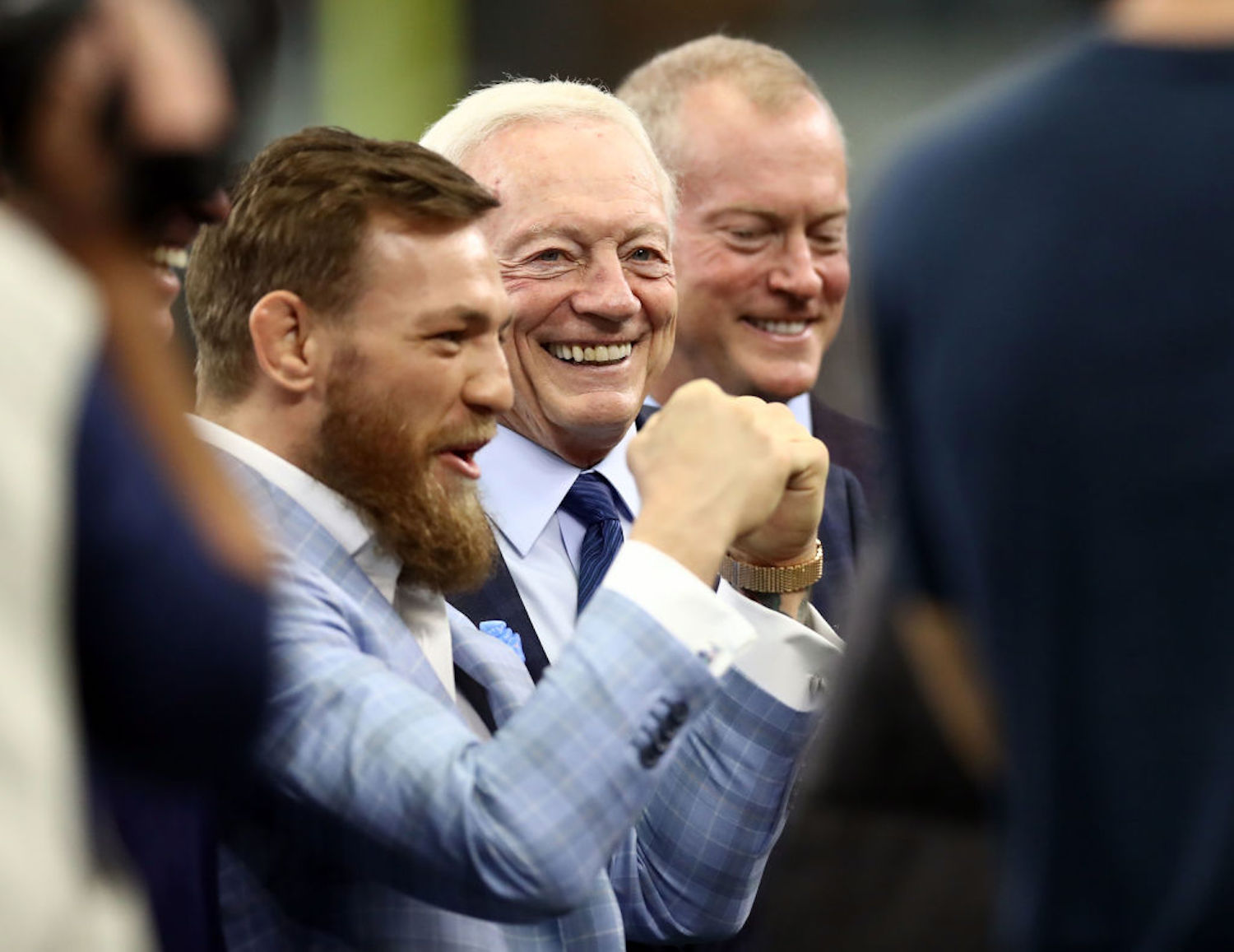 Jerry Jones Wants to Team up With Conor McGregor: 'I'm a Real Admirer of His'
Jerry Jones is a big fan of Conor McGregor, and the Cowboys' owner and GM wants to host the UFC star's next fight in Dallas.
Jerry Jones and Conor McGregor are two of the most powerful figures in all of sports, and they might be teaming up soon.
McGregor visited Jones at AT&T Stadium in Dallas a few years ago and immediately fell in love with 'Jerry World.' He told the Cowboys owner and GM at the time about his vision to fight at the center of the enormous stadium, and now Jones might also be on board.
Well, good news for both parties. McGregor is scheduled to fight Dustin Poirier in January, and they need a venue.
Conor McGregor has agreed to fight Dustin Poirier
After McGregor announced his retirement in June, UFC fans wondered if they would ever see the Irish phenom in the octagon again. McGregor has a history of retiring and unretiring for publicity reasons, but this time, it felt different.
But it only took McGregor a few months to rethink his decision this time. Last week, he announced his next bout, and it should be a good one. McGregor has agreed to fight Dustin Poirier on Jan. 23, and it's no secret where he wants the contest to take place.
"I accept, January 23rd is on! My goal is to see this fight take place in Cowboy stadium. Proper style! Jones is a friend and the stadium can hold our crowd. I will be ready for Texas and Texas will be ready for my fans," McGregor said in a tweet.
Conor McGregor and Jerry Jones have a mutual respect
McGregor is clearly a big fan of Jones, and the feeling is mutual. The two sports giants met at AT&T Stadium back in 2018, and they had an immediate connection.
Jones recently appeared on 105.3 The Fan and spoke about his relationship with McGregor.
"I'm a real admirer of his," Jones said. "He's one of the neatest individuals I think I've met, period. To be as physical as he is — he has an unbelievable personality and charisma. He's special."
McGregor and Jones haven't gone into business together quite yet, but it sounds like they're both eager to work with one another.
"I was saying to your man Jerry Jones, the owner," McGregor said when the two met in 2018. "I was saying, 'You know what would look good in this stadium? Bang in the center of it? A UFC Octagon'. But not only a UFC Octagon, a UFC Octagon with my bare feet inside of it ready to go."
Jones says he wants to host the McGregor-Poirier fight
McGregor has been pushing to fight in the middle of 'Jerry World' for a few years now, and Jones finally might be warming up to the idea.
"Very much open to it. Very open to it," Jones told 105.3 The Fan. "…It would be quite a day for AT&T Stadium to have him."
Talk about a power duo. What a spectacle that would be.