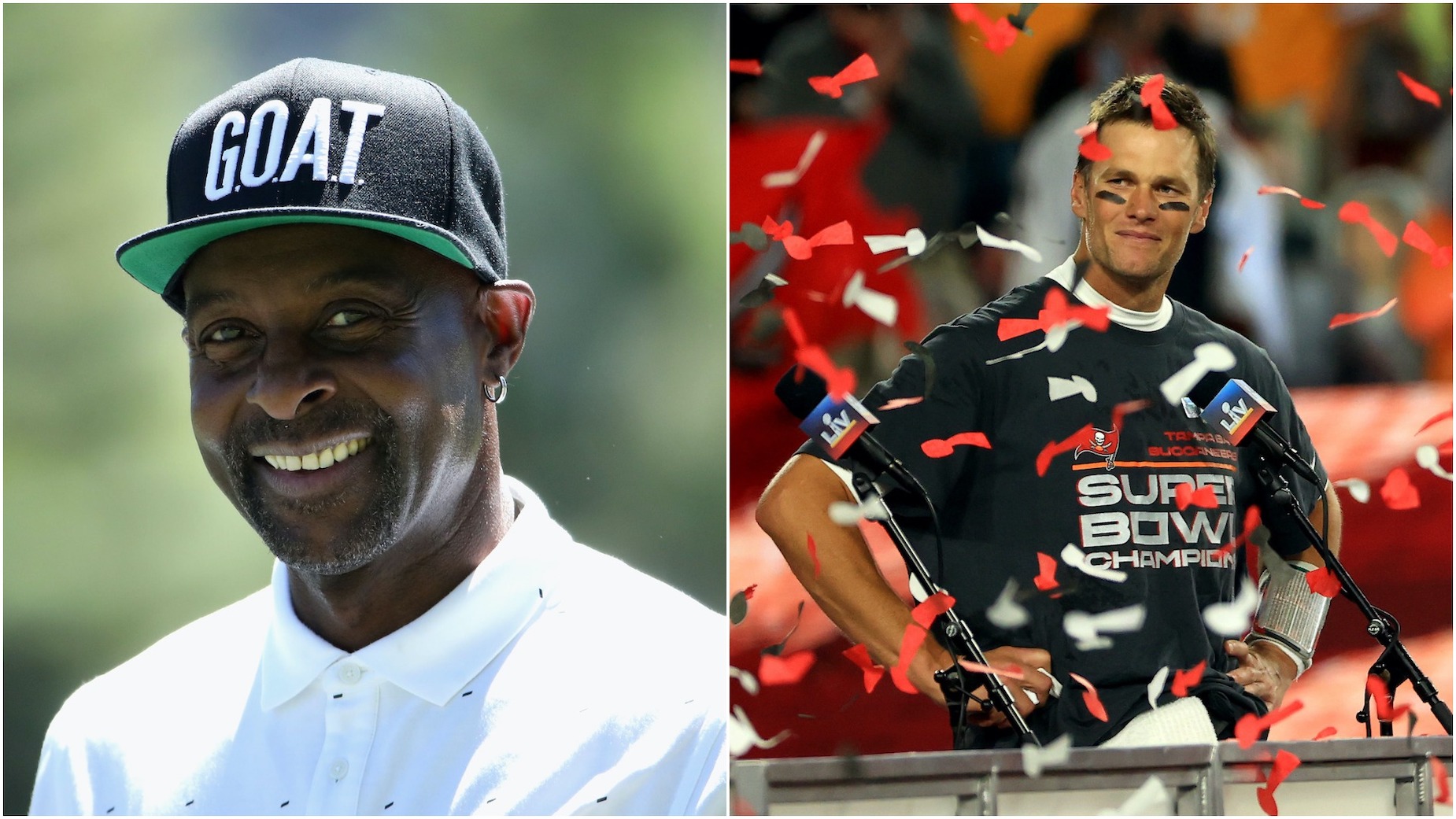 Jerry Rice Makes It Official: Tom Brady 'Can Have That GOAT Status'
According to Jerry Rice, Tampa Bay Buccaneers quarterback Tom Brady can 'have that GOAT status' after winning Super Bowl 55.
For better or worse, sports fans love to debate. A popular topic is all-time greatness; while every sport has seen its fair share of stars over the years, who's the best of the best, worthy of being crowned the GOAT? In NFL circles, the two top candidates are Jerry Rice and Tom Brady.
After Super Bowl 55, however, it seems like the debate may have officially ended. In a radio interview, Jerry Rice admitted that Tom Brady "can have that GOAT status" once and for all.
Jerry Rice's stats make him an all-time great
Given that they're at the mercy of their quarterback to ever touch the football, it can sometimes be hard for receivers to post big numbers. Jerry Rice, however, never had that issue.
Rice played his college football at Mississippi Valley State and immediately made a name for himself. While the Delta Devils might not be a big-time program, the receiver proved to be a big-time star; by the time he left campus, he caught 301 passes for 4,693 yards and 50 touchdowns, rewriting the program's record book.
Rice then turned pro, joining the San Francisco 49ers as the 16th-overall pick of the 1985 NFL draft. While there were some growing pains along the way, he eventually grew into one of the greatest receivers that football has ever seen.
In total, Rice spent 20 years in the NFL, pulling in 1,549 receptions for 22,895 yards and 197 touchdowns; he also won three Super Bowls and claimed virtually every individual offensive honor you could imagine, barring NFL MVP.
Based on those stats, Rice is widely considered one of the greatest players ever to hit the gridiron.
Tom Brady's stats go just beyond just passing yards and touchdowns
Looking at Jerry Rice's stats, the receiver seems to have a pretty legitimate claim at the NFL GOAT title. Tom Brady's resume, however, goes beyond just wins and losses.
Unlike Rice, Brady had a pretty unremarkable college career and arrived in the NFL as an unheralded sixth-round draft pick. While no one expected much from the young quarterback, something else was on the cards.
After Drew Bledsoe suffered a serious injury during the 2001 campaign, Brady was forced into action. He led the Patriots to a Super Bowl title, and, from there, the rest is history.
While Brady's longevity and counting stats are pretty impressive in their own right, his career will forever be defined by his Super Bowl record. The quarterback has reached an incredible 10 big games, winning seven championships. Even if you can't stand the sight of TB12, it's tough to argue with that resume.
Jerry Rice said that Tom Brady can officially have NFL GOAT status
After cruising to victory in Super Bowl 55, Tom Brady added another accomplishment to his GOAT resume. On the day after the game, however, he scored a big-time endorsement from another great.
As mentioned above, Jerry Rice was generally considered to be the NFL's greatest player before Brady burst onto the scene. While the receiver thinks the modern rulebook makes things easy for the quarterback, he's also prepared to call TB12 the GOAT.
"I don't have seven Super Bowl rings, but I think I played in an era when football was more of a contact sport. You're seeing a lot of that now — players are protected," Rice explained on 95.7 The Game, according to ProFootballTalk. "When you have seven rings, you're doing something right. I think with Brady, he still wants to play. He said something about playing until he's 45. I think he can do it now in this league because players are so much more protected. So, yeah, he can have that GOAT status. I never wanted that status anyhow."
There you have it. Whether you look at Tom Brady's stats, his Super Bowl rings, or endorsements from other NFL legends, he's built a pretty impressive case to be considered the NFL's GOAT.
Stats courtesy of Pro-Football-Reference